Why you should outsource your animation video editor to Booth and Partners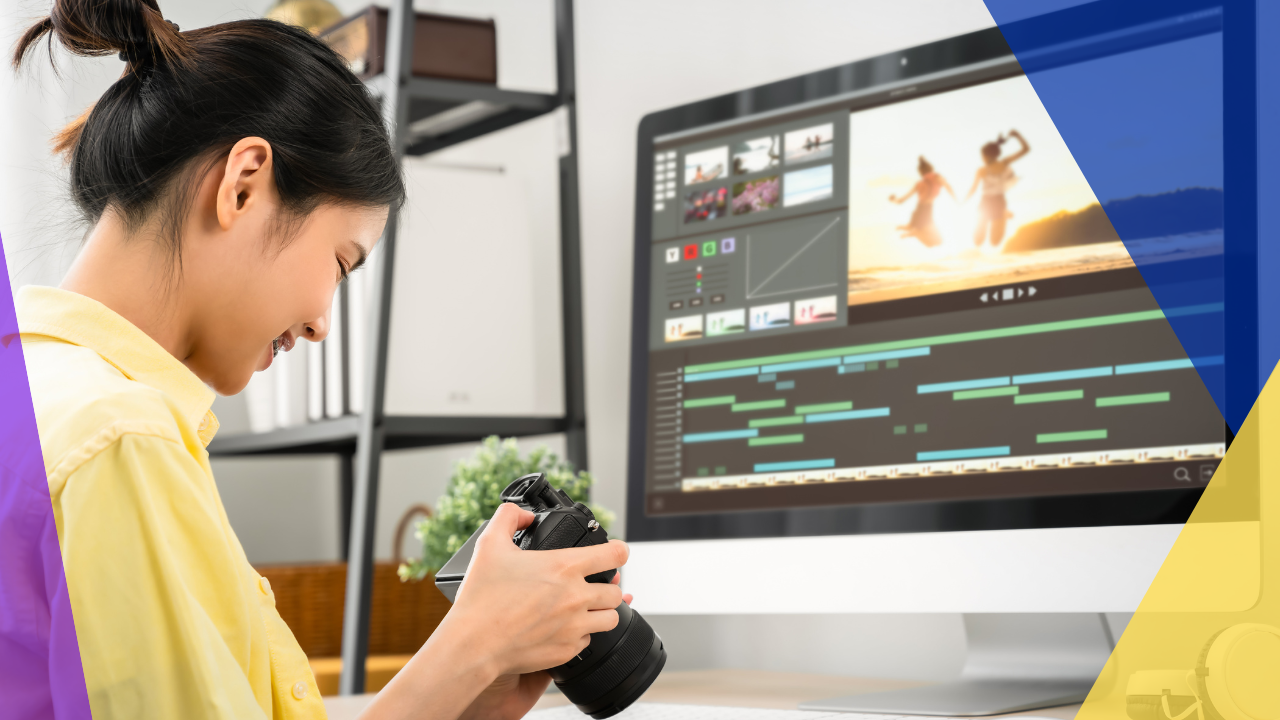 In the digital world, businesses constantly seek innovative ways to capture their audience's attention. One such method is through animation videos, which have become integral to marketing and communication strategies. 
However, creating high-quality animation videos can be a challenging and time-consuming task. 
This is where outsourcing your animation video editor to experts like Booth and Partners can make a significant difference. 
In this article, we'll explore the benefits of outsourcing animation video editing and how you can do it effectively with Booth and Partners.
What is an animation video editor?
An animation video editor is a skilled professional responsible for assembling and editing various elements of an animation video. 
It includes integrating graphics, audio, text, and other visual elements to create a cohesive, engaging video conveying a specific message or story.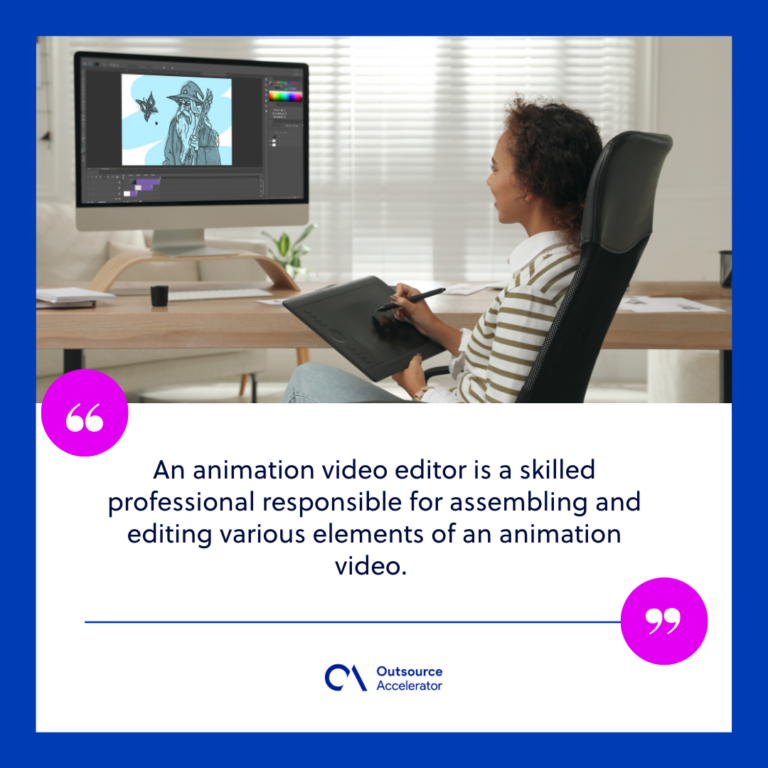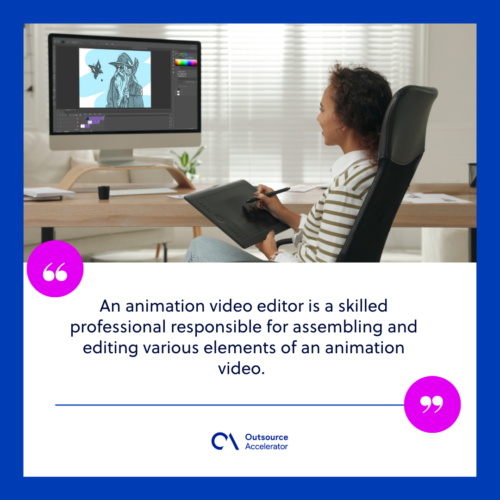 Benefits of outsourcing animation video editor
When it comes to creating captivating animation videos, outsourcing an animation video editor to Booth and Partners can offer several advantages:
Cost savings
Outsourcing your animation video editor to Booth and Partners translates to substantial cost savings. 
Unlike hiring an in-house editor, which comes with expenses like salaries, benefits, and equipment costs, outsourcing allows you to pay only for the specific services you require. 
This cost-effective approach is ideal for businesses of all sizes looking to manage their budgets effectively.
Animation expertise
Booth and Partners boast a team of highly skilled animation video editors who are masters of their craft. 
When you outsource your editing needs to them, you gain access to a wealth of talent with years of experience creating visually stunning animations. 
These animation video editors' expertise can significantly elevate the quality of your videos, ensuring that your content stands out in today's competitive digital landscape.
Faster turnaround
In the world of content creation, time is of the essence. Managing an in-house editing team can sometimes lead to delays due to limited resources and competing priorities.
On the other hand, when you choose to outsource your animation video editor to Booth and Partners, you can expect quicker turnaround times. 
Your outsourced staff will focus solely on your project, ensuring timely delivery without compromising on the quality of your content.
Access to advanced technology
The field of animation video editing requires access to cutting-edge software and technology. Booth and Partners is committed to staying at the forefront of the industry by investing in the latest tools and resources. 
You gain immediate access to these advanced technologies without the hassle of procuring and maintaining them in-house. Your animation videos will be created using the most innovative and effective methods.
How to hire an animation video editor through Booth and Partners
Now that you're convinced of the advantages of outsourcing, let's explore how you can go about it effectively with Booth and Partners.

Initial consultation
The first step is to schedule an initial consultation with Booth and Partners. You'll discuss your project's requirements, goals, and timelines during this meeting. 
This dialogue is crucial as it sets the foundation for a successful collaboration.
Talent sourcing and selection
Booth and Partners will tap into their extensive network of animation video editors to find the perfect match for your project. 
Its hiring experts will consider factors such as expertise, style, and previous work to ensure you get an editor aligning with your vision.
Onboarding and collaboration
Once the right animation video editor is selected, the onboarding process begins. Booth and Partners facilitate a seamless integration of the editor into your project. 
Collaboration tools and communication channels are established to ensure a smooth workflow.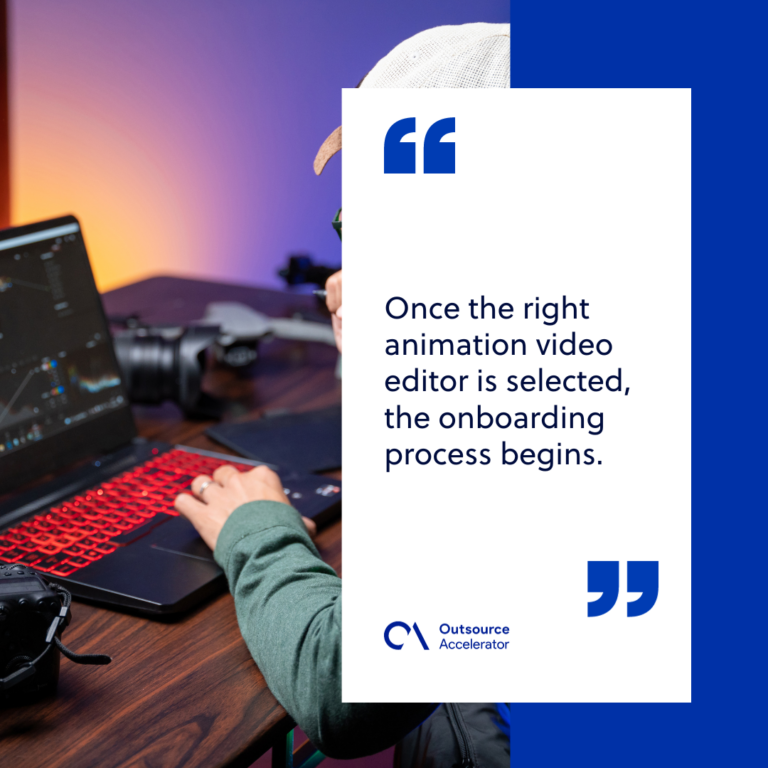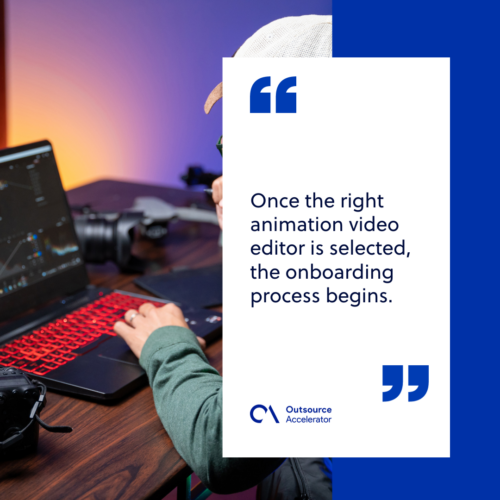 Quality control and feedback
Quality is important in animation. Booth and Partners maintain rigorous quality control standards throughout the production process. 
Your feedback as a client is crucial. If needed, your outsourced staff will make the necessary revisions to ensure your satisfaction.
Project delivery
Booth and Partners will deliver the final product as soon as your animation is ready. 
Whether it's for your website, social media, or presentations, you'll have a professionally crafted animation that tells your story effectively.
Outsource your animation video editor to Booth and Partners
Outsourcing your animation video editor to Booth and Partners is a strategic move that can elevate the quality and efficiency of your video production process. 
With cost savings, access to animation expertise, faster turnaround times, and advanced technology, you can stay ahead in the competitive world of digital marketing. 
Trust Booth and Partners to be your animation video editing partner, and watch your ideas come to life in captivating animations. 
Contact Booth and Partners today to get started!