In the rapidly evolving world of business, a showdown is looming: Artificial Intelligence (AI) versus the Outsourcing Industry. This face-off is a dynamic interplay that could redefine the landscape of global labor.
First up in the ring, we have AI, the technological wunderkind. With abilities such as automation, data analysis, and machine learning. It's no wonder that AI is hailed as the next big game-changer. AI promises to streamline operations, enhance productivity, and drive down costs. Plus, it's unbound by pesky human traits such as geographical constraints or traditional work hours. So it's a formidable contender indeed.
Regardless, the Outsourcing Industry is no pushover. Known for agility and adaptability, it has been the go-to solution for businesses seeking cost-effectiveness and access to a global talent pool. From customer service to IT support, the human touch and cultural nuance it offers are factors that AI is yet to replicate fully.
The tension between AI and the outsourcing industry is real, but it's not just a simple case of replacement. Instead, a more complex and nuanced competitive evolution is on the cards. AI's potential to automate repetitive tasks could result in a shift in the type of work being outsourced, causing the industry to upskill and expand its repertoire.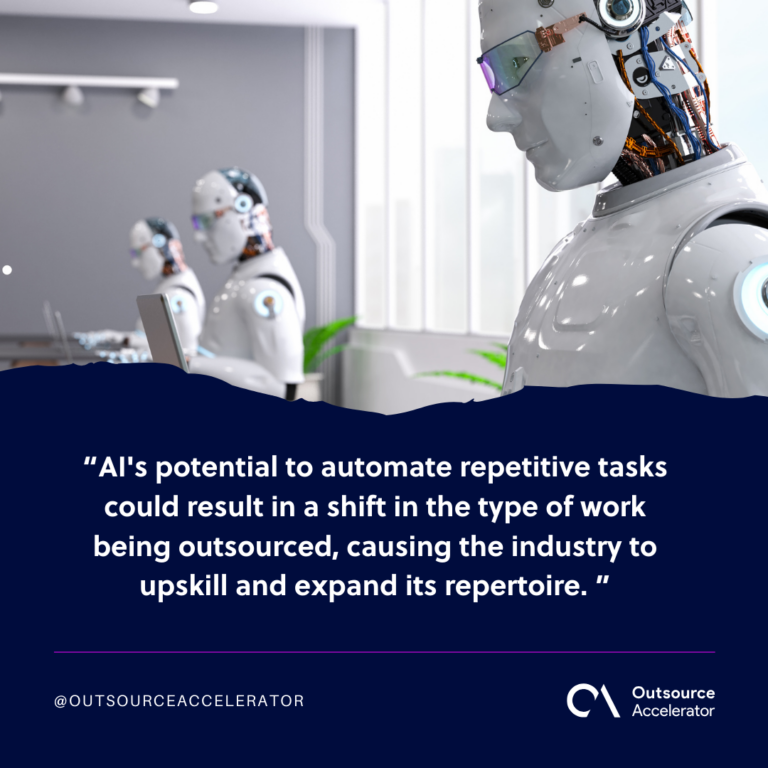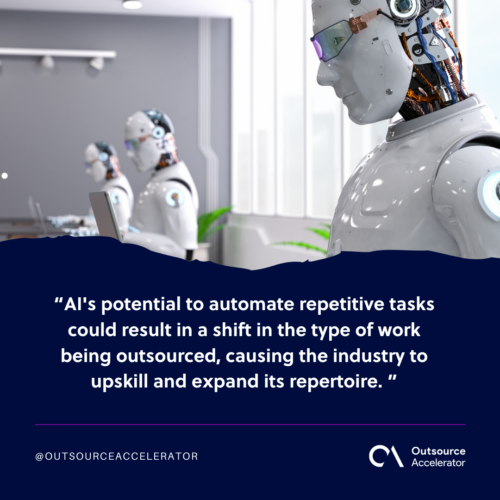 At the same time, outsourcing companies can harness the power of AI themselves to bolster their own services, merging human skill with machine efficiency. After all, who said it has to be a zero-sum game?
It's worth considering the far-reaching ethical and socio-economic implications of this duel. AI adoption at the cost of human jobs raises pertinent questions about responsible business practices. The outsourcing industry, with its significant contribution to employment in many economies, offers a counterpoint to the argument that 'robots will take over all jobs.'
Without knowing the future, one thing is clear: both AI and outsourcing's global employment paradigm will continue to shape the future of work. The key lies in how businesses navigate this intersection, leveraging the best of both worlds for maximum advantage.
Pessimists say that outsourcing and automation will destroy economies and wipe out employment. However, despite already seeing 50 years of rampant adoption of both tools, unemployment levels remain at record lows, and prosperity is booming.
Does the past predict the future?
This imminent 'battle royale' between AI and the outsourcing industry serves as a reminder of the ever-evolving nature of global business. In this high-stakes game, adaptability and strategic foresight will determine the winners. Whether it's the technological prowess of AI or the human-centric approach of outsourcing that gains the upper hand, the business world is set for an exciting ride.
The question for your business
Is fear of the future holding you back from moving forward?
Read more thought leadership articles here: