Why you need to outsource after-hours customer support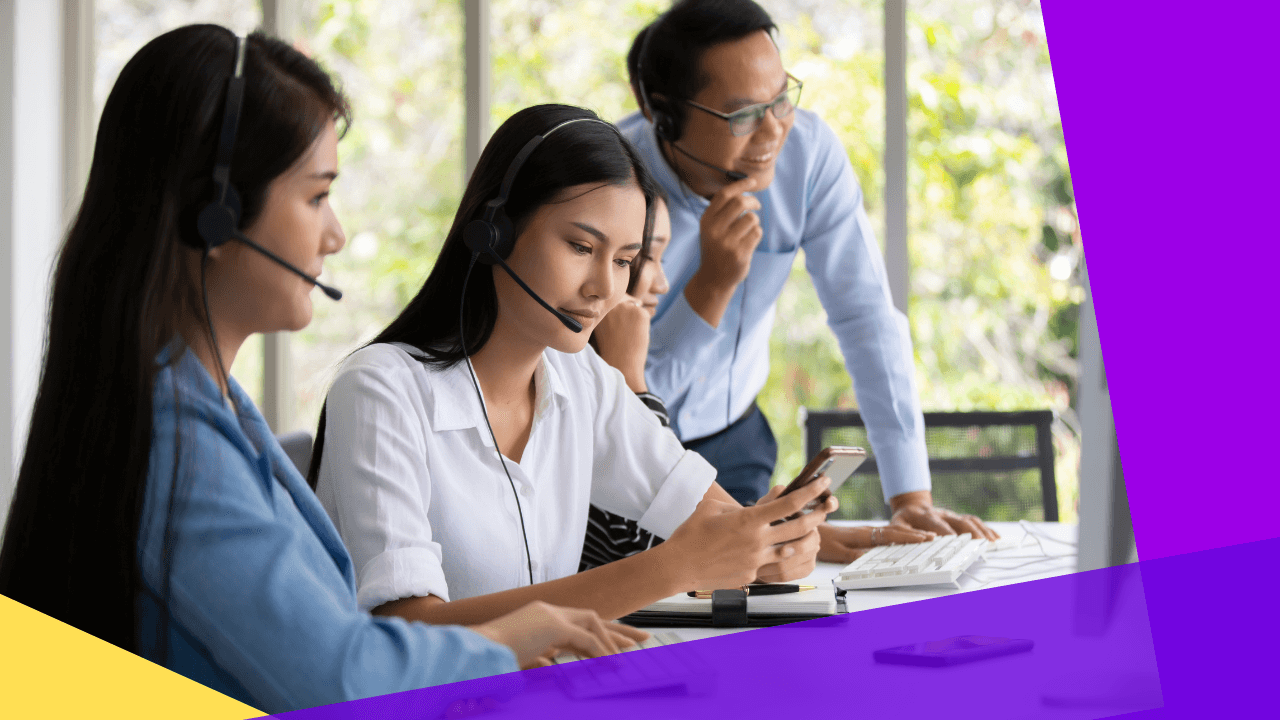 Anyone who runs a business knows that providing excellent customer service is crucial to your success. It is a vital aspect of maintaining a satisfied customer base.
One of the most important aspects of customer service is providing support round-the-clock. In this article, we'll discuss why outsourcing after-hours customer support is essential for your business.
What is after-hours customer support?
Simply put, after-hours customer support is the service provided to customers outside of regular business hours. Assistance and resolving customer queries are done in the evenings, on weekends, and on holidays. 
Providing after-hours customer support is necessary because customers expect to be able to reach you whenever they need help.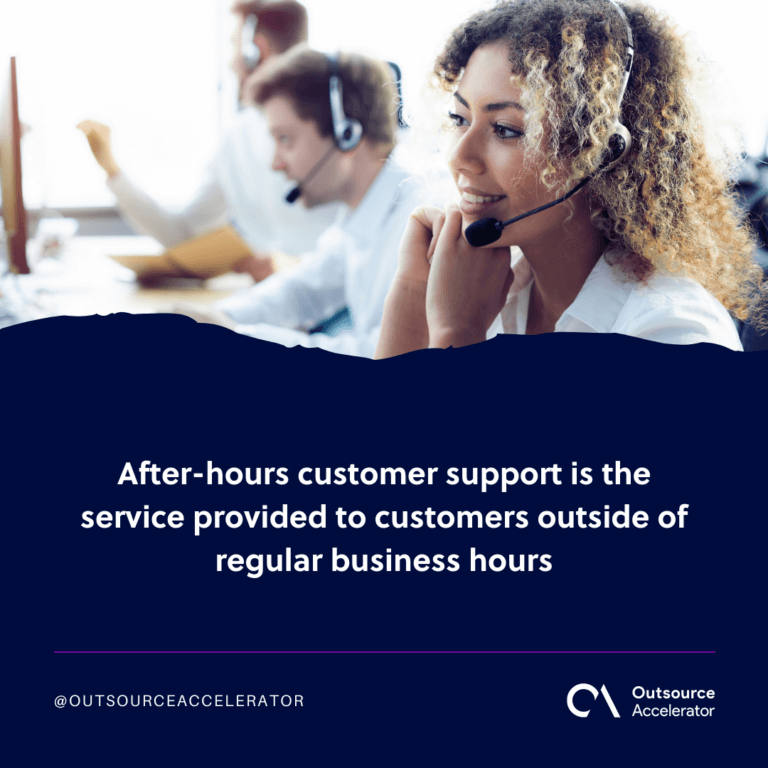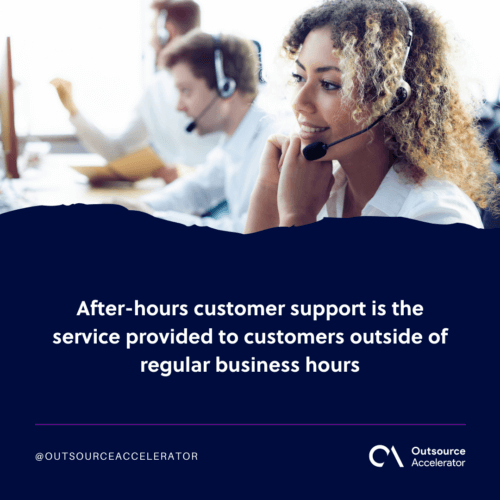 Advantages of after-hours customer support
An organization that can offer after-hours customer support will experience many benefits, including:
Increased customer satisfaction

– Providing after-hours customer support shows your customers that you care about their needs and are willing to go the extra mile to help them.

Improved customer retention

– When customers know they can reach you whenever they need help, they will likely stick with your business and continue using your products and services.

Competitive advantage

–  Having after-hours customer support sets you apart from your competitors who may not offer this service.

Global reach

– Outsourcing after-hours customer support becomes critical if your enterprise operates in multiple time zones or caters to an international market. 
Disadvantages of in-house after-hours customer support
While there are many benefits of having after-hours customer support available for your clients, there are disadvantages when it comes to hiring in-house agents. Here's why:
Higher costs

– An in-house after-hours customer support team can be expensive. You need to pay staff to work outside of regular business hours, use resources to hire and train those employees, and provide the necessary infrastructure (ex. computers, workspace).

Limited availability and scalability

– If you have a small team, providing consistent after-hours customer support may be challenging, especially during peak periods. An increased volume of inquiries may lead to longer response times and dissatisfied customers.

Staffing difficulties

– Finding qualified candidates willing to work on-site outside regular hours may be challenging. This results in higher turnover rates and gaps in coverage that will leave customers without adequate support.
Why outsourcing after-hours customer support is the solution
Outsourcing after-hours customer support can address the challenges posed by having an in-house team. 
Outsourcing is a cost-effective solution that ensures your customers can always reach you when they need help. 
When you outsource, you don't have to worry about hiring and training staff to work outside of regular business hours. Instead, you can rely on a team of experts who are available 24/7.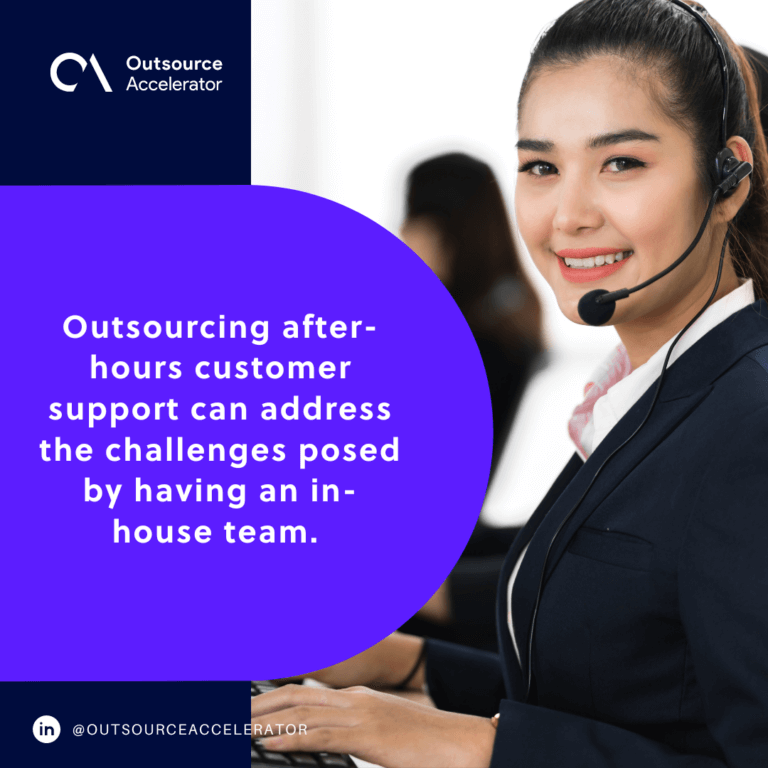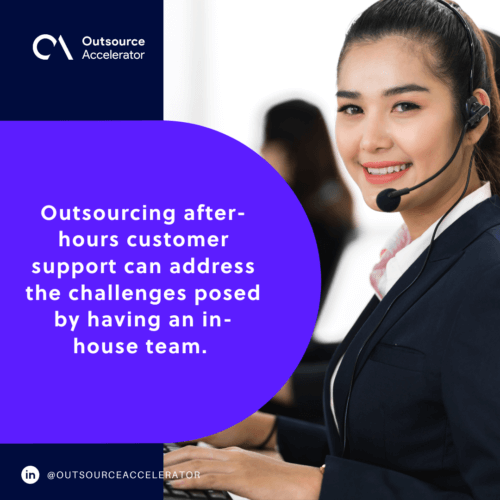 Considerations when outsourcing after-hours customer support
Selecting an outsourcing provider that aligns with your company's requirements will facilitate a seamless after-hours customer support experience for your valued customers.
Here are some things you should consider when choosing the right outsourcing provider.
Reputation and experience
Try to look for an outsourcing provider with a strong reputation and evaluate their experience in handling after-hours customer support for businesses similar to yours.
You can gauge an outsourcing provider's track record by checking client testimonials, case studies, and reviews. A reputable firm will have a proven history of successful partnerships and customer satisfaction.
Technology and infrastructure
Find an outsourcing provider with the tools and systems to handle after-hours support effectively. 
This includes advanced call center software, customer relationship management (CRM) systems, and communication channels such as phone, email, live chat, and social media. 
Seamless integration with your existing systems will make it easier for your business to deliver excellent customer support.
Security and data protection
Customer data security is very important. It's highly essential to ensure that the outsourcing provider follows strict security protocols to protect sensitive customer information. 
Ask about their data encryption measures, compliance with data protection regulations (such as GDPR), and internal access controls. A reliable provider should have robust security measures that protect customer data and maintain confidentiality.
Communication and reporting
Effective communication is vital when outsourcing after-hours customer support. Discuss the provider's communication channels and tools it uses to keep you updated on support activities. 
Additionally, regular reporting should include key performance indicators (KPIs) such as:
Response time

Resolution rate

Customer satisfaction scores

Any notable customer feedback
Transparent reporting ensures visibility into the outsourcing provider's performance and enables you to monitor the quality of service being delivered.
Scalability and flexibility
During peak periods or promotional campaigns, you may experience a surge in customer inquiries. So it's important to evaluate whether an outsourcing provider can scale their operations based on changing needs.
The provider should be able to handle increased support volumes without compromising response times or customer satisfaction.
Cultural fit and language proficiency
See if an outsourcing provider's work cultural and language proficiency suit your customer base, especially if you cater to a diverse or international clientele. 
Agents should have excellent language skills, cultural awareness, and the ability to adapt to your brand's tone and voice.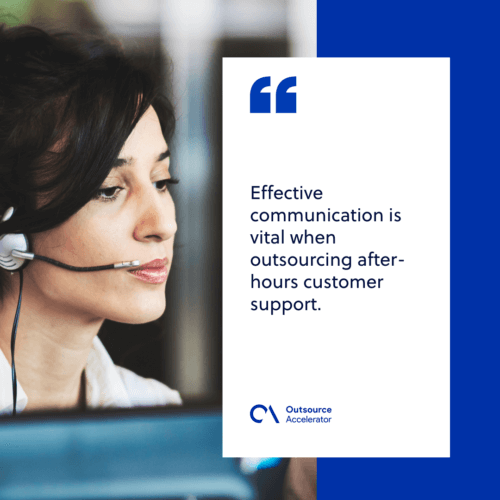 Outsourcing after-hours customer support with Executive Boutique
Outsourcing after-hours customer support through Executive Boutique is a wise business decision. 
Executive Boutique has everything you need to provide superior after-hours customer support—think of them as your own personal 24/7 helpdesk without the overhead costs.
When you use their specialized after-hours customer support services, your company has less to worry about when it comes to hiring staff and providing resources and infrastructure. They will do it all for you.
Contact Executive Boutique for more info and get started!