How affiliate marketing can help your business grow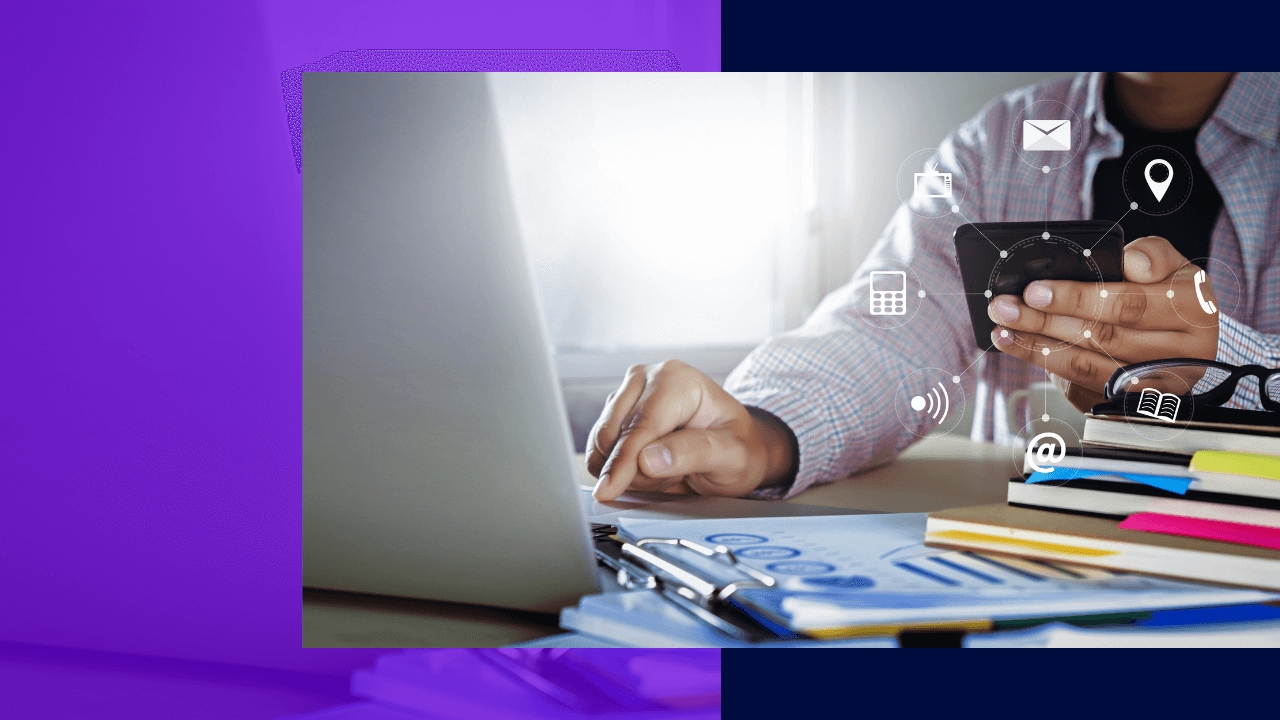 The internet has transformed many businesses' methods and operations. It has created opportunities in areas of digital marketing, e-commerce, and brand development. Compared to shopping in physical stores, consumers may now compare hundreds of businesses online with a lot less effort. 
Most e-commerce websites have a social media presence. If you want to compete, you have to be visible on different platforms and channels. And one of the ways that help e-commerce businesses boost their sales is through affiliate marketing.
What is affiliate marketing?
Affiliate marketing refers to a marketing partnership in which an e-commerce website pays a commission to an external website for traffic or sales created through its referrals and recommendations.
Although affiliate marketing has existed since the invention of the internet, it rose in greater popularity when digital marketing, analytics, and cookies became prevalent.
As an affiliate, third-party publishers are encouraged to promote the company by receiving a commission income. Affiliate marketing has some connection with other forms and methods of online marketing because affiliates frequently employ traditional forms of advertising.
Examples of these methods include: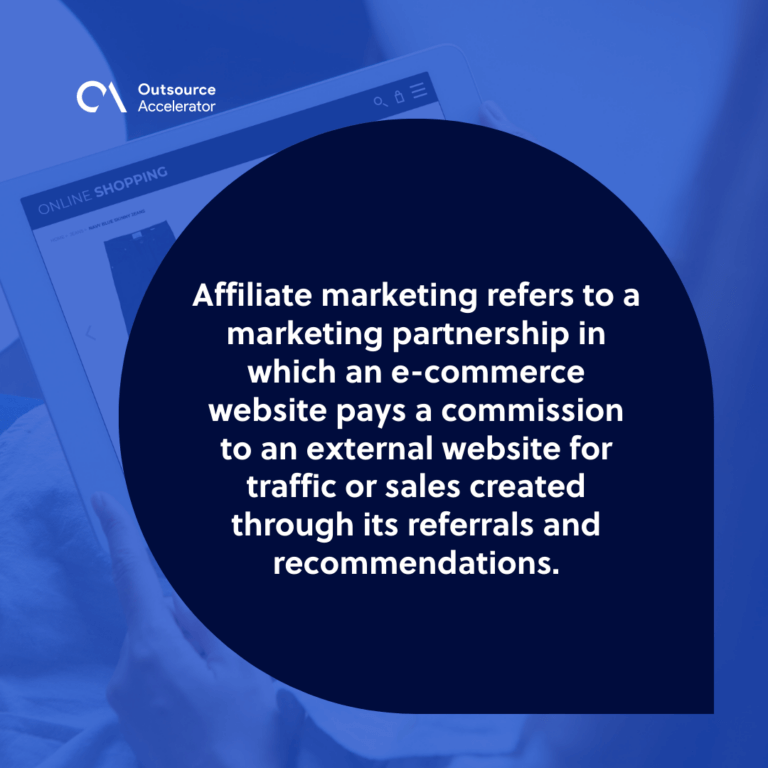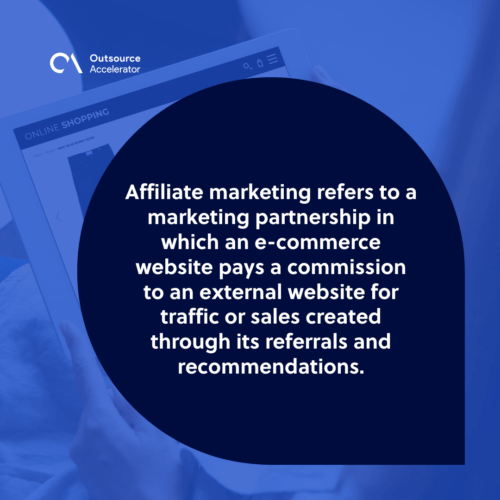 3 main types of affiliate marketing
Affiliate marketing can be divided into three categories:
Unattached affiliate marketing
In this type of affiliate marketing plan, you're running a pay-per-click campaign with no presence in the market you're advertising. You don't have any known expertise or talents in this area, so you can't speak as an authority or make claims about how well it works.
This is the least time-consuming type of affiliate promotion — because the affiliate has no emotional connection to the customer or the product.
Many people are interested in this type of affiliate marketing, as it takes time to establish one's online reputation and gain the confidence of specific demographics.
Related affiliate marketing
This type of affiliate marketing has a connection to the offering that promotes the affiliate's products or services. Most of the time, there is a link between an affiliate's specialization and the product or service being promoted. 
The affiliate has a high level of authority, which makes them a reliable source of traffic. On the other hand, the affiliate makes no representations about the product or service's efficacy or usability.
Involved affiliate marketing
This type of affiliate marketing is more personal than the other two forms. A good example of involved affiliate marketing is when an affiliate marketer has tried a product or service and can confidently recommend it to the target audience. 
The content of involved affiliate marketing includes the marketer's experiences and why they highly recommend the product or service. 
However, their reputation may be harmed if any issues arise from the service because they're making recommendations. It relies on trust and authenticity as it is supposed to build relationships with the people who are going to be reading the content.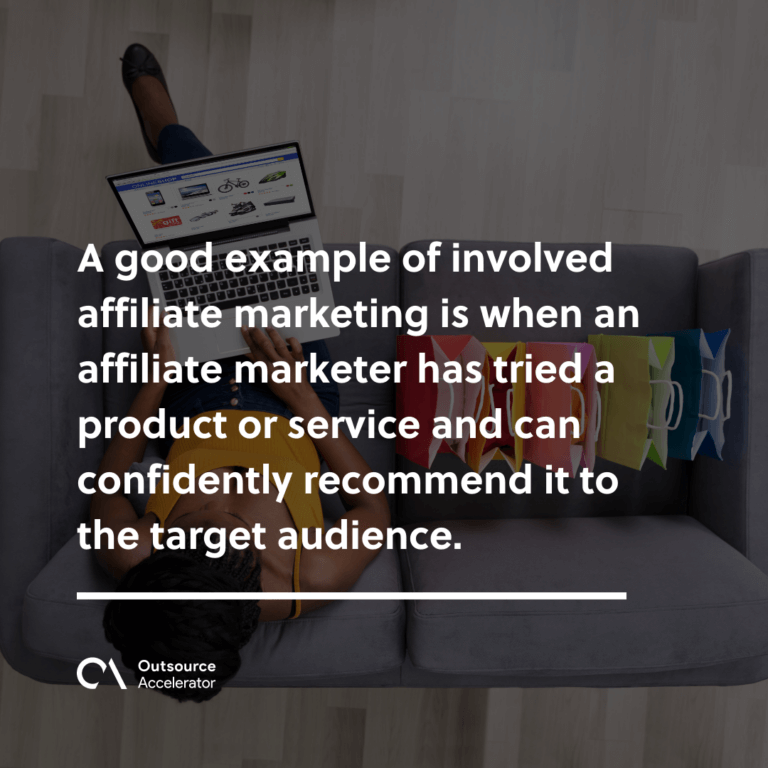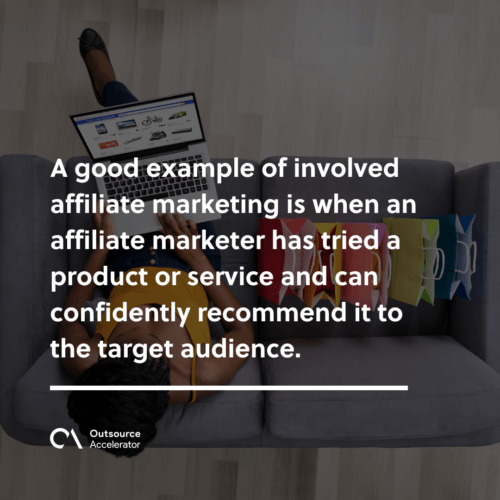 How does affiliate marketing work?
Affiliate marketing works by distributing the marketing tasks to several partners. It has been successful in using diverse web page strengths. It creates a more effective marketing approach while still giving contributors an opportunity to benefit.
Affiliate marketing will only work if three parties are involved:
Seller and product creators

Affiliate or advertiser

Consumer
Both the company and the affiliate will benefit when customers purchase the product. Affiliates may also disclose their compensation arrangements to customers in order to be transparent with them.
Companies that run affiliate marketing programs can measure how many of their leads really become sales by tracking the links that send them to their site.
Advantages of affiliate marketing
Take a look at these benefits you can obtain once you apply affiliate marketing to your business.
Low-risk and cost-effective
When you start a business, you'll have to pay for things like items, workers, equipment, and rent upfront — which is high-risk and high-cost. 
On the other hand, a website is all you need to get started with affiliate marketing. If it doesn't work out, the only things you'll lose are your time and a little money.
Affiliate marketing is a low-cost strategy that has been proven to work. As a result of affiliate marketing, businesses are able to efficiently sell a product on a limited budget, with minimum effort and time, and with little to no risk.
Targeting prospects
Because you select the affiliates, you can be sure that the traffic coming to your site is from people who will find your product or service valuable. 
This is due to the fact that affiliates who have a connection to your brand are more inclined to pass your name along to others in their network.
Flexibility
Affiliate marketing might be a passive income option; it allows you to work wherever, whenever, and how much you want. This marketing approach lets you easily reduce or increase the size of your affiliate network. 
Aside from that, you have complete control over your working hours and environment. After-sales consumer concerns are not even an issue. To make things easier for you, you can just forward the message to the merchant's own customer service staff.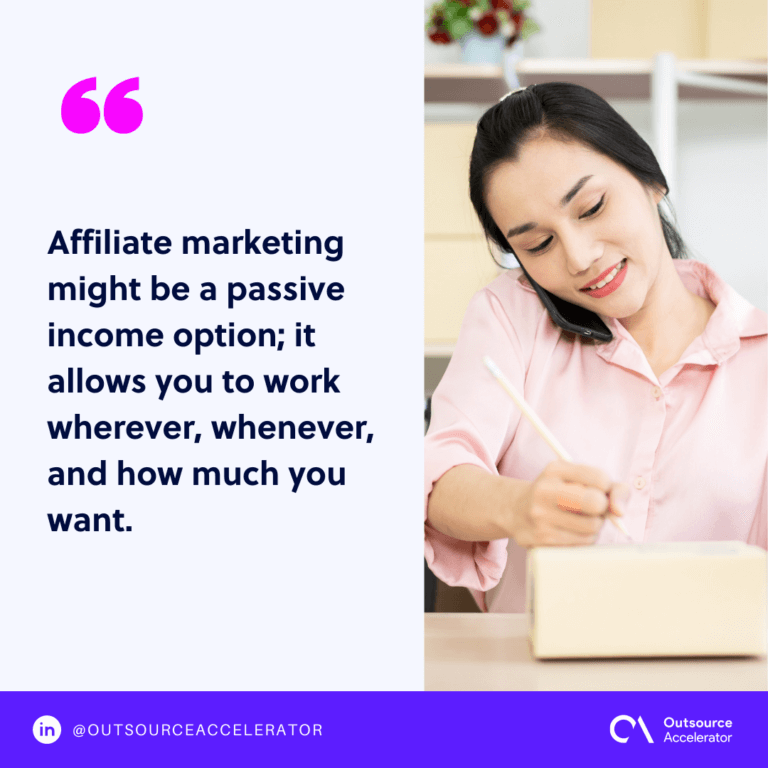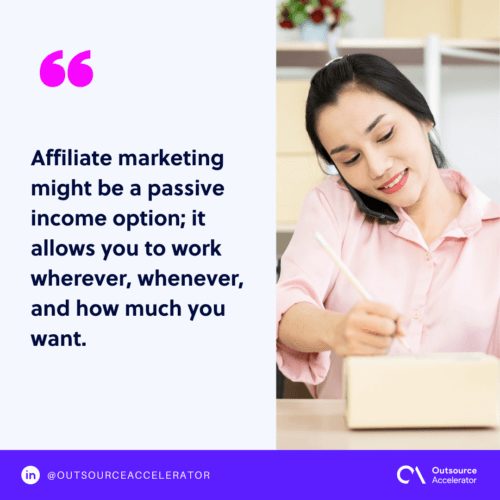 Examples of affiliate marketing channels
Affiliate marketing programs are agreements in which a seller's website pays a commission to an affiliate's website to generate visitors. 
Here are the most common examples of effective affiliate programs:
Content marketing
Using content or blog to attract and keep customers is a strategic approach to marketing. It focuses on developing and disseminating valuable material that is both relevant and consistent with the company's brand. 
Programs utilizing content marketing encourage lucrative behavior among customers.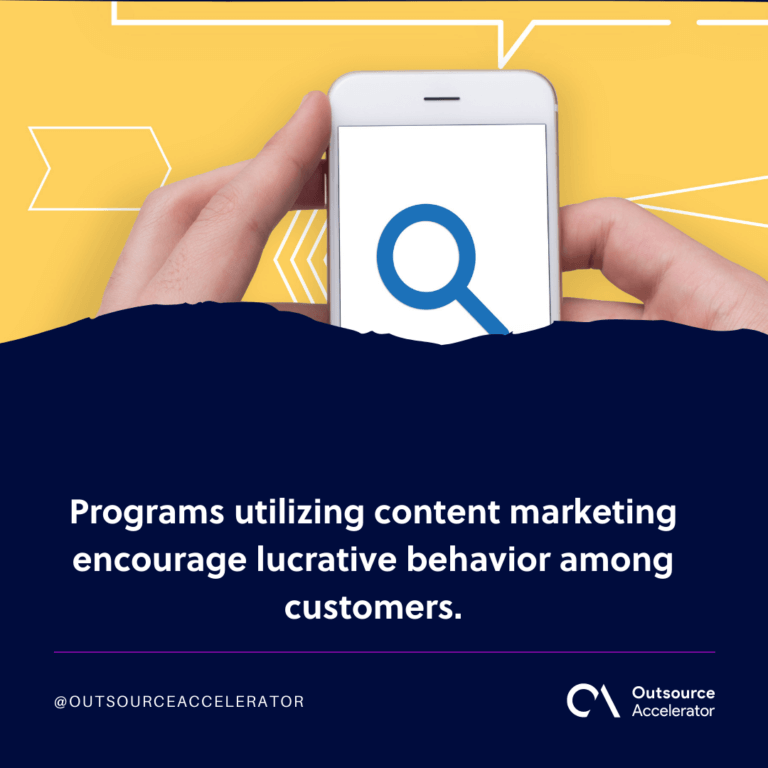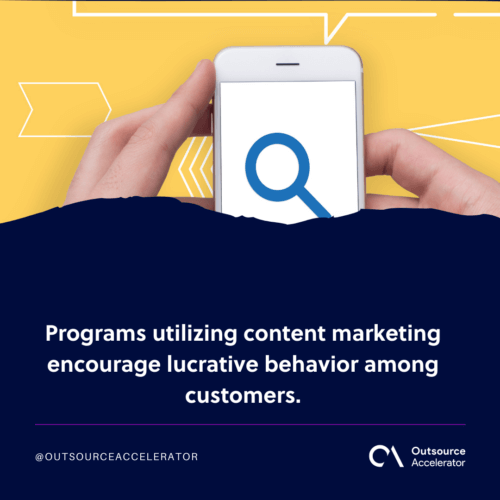 Review sites
A review site is a website where people or companies can leave feedback about products and services. They are useful if you want to reach more users who rely on top review sites for their purchasing decisions.
You can also contact the company or writer who wrote the content and ask them if they are willing to include an affiliate link to your product or service.
Email marketing
Email marketing delivers a commercial message through email, sent individually to potential or current consumers.
Customers who aren't interested in your products or services should not receive bulk emails from your partners. However, if you have an idea of who will be receiving the emails, this could be a successful strategy. 
Search affiliates
Similar to traditional affiliate marketing, search affiliate marketing is used to attract visitors and converts for advertisers.
These programs let freelancers and small business owners use their own funds to promote your offer in search engine results or on third-party online ad networks such as Facebook Ads.
How to start affiliate marketing
As mentioned, affiliate marketing is advantageous, especially for marketers that don't have a lot of funds for software and other tools for online promotions. Here's how to get started as an affiliate marketer.
Determine the platform for your campaign
Platforms make it possible for transactions and interactions to occur between various parties that are interdependent. Everything from your products and services to the personality of your brand and the nature of your business should have an impact on the channels you choose.
Consider the following factors when selecting a platform:
The business

The competitors in your field.

The long-term

digital marketing

objectives.

The available resources
Identify your niche
It's critical to have a target audience because if you try to appeal to everyone, your marketing and message will be ineffective. Your specialty should be aligned with your ideal client. 
This means that you need to focus on a specific niche market and communicate with customers or clients in a way that they can relate to.
Find affiliate programs that fit your business
Take note that the affiliate program should be aligned with your prospects when you are coming up with ideas for items or looking through affiliate platforms.
If you're promoting a product or service, check if it's appropriate for the platform on which you're doing it.
Create compelling content
For your affiliate site to be successful, you must produce high-quality content. The secret to attracting more traffic to a website is to create a compelling content campaign.
Your objective is to get visitors to your website, where you can tell them more about what you're selling. Then, point them in the direction of where they may make a purchase. You won't get any traffic from your affiliate links if your content isn't well-crafted.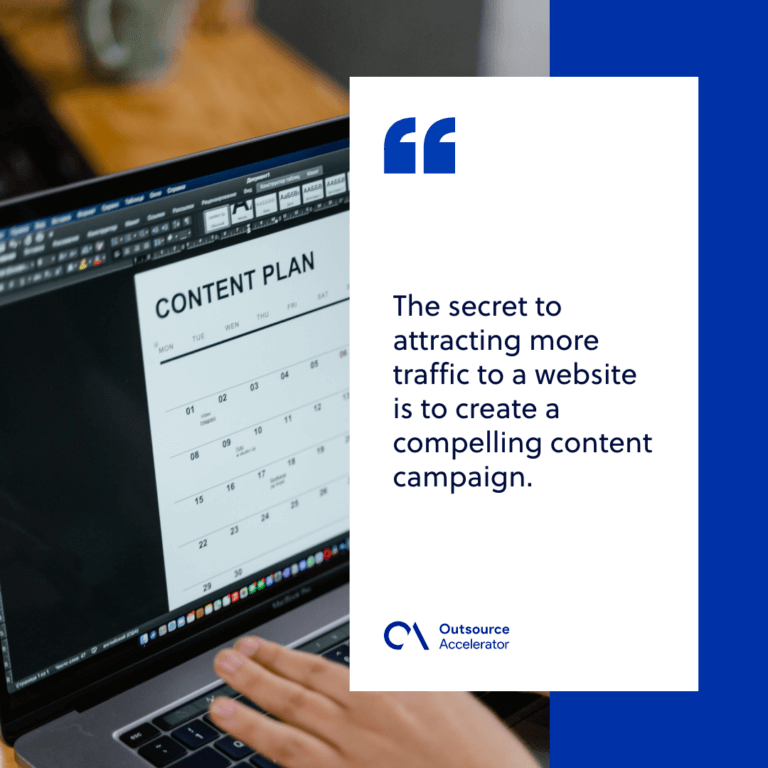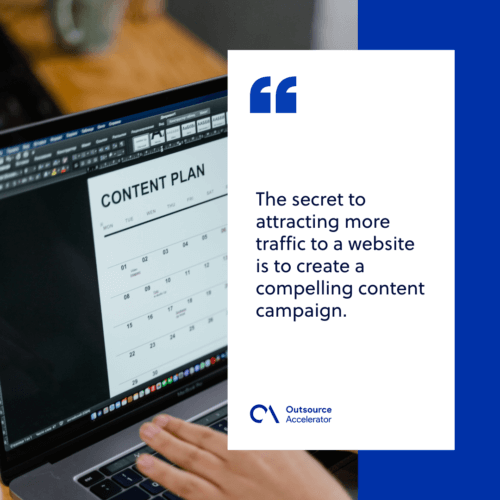 Boost traffic to your affiliate website.
Once you're done with your content, it's time to increase the number of visitors who might click on your affiliate links.
Here are a few ideas for improving traffic flow to your website:
PPC ads.

Paying search engines and websites to promote your website or items.

Search engine optimization (SEO).

Gives you consistent and passive traffic by ranking in search engines.

Mailing lists.

Emails let you communicate with your subscribers at any moment.
Optimize and track your website
In order to know how many people are visiting a website, you must track your website's statistics. But statistics can only tell you so much about how many people are visiting.
Regular website tracking and optimization improve websites and attract more visitors, which eventually leads to more profit.