A global business experiences success with Manila based multilingual customer service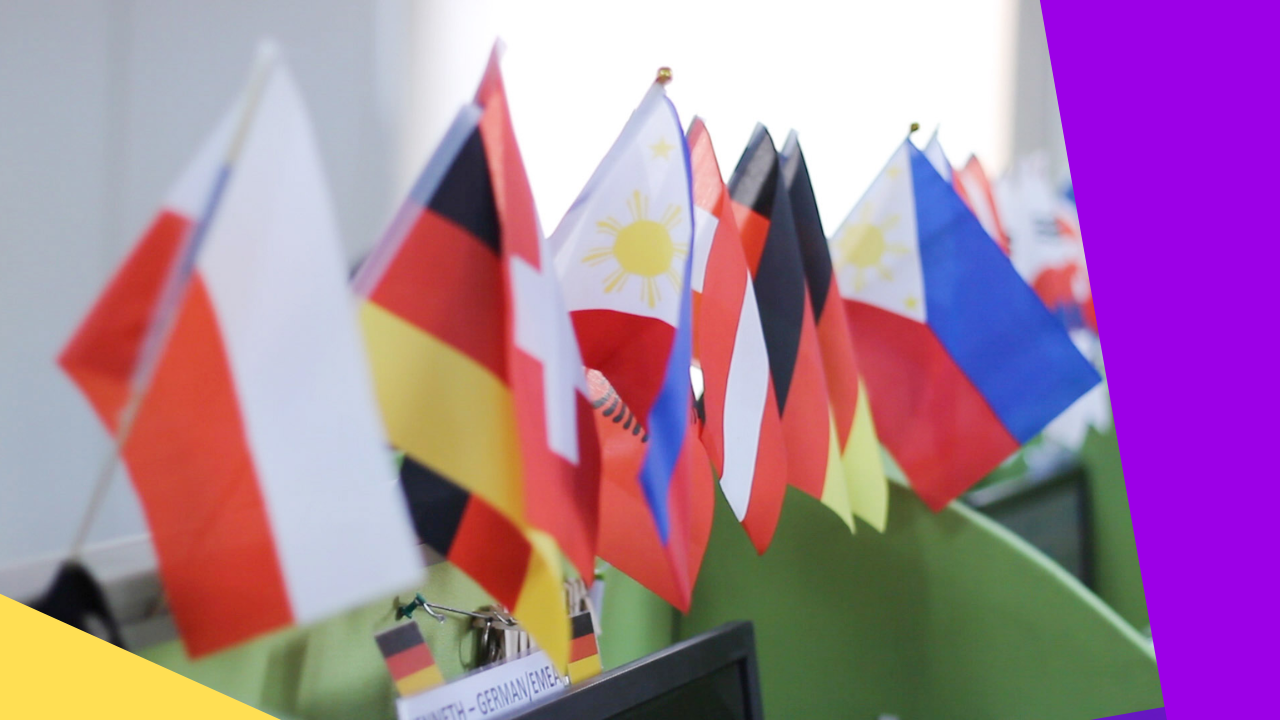 An English learning platform working with an offshore multilingual staff in the Philippines to provide excellent service to its customers worldwide.
Multilingual professionals from a variety of backgrounds
Eastvantage is home to dozens of multilingual customer support agents – professionals that provide customer support to their client's English language learners worldwide.
This robust talent pool of multilingual professionals come from a variety of interesting backgrounds: There are those born to Filipino parents abroad, a common story as 10% of the population of the Philippines are living and working overseas. Many of them can speak fluent English and Tagalog and are also exposed early on to a third language – from the country they grew up in.
There are also those from mixed-race backgrounds who learned to speak both their parents' languages, those who are foreign passport holders with permanent residency in the Philippines,
Filipinos who studied foreign languages out of their own choice, those who traveled to and stayed in a foreign country for a year or more and adopted the culture and language, and those who educated themselves with the language of their significant others.
Whatever the case, these people have mastered the ability that not all people can boast about – being able to properly communicate in multiple languages.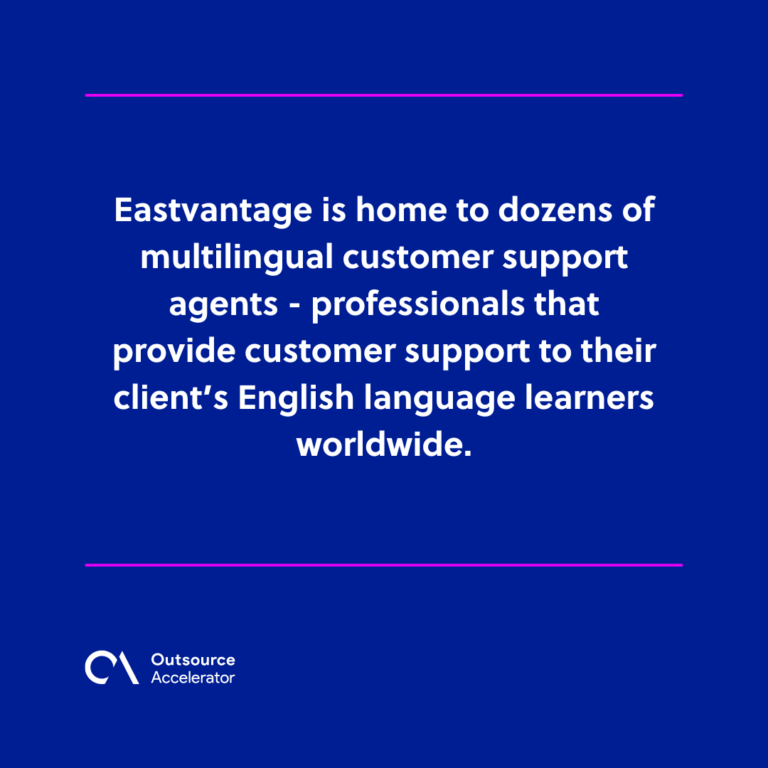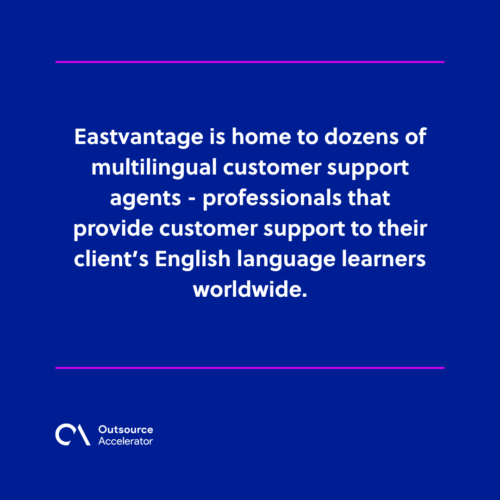 English learning platform
One of Eastvantage' clients is a company that provides an English learning tech platform – and it is one of the leading business English training firms in the world.

It has had its share of organizational changes and has since stabilized by centralizing their delivery from a strong regional hub. This helped them to obtain organizational ability by carrying out strategy at scale and creating a response to ever-changing customer demands.
This company has English language coaches and learners all over the globe and has opted to work with Eastvantage with one of its offshore staffing options.
The members of the team provide learning support to complement the education. These specialists are trained to assist the learners by checking their progress in the platform. They are also guiding them with their goals, whether it's getting better at verbal conversations or improving pronunciation and diction.
The capable support talent dutifully take notes to the system database where the language coaches and client management team in Silicon Valley can access them.
Before ending each conversation, the learning specialists never fail to remind the learners that they can contact them anytime via chat or email should they encounter any difficulties in their learning course.
Operational support and back-office functions
The client team is composed of learning specialists, accountants, and members of human resources, among others.
The team is responsible for providing support to multiple regions in Europe, North America, as well as parts of East, Southeast, and South Asia. With such diversity and coverage, the team is in operation 24 hours a day, 6 days a week, with 3 shifts.
The key to making it work is by putting up strong operational support in place. Eastvantage makes sure that it assigns an Operations Business Partner to convey important information between the onshore and offshore teams. When the client partnered with Eastvantage in 2018, a seasoned team manager, Charlie, was tasked for this particular team and role.
According to Charlie: "The most critical part of my role as an Operations Business Partner is to make the onshore client feel as if they're within the same office as their offshore team. We need to remove the natural uncertainty our clients feel by having a highly visible operational support layer.
This is an added value service that is pretty unique to Eastvantage in the outsourcing industry in the Philippines."
Happy employees and happy customers
To keep the people working at their best, the key is letting them know that they are valued and showing them that they are supported – by both the company and the client.
According to CJ, the coach operation associate, both the company and the client have shown their support end to end. They make sure that they are fully equipped and that the expectations are set well in terms of goals that are needed to be achieved.
Proper recognition is also given for their hard work with the performance-based awards held every quarter. There are also opportunities for career growth with points of contact being assigned every quarter, based on their skills and performance.
It is important for the whole team to maintain standards across the key metrics of performance, quality, workforce management, attendance, and employee retention.
This is why Eastvantage works hard to keep the team engaged to retain such specialized profiles, for the benefit of both Eastvantage and the client.