5 benefits of outsourcing warehouse operations worth risking for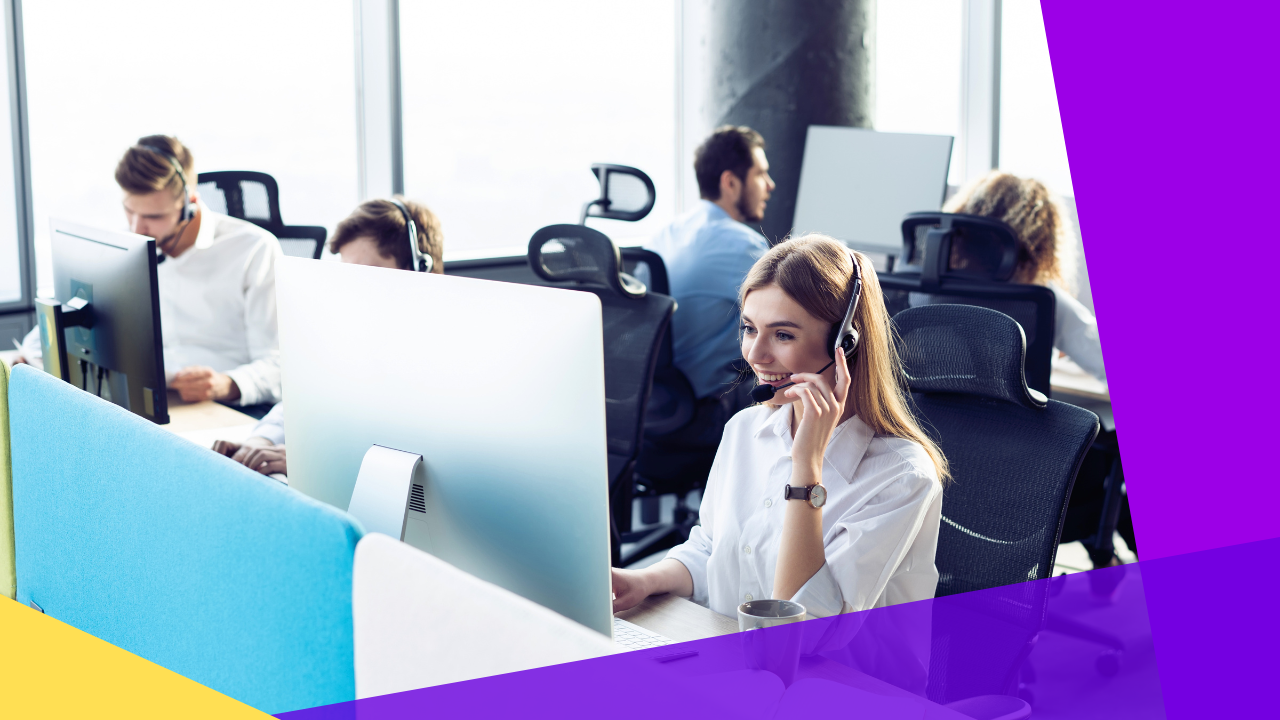 3 Benefits of outsourcing warehouse operations worth risking for
Warehouse operations are complex and require a lot of manpower. It is not always possible for businesses to manage this operation in-house.
The increasing costs compel businesses heavily reliant on transportation for their products to explore alternative and more cost-efficient options to sustain their operations. 
At the height of digital-powered systems and a more complicated market, one must adopt a new strategy to meet its customers' needs.
Outsourcing has always been a go-to option for its known and proven benefits – flexibility, scalability, and cost-efficiency. The benefits of outsourcing warehouse operations are bringing positive results in the industry, especially in the logistics department. 
Getting a third-party logistics (3PL) provider will allow more room for businesses to focus on decision-making, revenue, and growth. In this case, outsourcing logistics services is the way to go.
Benefits of outsourcing warehouse operations 
Outsourcing warehouse operations has many benefits that can help improve your bottom line. Here are the five main advantages you'll receive from outsourcing warehouse operations. 
Domain expertise
Many companies nowadays prefer outsourcing some of their operations to a third-party organization. This is because of their effective processes and workflow that have been tried and tested with tangible results.
Working with experienced people on relevant activities like outsourced warehouse and distribution allows you to delegate easily. Getting a 3PL provider exposed to a lot of business situations involving logistics and planning assures you that it knows how to approach yours right.
The fact is that warehousing and distribution is a highly specialized field and requires years of experience to become proficient. 
When you hire an outsourced partner, you can benefit from their years of knowledge and expertise without investing the time and money needed to train your employees.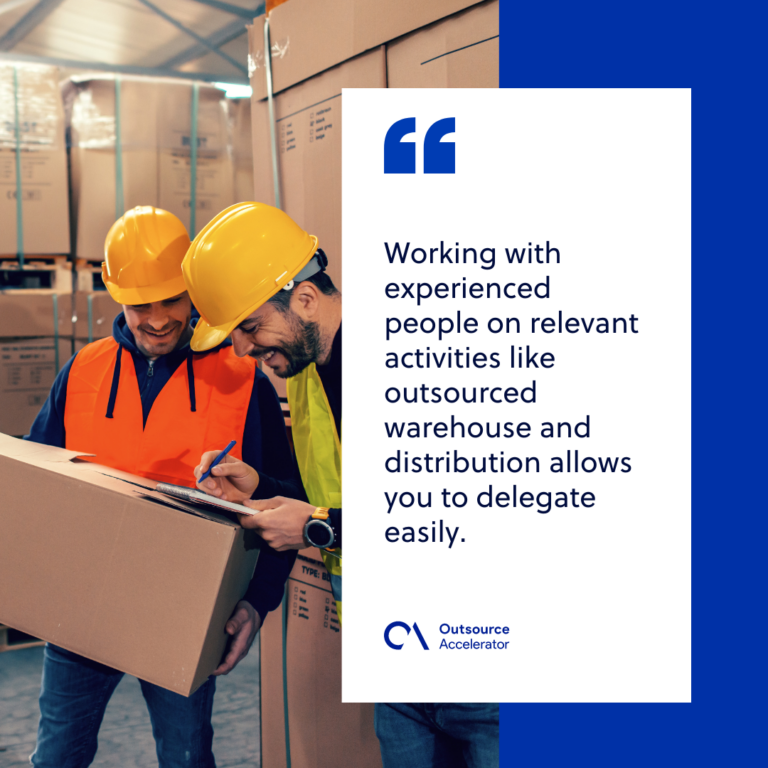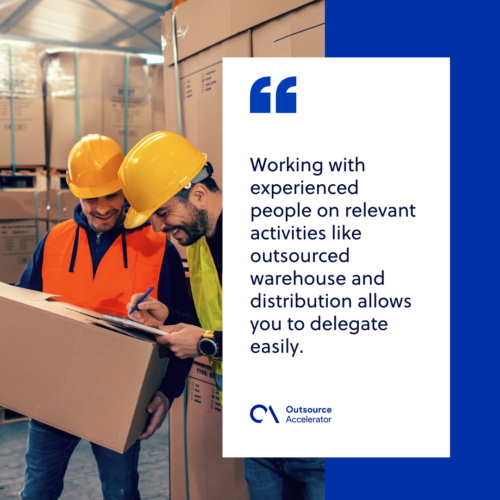 Streamlined processes
A streamlined, interconnected system is one of the reasons why many companies and businesses outsource to 3PL providers.
Logistics comprise different activities, including processing orders, warehouse management, inventory, and customer service. 
Outsourcing companies align these processes to produce smooth operations properly. The most effective way to do this is through the application of technology.
Outsourcing allows businesses to obtain a streamlined process flow involving the crucial aspects of your company's operations. An outsourced warehouse and fulfillment is a significant business decision you won't regret.
Outsourcing also allows companies to streamline their own internal processes by eliminating redundancies within their own organization or agency structure.
Transparent and efficient customer service
Having your processes migrated online allows you and your staff to conveniently access and monitor the cargo before and after shipping them. Some activities will let you enable your customers to do this themselves. 
In addition, this kind of transparency will also enable you to build your credibility with your customers in the market.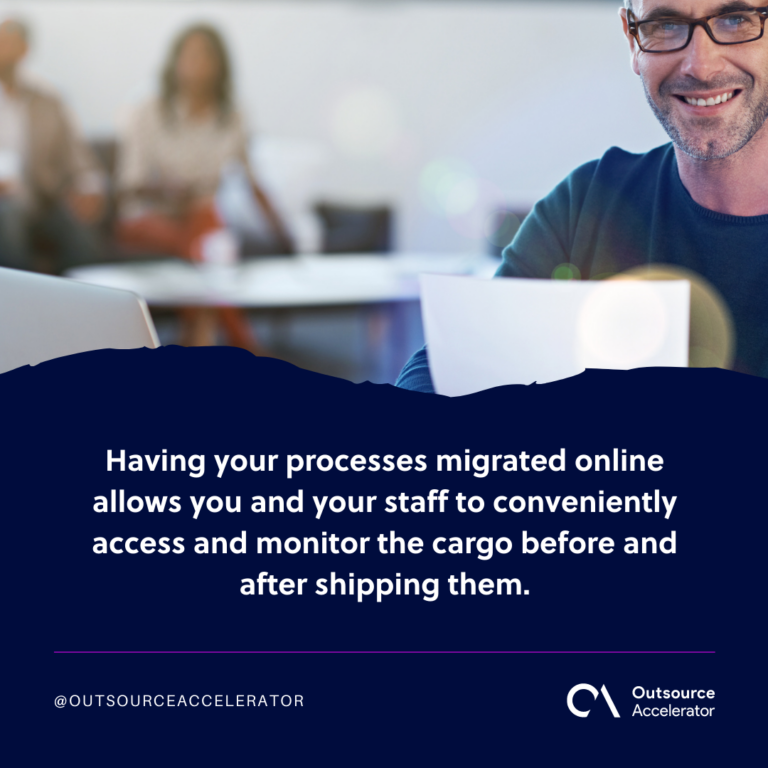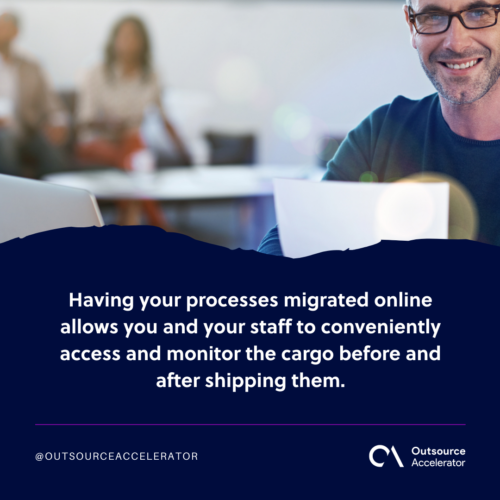 Efficient and scalable back office systems
Outsourced industrial logistics is capable of handling small to large-scale operations. What makes it effective is its back-office systems which can process a changing number of orders and inventory every day. 
Also, your outsourcing partner can provide capable staff to handle each activity, like data entry, invoicing, auditing, accounting, and compliance.
Scalability makes your outsourced solution cost-effective in the long run. It allows you to downsize or upsize the services you avail almost instantly to adapt to your business's changing landscape. 
Scalability guarantees you never miss an opportunity to expand your business given the proper timing or stay afloat while the market regresses.
Outsourcing will gain you more flexibility to adjust to current trends and possible changes in the business because you can already focus on your core competencies. The same goes for the third-party warehousing company you hire because their entire focus is on their business.
Cost-effectiveness
Outsourcing your logistics operations means less cost for purchasing equipment, handling and maintaining it, and hiring staff. Moreover, when you outsource warehousing services, you don't need the space to store inventory or the employees to handle it. 
You will only pay for what you use and when you need it. Outsourcing also saves you time that would have been spent in hiring new employees or training them in warehouse management software.
This leads to significant savings on your part, which can be used towards other investments or upgrades.
Sometimes, hiring an independent company to handle your warehousing operations is a better and more cost-effective choice if you need a better warehousing and transportation solution. 
The benefits of outsourcing warehouse operations will let you instantly have access to advanced warehouse technology, systematic workflow and processes, and domain expertise.
Whether you intend to outsource shipping, logistics operations, or your whole warehouse operations, always have due diligence in looking for the best service provider.