10 best soft skills games for efficient training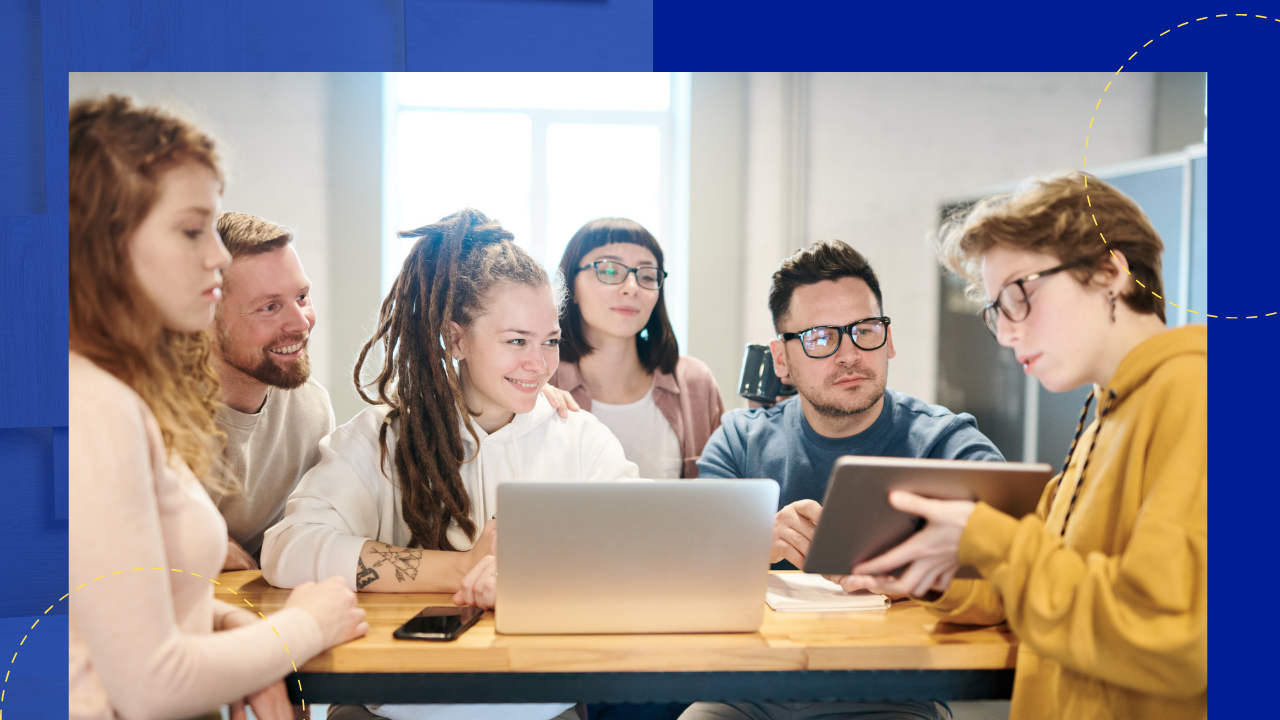 List of soft skill games
Most firms place less emphasis on employees' soft skills training and development. Through soft skills games, companies encourage employees to consistently and gradually improve their capabilities over time.
Employees that receive training improve their performance, enhance their productivity, and become better leaders.
What are soft skills games?
Soft skills games are activities that were designed to train and improve the soft skills abilities of a person or group.
These activities are fun because it involves a lot of informal communication and is really helpful to learn and discover new skills.
Emotional intelligence and the innate ability to get along with others are examples of soft skills. They're beneficial in a multitude of environments and professions. Managers utilize soft skills to improve the team's productivity and efficiency.
Examples of soft skills
Soft skill is a characteristic or personality feature that aids in interpersonal interactions and helps an employee to be successful in the work environment. 
Soft skills include things like being able to communicate effectively with clients, mentoring coworkers, leading a team, negotiating a contract, and completing tasks on schedule.
Here are the essential soft skills every employee has to develop for a better workplace:
Leadership skills
Teamwork
Communication skills
Problem-solving skills 
Work ethic
Flexibility
Adaptability
Interpersonal skills
How you can improve soft skills
There are various ways you can help your team hone and improve their soft skills. This includes the following.
Online courses. Online courses not only develop your team's hard skills and critical thinking. Various personal development courses can also help improve their soft skills and boost their confidence in the long run.
Brown bag lunches. Brown bag lunches or simple interactions during break times are a great way to improve communication skills within your team.
Soft skills exercises. Lastly, soft skills exercises can be played out during team-building activities as a more casual way to hone their skills through simulation and gamified interactions.
10 best soft skills games for your training
Soft skills games promote productivity, lower staff churn, and improve corporate culture. Here are the best soft skills games you can employ for your training while developing initiatives.
1. Back-to-back drawing
Goal: Improve communication
What you'll need:
An even number of people (partners)
Notepad
Pencil
Game mechanics:
In order for everyone to have a partner, you'll need an even number of players for this game. To begin, people sit side by side with a notepad and pencil in each hand. It's a two-person game where one person is the speaker and another is the listener.
Five to 10 minutes are spent having the speaker describe an image, and then the listener tries to depict what they have seen without looking at the image.
The communication practice of back-to-back sketching encourages groups or teams to work together and reflect on their communication methods.
2. Looking out of a window
Goal: Improve empathy.
What you'll need:
Game mechanics:
Create at least three separate rooms for breakout activities. Some employees decide a profession or persona without stating what it is. The learner creates a persona for what they see when they gaze out a window and focuses on that persona.
While the character or career is being revealed, other participants will make guesses about it. Then they'll switch roles.
Employees have a better grasp of other people's emotions, values, and worldviews after playing this.
3. Blindfold Game
Goal: Build trust and improve team collaboration
What you'll need:
Obstacle course
Two groups of participants
Blindfold
Game mechanics:
Create an obstacle course for your participants to navigate. To avoid confusion, participants should be separated into two groups.
When one person is blindfolded, everyone else must figure out how to deliver directions on navigating the course while blindfolded. At the same time, they must all remain seated.
Discuss the most successful communication technique in each group based on the amount of time you have. As a result of this method, trust is fostered, and clear communication is required to complete the course.
To ensure the safety of the blindfolded learner, have another person stand nearby during the course.
4. Concentric circles
Goal: Team collaboration
What you'll need:
Game mechanics:
This is another team collaboration activity but for a large group. It's helpful to have a pre-existing discussion topic in mind.
As a result of the importance placed on varied viewpoints during inclusive strategy meetings, it is frequently employed even when small teams are present. 
Everyone is given a summary of the discussion's objectives as a handout for this exercise. There are two concentric circles of chairs set up.
In this exercise, participants in the center sit as "talkers," while those in the outer ring sit as "watchers." These roles should be assigned before the exercise begins. 
Talkers start delving into the subject matter once they have their handouts in hand. As they converse, they refer to the objectives as a guide, and the listeners take detailed notes as they speak.
Participants exchange circles after fifteen minutes of discussion; those who were previously listening now sit in the inner circle for a fifteen-minute discussion. The exercise must conclude with a debrief, regardless of whether it was on the pre-selected topic or not.
5. Get It Together
Goal: Build focus and encourage teamwork
What you'll need:
Four or more people
Blindfolds
Colored tape
Assortment of small items
Game mechanics:
Blindfold one of the members of each team and divide the players into two-person groups. With the tape, make a circle in the center of the room and then arrange various objects inside of it for easy access.
The member with the blindfold must gather particular things from the circle based on directions supplied by their partner. You can't get into the circle with the person giving you instructions.
As more and more two-person teams enter the fray, the game grows increasingly difficult and complex. At this point, the game is over because it's become nearly impossible for teams to communicate and navigate.
6. Drawn Understanding
Goal: Comprehension and communication
What you'll need:
Even number of people
Paper
Colored pencils
Game mechanics:
Place two people back-to-back in a room. Colored pencils and paper are provided for the second participant, while the first has an item. Participants with objects must describe them in great detail without revealing what it is. This can be difficult.
The other participant must describe the thing as accurately as possible based on the first participant's description.
7. Eye Contact Circle
Goal: Nonverbal skill
What you'll need:
Questionnaires
Even number of people
Game mechanics:
Form a circle out of the members of the group. Answer the same question "What is your favorite color?" and make eye contact with someone across the circle after you've finished answering.
Participants must keep eye contact with their partners while calling out their names and gently switching locations. One of the most fundamental communication and trust fundamentals is the use of eye contact.
Assertive communication necessitates the use of simple nonverbal activities like this.
8. Emotional Charades
Goal: Improve instructional skills and non-verbal communication
What you'll need:
Game mechanics:
Emotional Charades is designed for small groups or large groups.
The clues are given by the instructor or game master, and the participants must guess. The leader needs to portray the given word through movements. For example, the leader can make facial expressions, adjust posture, walk around, and so on.
Participants will make guesses or cast votes to determine which emotion is being portrayed. 
After the game, ask them why they responded with a certain emotion as a follow-up question to see if there are any differences of opinion.
This game teaches learners to discern underlying emotions in others and to be more conscious of how they are perceived by others.
9. Crazy comic
Goal: Teamwork and coordination.
What you'll need:
Game mechanics:
Alanna Jones' 104 Activities that Build features a game called Crazy Comic. To do this, divide your team into equal divisions based on the number of people you have. Everyone in the class will work together to create a comic strip.
The comic's length is determined by the number of persons in each group who are responsible for sketching one frame of the strip. For example, three people make a three-frame comic.
A fixed amount of time should be allotted to each group to talk about the comic's theme, the characters they'll be drawing, and so on.
Participants will start drawing at the same moment without interacting. Since they don't communicate, it's imperative that all the details be worked out in advance. The team is also prohibited from viewing the drawings of the other members. 
After the allotted time, have the teams meet to look over their comics and have a discussion about them. Without much guidance from their leaders, the most effective teams are self-organizing.
This is a great game for practicing cross-component vision harmony in teams.
10. Misunderstanding
Goal: Drive creative communication
What you'll need:
Even number of people
Chairs
Various objects
Paper
Pen
Game mechanics:
Place two persons back-to-back on the chairs. Person A has an object that he or she must describe to person B (without revealing what it is). Person B is then tasked with illustrating it based on the details provided by person A.
This game is great for coming up with creative solutions to communication problems. It aids in the development of analytical and communicative abilities.
Organize a contest among the teams with larger groups to see who can come up with the most accurate drawing in the shortest amount of time.
Why are soft skills games necessary for training?
People with a diverse set of soft skills are more likely to get along with one another, work together, and resolve issues.
Because of their outstanding situational awareness and emotional intelligence, people with good soft skills can work in challenging environments and still produce favorable results.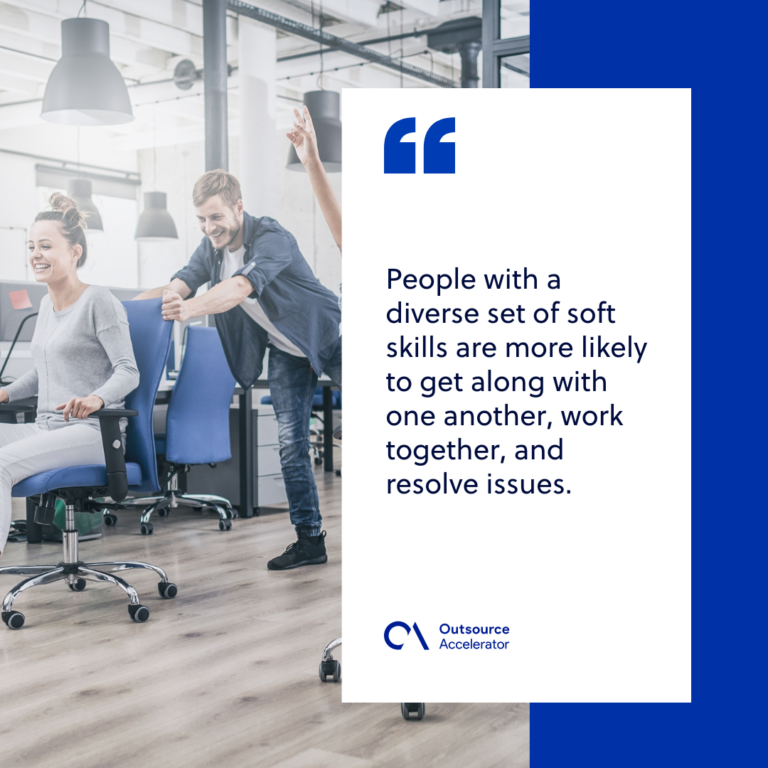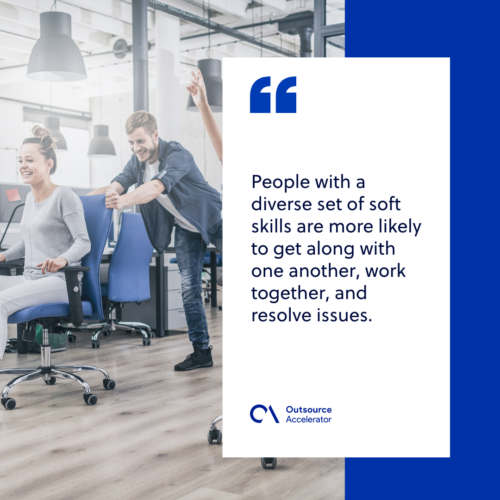 When it comes to leadership roles, this is especially true because great leadership is more about managing people and directing their efforts toward the desired objective than it is about applying specialized technical skills to solving a problem or dealing with a particular scenario.
Developing soft skills may result to:
A good phone call with a customer support agent
Well-skilled agents can improve customer experience
A strong sales pitch that convinced customers to buy the product