Why Outsource to the Philippines – 7 Reasons with Arnold San Miguel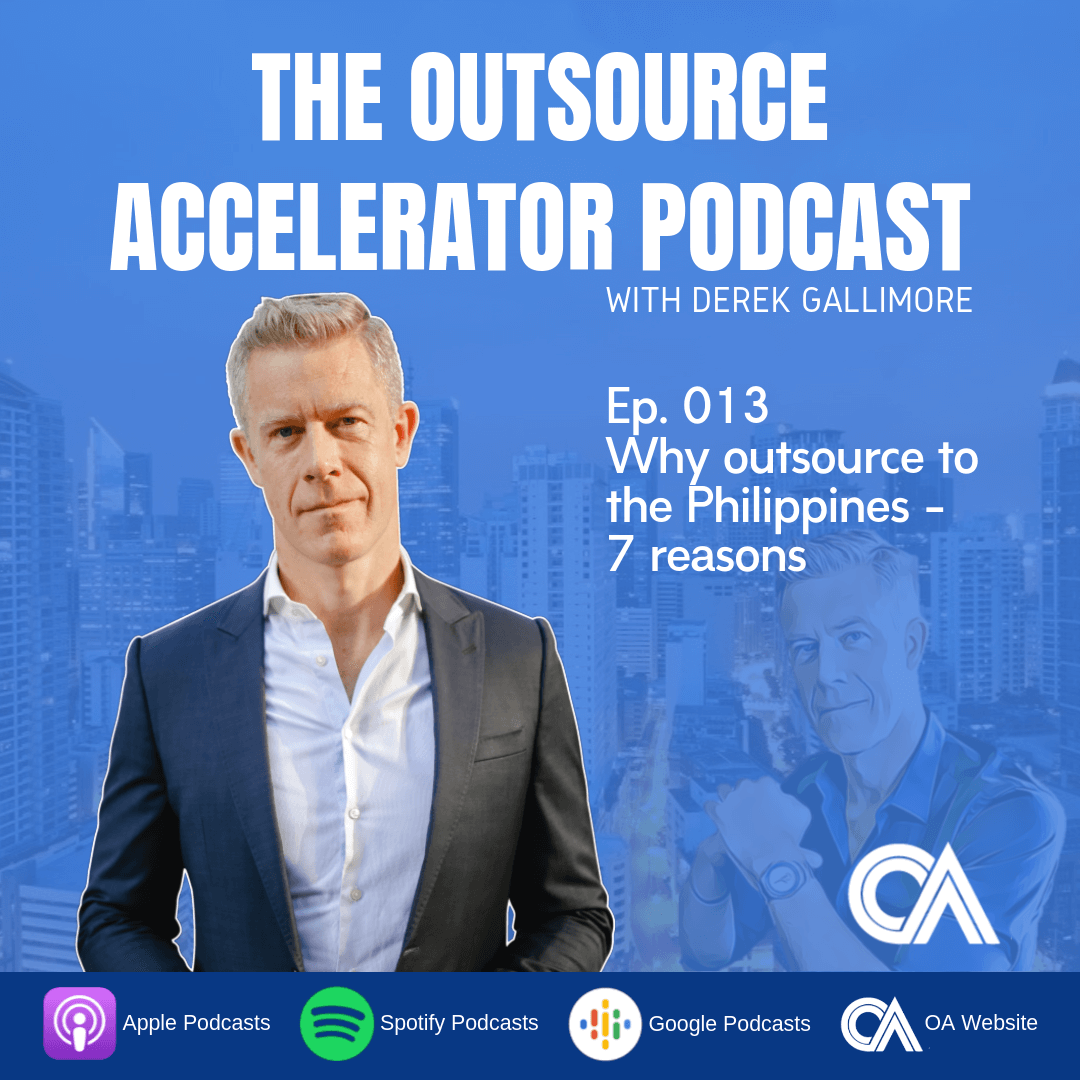 Ep 013 Derek Gallimore
Today, Derek and Arnold will go through the 7 reasons why companies should outsource to the Philippines. They will cover what makes the Filipino talent pool enticing for any business owner planning to outsource and how the Government supports the BPO industry.
Summary
First, the massive size of the Philippines which has a population of roughly 110 million. Producing 500,000 University graduates annually. Aside from that, the Philippines has a young population as compared to Western countries which have an aging population.
Second, the BPO industry has been around for about 25 years. There also over 700 BPO companies spread across more than fifteen cities in the Philippines.
The third is the rise of several BPO parks and business hubs in and out Metro Manila.
Fourth, a very high English literacy rate, not the highest because we all know Singapore is the highest but as we all know, Singapore is a very small and expensive country.
Fifth, the Philippines is a highly westernized culture than any other country in Asia. From the language to their hospitality.
Sixth, The Philippines is the leading provider of outsourced voice related services which is somewhat attributed to the cultural alignment and English literacy rate.
Seventh is the support coming from the Filipino government wherein specific tax exemptions were created in support of this. Municipalities are highly supportive of this because it gives them the opportunity to employ people within their town to work nearby.
Key Points
The Philippines is one of the go-to destination for companies who plan to outsource their business requirements. Two major reasons are the country's high English literacy rate and cost-effective salary rates.
The sheer size of the Philippines' young population is like a goldmine for outsourcing companies.
The support from the Philippine Government is very encouraging for outsourcing companies.
Resources
outsourceaccelerator.com/podcast/episode13
Transcript
Expand transcript
Derek: Hi, and welcome back to another episode, this is episode thirteen, lucky number thirteen some people will say. Episode thirteen of the Outsource Accelerator Podcast, my name is Derek Gallimore and I am joined by my host, Arnold San Miguel.
Today, we are talking about; why outsource to the Philippines? Alright, so we go through some key points there and points that I am really keen to drive home with you, the listener, it is a great destination.
So, hope you enjoy this, if you want any show notes, if you want any information then go to our website and it is outsourceaccelerator.com/podcast/episode13.
Derek: Hey Arnold; how are you?
Arnold: Hi Derek, I am doing great.
Derek: Great. So, today we are gonna talk about; why the Philippines? So, we are really into outsourcing, I recommend everyone should build a business with some outsourcing within the structure. But specifically, I really back the Philippines and that is for good reason.
We are gonna outline seven reasons here, there are a lot of other countries you can outsource to, a lot of them are fantastic and if nothing else I just wanna support outsourcing generally, but I think the Philippines has some great advantages.
So, without further ado we are going to start with number one, so, it's basically the scale, the size of the Philippines, it's massive, so it's got a population of about a hundred and ten million people and off that they are producing about five hundred thousand graduates, university graduates a year, and so, that's a lot of people looking for jobs and still the vast majority of the country is earning very low salaries. But they are getting educated, they are getting graduate qualifications and there is half a million new young grads entering the market every year.
Adding to that is the size, the sheer size of the young population. I think it is one of the youngest countries in the world, there is a lot of young people with a very high proportion of working age population compared to a lot of the Western countries where there is negative growth rates and a very ageing population, and so, there is a lot to look forward to there.
Anyway moving on what have got for number two, Arnold?
Arnold: Yeah, for number two in the BPO industry which has been around for about twenty five years or so, we have over seven hundred BPO companies spread across more than fifteen cities in the Philippines. So, again I just want to highlight that these are BPO companies.
We also have to take into consideration the freelancers, who just prefers to work at home and you know, certain individuals who takes full time office work but part time freelancers, so, add this all up, you have a very-very large talent pool to access to.
Derek: That's true, and the BPO companies obviously range between, I don't know; do you know how big some of the biggest BPO companies are, how many staff could they have?
Arnold: Yeah, I think one of the biggest employs more than twenty thousand just in the Philippines alone.
Derek: So these are pretty big companies and obviously, then down to very small BPOs. Sorry, what was that?
Arnold: Yeah, these are basically the Titans in the BPO industry and then there are a lot that recently where established that provides niche services.
Derek: Yeah, absolutely. So, you have got a massive range there and the BPO industry now employs about a million people within the Philippines. And they are projecting great growth rates, just have a look at our news hub for more information on that, but there is certainly a lot of elasticity within the population and the market, to grow that significantly. So, it's a big established market.
Arnold: Yup, it's very interesting. And number three is actually the rise of several BPO parks and business hubs, in and out of Metro-Manila which is the capital of the Philippines. It basically means more affordable options to future clients because people are getting encouraged to set up their own BPO contact center at a place, where in the minimum wage might be a bit different.
Derek: Absolutely. And because BPO is taking off there is more and more of this very specialized business parks and there are companies like Google here and whatever, all of the most significant tech companies have hubs here and they need very high specification, communications, safety, fail safes , and the Philippines is able to provide these things. And as the tide rises, then also does the average level and standards of all of these offices. So, it's really getting exciting in terms of the business parks and the options out there.
Great, and number four is the high English literacy rate. So, it's officially not the highest, the highest is Singapore but as we all know Singapore is:
(a) A very small country.
(b) A very expensive country.
So, the Philippines does have a very high English literacy rate. And that is a massive boon, it's a little bit controversial because they need to support their language but most people now are brought up on a diet of English, I don't know if you can sort of add to this, Arnold, but there is huge prevalence of U.S. media, social media, T.V., music and things like that.
Arnold: Yup, You know local T.V. channels always speaks in English most of the time. All of the books that we get from our high school, or college, or institutions.
Derek: Yeah. Most of the newspapers and things that's around here so, and all of the street signs really, and it even trickles down to, you know, almost everyone speaks a very high level of English including taxi drivers and labor workers and things so…
Arnold: Yeah, that is correct.
Derek:  Incredible. Okay and then, sort of adjacent to that, is that number five is that the Philippines has a highly westernized culture, more so than any other of Asia, more so than any other non-English speaking country I would propose.
The culture is very closely aligned to when it comes the West, everything from the language to the hospitality and friendly attitude of the people. But then also, it's worth noting not wanting to get too political here but Christianity was brought into the country by the Spanish about five hundred years ago and I believe also it is the only Christian dominant country in the West and it is about ninety percent Christian here.
So, I wanna remain completely agnostic in that regard, but having had the Christianity for five hundred years does create cultural alignment and that together with the English, it really is a very culturally aligned country. And why does that matter? It matters because if they are relating to your clients, if you are relating to them and working together directly, then all of these things really do have a massive impact.
And moving right along from that topic. So, the Philippines and maybe because of the English and the cultural alignment, it is the leading provider of outsourced voice related services. India is another big outsourcing capital of the world but they very much specialize more in I.T. and backend services.
Ever since international phone lines became affordable, the Philippines led the way in partnership or in support of the U.S companies and having voice related services, so that it's obviously all of your call centers but everything beyond them as well. And what have you got Arnold for, number seven?
Arnold: Yeah number seven is the support from the government, is very strong in this industry, from training to technological needs. I think certain specific tax exemptions were created as well to support this drive.
Now, this actually relates to number three wherein I mentioned the rise of several BPO parks and businesses, it's mainly because the local municipalities are highly supporting this drive. It gives them the opportunity to employ people within their town, to work nearby.
Derek: Absolutely. Because I imagine all of the provinces and towns and across the seven thousand islands are all seeing BPOs as a fantastic opportunity to employ their local community.
And it's good. And interestingly as well, there is the Clark… What used to be the Clark Air Force Base, which is probably two hours' drive from Manila. It used to be a massive U.S. Air Force Base and as the U.S. left, then the government initiative was to turn it into a huge free port zone which has incredible tax incentives, generally, tax free and all of that is been a huge outsourcing hub now. So, there is huge initiatives being taken by the government to encourage easy outsourcing solutions for the world, so, it's a win-win.
Great, thanks Arnold.
Arnold: Thanks Derek.
Derek: We will talk to you tomorrow.
Arnold: Thanks, bye.
Derek: Alright, hope you enjoyed that and got some information from that, that is of value.
If you want any information from the show notes, go to our website, it is outsourceaccelerator.com/podcast/episode13.
See you next time.