Philippine Political, Economic, Business and Security Updates with Greg Wyatt of PSA Consultancy
PSA Consultancy
Derek Gallimore talks with Greg Wyatt, Director of Business Intelligence at PSA Consultancy. Based in Makati, Philippines, the company provides risk consultancy services to businesses of all sizes. Greg has been a guest in previous episodes of the podcast.
The Philippines slowly opens up after more than 18 months of the pandemic. In this episode, Derek and Greg provide updates on the economic and business climates in the country, the effects of the upcoming election for companies, and data security threats in global industries.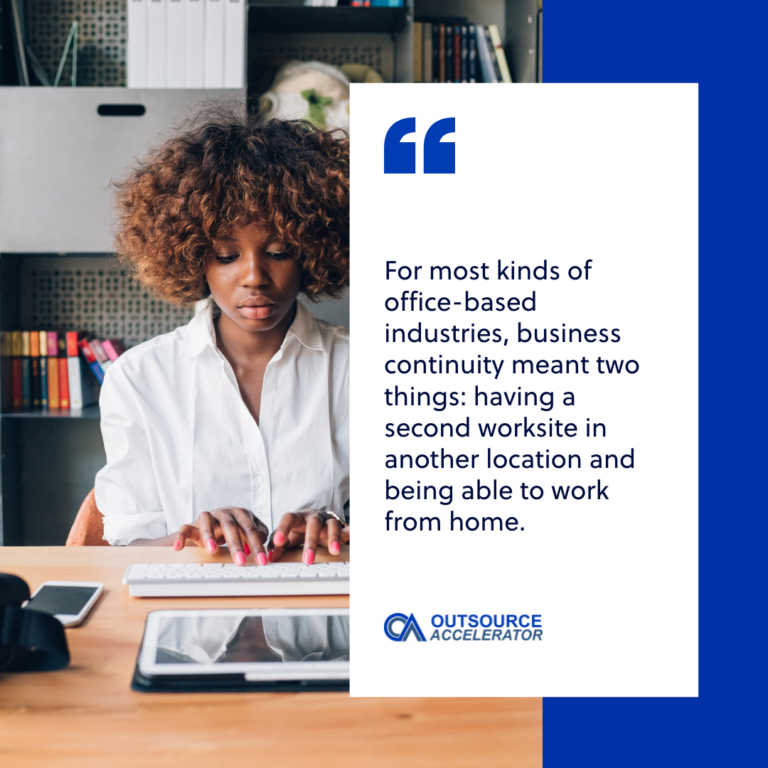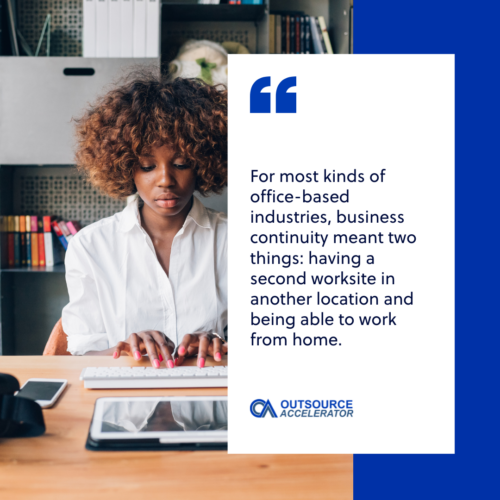 PSA Consultancy in a nutshell
Greg Wyatt, Director of Business Intelligence at PSA Consultancy, has been a guest of the Outsource Accelerator podcast for several episodes since the pandemic started in 2020.
Philippine Strategic Adviser (PSA) Consultancy dabbles more on risk consultancy for businesses in the Philippines. 
Greg recognizes the complication of risk consultancy since it covers "several business lines." They have to "cover a broad set of [aspects]" and make it relevant to a client. This is why he thinks it will be useful to group their services into two categories: 
Subscription reporting services

where clients usually sign up for every month;

Bespoke consulting work

involving reputational due diligence and security assessments
For Greg, being a generalist "puts everything into context" by helping their clients think about the right kinds of issues.
Updates on the COVID pandemic and vaccine rollout
A gradual drop in COVID cases
Greg is positive that the Philippines is in the middle of "a dramatic drop in cases." Indeed, COVID cases in the country are dropping around 40% weekly with the number of positive tests "going down by about 10%."
The indicators in the country are pretty good. However, Greg says that getting a complete grasp over the Philippine healthcare system "is a little tricky" with a lot of aspects to look at, including the ICU occupancy.
In addition, experts in the Philippine College of Physicians "are still skeptical" of the official numbers with several issues with frontliners still unsolved. 
Vaccine rollout
Per Greg, Metro Manila is "more vaccinated than the rest of the country," despite the regular confusion in reporting the number of vaccinated population.
News outlets usually report that around 80% of Metro Manila's target population is vaccinated. 
Greg explains that originally, Metro Manila targets at least 70% of its population to achieve herd immunity. 80% of this target only accounts for 59% of the region's entire population.
Meanwhile, nationwide inoculation has a "slower rate" with only 25% of the population having their first dose and 19% being fully-vaccinated. 
The target population is even different outside the Metro, especially within its nearby provinces. These provinces "agreed to have around 85-90% vaccination" before achieving herd immunity.
The vaccination rate in the Philippines
Despite the "official" statistics presented in the Philippines, the vaccination rate in the country is still "pretty awful" compared to its Southeast Asian neighbors. Greg claims that it is "only ahead of Myanmar" while other countries including Vietnam are ahead of it.
He does not see vaccine supply as an issue in this condition. Rather, the problem lies more in "administering the vaccine and [people's] hesitancy" and how these two aspects interact.
The number of "anti-vaxxers" in the country "is relatively small." What hinders people to get vaccinated involves finding time to get one despite their work schedules. Elders, meanwhile, have to find alternative ways to get vaccinated since they are not allowed to go out.
What's more, vaccine mandates aren't clear yet in the workplace.  Per Greg, cabinet officials have different views on whether companies can tell people to stay home and not get paid unless they're vaccinated.
Greg on the upcoming Philippine elections
Per Greg, businesses in the highly-regulated industries have "about six years of relative policy certainty" after a candidate is elected. Then, "the next president changes everything."
This makes elections exciting in the country.
He projects that a lot of companies "want to get in early" once a new president is elected. Meanwhile, deals made by the government and the private sector for the past six years "might be scrutinized."
The administration's "dangerous affairs" and its relevance to companies
Indeed, the Duterte administration is infamous for rampant human rights issues and conflicts with journalists. Greg says this instance is a good example of issues "being relevant to some sectors" and irrelevant to others.
While the violence is relevant to journalists, politicians, and other organizations affected, it's mostly "irrelevant to the private sectors" and international companies operating in the country. 
Such is the case for the BPO industry.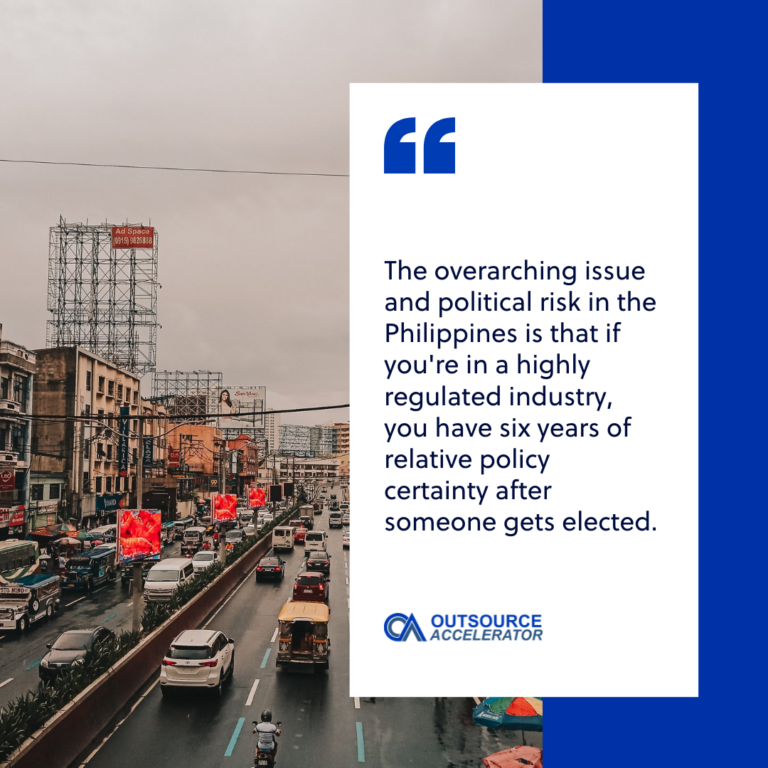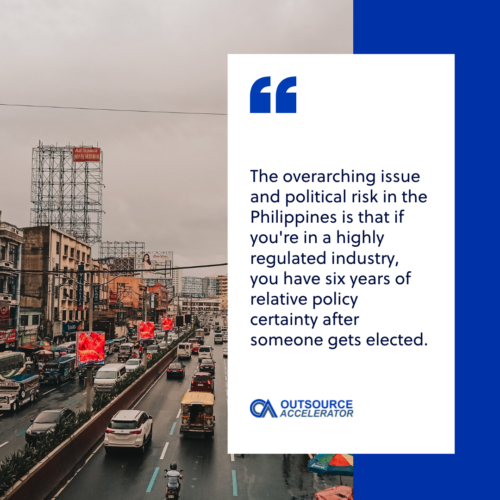 Data security in the Philippines
According to Greg, questions are floating as to whether crime is getting worse in the Philippines. Mixed reactions are given in terms of violent crimes. Even though some citizen groups believe it's getting worse, statistics say otherwise.
However, everyone agrees that cybercrime got worse during the pandemic. Per Greg, more cases are claimed where clients are victimized mostly with online scams.
Lots of business emails, for instance, are compromised and used for "spoofing" or imitating businesses for fraudulent transactions. According to Greg, online scams like these happen because "it's easier to turn to cash."
Another thing he sees with this is the lack of adequate security. In the office, physical measures and the existence of security cameras in the workplace serve as countermeasures for these scams.
When talking about security with their clients, PSA advises to "talk to [companies] with the same industry risk profile." This helps them get a hint on what the sophisticated threats are in their industries.
Get in touch with Greg through his email: [email protected] and by checking out PSA Consultancy's website.
Listen to more podcast episodes here: