Outsourcing Property, POGO & COVID Updates – with Morgan McGilvray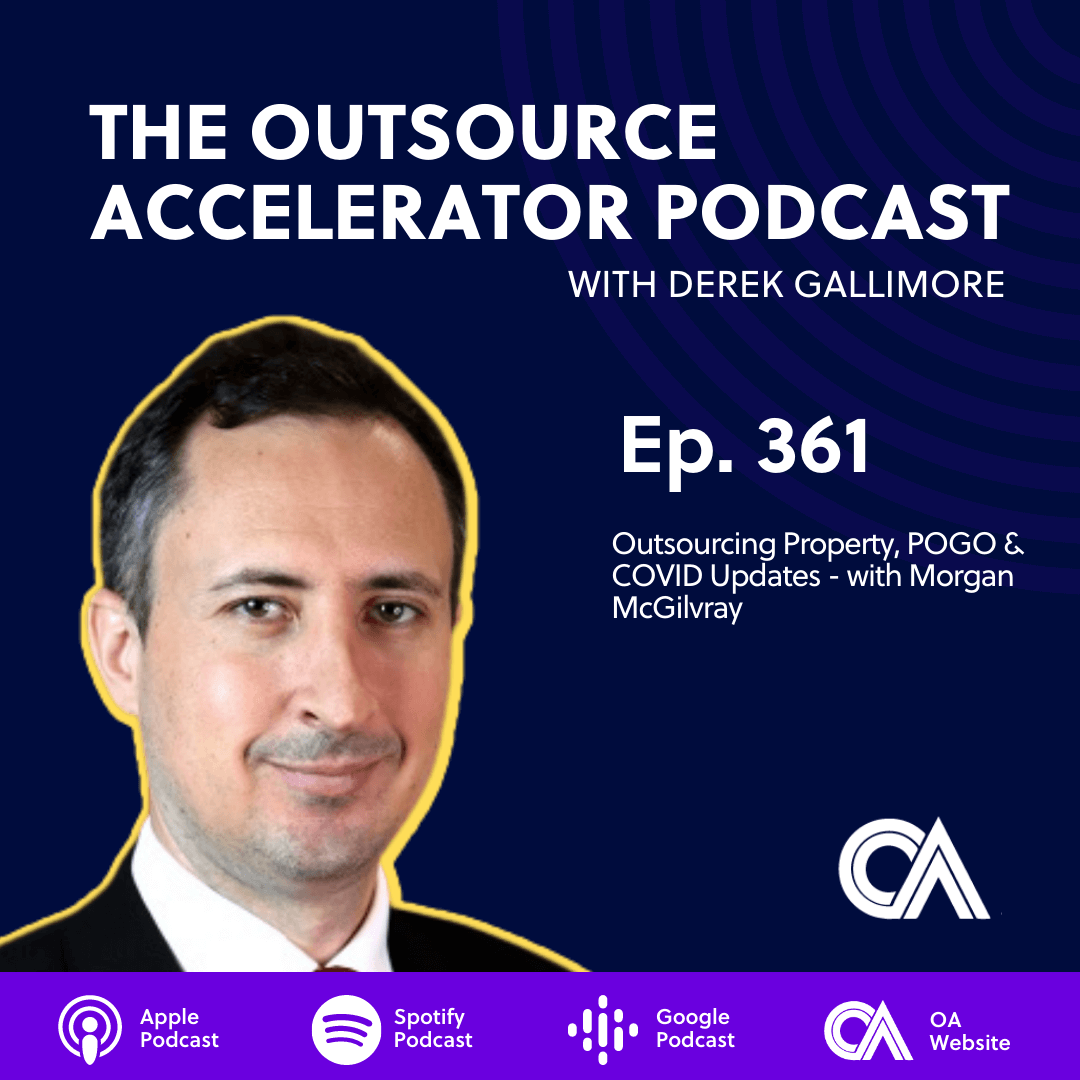 Santos Knight Frank
Derek Gallimore talks with Morgan McGilvray, Head of Commercial Leasing at Santos Knight Frank. They help businesses of all sizes and sectors look for an office suitable for their operations in the Philippines. Morgan has been a guest in previous episodes of the podcast.
Fast forward to 18 months of COVID, the property market in the Philippines is still optimistic of an increase in demand in the future. In this episode, Derek and Morgan will discuss the effect of remote work in BPOs and the sudden decline of POGOs to office leasing in the country.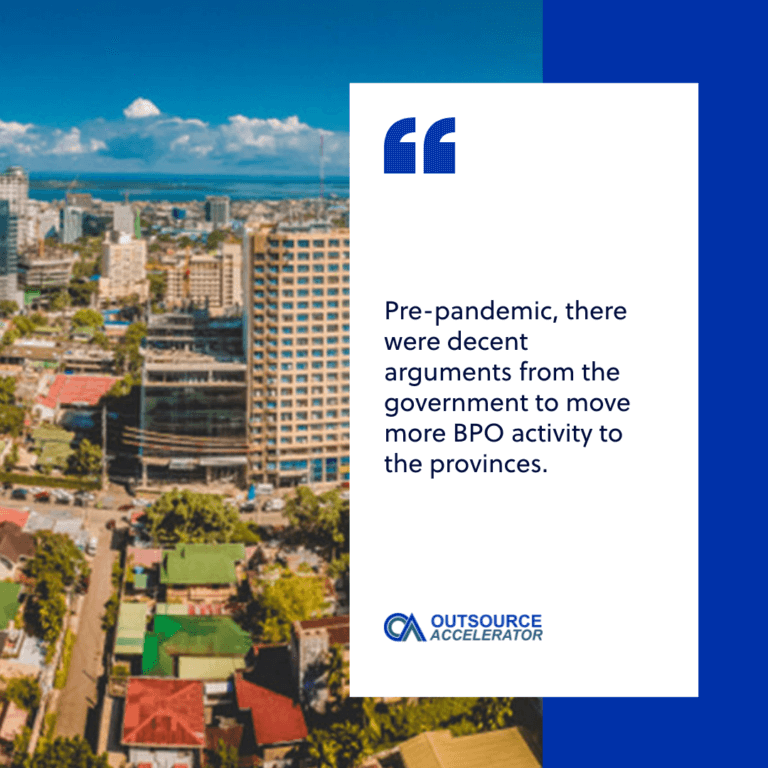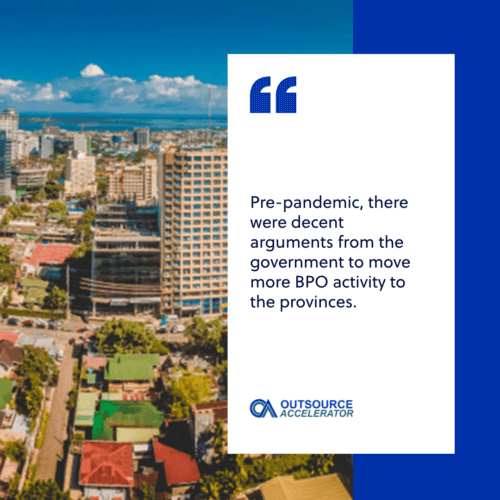 Morgan and the commercial property market pre-pandemic
Morgan McGilvray is the Head of Commercial Leasing for Santos Knight Frank. He helps BPO companies lease office spaces in Metro Manila and other locations in the Philippines.
Morgan joined the property market right after the global financial crisis. As he recalled, the market boomed from 2011 to 2017 along with the increasing popularity of the BPO industry. 
The outsourcing sector then experienced a bit of a slowdown in 2016, the same time Philippine Offshore Gaming Operations (POGOs) started entering the Philippines en masse. The property market regained its pace with the new player giving it a "real booster shot in the arm."
This lasted until the pandemic in March 2020 and, according to Morgan, is "all ground to a halt" until today.
Notable changes in the property market during COVID
Morgan explained the notable changes in the country's property market for the past year.
BPO-POGO market competition
Occupancy levels dropped due to changes in BPOs and POGOs. As Morgan recalled, up to half of POGOs "left in the middle of the night," abandoning tons of office spaces upon their move. 
BPOs, meanwhile, started to "give up their spaces" since the majority of their employees are working from home. These factors have accounted for the drop in occupancy levels in office spaces.
Price drops in leased properties
The property market in the country remains stable despite the pandemic. Though Morgan agrees that a bit of this stability is "smoke and mirrors." 
He observed that asking prices for rent in office spaces remained the same as in pre-pandemic. However, landlords have become more open to negotiating up to 40% lower rates.
The existence of real estate investment trust (REIT) funds
Real estate investment trusts (REIT) funds have become a way for large developers to raise funds by selling some of their buildings publicly. With the first IPO approved pre-pandemic, REITs started to have their foothold in 2020.
According to Morgan, the performance of each REIT depends on an investor's expectations. Though, it can be a waiting game for about "a year or two" to see its results.
A quick overview of POGOs in the Philippines
The Duterte administration started to legitimize POGOs, opening the floodgates for offshore gaming operations in the country. 
This also caused the peak demand in office spaces for up to millions of square meters by 2019. Landlords were happy to lease out their buildings since this meant income to them.
Per Morgan, several factors "killed the [POGO] industry" at some point.
Taxes

. The

Philippine government

imposed a 5% tax on gross income on gaming and a 25% gross income tax is implemented for nonresidents working under them. These rates were deemed a bit too high, causing them to move to another location.
Stricter immigration policies

. The added tax rates and stricter immigration policies made it more difficult to bring Chinese workers in, with other companies already "sidestepping immigration" through different schemes.

Crackdown on illegal gaming

. China, meanwhile, made its

crackdown on illegal online and cross-border gaming

. This further affected POGOS in terms of revenue and labor with its stricter policies on bringing workers to the Philippines.
These factors caused around 30-40% of POGOs to "leave the market, abandon their [newly-built] office spaces and forfeit their security deposits."
Even with the rumors of a rebound in the industry, Morgan implied that staffing would be their main concern in the future.
On pivoting the focus back to BPOs
Morgan implied that the POGO industry is a good source of income for the government. This is why they are sorting out the tax situation for offshore gaming operations in the country. 
With POGOs leaving the country, the focus also pivots back to the BPO industry, which has maintained its stability for decades. Though, per Morgan, the administration has been "changing the rules on PEZA" by taking away the tax incentives for new BPOs joining the PEZA program.
In terms of shared services, Santos Knight Frank "is not seeing any new entrants to the market right now" since large brands have existing shared services in the country. 
Morgan even sees a decrease in the portfolio of these companies, "indicating a shrink in shared services" while third-party services are growing.
Will there be an increase in office demand from BPOs?
Per Morgan, BPO growth and the rebound of office demand depends on "what [a BPO's] work-from-home strategy is." He adds that a big reason for few leases in 2021 involves the BPOs' uncertainty and lack of confidence whether they'll use their space sooner.
In his observation, some BPOs continue to take office spaces due to data sensitivity or company policy. The same BPOs even target offices in provincial areas, especially in Iloilo. 
Those whose clients allow their teams to work from home, meanwhile, give up "at least a portion of their existing office space" since they're not using them.
Still, Morgan is optimistic that the country will "start approaching some form of normalcy" should things stay under control for a few more months.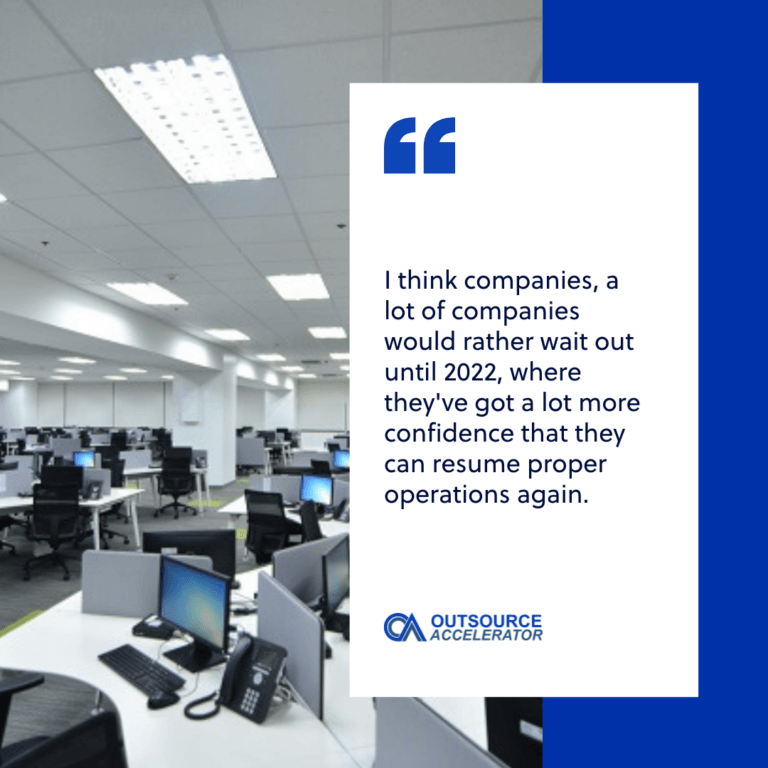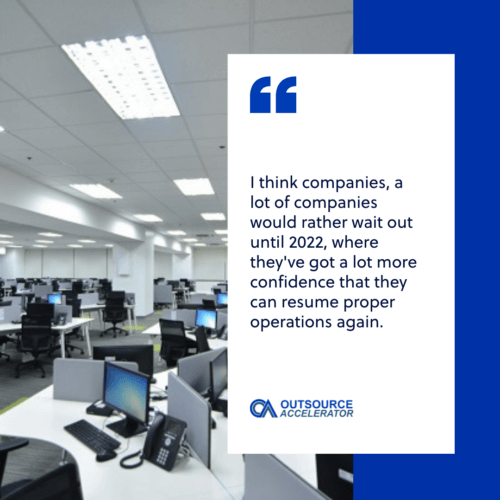 The future of work, according to Morgan
Despite companies looking to include work-from-home in their permanent work strategies, Morgan implied that companies "still need office spaces." 
COVID gave them a chance to experiment in a remote work setup and see if it works for their team. Those that see advantages in it might already have a plan to include them in their long-term strategies, spending at least two to three days in the office.
However, companies rendering WFH tend to miss on the following aspects of working:
In-person interaction

. According to Morgan, interactions become less meaningful when working remotely. It removes the community element in collaboration and working since teams are just facing their screens.

Hiring

. Another tendency when hiring remotely is that employers and teams "don't know the person" they're hiring. This lessens the familiarity in each of their employees which could cause further isolation.
Morgan McGilvray can be contacted through his LinkedIn account for further inquiries and interests.
Listen to more podcast episodes here: