Open Book Outsourcing with Derek Gallimore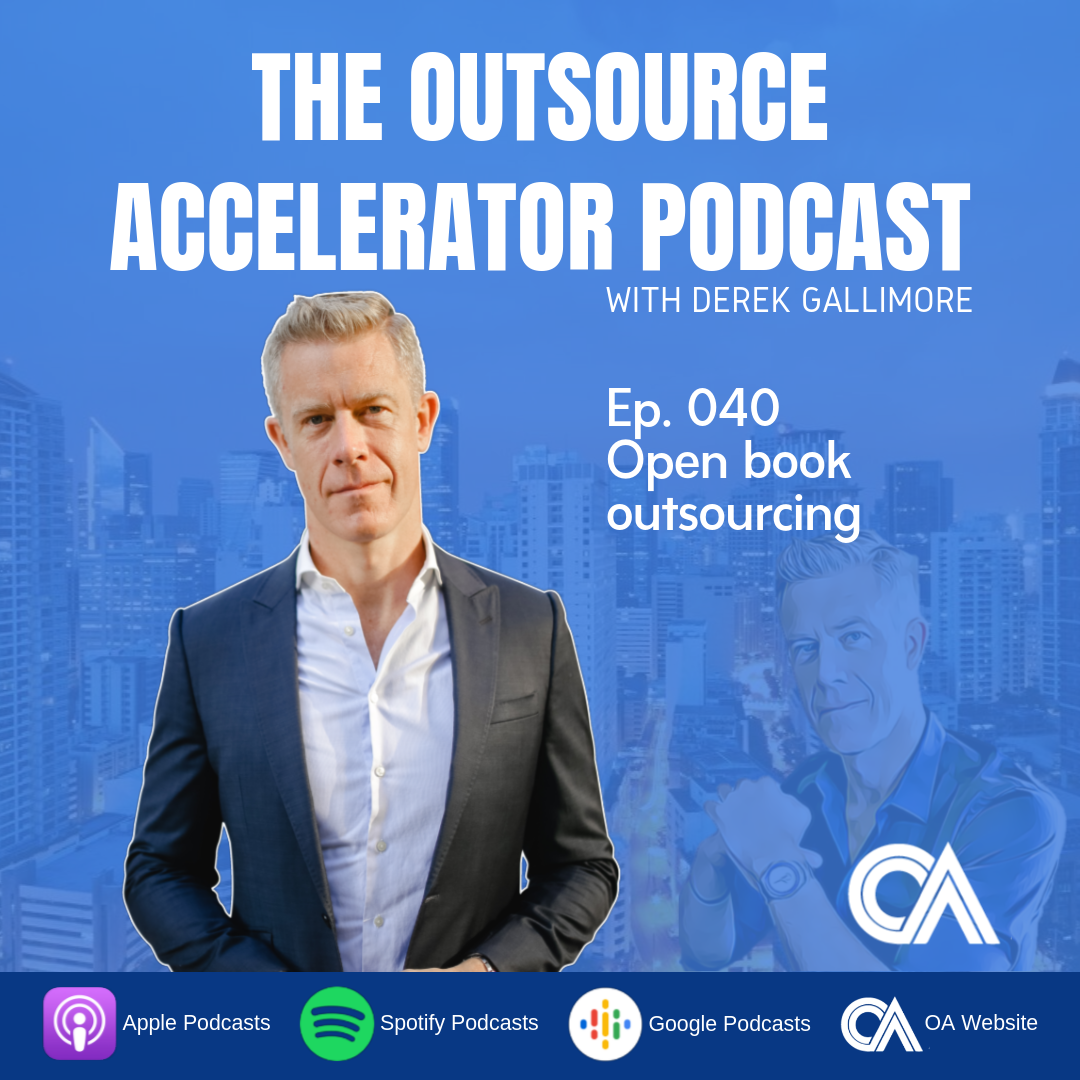 Ep 040 Derek Gallimore
Today, Derek will discuss Outsource Accelerator's new approach to open book outsourcing. Outsource Accelerator will be opening their process, revealing to you everything about how Outsource Accelerator is progressing as a company.
Summary
Outsource Accelerator is an outsourcing advisory offering 95 percent free content and information to people trying to encourage you to get into outsourcing.
Outsource Accelerator's target market is the small to medium size enterprise and business owners, COOs that have two to two hundred staff.
Outsourcing is an absolute game changer and that is what outsource accelerator is all about. So, Outsource Accelerator is monetized by offering basically one consulting package.
Outsourcing is no magic bullet. If it were that way, then everyone would be in business and be reaping the benefits.
One of the key things, why outsourcing isn't so easy, is that you're still dealing with people. And one of the people that you're dealing with is yourself.
The aspect that Derek personally struggles with, is delegation. This is a very common business issue. Most people have the tendency to have a personal approach of "I can do this", "I've got this".
Derek is interested in exploring the inversion of the pyramid. Traditionally a lot of companies come to the Philippines to outsource their backend. Backend operations are typically like accounts and customer service. Derek firmly believes in the model wherein the backend becomes the center.
Outsource Accelerator is reaching out to people who are successfully running their businesses. Derek envisions it to be a gentle sales cycle.
A pioneer is a reference term in the Philippines. They are the people that commence a project for a company. They are typically the first hire, medium to senior level management with good experience in a specific area. Once you have them on board, they have the key people to hire the rest of the team.
Previously, people wanted to be in bigger corporations in the Philippines. Companies with better structure, a clear career path, and better support. However, slowly that is turning around now.
Key Points
Outsource Accelerator is an outsourcing advisory which offers 95 percent free content and information to people, trying to encourage them to get into outsourcing.
Outsourcing is no magic bullet. And Outsource Accelerator is preaching a lot about how fantastic outsourcing is and how it will transform your business.  However, like anything like any aspect of a business, it's not easy. There's no magic bullet, otherwise, everyone would be in business and everyone would be raking in the cash.
As a business owner or COO, you have to take the time and learn the culture of the Philippines.
Delegation is one of the key aspects of a company's success.
Resources
outsourceaccelerator.com/podcast/episode40
Transcript
Expand transcript
Listen to more podcast episodes here: