Michelle Bubke – Inception of Offshore Intelligence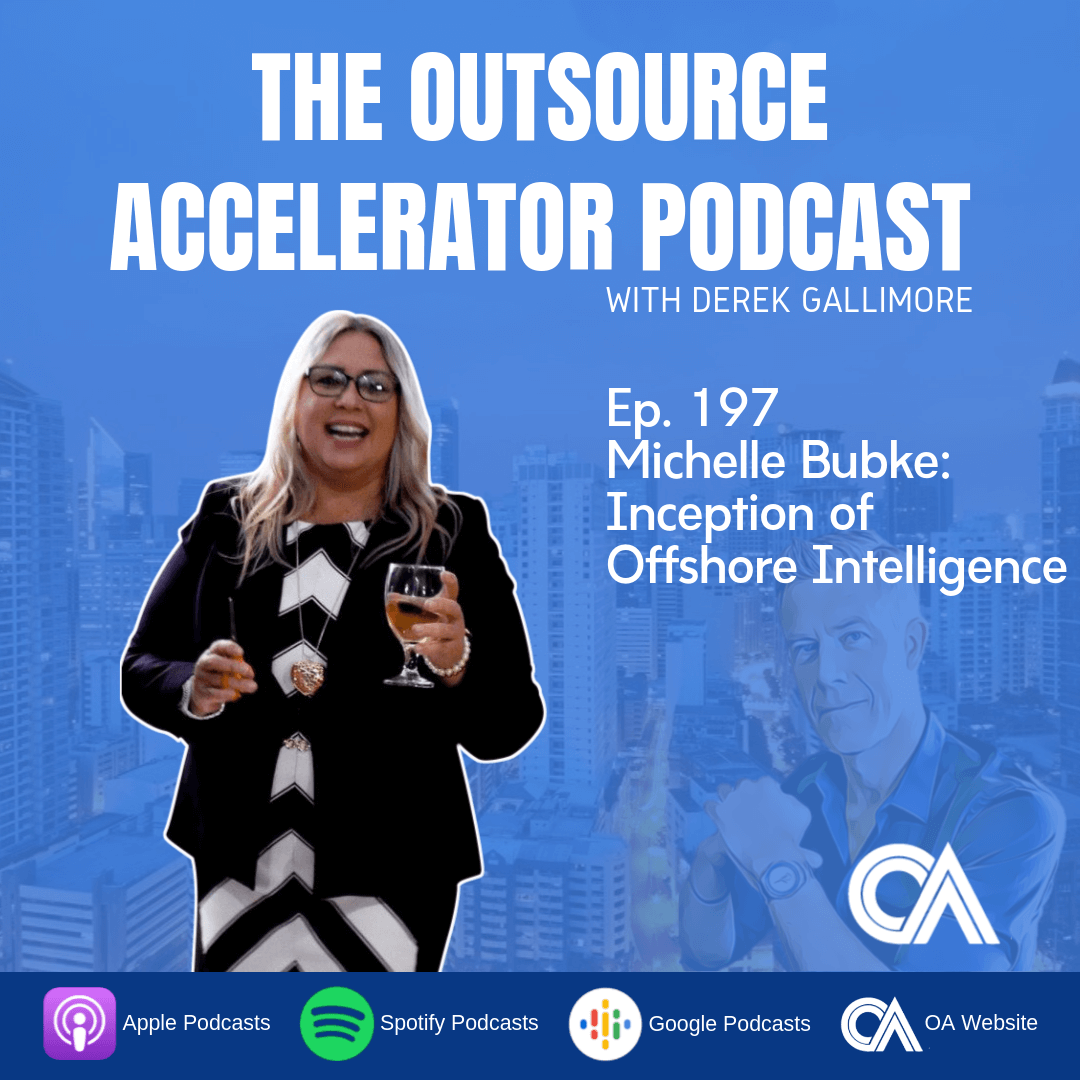 Ep 197 Michelle Bubke
Michelle Bubke, Chief Operating Officer for Offshore Intelligence operation in the Philippines, joins Derek and shares her journey into the offshoring industry.
Michelle founded a start-up of her own, an independently operated debt collection agency. She struggled in looking for talents to join her growing business, with no better options left, she ventured into offshoring.
Summary
For the scarcity of human capital, Michelle visited India and the Philippines to conduct her due diligence, and the potential of setting up an offshore office for her debt collection agency in Brisbane. She ended up with a shop in Eastwood City, Philippines with her first five agents, and is now growing her own empire

At first, Michelle thought that outsourcing in the Philippines is only suited for the big industry players. She's proven herself wrong and discovered many more reasons for doing business in the Philippines like the cultural alignment, English communication skills with the clean accent, and a pool of trainable talents.

Offshore Intelligence offers boutique model of outsourcing services particularly for offshore recruitment companies experiencing scarcity of the human capital by matching talent with the company's requirements and seeing to it that the clients understand what the talents need in order for the relationship to succeed.

The biggest barrier for small players, and SMEs is the fear of the unknown and misconceptions of the industry.  Offshore Intelligence encourages potential clients to dip their toe in the industry and get rid of their fears because they are there to hold their client's hands as they build their offshore team and set that up to succeed.

Michelle testifies that the issues that beset the outsourcing industry ten or more years in the making are now things of the past as big industry players are investing on modern solutions, education, technology and infrastructure to support their own growth and the industry in which they operate.
Key Notes
Offshoring or outsourcing offers solution to the scarcity of human capital on one side of the globe, and the scarcity of employment on the other side. It is the place where the demand matches with the supply.

It is the fear of the unknown, the perceived industry risk, and misconceptions that deter companies particularly SMEs to deep their toe into the BPO world, so it is important that providers keep holding these hands for as long as required.

Over the years, the outsourcing industry has matured tremendously and the successful journeys of companies in the outsourcing world.
Reference:
www.offshoreintelligenceglobal.com
Expand transcript