Leah Katrina – Freelancing and Operating an Ice Cream Business
Last updated August 22, 2019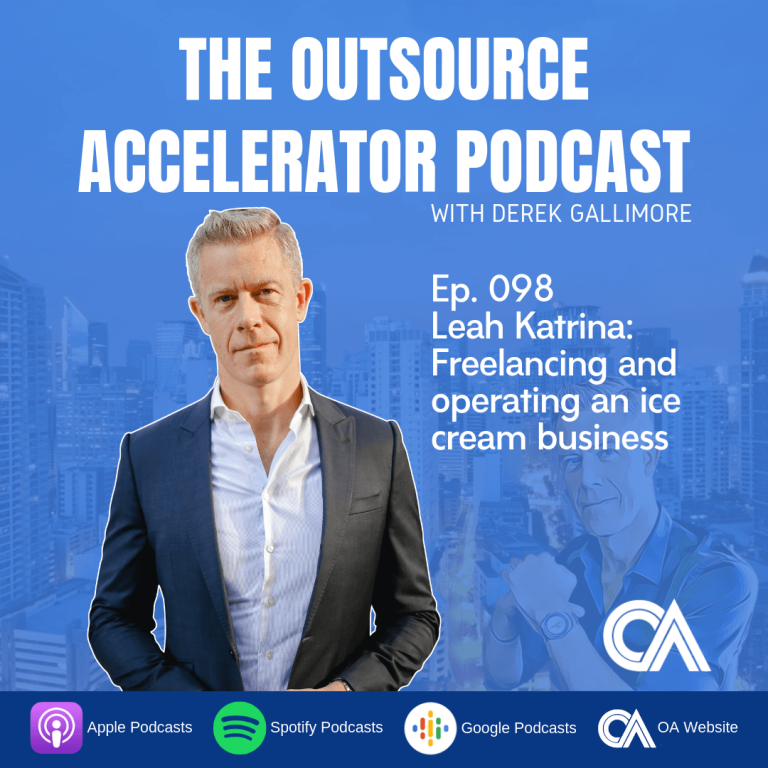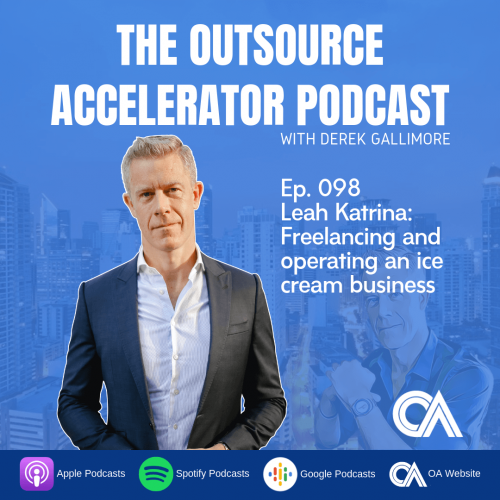 In this episode, Derek is joined by Leah Katrina for the third time. Leah is an experienced Virtual Assistant and also owns a couple of business in Manila. Derek and Leah will talk about her business venture and what drives her to pursue those.
Summary
Leah runs an ice cream business with her sister and his soon to be brother-in-law.

She helps out with the marketing and branding.

According to Leah, business is actually very good and the demand is overpowering them.

As of now, they only cater to some hotels and restaurants in Paranaque, Makati, and BGC area and they are still looking for partners.

She is looking forward to double the production and get more clients and partners to sell their brand or sell their products.

Leah also makes and designs yoga jewelry. It's called Mala beads or Buddhist prayer beads.

She is inspired to venture into the "bead" business because she does yoga and she likes designing.
Key Points
It's common to see freelancers having entrepreneurial spirits and having their own small business on the side

Mala beads or Buddhist prayer beads is originated in Tibet and other Buddhist countries.
Resources
outsourceaccelerator.com/98

https://www.facebook.com/AdamsIceCream/
Transcript
[read more="Read Full Transcript" less="Hide Transcript"]
Derek: Hi and welcome` to another episode of the Outsource Accelerator podcast. My name is Derek Gallimore and this is episode 98. So today I am talking to Leah Katrina, we actually spoke to her in episodes 68 and 69 so if you want her backstory go and check out those episodes.  She has a background in Upwork.  She does virtual assistance, functions and also web design web management but she also has a couple of sides hustles, she has quite a successful ice cream company in Manila now and a bead company so it's really interesting to look at all the interest she's got going on and this is a very common thing you see in Manila in the Philippines these people work super super hard and they're actually, I mean it's hard to generalize but there's a lot of entrepreneur going on here so an inspiring quick insight in to Leah's happenings and if you want any of the show notes the summary of what we talked about  or to get in touch with Leah go to our website it is outsourceaccelerator.com/98.
Derek: Welcome back, Leah Katrina and we interviewed you previously and looked at your career, your successful career in Upwork where you do a lot of digital media, IT and web management and also virtual assistant work. I don't know how you fit it all in but you also have some fairly significant entrepreneurial pursuits and I see there's a lot in Philippines and Manila specifically where people have a lot of things going on a lot of sides hustles a lot of really interesting entrepreneurial pursuits so I wanted to have a chat with you about that so of interest as well I'm going to the local organic market here in Manila on Sundays and I see an ice cream stand there
Leah:   It is called, Adam's seriously good ice cream.
Derek:  So tell me about this, this is your brand, yeah?
Leah: Yes, so I run this ice cream business with my sister and my soon to be brother in law, Jordan Jaucian so he's practically the owner and I help out with the marketing and branding.
Derek: And tell me about the ice cream. Is it organic ice cream?
Leah: We have 3 categories, we have the dairy, the regular dairy ice cream we have I think 13 flavors for that and then we have the non dairy and vegan.  I think now we have 3 or 4 flavors and we also added to the company our all vegan plant-based Popsicles, it's called 'lick my stick'.  We bought it from a friend of ours who's already moved out of the country so we just retained the name and the brand.
Derek: And how's business?  How is Manila receptive to this new age Popsicle?
Leah:  It's actually very good and the demand is overpowering us now and we have this actually one guy called us like why are you so hard to find? like what's up with that why you're like
Derek: Because they keep on hearing about you and..
EXPLORE OUTSOURCING: GET 3 FREE QUOTES
Leah: Yeah, but up until now we only cater to like some hotels and restaurants within Paranaque, Makati, and BGC area and we are actually looking for partners and we have our exclusive delivery with metromart.com so if you want to have it delivered you just order from them.
Derek: What are you seeing expansion in the next 2 or 3 years?  Are you looking to double or ?
Leah: Yeah we are actually really looking forward to double the production and like next month we are going to be in an expo the goal for that is to get more clients and partners to sell the brand or to sell the products because people are really looking for it but they don't really want to go to Legaspi market.
Derek: So you work, we heard in the other episodes that you work up to 16 hours a day or very commonly, you have your jobs on Upwork and then you also have this ice cream company that is somewhat a startup and then also you have other ventures so you're doing? what else are you doing?
Leah: I make or design yoga jewelry. it's called 'Mala beads' or Buddhist prayer beads. This originated in Tibet and other Buddhist countries but these beads, they've become like accessories also for like necklaces people use it as necklace or as a like meditation tool.
Derek: And what inspired you to venture into beads?
Leah: Well of course I do yoga also and I have a lot of yoga friends and I see that there's not a lot of people doing it here yet so I saw one brand that they make the plain ones and I was like I want to make something like really cute ones like with combinations of gemstones and wood and lava stones and whatever.  So I started doing that and also my mom she's big on gemstones I have tons of gemstones at home so I'm already familiar with the gemstones and the meanings and whatever.
Derek: You like to keep busy?
Leah: Yeah, like yesterday i finished all my work at like 5 pm and I was like it's still light and I'm not doing anything I need to do something so yeah I like designing, I like, I'm an artist, I would say cause I like photography and very detail oriented I would say so designing anything I'm good with that. I'm cool.
Derek: And if people want to get in touch with you, how do they do that?
Leah: So if you want to some ice creams, so you can go to our Facebook page adamsicecream_ph or Instagram, Adam's ice cream or if you want some Mala beads you can go to my Instagram as well at SamsaraMala and facebook.
Derek: Thank you, Leah.
Leah:  Thank you so much, Derek.
Derek: That was Leah Katrina and if you want to get in touch with Leah, if you want to know any more, if you want to get the transcript of the episode go to our show note at outsourceaccelerator.com/98.  See you next time.
[/read]