Cliff Perez – Journey as a BPO Manager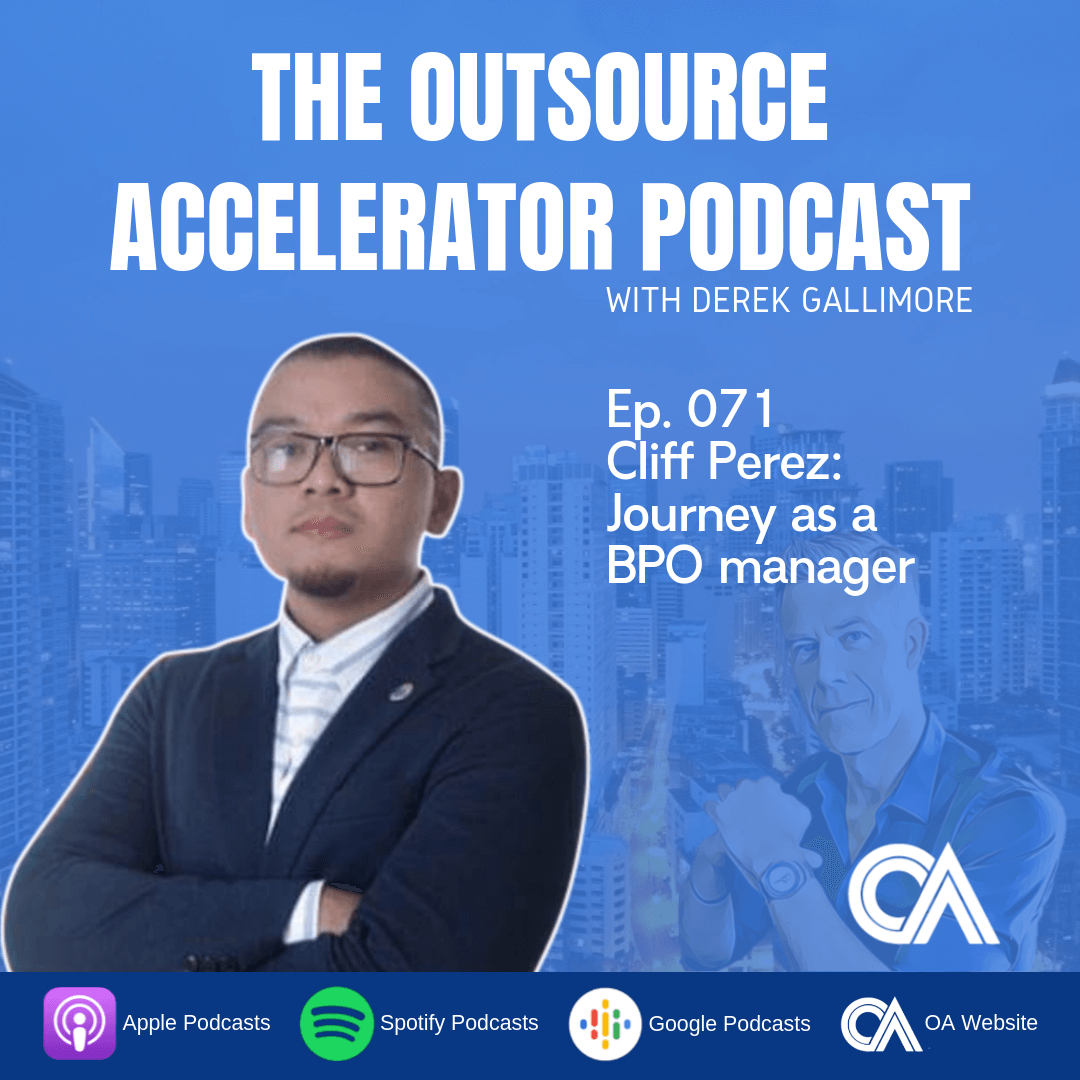 Ep 071 Cliff Perez
In this episode, Derek is joined by Cliff Perez and they will talk about the amazing talent and skills available in the Philippines.
Summary
Cliff has forged a very strong and successful career in the outsourcing industry with 12 years of experience.
Cliff gave us insight into the amazing talent pool and the skills available in the Philippines.
According to Cliff, the BPO sector has helped him as well as his family monetarily. He was able to provide for his family and send his kids to good schools.
One strength that Cliff sees in Filipinos is that they are very adaptive when it comes to language.
Filipino kids now have more access to YouTube and American songs. So, as a result, the English language is almost second nature to them.
Cliff also discussed his experience working for big BPO companies and startups and also the differences and advantages between the two.
Cliff stated that he sees broader job availability in outsourcing to the Philippines mainly because of the depth of skills that Filipinos possess.
According to Cliff, the going rate for mid-level managers in big companies ranges from 40-50,000 PHP while in startups it ranges from 60-70,000 PHP. As for site managers, the salary range is 150-200,00 PHP.
Key Points
Filipinos are highly adaptive and can learn any language more quickly than others.
Filipinos are very skilled workers and they are considered jack of all trades because of their ability to do and learn a lot of things.
It is important to note that salaries start off very cheap in the Philippines for new graduates. However, as you get up to the top executive position it's quite similar to the Western salary because they are the bridge between the Philippines and the West.
Resources
outsourceaccelerator.com/71
Transcript
Expand transcript