Activation Consultation 3.0 – Training and Skill Development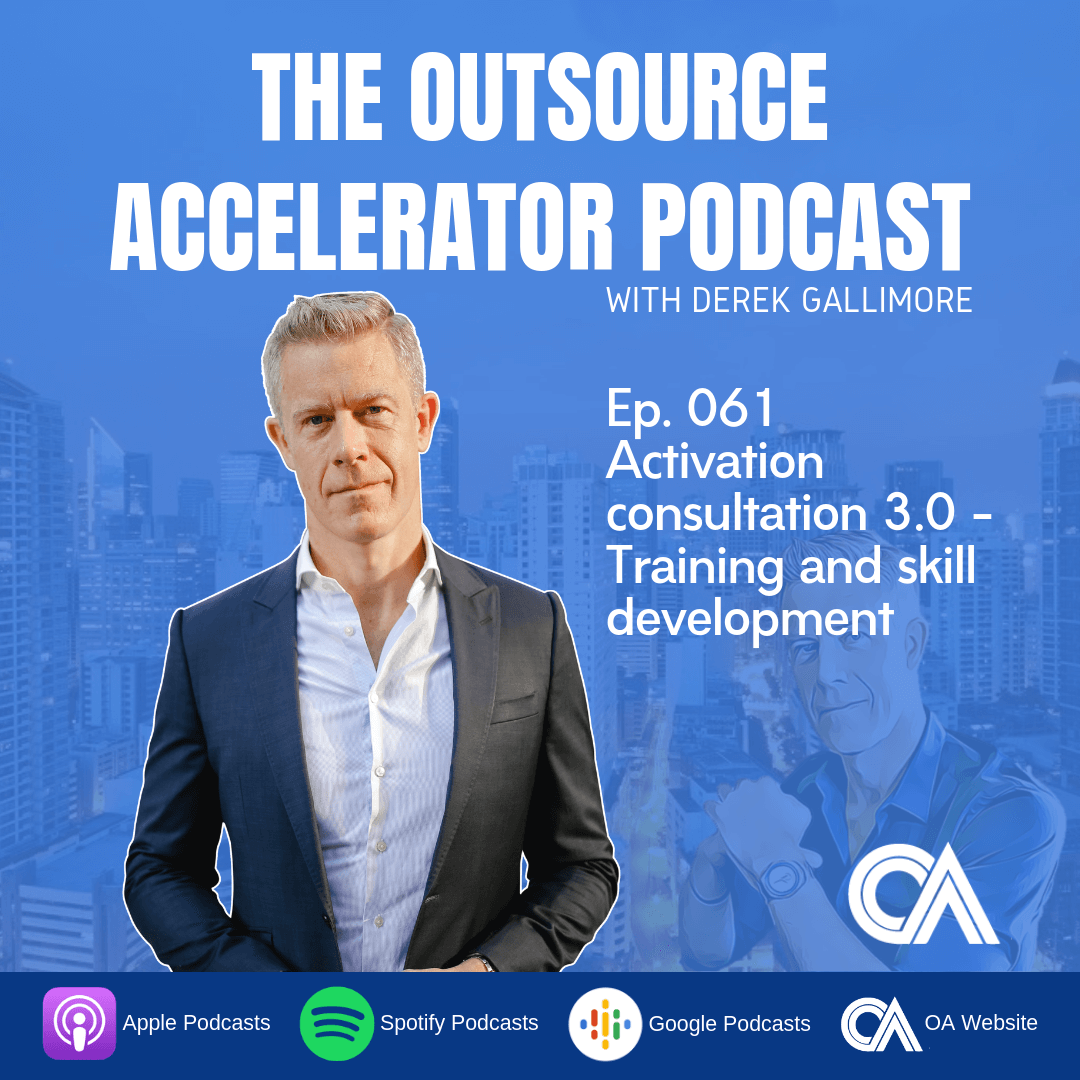 Ep61 – Derek Gallimore
In this episode, Derek will outline module three of the Outsource Activation Consultation Program. Derek will briefly discuss KPIs, onboarding preparation and training and skill development.
Summary
In module three, Derek discussed the training and skill development within outsourcing. Training and skill development with outsourcing is absolutely essential.
Topic one is onboarding preparation. Derek always mentions that business owners who are considering outsourcing need to invest time in the frontend if they want their outsourcing journey to be successful.
It is very important, specifically in the Philippines that you build a rapport with your team.
The next topic is KPIs, KPIs are basically metrics to measure the success of an output. It could be answering 100 emails per day or a customer review score above 8.
After discussing the KPIs, Derek encourages listeners to do an exercise which is KPI attribution and it's about them basically attaching specific KPI to each specific process and list down key drivers for the values of their company.
The next topic is staff orientation and Derek already mentioned that you cannot overdo this enough. Invest time and energy in your team and you'll soon reap the benefits of that by having a very loyal team.
The next topic is training and skill development. Derek discussed how vital training is especially in the outsourcing world.
We offer training material templates in the outsource activation consultation so that training and skill development becomes an easier process. And because you want to concentrate on the core functions of your company, sometimes training and skill development can be overlooked. But if you want to develop a strong team then it's very important that you invest time on this. So, the outsource activation consultation provides you with the training material templates to help you with this.
Key Points
In the West, people like to be less guided which is somewhat the opposite in the Philippines, which is why KPIs are very important if you choose to outsource.
Most Filipinos appreciate clear role definitions and titles. It's important for them to have a hierarchy and to know where they stand in the company.
Filipinos in general, are used to very structured workplaces, they appreciate very structured training.
Resources
outsourceaccelerator.com/61
Transcript
Expand transcript
Listen to more podcast episodes here: