[7 of 7] Activation Consultation 6.0 – Program Recap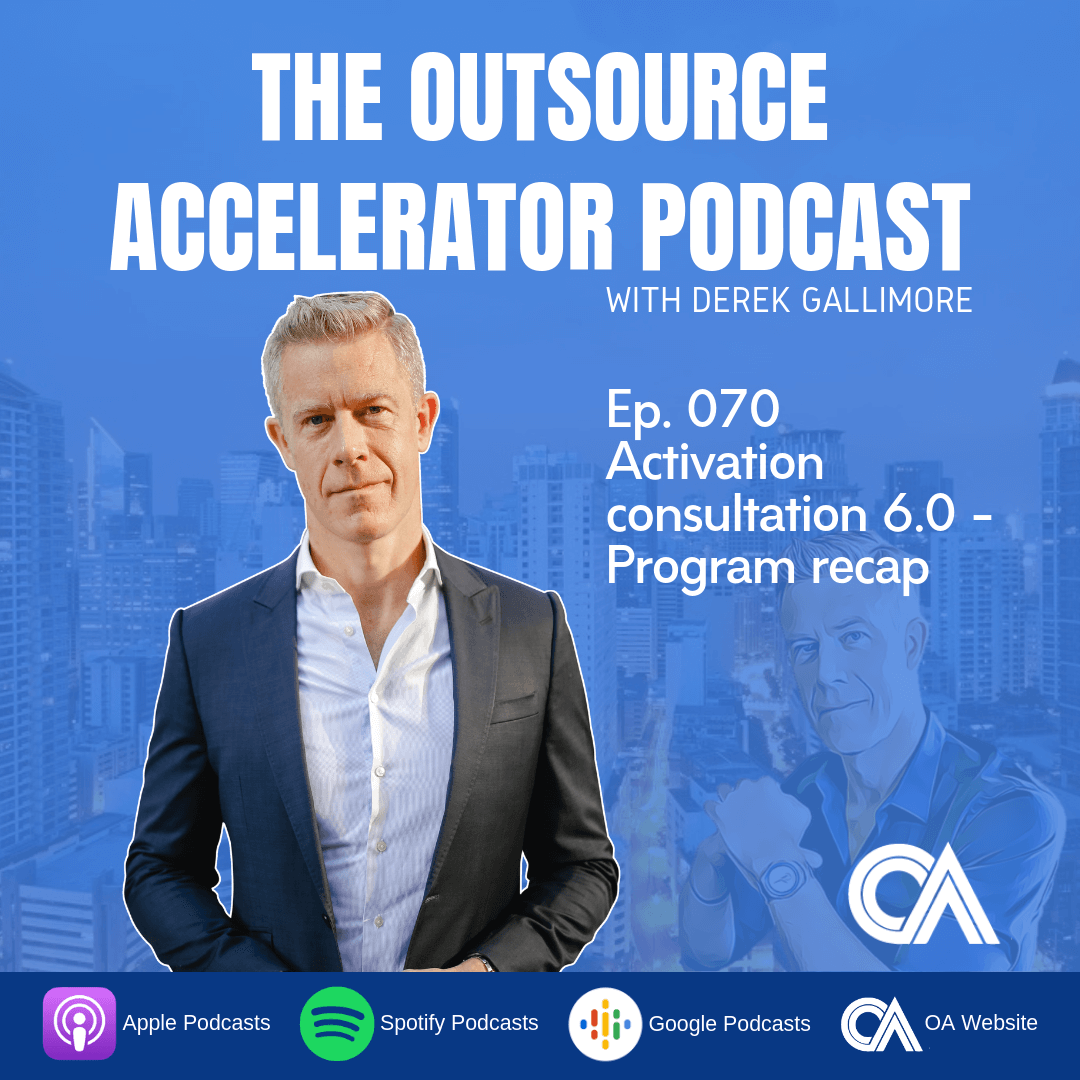 Ep70 – Derek Gallimore
This episode is the final module of the six modules of the Outsource Accelerator Activation Consultation Program. This module wraps up the knowledge that you have learned throughout the program and to apply it to your company's structure.
Summary
Topic one of this module is a recap of all 5 modules that Derek previously discussed.
Topic two is about expanding your mind. This is where Derek wants people to push you out of their comfort zones. To think and dream big.
Topic three is the entrepreneur's journey. Derek discussed thoroughly the outsourcing journey of an entrepreneur from hiring one staff to eventually incorporating and to the possibility of other business ventures.
The final part of the module is creating a five-minute business plan where you explore your mind expansion that you did in the second topic. We will have you map out a few of these ideas that you've come up with. It's about reviewing your moonshot ideas that you did in module 5 and looking at the product expansion suggestions and all of the lists that you've created throughout the 6 modules. It's about condensing your favorite your most viable idea and create a five-minute business plan from this.
Key Points
Some entrepreneurs are bold and risk-takers, some of them get into things a bit prematurely sometimes it pays off, sometimes it doesn't.
Outsource Accelerator does not get paid any commission and does not favor any outsourcing company. Outsource Accelerator makes income through the consultation program.
Outsourcing can be a very powerful tool for entrepreneurs if they just take advantage of it. It can save a lot of money and it can pave the way for their business' expansion.
Derek encourages entrepreneurs to try outsourcing and to avail of the consultation program to able to maximize the potential that outsourcing could bring to their businesses.
Resources
outsourceaccelerator.com/70
Transcript
Expand transcript