Top 30 product development companies in the world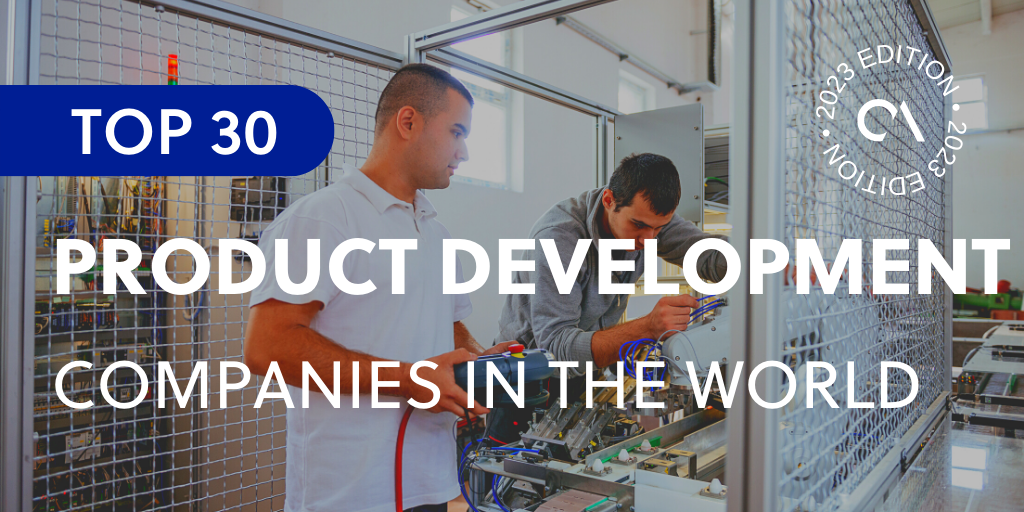 List of top product development companies in the world 
Many products and services exist in the market, so taking ways to make them unique and stand out is a real challenge. 
As market trends become more advanced and intelligent, global companies are strategizing to keep on track with the challenges. One of the key actions is collaborating with experts from different product development companies.
According to Qualtrics, product development is a term to describe all stages that help a product idea come into reality. It is also the lifeblood of companies and their customers that adds value and strengthens the company's existence.
Let's dive into why product development is significant and the top product development companies worldwide.
Product development: A new trend in business marketing 
Researchers always share the logic of uncertainty in any business. Encountering a disturbing risk may impair the business's capacity to generate profit and opportunities.
This situation led many companies to consider product development, now with the help of outsourcing, as a new marketing tool. Experts and virtual workers in this field help business leaders to sustain products and services amidst challenges.
When a company encounters low profits and failing targets due to its products, identifying the right actions to deal with is difficult. 
This is where the role of product development companies takes place. It allows businesses to leverage solutions based on the assessments provided while considering their capability. 
Here are some of the common considerations in product development:
Engineering existing products or services

Conducting proper evaluation and assessment

Developing fresh ideas and recommendations for a new path 

Proper delegation of tasks to help the internal team in managing risk 

Developing new products or refining existing ones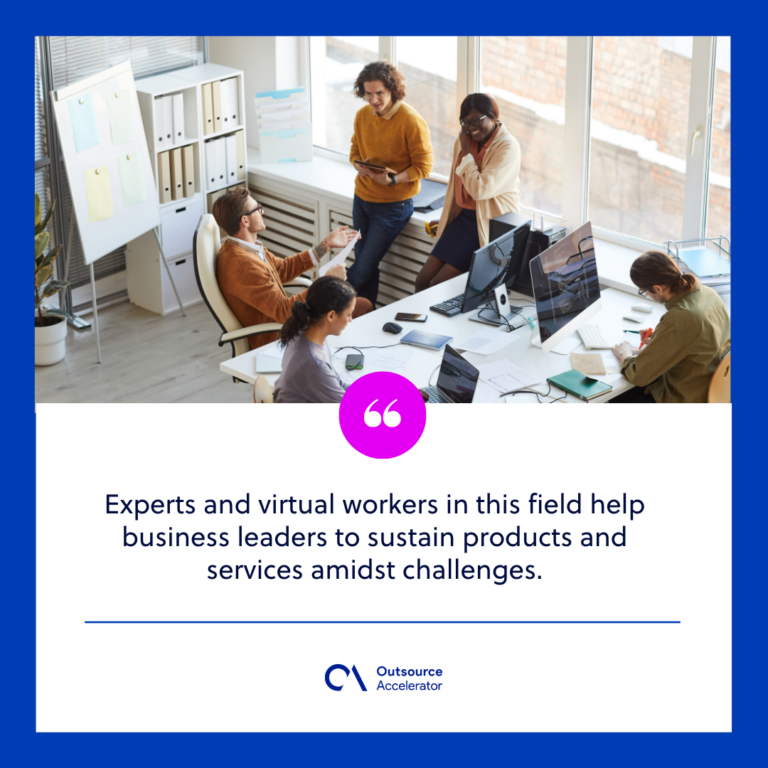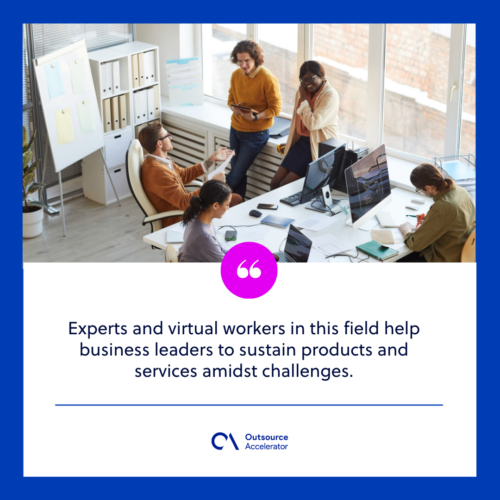 Types of product development
Businesses and outsourced teams must be aware of and consider the following types of product development approach:
New to the company 
Using the existing product or services, product development companies may help introduce a product or service that is new in the company but is not necessarily in the market.
One example is the adaptation of some food businesses to develop mobile applications as part of technological advancement. It provides ease and accessibility to its market in placing orders and deliveries.
Improvement of existing products
Highlighting the word improvement, some companies adhere to changing customers' needs. Most businesses, like smartphones, improve their existing product line in terms of specifications and new functions. 
Product line extension
This type of development is very close to improving existing products. But in extending a product line, you are introducing a new product that is relative to the use of the existing one. 
Given the previous example, Smartphones are created for internet surfing and mobile applications but are sometimes used for office tools and presentations. Larger screens became necessary, which led some businesses to design phone tablets.
New to the market 
The first SmartTV was introduced in 2007 and was a "new-to-the-market product" before its invention. People only have limited access to traditional models, mainly for airing channels. 
Having a new market product is challenging, and only a few types of products fall under this category. Meanwhile, introducing a new product can be profitable, specifically on the idea of a monopolistic approach. 
Top global outsourcing list
Outsource Accelerator is the world's leading outsourcing marketplace and advisory. We list over 3,000 BPO firms located across the globe in our global directory, and we provide detailed information, price guides, and reviews.

Whether you're a solopreneur, SME owner, or corporate executive, we can help you find the most suitable outsourcing provider for your business. Explore our outsourcing directory now. 
Top 30 product development companies in the world
Inventive Works offers enterprise-scale software and product development services that help organizations maximize their full potential quickly. 
It can easily create and launch powerful tools for customer experiences that modernize your brand. Collaborating with this company provides customers with a full-service team to handle complex technology-related problems with tested solutions.
Brash is composed of leaders trained to pursue innovative products. Its designers and engineers work cohesively closely to unveil tailor-made and revolutionary products. 
The firm usually partners with the newest entrepreneurs, rising startups, and top businesses to establish unique solutions across industries. Some of its services include
Industrial and UX/UI design 

Brand development 

Mechanical engineering 

Mechatronics and PCB design 

Firmware
Intent collaborates as a partner with its clients, helping them create innovative product ideations and make their vision a reality. It builds and scales products across all stages of development.
With a business-savvy team, Intent caters to a wide range of services, from initial R&D and prototyping to proof of concept and MVP. It helps the brand improve its client's products and launch them globally while helping them navigate any challenges.
Aras Digital Products is home to experts and an experienced team making end-to-end digital products. Most of their products involve mobile development but can be anything in the digital sphere. 
With digital product design and development, Aras Digital Products builds applications, websites, and other digital works that lift clients to the center stage. It utilizes interaction patterns, constructs user experiences, designs interfaces, and develops software.
Location: London, United Kingdom
Lighthouse is a professional UX and UI design agency in London, working with product teams since 2008.
Lighthouse addresses clients' most complex UX challenges through its product development teams. It turns insights into clients' experiences and helps businesses unleash the best route forward. 
Lighthouse climbs new heights with collaborative UX, world-class UI, and expert guidance.
Trinetix gears up human experiences and product design services that drive value in the market. It translates the idea of shaping future vision will make businesses shine. They offer the following services:
Product strategy

Product design 

UX/UI design 

Visual communication 
For about 12 years of providing strategic plans, strategy, experience design, and delivery, Trinetex produced thousands of successful stories that were made possible by its thousand experts working with dedication.
This company specializes in a mobile product studio integrating business insights and users' demands into high-quality mobile products. It practices behavior-driven development (BDD), accelerating software production while lowering risk.
With a competitive and highly-capable team based in the United States and Canada, BiTE has been able to prioritize quality over cost efficiency since its establishment in  2008.
Digital Scientists is a certified Google Cloud partner based in Atlanta that provides intelligently made software and mobile applications.
Since 2007, Digital Scientists have been dedicated to improving the human experience through intensified product strategy and development. Its services cover mobile app development, UX design, and other digital transformations.
Speck Design is a top-notch company in Silicon Valley that has established a name for digital and physical product development. Its innovative creations touch on different life aspects, from homes, medical institutions, corporate offices, and automobiles.
Speck Design operates with a community of researchers, designers, engineers, and innovators with almost 25 years of tenure in the industry. It champions innovations, helping clients in building relationships with customers.
Think Company designs and builds digital product services for enterprise organizations. It offers UI and UX design, development, and product management.
Headquartered in Philadelphia, Think Company works nationally between multiple time zones. It designs and builds digital tools that make work easier using the three core components: strategy, creation, and growth.
Founded in 2003, Abalta Technologies is a leader in mobility software design and development and a pioneer in the navigation and mapping industry.
Abalta continues to elevate in bringing solutions to the market with over 100 clients and 800 successful projects since its establishment. Collaborated by company Zenrin since 2016, it continues to craft a bridge for the next generation of connected mobility services.
AJProTech is a player in transforming great ideas into mass-production products. It is an Internet of Things (IoT) product development studio collaborating with clients to provide solutions.
AJProTech brings hardware products for consumer electronics, health and wellness, smart manufacturing, and more. With electrical, mechanical, and software capabilities required to develop new products, AJProTech helps manufacturing partners in its production.
The work of Studio Carbon is seen in different industries and verticals. Guided by the context of design as an innovator of any sector, it is committed to helping companies to showcase their full potential through the following services.
Communication Design 

Industrial design 

UI/UX design 
Studio Carbon was co-founded by nine dedicated designers in 2018, emerging from the Ethos of the National Institute of Design. 
Patagonian is a multinational technology company with offices with highly-capable teams providing products for companies and organizations worldwide.
The growing team of this company is centered on developing world-class software development outsourcing services. It tailors services according to its client's needs, focusing on the following areas:
Software development

Software product discovery

Talent augmentation 
Mission Data offers a one-stop shop for digital product development services. It is passionate about developing and maintaining digital products that help innovate business through operational efficiency and revenue goals. 
Its services have established powerhouse companies, including Papa John's and National Geographic. Its services focus on product development, software development, UX/UI strategy, and design.
Andersen is an international software development company with full-scale services specializing in technology-intensive industries. It provides top-notch IT services to create efficient and effective software with a high return on investment.
Since 2007, the company has been able to expand to over ten development centers and another ten satellite offices around the world. It championed over 950 projects and acquired hundreds of positive feedback from clients globally. 
Andersen is an international software development company with full-scale services specializing in technology-intensive industries. It provides top-notch IT services to create efficient and effective software with a high return on investment.
Since 2007, the company has been able to expand to over ten development centers and another ten satellite offices around the world. It championed over 950 projects and acquired hundreds of positive feedback from clients globally. 
This company deals with equipping entrepreneurs to develop and market physical products and mobile application ideas. Founded in 2014, Stroke Ventures focuses on products that people will remember. It offers full-service support in the following areas: 
Industrial and mechanical design 

Software and mobile application development

PCB and electronic design

Packaging and digital product marketing

Manufacturing sourcing and campaign creation
Versett binds strategy, technology, data science, and design to work the most complex business challenges. Its specialized teams lead the product design and development process for high-growth companies.
Versett works on international projects with industry gorillas, building platforms in different countries today. It is among the best-performing product development consulting firms that help businesses elevate customer experience and attain sustainable growth.
Since 1999, Highland Solutions has envisioned and developed expert firms by offering all-in-one services for digital innovation anchored to in-market insights. It provides transformational digital products and customer experiences. 
For over two decades, it's been among the top Laravel development companies engaged in people-first businesses, allowing them to elevate and grow through digital transformation and discipline.
Echo&Co was established in 2004 as a small team behind a simple presidential campaign. But today, it helps many organizations globally to use robust design and technology to serve and create change.
It is also a human-centered design and development company that applies digital technology to promote the well-being of  people and communities. Its services focus on UI/UX design, web development, and product design.
Grio provides superior software development products for its clients. Over the years, The firm established a name as a leader for its technological knowledge and coherent collaboration processes leading to successful project executions.
Based in San Francisco, the company is also known for specializing in world-class web and mobile strategy, design, and engineering. It supports the idea that every software problem has a unique, elegant solution.
Started in 2000, this Poland-based software development company housed 1000 experts making a strong team that delivers end-to-end services globally, from conceptualization to development and execution.
Future Processing helps achieve business goals with technology and digital transformation. Its services offered includes: 
Consulting and digital product services

Cloud and data solutions 

Cyber security, AI, and ML

Software development services
EMERGE is a digital service agency based in Portland, Oregon, and started in 1998 with a team of only 30 employees. This company uses world-class expertise to create innovative apps, digital products, and web pages. 
It is now a top-rated UX design agency and digital product consultancy and is a credible partner for B2B leaders across technology, healthcare, and manufacturing sectors. Emerge also specializes in providing business growth through digital products and services.
This product design company started in 2014 with a midsize team headquartered in Nur-Sultan, Kazakhstan. It specializes in providing product design, IoT, and software development.
Because Integra serves the requirements of its partnered businesses, it offers a choice of four unique frameworks that define exceptional collaboration to clients composed of the following:
Project-based outsourcing

Dedicated development team

Research and development 

Technology Consulting
Core Design is composed of experienced talents in industrial design and mechanical and electrical services providing innovative designs and solutions in sectors of consumer, medical, retail, and industrial products.
Its hallmark centers on commitment and its pride in delivering excellent service. It offers full product development services, including the following:
Engineering and CAD services

Prototyping and manufacturing assistance

Conceptual design 
Design Prosody is an award-winning agency specializing in physical product design and branding that provides impact through strategic innovation. It works with small businesses to establish go-to-market products.
Since 2018, Design Prosody has provided manufacturing support, development, and product design services. It has extended its capability in the following fields:
Consultation, research, and marketing

Packaging design and testing

3D rendering and video production
Since 2001, International Product Solutions (IPS) has provided various services relative to consumer and promotional product development, manufacturing, and delivery.
IPS is determined to offer clients a "turn-key" solution to their product development and sourcing needs. It has helped start-ups and large companies bring product ideas to reality with a cost-efficient, quality-driven, and reliable process.
For over 20 years, Sigma Design Company has been a trusted, one-stop resource for clients, including major global brands. The mission is to provide clients with creative, affordable, and easily manufactured designs and manufacturing assembly solutions.
Since its establishment, Sigma Design has served over 1,000 successful design and build projects that help clients save on manufacturing costs. It provides partnerships for global companies in a wide range of industries.
Pushstart is a multi-disciplinary design company with mastery in designing connected products and interfaces for both digital and physical. It operates complex, cross-functional teams to build alignment.
Pushstart also provides strategies that result in successful product development processes. Beyond serving innovation practices, the agency ensures that both high-level business goals and user needs are satisfied from start to finish.