Top 30 branding companies in the world
List of top branding companies in the world 
Business is always associated with gaining profit, sustainability, and strengthening the potential of products and services to be highly competitive in the market. 
Most companies today utilize different marketing strategies, but some fail to include branding as part of the equation. Many have lost sight that it is an effective activator of marketing strategies.
According to Forbes, branding is not limited to the elements of logos and colors but the entire identity of the business. The brand is a vital component that adds personality to a company's name, product, or service.
This guide will help you determine which of the top branding companies around the world can help you create a unique identity for your business.
What does a branding company do?
A branding company is an organization with expertise in conceptualizing and launching brands and rebranding. It creates, amplifies, and manages branding styles for companies. 
Although it is often associated with marketing, the process is different as it also provides support in advertising and other ways of promotion. With technology, digital branding is one of the major platforms. 
The process of branding includes the development of the following aspects that allow businesses to connect more with their clients:
Company's name 

Building identity

Structuring brand and products

Messaging (brand message or tagline)
Branding is also applied to marketing campaigns. It aims to meet client expectations, represent what the products and services could offer, and a business's competitive advantage in the market.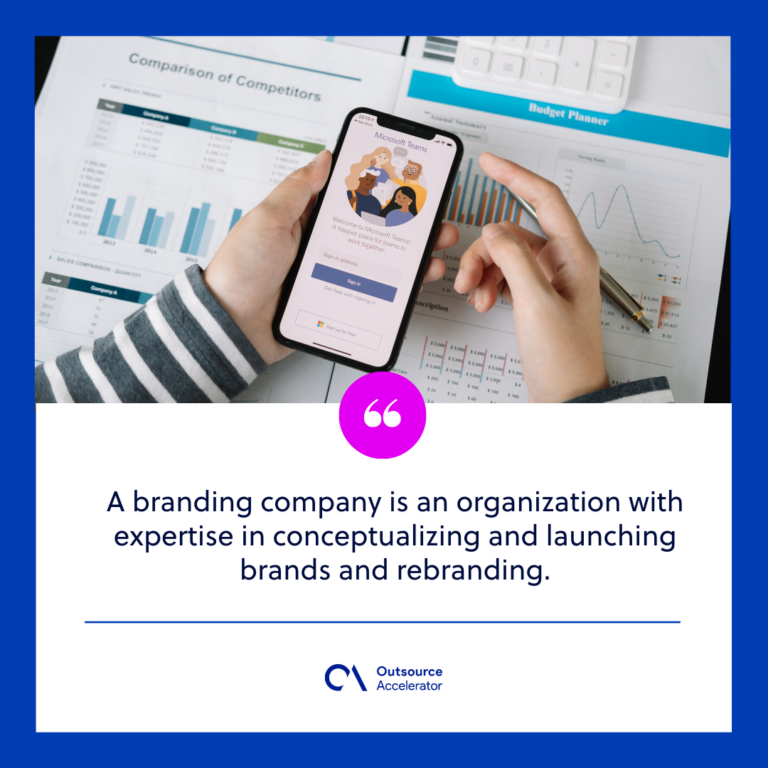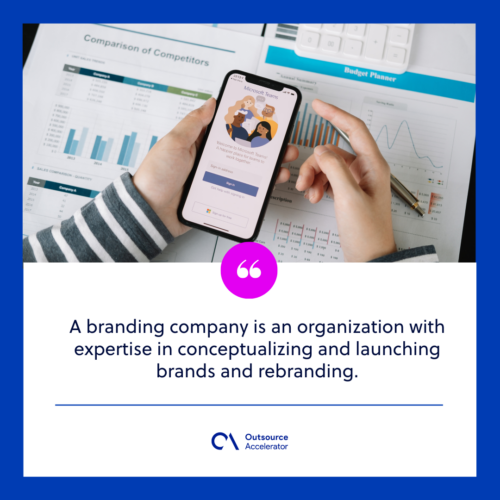 Benefits of contracting a branding company
A company must have powerful branding strategies because of the impression that it may leave to customers and clients to know what they can expect and look forward to. 
Branding companies help companies distinguish themselves from competitors and will convey a message to the market about what makes their products and services a better choice. 
Here are the benefits of contracting a branding company:
Upgrading business value 
Branding is important for possible expansion. A branding company can help establish a strong brand. It can also upgrade a business' value by giving high-scale publicity in the marketplace, making it more appealing for investment opportunities.
Client and customer acquisition  
Brand awareness always translates into a proactive technique that allows the business to introduce its product or service with the help of marketing campaigns.
Aside from the usual below and above-the-line promotion, branding companies, through their expertise, may introduce new trends. They can also handle social media management and website optimization. 
Improves business operations
Collaborating with a branding company helps establish a brand,  its marketing strategy, and its implementation. Partnering with branding agencies also means having the skills and expertise required in strategic branding.
Top Global Outsourcing List
Outsource Accelerator is the world's leading outsourcing marketplace and advisory. We list over 3,000 BPO firms located across the globe in our global directory, and we provide detailed information, price guides, and reviews.

Whether you're a solopreneur, SME owner, or corporate executive, we can help you find the most suitable outsourcing provider for your business. Explore our outsourcing directory now.
List of Top 30 branding companies in the world
Here are the leading branding companies around the globe:
Location: San Francisco, Austin, New York
TOP agency is a branding company that offers a wide range of services, including content and digital marketing. 
The agency communicates its strategies based on the need of the client with a multi-domain level approach analyzing requirements based on periodic measures. Its services offered also include creatives, influence marketing, and public relations.
Location: London, Mumbai, New York, and Bath
This agency has established its name as one of the top branding companies worldwide. Having worked with many brand names and companies, it provides clients an avenue to explore more effective marketing strategies.
Since 1993, bluemarlin has helped clients in navigating change. Combining strategy with creativity, it transforms ideas into services, including brand communications and planning campaigns.
Location: Portland, Oregon, United States
Watson Creative is a research-based creative studio that primarily provides strategy, design, and storytelling to create a powerful business impact. 
It positions brands for success using these three major approaches:
Strategy (brand audits, competitive analysis, innovation, and prototyping)

Creative (visual identity, digital marketing, UI/UX design)

Activation (Content strategy, customer journey, tracking, and reporting)
Location: Doylestown, Pennsylvania
This company is dedicated to accelerating business success through branding and integrated marketing. It improves client brand awareness campaigns, sales growth, and lead generation.
The company has established a B2B expertise and a comprehensive understanding of business dynamics. It optimizes company tactics through integrated marketing and proven return on investment to its clients.
Location: New York, Zürich, Berlin, Beijing, Düsseldorf, Lausanne, San Francisco
Since 1979, the services of this company provides brand solutions and product design with leadership in different countries. 
As an international branding company, MetaDesign is known for its creative and strategic services. It is also a member of Publicis Communications, working with both large and medium companies.
Location: San Francisco, California, USA
Clay specializes in UI and UX design with a full range of branding services, including brand development and digital marketing.
The agency creates world-class digital products, web design, and branding that allows partnerships with some of the biggest brand names in the world. Clay now has 60 designers and developers working to cater to the needs of its clients.
Location: New York, New York, USA
The agency focuses on trademarks and identity as part of its branding services. It has an established name in New York but works with different clients globally.
At Chermayeff & Geismar & Haviv, creative vision and strategic thinking are the core of all of its projects, coupled with its entire team's diverse abilities, talents, and backgrounds.
Location: London, New York, Berlin, Austin 
Pentagram is a multi-disciplinary, independently owned designed studio with over 22 expert designers working collaboratively to perform the following services offered:
Graphics and Identity

Strategy and positioning 

Exhibitions and installations 

Websites and digital marketing

Advertising and communications
Pentagram has a unique structure where the owners are also creators of the work and serve as the primary contact for every client. It follows the principle that great design happens with passion, intelligence, and personal commitment.
Location: London, New York, Sydney, Shanghai 
DesignStudio creates brands and experiences through radical team collaboration. It provides services with contagious energy, unconventional research, and bold leaps. 
Its primary services include brand architecture, digital strategy, visual identity, and organizational design. It is capable of delivering other services related to these core areas.
Location: San Francisco, Los Angeles, New York
Ramotion creates unique brand identities, digital development, and marketing websites for its clients, including industries of top technology companies and start-up businesses. It gives brand consistency as an impact of all services bound together. 
The agency is one of the most reliable digital product and brand companies worldwide and is capable of application, system, and web designing.
Location: San Francisco, California USA
Prophet is an international branding agency with 15 office locations across the globe. With more than 100 awards, it continuously provides excellent services to clients with creativity and originality. 
Over the years, the agency opened its door to work with both local and international top brands in different industries. It is made possible because of its expertise in the following services:
Brand and digital marketing

Customer data strategy

Employee engagement 

Business model design and innovation
Location: Paris, Shanghai
SGK is a part of the Matthews International Corporation. It is known for creating unique brand identities that boost brand performance.
SGK delivers services in packaging solutions and brand experiences from conceptualization to its full implementation. It allows brands to communicate louder, innovate faster and grow to be highly competitive in the market.
Location: London, United Kingdom
BrandMe is a private branding company specializing in designs, innovations, and strategic brand development. It creates powerful brand stories that are unique across all media. 
BrandMe has contributed to the success of Europe's well-known brands for over 20 years and has won many marketing awards. The agency also ranked number five in the 2021 Design Week Survey.
Location: London, Dubai, New York, San Francisco
With over 50 years of experience, Wolff Olins has been passionate about delivering design, strategies and developing business brands to communicate and deliver creative and cultural impact.
The agency's services fall into three arching categories: strategy, design, and change. Wolff Olins believes that brand is a way of communication, and creative forms of visual engagement are key centerpieces to marketing, advertising, and design.
Location: London, New York, San Francisco, Dubai, Los Angeles, Shanghai, Tokyo
Siegel+Gale is a global branding agency situated in New York.  It was founded by Alan Siegel and Robert Gale in 1969. Its expertise spans brand development, strategy, design, and customer experience.
This agency firmly believes in the action of simplicity, which has been reflected in its recorded successes over the years, collaborating with many businesses across the globe.

Location: Japan, London, Australia, Denmark, Spain
Dentsu is determined to help brands predict and plan for future opportunities and create innovative ways to continuously grow in a sustainable economy. 
It translates the market insights to connect brand, content, commerce, and experience, underpinned by modern creativity, and has a network designed for what's next.
Location: Brooklyn, New York USA
This top branding company creates amazing brand experiences that communicate to the market through points of interaction. Red Antler shapes brands for start-ups that create a meaningful impact on how to adapt to current trends of business marketing.
Location: London, England, United Kingdom 
This agency was formed in 2018, merging five agencies with expertise in services, which includes brand strategy, communications, management, and identity. It is headquartered in London and operates in 16 other countries worldwide.
Design Bridge redefines what design is and what it can offer to brands, businesses, and customers in the global market. It helps businesses by performing as a revolutionary design partner.
Location: New York, San Francisco 
Collins was founded by graphic designer Brian Collins and has two outposts in New York and San Francisco. It is a strategy and branding design company that helps businesses reposition their existing brands to provide higher customer reach within its market.
The agency believes that transformation should create new futures, not only optimize the present. Combining creativity with commercial logic, Collins built chain reactions that helped innovate brands.
Location: Barcelona, San Francisco, Melbourne, New York, Paris
It is among the leading branding agencies that make creative strategies focused on embracing complexity, gaining insight, and designing value. It is also known for creating designs with meaning. 
At Mucho, strategy and design are always connected. The team works closely with clients to fully understand their objectives and integrates different brand methodologies to approach specific projects with their challenges.
Location: San Francisco, California, USA
Landor & Fitch is a top brand consulting agency headquartered in San Francisco and founded by Walter Landor in 1941. He also started the research and consulting methods that the agency still uses today. 
Its services center on the idea that transformative brands are made by extraordinary design. Landor & Fitch is now one of the largest brand and design specialist groups in more than 20 countries.
Location: New York, Hamburg, Chicago, Buenos Aires, Toronto, Munich, Düsseldorf, Zurich, London
Vivaldi Group is a global business and brand transformation firm focused on keeping clients ahead of the game. It is part of the technical consulting services industry that goes beyond consulting to make actionable strategies leading clients to success.
Location: Mumbai, Madrid, London, Istanbul, Vienna
Saffron Brand Consultants was founded by Jacob Benbunan and Wally Olins. It services international companies across different sectors, including education, banking, retail, and telecommunications.
This branding agency creates brands that deliver expectations of clients' needs and add value to those it serves. Its service processes are guided by building brands, defining experiences, and delivering impact.
Location: New York, Denver, Miami
Want Branding is an award-winning B2B corporate branding agency that creates high-performance brands for companies that specializes in the following core services:

Brand Strategy

Brand Naming 

Brand Identity

Brand Research
It is also a top branding agency that builds powerful and disruptive brands. Want Branding has 20 years of experience in brand creation, evolution, and naming, which offers world-class capabilities.
Location: Amsterdam, Sausalito
Since 1982, Lexicon has helped companies establish new products and services efficiently and effectively. Its creative process and branding solutions are based on fundamental insight and in-depth analysis.
Lexicon Branding creates company, product, and brand names for strategic communication mechanisms. The agency allocated some of its profits to research and development to master other service areas, including consumer research technologies, consumer trends, and linguistics.
Location: New York, San Francisco, Boston, Paris, Tokyo, London, Seoul, Hong Kong
By uniquely innovating strategic mechanisms with bold creativity, Lippincott drives meaningful growth for its clients, shaping some of the world's most iconic brands for the past 75 years.
The company focuses on six primary areas to help its clients grow and establish its full capacity and capability in the industry, which includes the following:
Brand 

Innovations

Design 

Experience

Marketing 

Innovation
Location: London, England United Kingdom 
FutureBrand is a brand-led business transformation company in London but has satellite offices in many countries around the globe. It is a global community of brand, experience, and design experts that utilizes unique transformation methods.
The company is guided by its four core values: progressive, collaborative, adaptable, and empowering. It brings together experts worldwide to support the power of the brand. 
Location: New York USA
Interbrand is one of the top leading brand consultancies in the world for over 40 years. The agency combines technology, strategy, and creativity to produce new ideas and insights, opportunities, and brand-building tools for clients.
With current trends and innovation, customers' expectations are moving faster than businesses. Interbrand deals with this challenge by taking bold moves ahead of customers and industry competitors.
Location: New York, London
Since 1978, the agency has never stopped moving with the trends and innovative offers to meet the changing needs of its anchored to these three core elements:
Think (Uncover internal and external insight)

Creates (Develop creative ideas that go beyond)

Scale (Share the brand through engaging physical and digital platforms)
Coley Porter Bell is a global brand and design agency dedicated to translating change into opportunities by building immersive brands.
Location: Shanghai, Vancouver, New York, Singapore, Paris
Labbrand is the leading China-originated global brand consultancy with regional operations in APAC (Shanghai, Singapore), Europe (Paris), and North America (New York, Vancouver). 
As a guiding partner, Labbrand drives clients to leverage the power of branding. By connecting the use of excellence in research, strategy, design, and verbal identity, Labbrand creates brand identities and brand innovations that strengthen brand equity.