Top 50 AI-powered business tools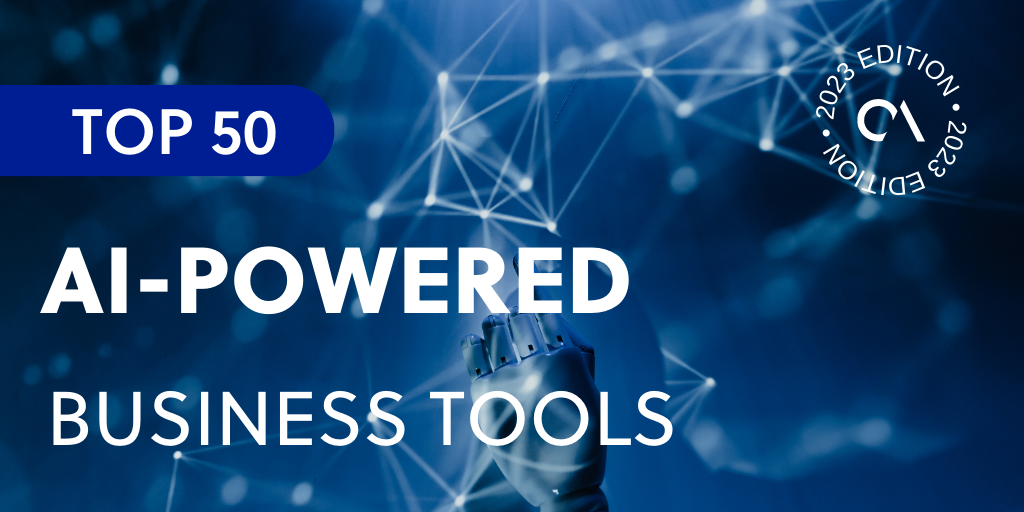 It is more crucial than ever to stay current with technology as the world transforms so quickly and enters digitalization. Businesses must decide how to use digital innovations most effectively to be competitive as the fourth industrial revolution approaches. 
In the field of technology, artificial intelligence (AI) is one of the most frequently discussed subjects. 
One way or another, businesses across different industries will be significantly impacted by AI. Through AI, these businesses can increase productivity, automate operations, and make better decisions. 
However, one still needs to understand the functions of AI and what it can do for the business. There are also ethical aspects that need to be considered.
Despite AI's enormous potential, many businesses are still unwilling to use it. For one, AI technology can be expensive. It is also difficult to execute, not to mention its moral implications. 
Nevertheless, despite these reservations, there is no doubt that AI offers a fantastic opportunity.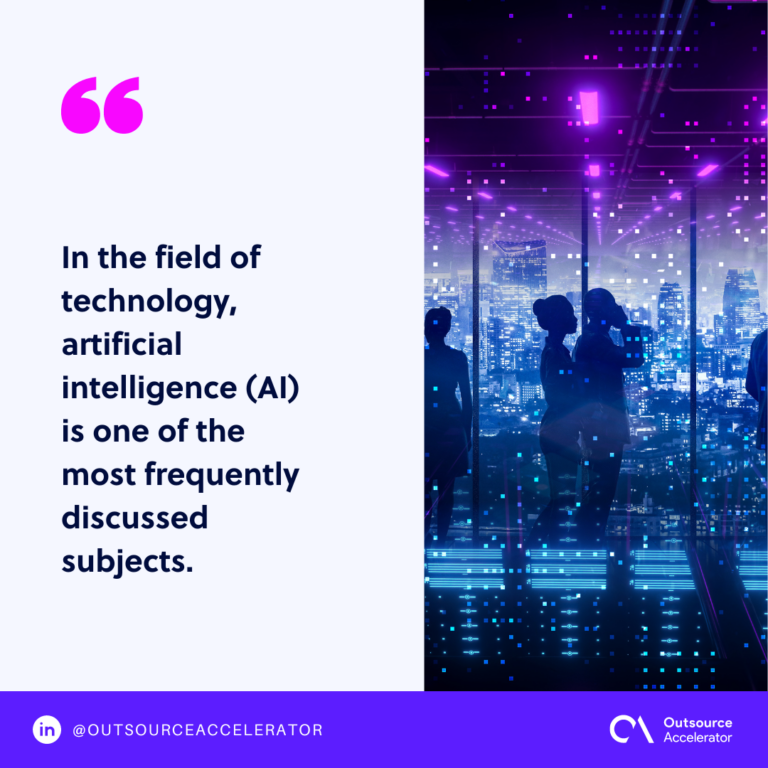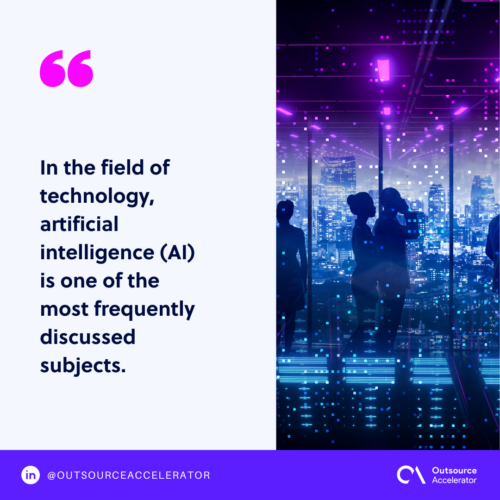 Top 50 AI-powered business tools
Here are the top 50 AI-powered business tools available in the market today:
Formerly known as Jarvis, Jasper produces high-volume content for professionals. It is an AI that assists writers and bloggers by automating their blog entries and articles. Jasper provides an opportunity for content creators to concentrate on producing original content ideas and creativity.
For those who need it, Rytr's AI assistant can produce content for any type of topic or specialty as well as all the types of materials required. By using machine learning algorithms, it identifies the most effective words and phrases for story creation. 
It also uses machine learning to interpret the article's context and produce pertinent suggestions. 
Businesses can also use Copy.ai, a content-generating program, to automate the the production of high-quality copies. After being trained on more than 100 million words, it can now learn to write by reading and listening to the content that humans produce. 
ChatGPT is an AI model that is trained to engage in conversational interactions. Its dialogue style allows it to respond to follow-up inquiries, acknowledge mistakes, refute unfounded assumptions, and reject improper requests. 
ChatGPT is a twin model of InstructGPT and is trained to follow commands in prompts and deliver through responses.
Content at Scale is an AI content writing platform that empowers SEO marketers to create high-quality, engaging, and fully original content in a scalable and efficient manner.
Its advanced AI technology can generate long-form, research-backed 2,500+ word SEO blog posts in just five minutes, crawling Google on the spot to parse top-ranking content and compile an entire long-form SEO blog post.
This is not an AI writing assistant, but a human-level long-form machine.
With over 40 million words produced per month by users, it can write long-form SEO content for any industry and general informational search terms.
HubSpot CRM is a customer relationship management system driven by AI that enables sales and marketing teams to collaborate to expand their company.
Businesses can keep track of all their contacts, deals, and tasks in one location using this platform. By doing this, they can increase their sales and keep their clients satisfied.
Wingman is a powerful call recording tool that uses artificial intelligence to record and transcript each video and audio call that you have scheduled.
The platform allows salespeople to take better notes and summarize calls by bookmarking important times during the live call. When the call is over, they can see the call recording and listen to it to acquire the key information the AI learned.
Hypotenuse is a generative AI platform for marketers, copywriters, and e-commerce companies to leverage artificial intelligence for managing and creating marketing content and assets.
Trained on high-conversion marketing copy, Hypotenuse's proprietary AI models can generate factually accurate blog posts, product descriptions, advertising copy, landing page content, AI images, and more.
The company has a global customer base ranging from SMBs to Fortune 500 companies, and is backed by top startup investor Y Combinator.
Storydoc is an AI pitch deck generator that delivers interactive, storytelling, noteworthy pitch decks.
It offers templates optimized for any business idea, AI-guided smart design, and an in-app AI writing and visual assistant that helps you make a highly persuasive and memorable deck. It also provides out-of-the-box deck analytics and insights.
Appy Pie Design is a platform dedicated to simplifying content creation. With a focus on user-friendly tools, it aims to revolutionize design and video generation.
Appy Pie's AI Video Generator allows users to convert written text into engaging videos effortlessly.
This innovative tool eliminates the need for complex video editing, offering integrated features like voice-overs and background music.
Users can customize their videos with special effects, animations, and color schemes. With cloud storage, videos are easily accessible, and the platform's intuitive design ensures a seamless creation process.
Kare is an AI-driven CEM solution that interfaces with the company's current CRM platform to enable proactive client communication for the business. It uses cutting-edge AI technologies to communicate with clients and guide them to the information they want by using both new and existing information. 
By simplifying and converting customers' preferences into advantageous outcomes, Kare also reduces the pressure between businesses and their clients.
AWeber is a comprehensive email marketing platform that facilitates customer acquisition and revenue growth for a company. It can be used to produce and send automated emails such as newsletters and email campaigns. 
Its wide-range capabilities include a drag-and-drop email builder, a large selection of templates, and powerful reporting tools. 
A platform for managing social media, Hootsuite allows digital marketers to keep track of all of their accounts in one location. It offers effective tools that may be used to track their social media activity and interact with the audience in order to gauge progress. 
Through this platform, digital marketers can also work together with their teams and arrange materials for several social media platforms. 
Zendesk is a platform for customer support that gives companies the resources they need to conduct top-notch customer service. 
Businesses can give their clients the best possible experience by providing them with a variety of support choices such as a knowledge base, live chat, email and phone support, and a ticketing system.
All of these are possible by using Zendesk Support. 
Listnr is a powerful and adaptable tool for producing valuable audio and video cogent that uses AI voices that sound like they would naturally speak in a variety of languages and tones. 
This platform is designed to help people launch their podcasts even if they have no prior experience in the industry. It makes it simple to quickly turn articles into engaging podcasts that can be posted on the website.
Every time an email is sent, Rasa delivers a unique and entirely personalized message to the subscribers. The topic and the sources just need to be previously chosen and Rasa handles the rest.
This AI-driven platform compiles and fires the articles created by the sources provided and keep the ones that apply to the newsletter to be sent. Each subscriber received a customized selection of articles based on their personal preferences.
Digital Genius is a clever tool that combined AI and NLP (natural language processing). Through calls and SMS, it conducts human-like interactions with customers. 
To evaluate the question, the platform initially uses artificial intelligence and predictive automation before it directs it to the appropriate responder. Digital Genius ultimately helps businesses enhance their customer service capabilities. 
Known as a digital ad marketing AI tool, Pattern89 helps users maximize campaigns and their creative elements like photos, colors, and even emojis. This platform can analyze around 3000 different creative factors to select an ideal combination of creatives to maximize revenue.
Pattern89 can revolutionize any given brand that participates heavily on Google, Facebook, and Instagram. 
A social media monitoring application, Mention enables users to keep tabs on online discussions and mentions of their company, good, or service. Users of Mention can utilize the site to start conversations and set up notifications to be informed whenever their brand is mentioned online. 
It also gives consumers access to metrics and insights about their online mentions, including the popularity and engagement of their brand.
Social media managers can automate their Facebook messages with the help of a clever bot from Chatfuel. Even with no coding knowledge or experience, users of this platform can interact with prospects at any time, automate searches, and connect warm leads to live salespeople.
About half of all Facebook chatbots are powered by this well-known platform, which helps companies of all sizes boost their sales and address customer inquiries. 
ChatBot builds multipurpose chatbots to automate the necessary tasks. Organizations may maximize consumer interactions by integrating them with a wide range of products and platforms with a single click. 
This AI-powered platform creates responses that motivate conversations and interactions. By incorporating texts, visuals, quick responses, buttons, and other features, it enables businesses to highlight their names and the products and services they offer.
Known as a predictive marketing platform, Tomi.ai helps businesses with lengthy and largely offline sales cycles. 
The platform enhances digital advertising for bottom-of-funnel business outcomes like revenue growth and LTV. This is done by using first-party website user data to build machine learning models. 
Tomi.ai ultimately enables the calculation of the expected accumulative customer lifetime value for every visitor on the website which can be uploaded to Google and Facebook to optimize adverts for upcoming business outcomes. 
With the use of the marketing software Seamless.AI, customers can swiftly search and navigate through enormous contact lists. 
This sales intelligence platform facilitates the collection of contact details such as emails, phone numbers, and addresses. Once it's done, a list of prospects is generated without the need for manual list creation, research, data entry, and other time-consuming manual tasks. 
Website traffic can be tracked and reported, thanks to Google Analytics—a free online analytics tool powered by Google. It is the web analytics service that is most extensively utilized across the web. Millions of websites use Google Analytics which guides them in understanding how users engage with these sites. 
Google Analytics is AI-driven which allows automatic pattern recognition. As a result, better insights and forecasts are made accessible.

With the use of Zapier, businesses can automate operations between several web services and merge them. For instance, Zapier can be used to transmit new orders from an e-commerce platform to an accounting program or to automatically add new leads from a form on a website to the CRM system. 
Zapier is a great choice for organizations and professionals who want to automate their workflows because it is simple to use and does not require any coding expertise.
Known to be the Swiss Army Knife of SEO tools, SEMRush can help digital marketers run content marketing strategies, SEO, social media marketing analytics, PPC, and other digital marketing activities. Its position tracker is one of its best features.
Businesses can use it to monitor how they compare to rival websites in terms of keyword rankings. Even in Google's organic or paid results, they can see how their website compares to the top 100 websites.
Content Marketing Toolkit is another SEMRush excellent feature. Users can employ it to conduct subject searches to see what's popular, and then build content marketing strategies from that information. 
Grammarly is known to be one of the best free AI-driven business tools in the market. Companies can ensure their written content is polished and professional by double-checking it on this robust content marketing platform. 
Grammarly has highly precise AI that instantly evaluates internet grammar and spelling. It can also be added to Google Chrome as an extension. The Premium and Business packages offer more powerful features like style checks and plagiarism checkers. 
Surfer SEO is a simple-to-use AI online tool for optimizing blog posts, articles, and other publications. It's designed for more technical SEO and enables users to inspect current material and evaluate it against the opposition thoroughly. 
Additionally, Surfer SEO can analyze material using over 500 ranking metrics and evaluate keywords using Google's BERT approach.

A team can design, evaluate, and execute only the best-performing ads to their target demographic using the AI-based ad marketing solution Smartly.io. Businesses can manage all of their ad campaigns on a single dashboard thanks to its integrations with numerous popular social media networks.
Its ability to support modular ad testing across several channels is one of its advantages. This enables firms to identify the most effective ad designs.
Reputation is paramount in business. Brands can monitor both good and negative social media comments about their business in real-time with Brand24's sophisticated AI social media monitoring platform. It examines online discussions about the company, its goods, and its rivals.
Along with tracking brand reputation, it also enables you to evaluate marketing initiatives and deal with potential problems before they worsen.
MarketMuse takes pleasure in utilizing AI in all of its services. The program is intended for use by companies that require assistance in creating optimal long-form content.
First, deep AI research is performed to learn more about the subject. Then, to assist users in beginning the copy, it generates a first draft depending on the selected subject. 
It also has the KPIs and content brief as references. Through its built-in editor, users can keep modifying the copy to conform to the AI's recommendations. 
Optimove is a consumer data solution with AI-driven marketing capabilities. In order to present a unified view of all the information in one dashboard, it assists in gathering data from many platforms. Businesses can easily decide on marketing methods and examine or share the information.
Its artificial intelligence (AI) tool, Optibot, searches and examines all the customer data supplied to produce useful insights. It can advise on which campaigns to stop running based on losses or tell which clients could be receiving too much company communication.
The company's email outreach can be automated with the help of Smartwriter.ai. To spark clients' interest, this AI technology creates a customized email with a unique subject line. 
Additionally, it offers the design of Shopify product titles and descriptions as well as customized cold email marketing.
It also enables integration with other platforms and solutions from outside sources, which will enhance the company's cold email outreach procedure.
Through optimization and personalization, Albert.ai addresses the major problems in digital marketing. The tool enhances a marketing plan's accuracy, sophistication, and efficiency by leveraging big data analysis to run campaigns independently and utilizing its self-learning software. 
The AI-driven platform also allots funds, evolves campaigns across media, and analyzes audiences and tactical data at scale.
Albert.ai enables marketers in creating a powerful brand. It lets them engage with the audience through insights and a learning agenda, strategic planning and innovation, and swiveling campaign advising.
The majority of communication in the world these days takes place on digital platforms, email, and text messages. Since remote employment will remain a reality, workers must develop effective communication skills.
Wordtune can be used to manage the tone in emails, texts, and other types of digital written communication. With the help of this comprehensive Chrome extension, users can sound formal or casual. 
Additionally, it can also help to lengthen, alter, or even compress the message.
Every marketing team in the world is familiar with the difficulties of website upkeep. Every time a website performs poorly, there is a "cause" for it. However, making significant website modifications on a whim may result in long-term issues.
The behaviors and patterns that result in conversions are identified by the digital experience intelligence software from FullStory. Identify problem spots in the customer journey and gain a comprehensive understanding of why consumers convert. 
As a result, the website can be debugged more quickly and optimized for the quality of user experience that the clients need.
Companies involved in e-Commerce and entertainment frequently use Algolia. Individual users can have personalized search engines and a distinctive discovery experience with this AI platform. 
The platform also frequently updates in under 10 seconds. This implies that once labor-intensive work was done of attracting target demographic to a website, the marketer just can relax and let the AI give the potential consumers what they want.
With the aid of the simple-to-use writing and editing tool InstaText, the clarity and professionalism of writing can be improved. More than any other solution, InstaText makes a material more legible and intelligible by enhancing the styling and wording, fixing grammatical problems, and enriching it.
With InstaText, it's simple to improve on preliminary drafts of articles and marketing copy with hardly any additional time or work.
AI can at least assist in editing material for optimal readability and clarity, even if a business just wishes to hire human authors to compose it. 
Hemingway, an AI-driven app was named after a writer. He is known for his restraint with language, emphasizes elements of "bad" style like lengthy sentences, passive voice, and excessive adverb usage.
Hemingway also assigns a readability rating based on US academic standing. Grade 9 or lower is thought to be excellent for reaching the widest audience. Simply copy and paste the content into the online program, then hit return to utilize it.
In the digital world's storefront, the landing page copy is highly essential. An AI-powered content creation tool called Headlime was created to perfect the landing page design technique.
With the use of GPT-3 from OpenAI's deep learning capabilities, Headlime employs machine learning to predict and complete text entered, ultimately saving a lot of time. It offers subject lines that work well, reduces word count, and can write text in a variety of tones and languages.
Userbot may initially appear to be just another chatbot, but it is much more sophisticated than that. It passes control of a customer's question to a human operator if it is unable to comprehend it, but it continues to listen in on and learn from the rest of the conversation. 
The new user query is then added to Userbot's vocabulary after it has improved using what it has learned. The system also offers helpful customer data that can be used to determine how well the sales team or customer care department is performing.
With Browse AI, marketers can easily teach a bot to gather data, populating a spreadsheet with all the required information. This data can be used to check the current prices of comparable products on e-commerce sites or to hunt for one- or two-star evaluations of competing products to identify potential product enhancements.
The people behind Browse claim their AI can mimic human behavior to get through Captcha and other bot-spotting security measures. 
Over 2500 businesses use the software, including Adobe, Amazon, Salesforce, and HubSpot.
This design tool recognizes the subject of a portrait and isolates it from the background using AI and machine learning. PhotoRoom quickly defines an image's outline, whereas it would have previously taken a designer ten minutes. Users can also drop in a customized colored background.
Anyone entrusted with building a "meet the team" page or an avatar to utilize across many platforms is in for a real treat. Both a mobile app and a premium batch version are available.
The "most complete influencer marketing platform" on the market, according to Influencity, is employed by such titans as WPP, Kellogg's, and Samsung. 
Brands can use this AI-driven platform to evaluate influencers, get in touch with them, work with them on campaigns, and monitor their success.
The majority of social networking sites are included. This is a wonderful agency solution because it has a ton of stats and the capacity to work at scale across several brands.

In order to deliver blog posts and SEO-optimized content, Writesonic follows a three-step process. Even though it won't soon replace the content writers, this gives the team a good start.
The comprehensive engine of Writesonic comes with a paraphrasing tool, a text expander, a product description, and other capabilities.
While brands have long utilized social media listening, NetBase Quid goes one step further by using machine learning and deep learning. 
Millions of social media discussions are analyzed by NetBase Quid's AI-powered technology to gain real-time insights regarding audience reactions to the most recent brand news and updates. 
These insights can benefit marketers in maintaining the strength of their brand, enhancing crisis management, or enhancing campaign effectiveness.
Fronty is a free online application converts images into HTML code for websites. The code is then prepared for upload to the user's web server and saved to the computer.
Making a website is really simple using Fronty. No coding knowledge or experience is required on the user's part. All that needs to be done is download the code, choose the colors, add a photo or logo, and select the style of website that needs to be built.
Project management software Asana enables teams to work together more effectively on assignments and projects. It is a straightforward and user-friendly cloud-based solution with a variety of capabilities like task lists, Kanban boards, Gantt charts, and more.
Asana is a fantastic solution for team collaboration that can enhance productivity and communication.
The AI-driven video editor Vidon creates videos from blog entries on its own. All it needs is the blog post's URL to get a 30-second summary video. 
Videos can be shared on social media, where they frequently receive more views and click-throughs than text or image posts. It can also use it to repurpose content for video-only websites like TikTok and YouTube.
These videos can also be incorporated into the blog entries to improve SEO and raise their placement for difficult-to-rank keywords.
Canva is an AI-based web tool that provides the ability to produce polished content. Users can quickly and effortlessly create stunning designs with Canva for presentations, websites, and social media postings. There is a huge collection of templates available for whatever design is required.
Users can also create, modify, and share their works as there are thousands of professionally designed templates available as a starting point. They can also add their own images or sketches and edit them with Canva's cropping, resizing, and filtering features.