Top 30 tech companies in Nashville, Tennessee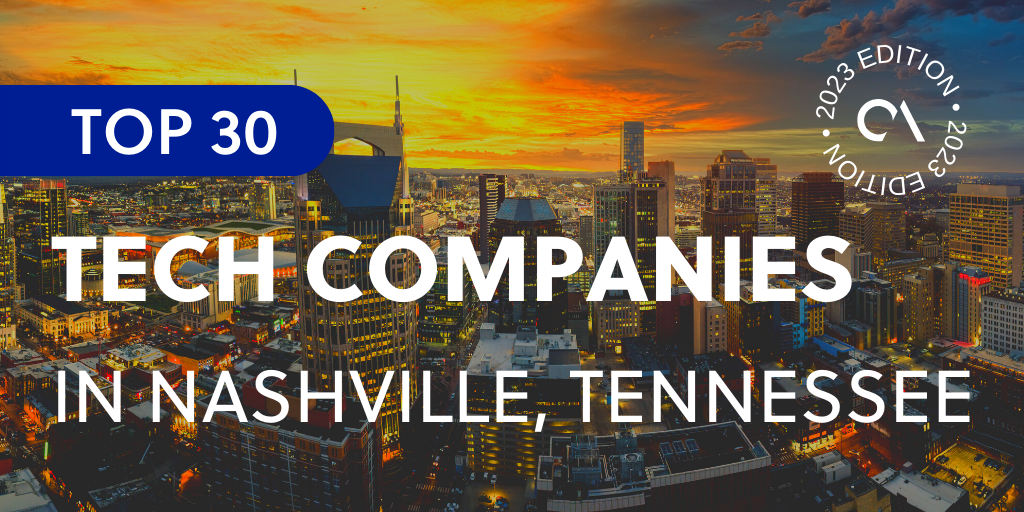 List of tech companies in Nashville, Tennessee
Tech companies have become the lifeblood of the modern global economy, serving as the engines of innovation, economic growth, and societal transformation. Their importance transcends borders, impacting every corner of the world.
They are at the forefront of change, whether advancements in artificial intelligence, renewable energy, or healthcare technology. Their investments in research and development also fuel economic growth, attracting talent and capital from around the world.
Tech companies in Nashville, Tennessee, influence how we communicate, access information, and conduct business. 
In this article, we list down the top 30 tech companies in Nashville, Tennessee. These are just a few of the city's efficient and influential tech companies. 
The thriving tech industry of Nashville
Often celebrated for its rich musical heritage, Nashville is increasingly making waves in another industry – the tech sector. The emergence of tech companies in Nashville has added a new layer of diversity and economic significance to the region.
One of the key factors driving this growth is the city's strategic location. In the southeastern United States, Nashville is a central hub for businesses looking to tap into the region's talent pool and market potential.
Nashville's tech ecosystem spans various industries, including healthcare, finance, logistics, and e-commerce. The importance of tech companies in Nashville, Tennessee, extends beyond job creation and economic growth.
Top global outsourcing list
Outsource Accelerator is the world's leading outsourcing marketplace and advisory. We list over 3,000 BPO firms located across the globe in our global directory, and we provide detailed information, price guides, and reviews.
Whether a solopreneur, SME owner, or corporate executive, we can help you find the most suitable outsourcing provider for your business.
Explore our outsourcing directory now. You may also check out our Top IT software/companies lists here:
Top 30 tech companies in Nashville, Tennessee
This list encompasses a snapshot of the city's thriving tech landscape, showcasing its potential as a growing tech hub in the southeastern United States.
Explore the dynamic tech companies that call Nashville home and drive technological advancements across different sectors.
Zeta Global is a prominent tech company known for its innovative AI-powered marketing and data-driven solutions. It specializes in people-based marketing clouds for customer acquisition, engagement, and retention strategies. 
Leveraging multichannel marketing tools helps businesses optimize their marketing efforts, providing personalized experiences to monetize built customer relationships.
Apto Global's diverse portfolio spans a global guide to travelers for their chosen destinations. Here, users can explore virtually to learn about what caught their interest at a specific location. It has an option to find community, insights, and resources.
Apto Global assures them to freely adapt despite cultural differences through an immersive work, school, or fun platform.
Change Healthcare's products range from revenue cycle management and data analytics to patient engagement tools. It revolves around improving healthcare affordability, access, and outcomes.
Its customer-centric approach enables better patient care and financial sustainability in the industry because of its revenue and payment cycle management.
Toast specializes in providing innovative solutions for the restaurant industry. Its user-friendly software and hardware solutions enable businesses to manage orders, payments, and inventory easily.
Its dedication to helping restaurants thrive extends to online ordering and delivery services, making it a valuable partner in an ever-evolving industry. 
With a focus on fintech, Core10's team of experts leverages their deep industry knowledge to create scalable, secure, and user-friendly software for the financial industry. It caters to community financial institutions, too.
It provides enhanced user experiences because of custom service development services that increase clients' competitiveness.
Education Networks of America (ENA) offers innovative network solutions for educational institutions with its secured and reliable connectivity services. It also offers cloud-based solutions, and cybersecurity measures tailored to the unique needs of schools and libraries.
ENA advances education technology so students, teachers, and administrators can access high-speed internet and digital resources.
Aristocrat has evolved into a leader in the gaming industry for developing slot machines, gaming systems, and digital gaming content. It is known for its land-based and online casinos worldwide.
It promotes responsible gaming and customer satisfaction, a trusted and respected name in entertainment technology.
Uniquest is recognized for its cost efficiency, rapid delivery, and high-quality electronic products despite the emerging trends in the market. These are physical science, life science, and social and behavioral science.
It showcases innovative edge and impacts through research and commercialization with complete access to connected content.
Stratasan, now a division of Syntellis, is for healthcare systems that need market intelligence and strategic planning. 
Its analytical solutions for physician networking and hospital growth plans have demographics, medical information, and patient origin as bases.
This tech company enables healthcare providers to optimize operations, identify growth opportunities, and enhance patient care.
Decode Health offers clients personalized insights into their health risks, enabling informed decisions for preventive care. By deciphering the genetic code, it identifies potential vulnerabilities and tailors recommendations for a healthier lifestyle.
It encourages individuals to take control of their well-being, fostering a proactive approach to healthcare. 
Motive is contacted to build technology that creates more robust controls, more intelligent insights, and enhanced safety through fleet management. It guides customers by conducting user onboarding, training, and deployment.
It complies with rules and regulations while identifying risks and automating driver coaching for greater visibility and operations.
Emma is a multi-channel marketing platform focused on personalization, segmentation, and automation because of experts, marketers, and creatives. Clients can choose from the following packages: Emma Lite, Emma Essentials, Emma for Teams, and Emma Corporate.
Its services are editors, integrations, email and phone support, landing pages, unlimited automation, SMS, trend reporting, and more.
Specializing in growth marketing, data analytics, and customer experience optimization, GrowthX empowers businesses to thrive in the digital age.
 Its comprehensive services have tailored strategies to boost online visibility, harness data-driven insights, and enhance user engagement.
It has a customer-centric approach for a developed online presence, customer engagement, and increased revenue.
Motorola Solutions was established to provide its clients with innovative communication and public safety solutions. It has a rich history dating back to the first handheld mobile phone. 
Motorola Solutions evolved to offer products and services for businesses, government agencies, and first responders.
These include two-way radios, body-worn cameras, software applications, and integrated command centers designed to enhance safety, efficiency, and communication. 
ProviderTrust directs compliance with ever-evolving regulations, minimizes risk, and enhances patient safety in medical institutions. Its platform leverages advanced data analytics and AI-driven insights to verify healthcare provider credentials, monitor sanctions, and track compliance.
It is a vital partner for healthcare institutions striving for operational excellence and regulatory compliance.
iostudio is a marketing agency giving actual engagements, education, and inspiration to their clients. It caters to government, businesses, and entrepreneurs for a more significant impact on the public and communication of their solutions to them.
Its team relies on its client's goals and vision before collaborating technology and creativity to make way for engagements.
Iron Galaxy Studios is known for video game development and interactive entertainment for its game design, development, and porting across multiple platforms. Its expertise extends to virtual reality, augmented reality, and console gaming.
Clients receive top-notch experiences for a functional edge that engages and captivates audiences by pushing the boundaries of technology and creativity.
Qualifacts is for the healthcare industry's patient information management, billing, and reporting. Its tailored solutions empower healthcare providers to deliver more efficient and effective care, enhancing patient outcomes.
It values data security and compliance so clients can trust their systems with sensitive healthcare information.

Cleanbox Technology is a hygiene-related company in the electronics industry. It has cutting-edge decontamination and cleaning technology for electronic devices, particularly VR headsets and smart glasses.
It utilizes UV-C light to eliminate 99.99% of pathogens, ensuring a safe and sanitized user experience with no human errors. It extends beyond the COVID-19 dilemma so that contagions will be prevented.
mozaic.io is for the music and entertainment industry. Specializing in workflow management and financial tools, it simplifies the complex process of royalty tracking, collaboration management, and payment distribution for artists, creators, and music professionals.
It assures artists can focus on their craft while maximizing their earnings with its commitment to efficiency and transparency.
TechnologyAdvice personalizes consultation to assist clients in selecting the most suitable software, hardware, and IT solutions. It has valuable insights, vendor comparisons, and unbiased recommendations for reaching your target audience and increasing your pipeline.
It is a source for 100 million buyers and sellers in business technology with the proper education and advice.
OneLern embraces modern education technology with various tools and services. Its services include interactive online courses, personalized learning pathways, and advanced analytics to track and optimize learning outcomes. 
The teaching experience becomes more digital with AI-driven learning, resulting in additional teacher-curated learning materials.
RedTeam delivers innovative construction project management solutions to its clients with tools for project tracking, financial management, and collaboration. Clients benefit from real-time project insights, streamlined communication, and enhanced cost control.
It is an easy-to-use cloud-based solution for commercial general contractors' document control and financial aspects for simplifying, automating, and standardizing small and mid-size contractors' tasks.
Echo Global Logistics is your partner for supply chain management, as it centers on transportation and logistics operations. It shows real-time visibility into shipments for seamless coordination of shipments, carrier selection, and tracking.
It allows shippers to be more flexible, transparent, and in control at affordable rates of its freight brokerage and managed transportation solutions.
symplr, formerly known as Green Light Medical prioritizes healthcare procurement for a less complex process of acquiring medical devices and supplies. 
It serves as a decision engine with its cloud-based software platform for the most appropriate purchases within hospitals.
As it accelerates speed and efficiency, risks are also reduced to big clients' medical needs and wants. Receipt, review, and purchase of medical equipment and technology are streamlined through its cloud-based SaaS tool.
Wright Industries is the provider of the manufacturing and engineering industry. Its areas of expertise are investments, sales, performance, operations, and HR. 
Among the industries Wright Industries help are web handling, home consumables, pharmaceuticals, electronics, process, assembly, and electronics.
Automated assembly systems and robotics are created and integrated by this company for efficiency, productivity, and competitiveness.
People3 focuses on human resources and workforce management to improve employee experiences and organizational efficiency. 
It includes AI-driven talent acquisition tools for impressive recruitment, robust HR analytics for data-driven decision-making. It also offers employee engagement platforms to foster a positive workplace culture.
Clients benefit from it because of optimizing HR processes for businesses to attract, retain, and develop top talent while achieving operational excellence.

TendedBar is at the forefront of revolutionizing the hospitality industry through its proprietary software that optimizes inventory management. 
This tech company simplifies order processing and provides real-time analytics for informed decision-making. Its user-friendly platform empowers clients to increase efficiency, reduce waste, and boost profitability, all while delivering exceptional service.
Acklen Avenue delivers affordable yet prime customized software through its competent team of experts. Despite the advancement it gives, its team helps non-tech clients through informative and beginner-friendly training.
It firmly believes it proposes "complex software without complications" for high-growth companies because of its people and ideas that drive innovation.
Campaign Monitor masters email marketing and automation solutions so clients can create, send, and optimize email campaigns effortlessly. It puts out customizable templates, robust analytics, and segmentation tools to target clients' audiences effectively and boost engagement.
It results in better client relationships and conversion rates to achieve their marketing goals through targeted and impactful email campaigns.