Top 30 tech companies in Michigan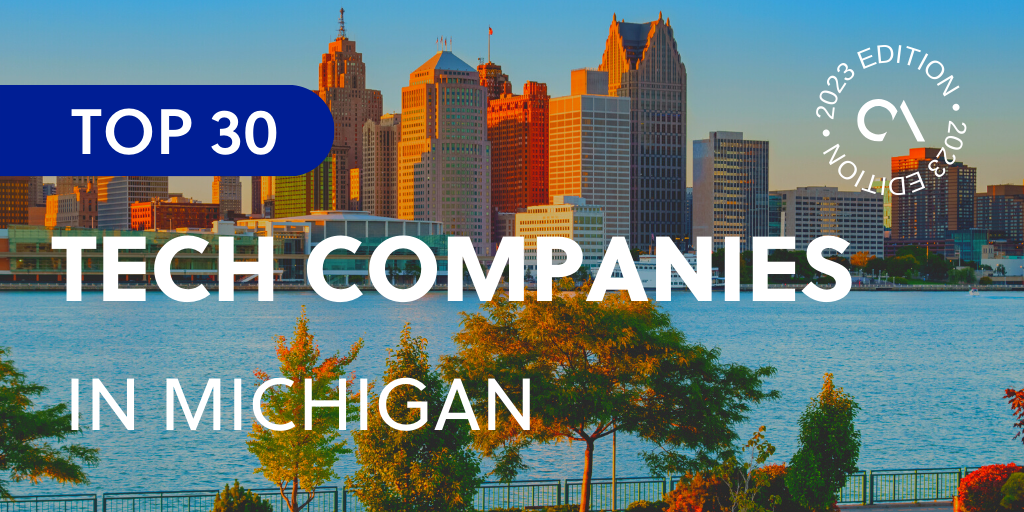 List of tech companies in Michigan
Historically known for its automotive industry, this Midwestern state is now witnessing a dynamic transformation as technology firms carve out their niche. 
Michigan's rich pool of engineering talent, fostered by esteemed institutions like the University of Michigan, is a magnet for tech giants and startups alike. 
Reasons behind the high valuation of tech companies in Michigan
Tech companies in Michigan have been gaining significant attention for their high valuations in recent years. 
Significant factors contributing to this trend are:
The continuous growth 
Michigan's tech ecosystem expansion is nonstop, along with many startups and established companies that make their mark. With a skilled workforce, an impressive business environment, and ease of access to capital, growth will carry on.
These attract investors to these companies' potential for innovation and returns.
Impact of low interest
The global financial landscape has witnessed a prolonged period of low-interest rates, making it cheaper for tech companies to secure funding for expansion and innovation.
Lower interest rates make it easier for tech firms to fund research and development, acquire competitors, and expand their operations, contributing to increased valuations.
Increased gross margins
Due to cost-effective operations and access to highly qualified, competitive labor, tech companies in Michigan frequently have higher gross margins.
These businesses can devote more resources to growth-oriented operations thanks to cheaper operational and overhead costs than coastal tech hubs, raising their valuations even further.
Top global outsourcing list
Outsource Accelerator is the world's leading outsourcing marketplace and advisory. We list over 3,000 BPO firms located across the globe in our global directory, and we provide detailed information, price guides, and reviews.
Whether you are a solopreneur, SME owner, or corporate executive, we can help you find the most suitable outsourcing provider for your business.
Explore our outsourcing directory now. You may also check out our Top IT software/companies lists here:
Top 30 tech companies in Michigan
Discover Michigan's leading innovative tech companies. This list showcases the diverse and thriving tech ecosystem driving the state's technological advancement.
Robotics, CNC technology, and industrial automation are the areas of expertise of FANUC America, which also provides goods and services to improve production procedures. 
Modern robotics help with operations like material handling, welding, painting, and assembly to improve efficiency and precision on manufacturing floors. 
Clients gain from increased productivity, decreased operating costs, and increased safety thanks to FANUC's technology. 
Design, engineering, and simulation are the main areas of focus for Altair. 
Altair HyperWorks is one of its powerful tools for engineers to maximize product performance through simulation and analysis. Altair Smart Learning is also an effective tool for data-driven decision-making.
Customers use Altair's simulation-driven design expertise to cut development costs, improve product quality, and shorten time-to-market.
Lineage Logistics specializes in temperature-controlled supply chain and logistics solutions. Thanks to a strong infrastructure and technological advances, it promises the secure management, storage, and transportation of perishable goods. 
Lineage Logistics provides a range of services, such as inventory management, cold storage, and transportation. Its technology monitors enhance the cold chain to ensure the quality and security of the product.
Syntel, now a part of Atos, has these areas of expertise – application development, cloud computing, data analytics, and digital transformation. It creates applications that enable a 20–40% increase in developer productivity and time to market.
Its broad range of services include, application development, maintenance, testing, data analytics, and cybersecurity. Syntel gives clients the tools to stay competitive in the quickly changing digital landscape.
OneStream Software is a leading supplier of products for financial performance management. By lowering complexity and saving time, it helps organizations' financial planning, consolidation, reporting, and analysis processes become simplified and transformed.
It also assists organizations in making wise decisions by providing robust financial close, budgeting, forecasting, and reporting capabilities.
SkySpecs optimizes the inspection process, increasing safety, effectiveness, and efficiency. Its autonomous drones can enter difficult-to-reach wind turbine areas and collect detailed information that can be used to spot damage and defects.
The benefits of automating these inspections include decreased downtime, lower operational costs, and improved overall turbine performance.
Focusing on interior and exterior automotive components, Dakkota Integrated Systems supplies complete manufacturing and supply chain management services. Engineering, design, assembly, and delivery are all in its competence scope.
While preserving strict quality standards, the company uses innovative equipment to streamline production processes, cutting lead times and production costs. 
SolvIT puts protecting businesses from cyber threats first by identifying threats, analyzing vulnerabilities, and protecting data. Their digital assets are strengthened with the goal of data integrity and operational continuity.  
It serves as a reliable partner, protecting the digital environment for companies in various industries.
Burroughs provides financial technology solutions for today's banking and payment processing settings. Customers rely on its cash automation systems, check imaging, and document management solutions.
It enables businesses to reduce operational costs by automating cash management while also minimizing the risk of errors and theft.
HARMAN International enhances the driving experience for clients worldwide through immersive in-car entertainment, crystal-clear sound quality, and seamless connectivity. 
As a subsidiary of Samsung Electronics, it excels in providing premium audio systems, infotainment solutions, connectivity, and telematics technologies to automakers worldwide.
Its solutions not only elevate the driving experience but also enhance safety, productivity, and connectivity on the road. 
What sets Liquid Web apart is its unwavering commitment to customer satisfaction, offering 24/7/365 customer support and a 100% uptime guarantee. 
This translates to developed website performance, security, and scalability for clients to reduce downtime and attract seamless online experiences. Customers appreciate the company's exceptional reliability, speed, and scalability, which are crucial for online businesses and websites.
Plex Systems is a cloud-based manufacturing and operations management solutions. It offers features such as shop floor control, inventory management, quality management, and supply chain integration.
Plex Systems links your supply chains, systems, people, and equipment.
TechSmith creates software solutions for screen recording, video editing, and content. Its flagship product, 
Snagit, facilitates quick screen captures, image editing, and simplified sharing, streamlining communication. On the other hand, Camtasia caters to video creators by providing a comprehensive platform for recording, editing, and producing high-quality videos. 
Its solutions enhance productivity and engagement, enabling educators, businesses, and professionals to convey ideas effectively.

StockX is a unique online marketplace for sneakers, streetwear, electronics, and collectibles. It employs an outstanding stock market-like model for buyers and sellers to trade coveted items transparently. 
Its authentication process guarantees the authenticity of every product, and its bid/ask system allows users to trade seamlessly. 
GrADS stands for Grid Analysis and Display System. This interactive desktop program can easily access, modify, and visualize Earth science data. Its mission is to uncover hidden patterns, optimize operations, and make data-driven decisions for businesses.
It develops custom AI solutions, predictive analytics models, and data-driven strategies tailored to each client's needs.
JR Automation Technologies designs and constructs robotic welding, testing, dispensing, material handling, and assembly solutions. Its services span from concept and design to implementation and ongoing support. 
It puts value on increased productivity, improved product quality, and significantly reduced human error.
Technical Training, Inc. is a specialized training solutions company. Its instructors and hands-on labs ensure clients gain practical, industry-relevant knowledge to make them job-ready or boost their existing careers.
Its personalized guidance, flexible schedules, and the latest tools and techniques result in top-notch skill development for customers.
With Bushel Farm, farmers can access tools to increase productivity and improve crop management. It employs precision farming to lessen harmful environmental impacts using weather, soil, and crop health data.
Its offerings, which help farmers optimize their operations, include real-time weather monitoring, field mapping, and yield forecasting.

May Mobility's forward-thinking self-driving technology delivers environmentally friendly, safe, and economical mobility options. Its featured benefits include lessened traffic congestion, improved urban mobility, and faster last-mile connectivity. 
The company is a well-liked option among businesses and cities looking to optimize their transportation systems. Its user-centric strategy puts the passenger experience first. 
L&L Products is known for its modern adhesive and composite materials that are designed to improve the performance and sturdiness of its products. As a result of its specialized solutions, the manufacturing of automobiles uses less fuel, emits fewer pollutants, and is safer.
Their materials increase structural integrity while reducing weight, which is beneficial for the aerospace industry. 
Thomson Reuters offers a full range of tools for businesses and governmental organizations to use in the processes of land administration, tax collection, and property assessment. 
Municipalities have less administrative work to do thanks to its Integrated Property Tax System (IPTS), which makes property tax assessment, collection, and compliance simpler. 
By maximizing efficiency, accuracy, and transparency, its sophisticated software lowers operational costs and boosts client revenue.
RealGreen develops the latest pest and lawn care solutions. Its flagship product, Service Assistant, streamlines scheduling, billing, and customer management, boosting operational efficiency for companies in these fields.
Companies can easily manage appointments, dispatch crews, automate marketing campaigns, and provide top-notch service with this trusted partner in the green industry.
Stryker's offerings encompass surgical instruments, orthopedic implants, medical imaging, and patient care solutions. Its updated technology enhances the precision and effectiveness of medical procedures and improves patient outcomes.
It is dedicated to improving healthcare, ensuring safer surgeries, faster recoveries, and higher quality of life. 
Orbion Space Technology's specialty is propulsion solutions for the rapidly evolving space industry. It empowers satellite manufacturers and operators to enhance their spacecraft's performance and extend their operational lifespans through electric propulsion systems. 
It revolutionizes how satellites navigate and maneuver in space for reduced launch costs, increased payload capacity, and extended mission durations.
RevSpring is trusted for patient communication, billing, and payment solutions that streamline client processes. These services empower organizations to enhance patient engagement, boost revenue, and reduce administrative burdens.
With a focus on personalized communication and data-driven insights, it fosters positive patient experiences, increasing on-time payments and overall financial performance. 
Webasto Roof Systems, Inc. is all about automotive sunroofs and convertible roof systems. 
Customers can buy panoramic sunroofs, retractable hardtops, and soft tops for a better driving experience. This is because of improved ventilation, increased natural light, and a heightened sense of spaciousness within the vehicle.
Its commitment to sustainability is evident in its energy-efficient systems that help reduce carbon emissions.
AVL Test Systems, Inc. is a well-known tech business that specializes in cutting-edge testing and development solutions for the mobility and automotive sectors. Customers go to this company for electrification solutions, car simulation, powertrain testing, and emissions testing. 
Some of its advantages include shortened development periods, greater product quality, and increased sustainability.
The services provided by DataFactZ include data warehousing, predictive analytics, and data integration. These services rely on high-end analytics, AI, and machine learning. 
DataFactZ has developed platforms for data analytics to obtain useful information from large datasets.
Precision clamps, grippers, and robotic tooling systems from DESTACO are renowned for improving productivity, security, and accuracy. It is a global provider of products and services for containment, task holding, and high-performance automation.
Its affiliated brands include Camco, Robohand, Accelerate, Spidergrip, and BodyBuilder.
Demmer Manufacturing is a valuable partner for national security projects because of its emphasis on engineering excellence and defense-related technologies. 
It provides precision metal fabrication, engineering prototyping, and machining for the manufacturing, engineering, and defense industries. It is also well-known for its advanced manufacturing and assembly services.