Top 30 tech companies in Jacksonville, Florida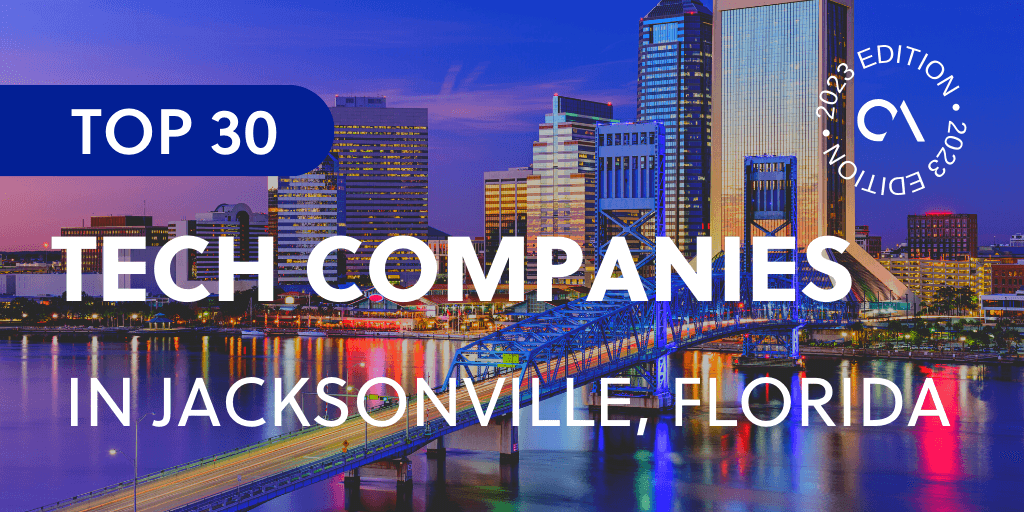 List of tech companies in Jacksonville, Florida
Jacksonville, Florida, known for its beautiful beaches and rich cultural heritage, is also becoming a hub for tech companies. 
As the city continues to invest in its tech infrastructure and talent development, we can expect to see even more exciting developments in the Jacksonville tech scene in the years to come.
Advantages of working in tech companies
Tech companies attract job hunters all over the world because of their offered benefits. Besides the competitive salaries, tech companies give different types of growth to their employees. 
Job seekers see that tech companies have the following edge compared to other firms:
Innovative work environments
Tech companies believe that people cared for by employers reach their full potential to create new and impressive technological innovations. 
They try to provide resources and support that help their workers' mastery and creativity. Tech company leaders listen and act as the "dumbest person in the room" for employees to stay open and confident.
Flexible work options
Many tech firms value the personal needs of every employee to avoid workplace burnout. They strongly believe that allowing the possibility of choosing an employee's work setup will boost productivity. 
They make this happen by outlining their expectations, avoiding micromanaging, and building employee trust.
Inclusivity and collaboration 
The tech industry used to have geographic biases in recruiting. There were tech businesses that didn't know there were opportunities for finding and retaining talent without looking into their regions. 
Whether a person is a high-quality applicant depends on his or her skills, knowledge, and experiences.
Now, the industry thrives through inclusivity and collaboration with talents open to discoveries and collaborations to produce the best solution people need.
Top global outsourcing list
Outsource Accelerator is the world's leading outsourcing marketplace and advisory. We list over 3,000 BPO firms located across the globe in our global directory, and we provide detailed information, price guides, and reviews.
Whether a solopreneur, SME owner, or corporate executive, we can help you find the most suitable outsourcing provider for your business.
Explore our outsourcing directory now. You may also check out our Top IT software/companies lists here:
Top 30 tech companies in Jacksonville, Florida
Tech companies in Jacksonville, Florida, continue to drive positive impact that helps people earn and learn more.
From software development and IT services to cutting-edge research, these firms are dedicated to providing top-notch products and services that push the boundaries of technology. 
Here we have the top 30 tech companies in Jacksonville, Florida:
FIS can offer different financial products and services to advance commerce and the financial world. It focuses on how customers process payments, banks, and investments through a platform that connects capital markets, merchants, and banks.
It values all sorts of innovation related to speed, stability, and partners moving, managing, and securing their money.
Optum is a health services innovation company that combines all helpful advanced technology and data, professional collaborations, and clinical experiences. 
It aims to lower expenses while improving the quality of care with population health management, advisory services, pharmacy care services, and health care delivery.
Its Optum Health serves as a network where people, places, and ideas can connect in the healthcare ecosystem to achieve better health.
Acosta is for business owners who seek guidance and good results in sales, marketing, and commercial solutions through their team of specialists. It can be tapped for planning, strategy, creative services, and brokerage because of its extensive in-house technology.
It is determined to increase the ROI and agility of retail brands with its field marketing technology, AI solutions, and digital survey tools.
Modis specializes in cutting-edge technology services, including software development, cybersecurity, and IT consulting. Its team of experts is dedicated to delivering top-tier solutions that empower businesses to thrive in the digital age. 
Customers contact them for staff augmentation, direct placement, and project management services.
With a visionary team and state-of-the-art technology, AEVUM is streamlining satellite deployment, offering cost-effective and efficient solutions. 
Its autonomous launch system, RAVN, is set to redefine the space industry, making access to space more accessible and convenient than ever before.
Aevum's commitment to innovation propels humanity further into the cosmos, shaping the future of space exploration.
CSI Companies is a renowned tech firm, excelling in IT staffing and solutions-focused workforce services. It is known as a significant provider of HR services to improve client's operational efficiency, productivity, and revenue.
It embraces worker satisfaction and can help develop employee retention, build culture, and lower your overall cost-per-hire.
Tideworks Technology specializes in terminal operating systems and solutions. 
This tech company has earned a stellar reputation for optimizing cargo logistics and improving operational efficiency for ports worldwide. It has terminal operations professionals who can produce terminal operating systems and provide the support you need.
Tideworks Technology offers superior intermodal experience, systems integration expertise, and an extensive support model.
iVenture Solutions strives to resolve clients' IT cloud and cybersecurity challenges with the best expertise, execution, and experience. It provides personalized IT support, cybersecurity, networks, servers, cloud, and technology planning solutions.
iVenture Solutions can solve your problems through strategic technology planning involving road mapping, budgeting, and technical design.
AutoQuotes, a division of Revalize, is a leading tech company in the food service industry that has revolutionized how professionals in this field source and price equipment. 
It offers a comprehensive online catalog with over 1 million products, streamlining the procurement process. Its powerful software helps customers create accurate quotes and streamline their workflow. 
REEF Technology is a pioneering tech company at the forefront of urban innovation. Founded on transforming underutilized urban spaces, it repurposes parking facilities into multifunctional hubs for last-mile delivery, and mobility.
With a focus on sustainability, it changes how cities function, reducing congestion and supporting local businesses through its innovative approach. 
Availity streamlines communication between healthcare providers, payers, and patients. It facilitates efficient claims processing, appointment scheduling, and secure data sharing, ultimately improving the healthcare experience for all stakeholders.
Availity acts as a shared space for healthcare professionals to create healthy and thriving organizations.
Mercury Development's skilled developers, designers, and engineers consistently deliver high-quality mobile apps and web platforms. 
This premier tech firm is dedicated to staying up-to-date with the latest tech trends, ensuring that clients receive top-notch products that match their needs. Its expertise includes mobile app development, web solutions, and UI/UX design.
Taylor & White, Inc. is a professional civil engineering consulting services firm giving out residential and commercial developments that are high-quality designed. Each hired staff has competent knowledge, prior experience, and individual capabilities. 
It is also known for specialized services like preparing and managing project bids and providing oversight to construction.
Scarlett Group is a full-service IT Firm that you can contact for governance and processes on an enterprise level. It makes it easy for clients to handle IT audits, support, consulting, and solutions.
This tech firm serves business owners, general contractors, and specialty contractors as it revolves its operations around the highest standards of business practices.
Duos Technologies offers various services, from intelligent surveillance to rail inspection technologies. It empowers businesses to enhance their operational efficiency and security by focusing on intelligent security systems and advanced data analytics.
It is a well-established tech company known for its reliability and effectiveness in transportation and security.
PAX Technology aims to simplify and secure electronic transactions, providing seamless experiences for businesses and consumers. It adds value to a client's payment terminals, mobile POS services, and secure payment software.
PAX Technology contributes to the increase of in-store sales and customer experience when shopping.
As a managed IT services provider, Enterprise Integration's services include system integration, IT consulting, and custom software development. You can choose to avail of managed IT, security, project, and staffing services.
It enables hassle-free connectivity and data management.
Sports Media Inc strives to bridge the gap between sports and technology, delivering immersive experiences that connect fans with their favorite teams and athletes.
It powers sports broadcasts, stadium displays, and mobile apps, providing fans with up-to-the-minute stats and engaging visuals.
Auditmacs teaches clients to spend better, work smarter, adapt, and evolve through technology management, IT asset management and disposition, and technology solutions and services. 
This is among the top tech firms recognized for its lifecycle management services and technology expense. It supports utilizing IT cloud, telecom, mobility, and IoT technologies.
Environmental Consulting & Technology, Inc (ECT) is dedicated to sustainability and environmental solutions. 
It offers environmental monitoring systems, pollution control technologies, and consultancy services for businesses striving to minimize their ecological footprint.
This tech firm's mission revolves around fostering a greener planet by providing innovative tools and expertise to address environmental challenges.
Station Four prioritizes businesses with websites, e-commerce platforms, and digital marketing strategies to enhance online presence and drive growth. It creates seamless online experiences that captivate and convert users.
Station Four pays attention to details in its strategies on digital marketing, SEO, lead generation, sales enablement, and digital readiness.
Philips is at the forefront of innovation in healthcare, consumer electronics, and lighting solutions. Its product portfolio ranges from medical equipment like MRI machines to consumer electronics such as smart TVs and kitchen appliances. 
Philips aims for its clients to be healthy while living well as they enjoy life.
Breezy HR enables an applicant tracking system (ATS) for businesses to get the interests of qualified candidates and hire them with a faster timeline. 
It automates the process of pre-screening, email sending, interview scheduling, and getting feedback. It can also produce free templates and resources to keep hiring teams secure and compliant.
DISYS stands for Digital Intelligence Systems. It is a company that brings IT consulting, staffing solutions, and digital transformation services to companies. Its featured services help develop clients' operational efficiency.
It is now part of the Dexian Company.
ServiceNow utilizes simplified AI so organizations can elevate the experiences of customers and employees because of integrated finance and supply chains. You can also rely on it to build resilience, hyper-automation, and low code and transform digital operations.
Its best-selling products are customer service management and field service management.
Audemus is a giver of tailored solutions focusing on Deep Tech sectors and dual-use applications. It lessens the gap that innovators, investors, private entities, and government cannot overcome.
Its services include data visualization, web development, security, and UX/UI design.
Large companies and enterprises trust Perficient to reach their customers and gain profitability. It is a global digital consultancy that surpasses the competition by exceeding shareholders' expectations.
It makes it all happen by generating enterprise mobile applications, marketing, IoT, information technology, creative services, and custom development.
From setting up devices to troubleshooting, Enjoy Technology ensures seamless integration of gadgets into your life. Its products and services highlight personalizing tech setup and support through guidance and assistance.
It reinvents the "Commerce at Home" as it collaborates with brands that sell technology to help educate consumers on the right usage and creation of products,
MATRIX Resources guides industries like financial services, healthcare, oil, gas, energy, technology, telecom, and transportation. Its offerings include IT and professional staffing, agile consulting, DevSecOps, remote workforce services, and case studies.
Presidio is a global digital services and solutions provider that secures customers' cloud environments to modernize their adapted technology. 
Its services can securely process tax returns filed, broadcast high-profile events, connect college students, support life-saving systems, and synthesize security events.
Presidio believes its value is shown everywhere, as it already helped big organizations solve complex challenges.