Top 10 tech companies in Detroit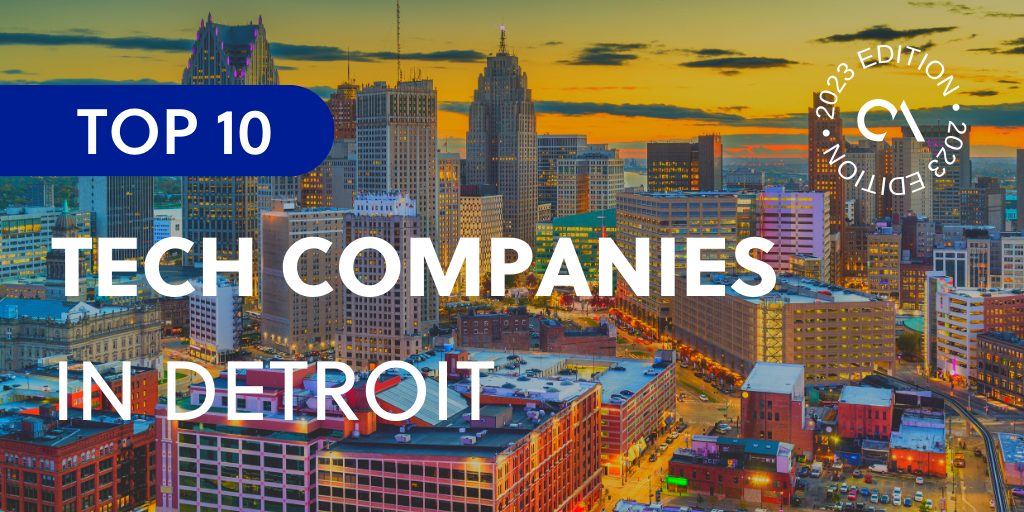 List of top 10 tech companies in Detroit
If you're interested in Detroit's tech scene, you're in for something great. The Motor City, known for its automobile legacy, has quietly evolved into a tech hub, fostering innovation and driving the future. 
In this article, we'll take a closer look at the top 10 tech companies in Detroit. We'll also explore the key sectors shaping the city's tech industry and touch upon Detroit's global outsourcing prowess.
A brief overview of Detroit's tech industry
Detroit's tech industry has experienced growth and transformation in recent years. 
According to Purpose Jobs, the city is becoming a hub for global tech companies. Some of the industry-leading companies already present in Detriot are: 
Google

Microsoft

Apple

Amazon

IBM 
Based on Tech Behemoths, its tech sector contributed almost $25 billion to the local economy by the end of 2018.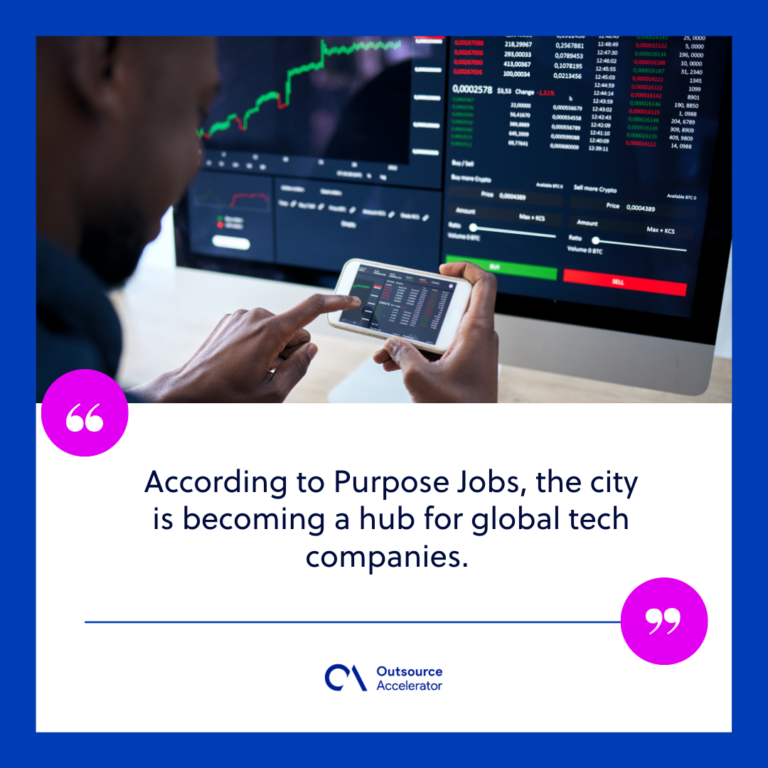 Key sectors in Detroit's tech industry
Several key sectors have emerged as significant contributors to Detroit's tech ecosystem:
Mobility and transportation tech
As the Motor City, Detroit continues to be a hub for automotive technology. This sector's companies focus on developing:
Autonomous vehicles

Electric cars

Innovative automotive components. 
Cybersecurity
With the increasing reliance on digital technology, the demand for cybersecurity solutions has grown significantly. 
Detroit is also a home to companies specializing in cybersecurity services, protecting both local businesses and national interests.
Advanced manufacturing
Detroit's tech industry extends into advanced manufacturing, where companies leverage automation, robotics, and data analytics to improve efficiency and product quality. 
This sector supports not only automotive but also aerospace and other industries.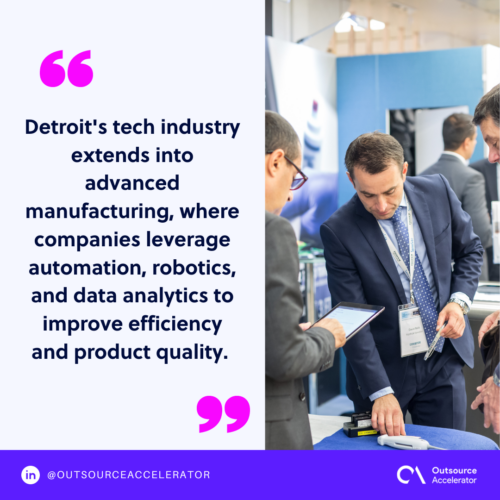 Healthcare and life sciences tech
Detroit has a thriving healthcare technology sector, with companies focusing on:
Electronic health records

Telemedicine

Medical devices

Health data analytics. 
The city's hospitals and research institutions also contribute to this sector's growth.
Top global outsourcing list
Outsource Accelerator is the world's leading outsourcing marketplace and advisory. We list over 3,000 BPO firms located across the globe in our global directory, and we provide detailed information, price guides, and reviews.
Whether you're a solopreneur, SME owner, or corporate executive, we can help you find the most suitable outsourcing provider for your business.
Explore our outsourcing directory now. You may also check out our Top IT software/companies lists here:
Top 10 tech companies in Detroit
Below we have ten of the prominent tech companies in Detriot: 
Location: 150 Jefferson Ave W, Detroit, MI 48226
Amazon is a frontrunner in the e-commerce industry that transformed the shopping experience. It introduces the one-click purchasing system and offers an extensive array of products via its online retail platform.
Amazon's reach extends far beyond e-commerce. Its subsidiary, Amazon Web Services (AWS), offers cloud computing services that power businesses and organizations of all sizes.
Location: Compuware World Headquarters, 1 Campus Martius, Detroit, MI 48226, USA
Microsoft offers innovative solutions spanning various domains. It's products include:
Microsoft 365 

Windows for productivity

Surface devices

Xbox for entertainment
Microsoft combines innovation, creativity, and strategic endeavors to help individuals and businesses unlock their full potential.
Location: 500 Woodward Ave., Detroit, MI 48226, Suite 2450
International Business Machines (IBM) is a global technology company that provides various services to help businesses solve their most critical problems, including:
Software

Hardware

Cognitive computing

Cloud computing

Consulting
With a deep commitment to driving innovation and empowering people, IBM aims to impact people's lives and society as a whole significantly.
Location: 200 Renaissance Center, Detroit, MI 48243
Cisco is a multinational technology company that offers a variety of products and services related to:
Networking

Cloud technology

Cybersecurity

Collaboration

Computing

Application performance. 
Customers can explore different categories of products and services, including routers, switches, security software, and managed services. 
It also offers free trials for various Cisco secure products, as well as packaged services and solution consulting.

Location: 1045 Woodward Ave, Detroit, MI 48226, USA
Verizon is a telecommunications corporation that provides wireless internet, television, telephone services. 
Customers can explore and shop for different mobile solutions, home solutions, and prepaid plans. They can also shop for smartphones, tablets, accessories, and other devices on its e-commerce website.  
Further, customers can also learn about Verizon's social impact initiatives and various services and perks, such as protection and security, financial services, and business solutions.
Location: 500 Woodward Ave Suite 2125, Detroit, MI 48226, United States
GreenLancer is an online marketplace founded in 2013 with the mission to accelerate the adoption of solar energy. The company aims to simplify and expedite the subcontracting process for solar design and engineering for installers.
GreenLancer has served over 5,000 solar installers on over 150,000 projects, deploying over $18 billion in commercial and residential solar nationwide. 
Location: 2050 15th Street, Detroit, MI 48216, Suite 3-100, Detroit, MI 48226, United States
Airspace Link is a company that aims to enable the safe integration of drones into the national airspace and communities at scale through:
Digital infrastructure

Strategic partnerships

Thought leadership
The team at Airspace Link consists of data scientists, software engineers, aviation engineers, and industry experts. These professionals came from companies like Google, Lyft, GE Aviation, and the US Air Force. 
Location: 1420 Washington Blvd, Detroit, MI 48226
BrandXR is an award-winning XR (Extended Reality) creative studio and a no-code platform. It allows anyone to create, publish, and measure 3D augmented reality experiences with AI tools. 
The company enables brands to bring their products and services to life with interactive AR experiences that can be shared across platforms like the web, mobile apps, and WebAR.
Location: 400 Renaissance Ctr Ste 2900, Detroit, Michigan, 48243, United States
Urban Science is a global company that provides solutions and scientific innovation in the automotive industry. 
It offers services and technologies designed to improve various aspects of automotive businesses, including media performance, network management, sales performance, aftersales performance, and marketing performance.
Urban Science offerings aim to bring efficiency and effectiveness to automotive-related processes, such as:
Connecting consumers with automotive products more efficiently

Uncovering the factors that impact daily performance and market share

Increasing service retention 

Building customer loyalty

Making every marketing dollar work harder
Location: 1420 Washington Blvd #600, Detroit, MI 48226, USA
Aadya Security provides an all-in-one cybersecurity solution specifically tailored to meet the needs of small and midsize businesses. 
It offers various services and features, including:
DNS filtering

Secure authentication

Password management

Endpoint detection and response

Automated compliance management

Reporting
AaDya Security's main product is Judy, an AI-powered security platform that works behind the scenes 24/7 to protect the company and customer information. 
Judy provides threat protection from the inside out and has machine-learning and AI-driven security capabilities created for small and midsize businesses and their MSP partners.
Explore Detroit's tech companies for business success
Detroit's tech companies are driving innovation and revitalizing the city's economy. 
Whether it's reimagining transportation, safeguarding the digital world, or pushing the boundaries of manufacturing, these companies are making their mark on a global scale.
But what does this mean for businesses looking to partner with Detroit's tech giants? It means access to cutting-edge solutions and a skilled workforce that can propel your business to new heights. 
Detroit's tech scene is not just about innovation; it's about opportunities and growth.
So, if you're a business leader seeking innovation and success, consider Detroit as your next destination. The Motor City is not just about cars anymore; it's about shaping the future.