Top 20 real estate investment companies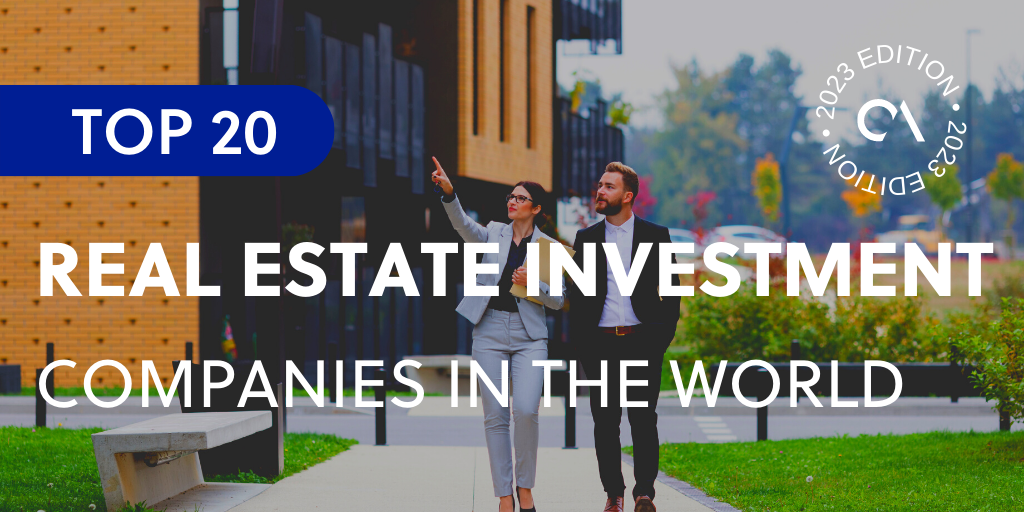 Real estate properties are tangible assets. They make great investments because their value appreciates over time, and they add another revenue stream.
Commercial real estate has again picked up momentum in the UK after a dramatic decline in 2020 due to the pandemic. It is among the top European country with the biggest commercial real estate investment, amounting to 65 billion euros.
Meanwhile, in the US, real estate remains the top choice for long-term investments despite rising mortgage rates. Some investors choose the traditional way of buying and renting out properties. While others partner with real estate investment companies.
What is a real estate investment company, and why is it something entrepreneurs or investors should consider?
List of 20 real estate investment companies
What are real estate investment companies?
Real estate investment companies work by pooling capital from different investors to purchase properties. Investors gain from the profit that the said properties generate.
There are different types of real estate investment companies in the market. This includes Real Estate Private Equity (REPE), Real Estate Investment Management, Real Estate Investment Trusts (REITs), and Real Estate Brokerage.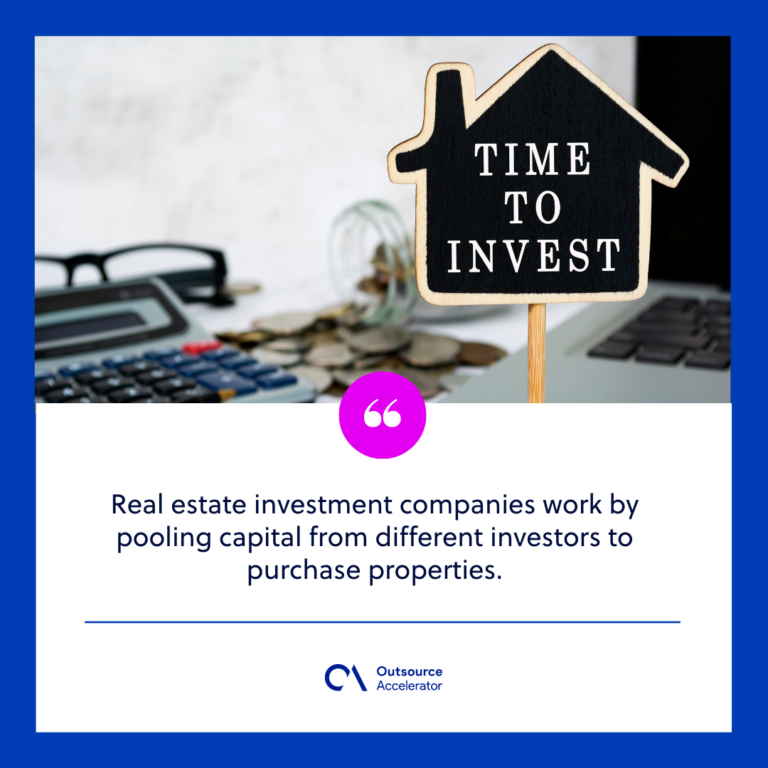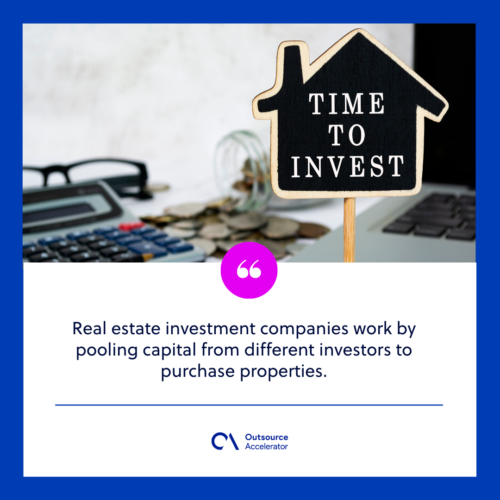 The benefits of hiring real estate investment companies
Real estate investment firms provide various benefits to individual investors or entrepreneurs. Here are some of them.
Passive Income
Real estate investment firms offer a way for people to reap the benefits of investing in properties without the hassle of being the landlord. You won't need to worry about maintenance or dealing with tenants when you partner with one.
For this reason, real estate investments become a passive income for entrepreneurs and investors. 
Lower investment capital
Another big advantage is that the required investment capital is lower since you are sharing the capital with other investors. 
Less risk
Also, there is less risk involved in real estate investment. The investment company will research on your behalf and choose the most profitable type of property in the market. Thus, you are more likely to gain profit.
That being said, choosing a reliable company should be the first step in investing in real estate.
Top global outsourcing lists
Outsource Accelerator is the world's leading outsourcing marketplace and advisory. We list over 3,000 BPO firms located across the globe in our global directory, and we provide detailed information, price guides, and reviews.
Whether you're a solopreneur, SME owner, or corporate executive, we can help you find the most suitable outsourcing provider for your business. Explore our outsourcing directory now. 
Top 20 real estate investment companies
CRBE Group is an American company that started in 1906. It is headquartered in Dallas, Texas but has offices across the globe.
Focusing on commercial real estate services, the investment firm consistently ranks as the most valuable company by brand value.
In 2022, CBRE held the top spot for having the largest value of commercial mortgage originations. It definitely deserves to be called the global brokerage leader. Among the services they offer include valuation and advisory, and strategic investment consulting. 
Based in Chicago, Illinois, Cushman & Wakefield is another well-known American real estate investment company. They are present in more than 70 countries.
With approximately 50,000 employees, it is considered one of the largest real estate companies worldwide.
The firm helps real estate investors through a variety of services. These include capital markets, agency leasing, project and development, and supplier management. They also offer commercial real estate leases and services.
Prologis is a real estate investment trust (REIT) company based in San Francisco. It owns the largest selection of logistics real estate in the world. It has offices in the Americas, Europe, and Asia.
Prologis is in the business of acquiring, developing, and maintaining buildings. They assist logistics investors in locating real estate, purchasing land or buildings, and leasing properties.
One of the largest and most trusted real estate investment firms in the retail sector is the Simon Property Group. Based in Indiana, the company owns premier shopping malls, mixed-use destinations, and other real estate properties in North America, Europe, and Asia.
American Tower Corporation is a famous wireless communications infrastructure provider and a trusted REIT company. Headquartered in Boston, Massachusetts, the company's main focus is the communications sector.
They have thousands of cell towers around the globe that make profitable investments due to the rising adoption of 5G networks and the Internet of Things. Currently, the company owns 226,000 communication sites across the globe.
AvalonBay Communities has been a reputable equity REIT company for many years. It is the top choice for residential investments, specifically in developing, redeveloping, and managing apartment homes. 
AvalonBay Communities targets multifamily communities in metropolitan areas. In 2023, they acquired 295 apartment communities in New England, the Mid-Atlantic, and Northern and Southern California.
Public Storage is an international company, offering self-storage solutions in the US. It is a real estate investment trust that offers some of the most in-demand assets, with self-storage facilities being a multi-billion dollar industry.
Public Storage owns thousands of warehouses in San Antonio, Texas, and other states in the US. It is also present in Europe.
When it comes to the largest real estate investment firms in Canada, Brookfield Asset Management (BAM) will always top the list. Owning $825 billion worth of assets, BAM is the world's largest alternative investment management company.
BAM manages a wide variety of assets and investment products for clients interested in the institutional and retail sectors. Its large-scale capitals allow them to invest in premier real estate properties globally. 
Colliers is a Canadian investment management company experienced in all types of assets and ownership structures. It helps investors in general surveying, capital markets, fund management, and property co-investment. 
The company also maximizes its client's profits by offering financial and corporate advice. At present, it has offices in 68 countries.
For those interested in investing in commercial properties, consider Realty Income Corporation. It is a REIT company focused on providing attractive risk-adjusted returns for its clients. 
The investment firm does this through prudent business strategies. With decades of experience under its belt, the company continues to strive hard to maintain a conservative capital structure and sustainable growth. 
With its long history of increasing real estate dividends, Essex Property Trust deserves its place on the list. This real estate investment trust company based in the US has a dynamic portfolio of apartment buildings and commercial spaces. 
Essex Property Trust acquires and manages properties on the West Coast. Those looking to invest in Southern California, San Francisco Bay Area, and the Seattle Metropolitan Area should inquire about this company.
China Evergrande Group ranked no. 463 in the Forbes Global 2000 largest companies in the world. Despite recent drawbacks, the investment-holding real estate company consistently outperforms others in terms of sales, profits, assets, and market value. 
China Evegrande Group is in the business of property investment and property development,  management, construction, and even hotel operations.
Office buildings are profitable real estate assets. BXP is a suitable investment company to tap for those looking to invest in these properties. It owns premier office spaces in Boston, New York City, Los Angeles, San Francisco, Washington, D.C., and Seattle.
As the largest publicly traded developer in the country, BXP has an annual revenue of $3.10 billion. It is known for its commitment to green practices to benefit the environment.  
Camden Property Trust is the expert for luxury apartment investments. This publicly traded real estate investment trust owns, develops, and manages over a hundred communities with more than 50,0000 apartments all over the US.
Based in Hong Kong, Sun Hung Kai Properties is a big name in the property development, hotel operation, telecommunication, and real estate investments industry. It was established in 1963.
Sun Hung Kai Properties develops and manages residential estates, offices, and industrial buildings. Among its extensive portfolio of investment properties are shopping malls and large land banks. 
Klépierre is an ideal real estate investment company for those looking to invest in Europe. This French firm is the second biggest publicly traded mall operator in the continent. 
It owns, develops, and manages shopping centers in France, Germany, Belgium, Denmark, and 12 more European countries.
Since 1983, Vornado Realty Trust has been committed to excellence, honesty, teamwork, and integrity. These are the values that made them successful in the industry of real estate investment.
Established in Maryland, the company operates from its headquarters in New York. In 2022, it has garnered revenue worth $1.79 billion. Its notable properties include The New York Marriott Marquis, The Crowne Plaza Hotel in Times Square, and the Fuller Building.
With an asset worth $73 billion, Annaly Capital Management is the world's largest real estate investment trust. It is the first choice in the residential mortgage finance market.
The company offers diversified capital markets and investment strategies. It has consistently outperformed the S&P 500 in total returns since its foundation in 1997.
AGNC Investment invests in agency mortgage-backed securities through repurchase agreements. The company helps stockholders gain favorable returns on investments on a risk-adjusted basis.
AGNC has a diverse portfolio of assets and is based in Bethesda, Maryland. It was founded in 2008 and has a current asset of ​​ $61 billion.
Mapletree Industrial Trust is a reputable REIT in Singapore, one of the biggest in Asia in terms of total assets. It has a strong portfolio of assets mainly used for industrial purposes. 
The company also owns income-producing data centers and real estate assets beyond Singapore. In 2023, its total assets have a combined value of S$8.8 billion.