Visual engagement technology
Definition
What is visual engagement?
Visual engagement is the process of visually connecting with consumers through screen sharing, co-browsing, or live video. 
It may involve a virtual reality dimension, in which customer care professionals use visual annotations for various cases, such as telling clients the measures they need to do during technical support sessions.
The real-time engagement concept is widely used across multiple industries, such as retail, finance, call centers, and healthcare.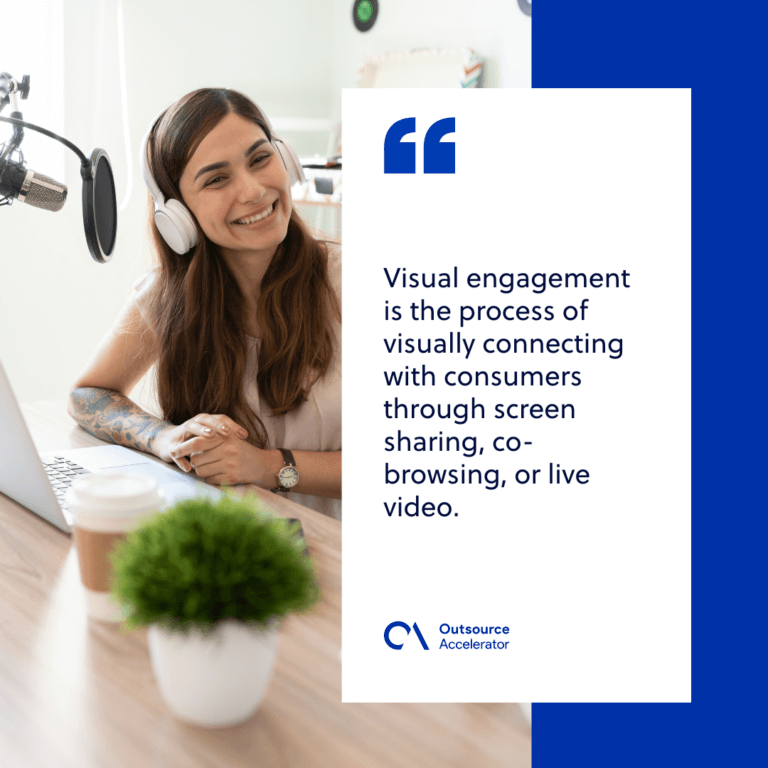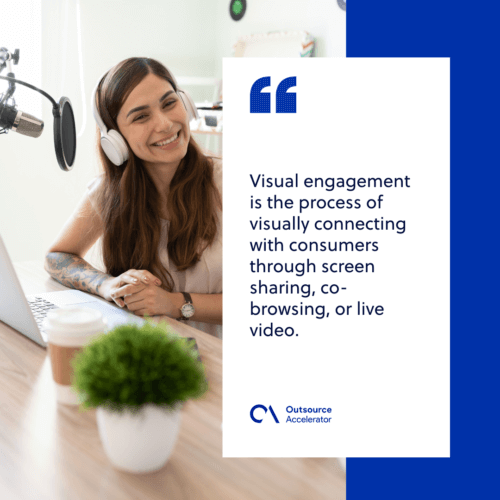 Types of visual engagement
These are the most common forms of visual engagement technology:
Video 
Video is the most often used channel for visual engagement. Agents use it to mirror the consumer's view or devices, which improves comprehension and human connection. 
Video can be one-way, with the agent on camera but not necessarily the client or vice versa. It can also be two-way, with both participants seeing each other.
Co-browsing 
This technology allows you to engage with a consumer by navigating through their web browser. Agents can only see the specified web page, with all other active windows and applications hidden. 
Screen-sharing 
Remote access to a computer screen allows the agent to troubleshoot, instruct, and cooperate. The agent's or the client's screen may be shared, depending on the need. For customer displays, data controls protect important information. 
Screen annotation 
Agents may highlight, underline, and make notes on the material on a shared web page. This helps consumers cut through the clutter and find the most important information.
How visual engagement technology delivers a great customer experience
Businesses that use visual engagement technologies as part of their customer interaction strategy may move customers through the sales funnel more quickly while providing a pleasant brand experience.
Let's talk about the advantages of adopting visual engagement technologies to improve customer experience.
Improve first call resolution
Your support team will be able to reach customers at the right moment and find a solution if you provide them with real-time customer interaction solutions.
Visual interactions help in the delivery of efficient solutions that minimize the number of tasks. It allows agents to provide better, faster solutions to the majority of support issues, resulting in a substantial increase in first-call resolutions.
Reduce the number of touchpoints
Implementing visual engagement tools is the most effective way to address the problem of customers. Not only is the solution faster when the client issue has been identified in the first call, but the number of touchpoints is also minimized.
Further, customer service representatives may give a concrete solution and reduce average resolution time by gaining a visual knowledge of the issue. This is with the use of visual engagement technologies, such as co-browsing and video chat.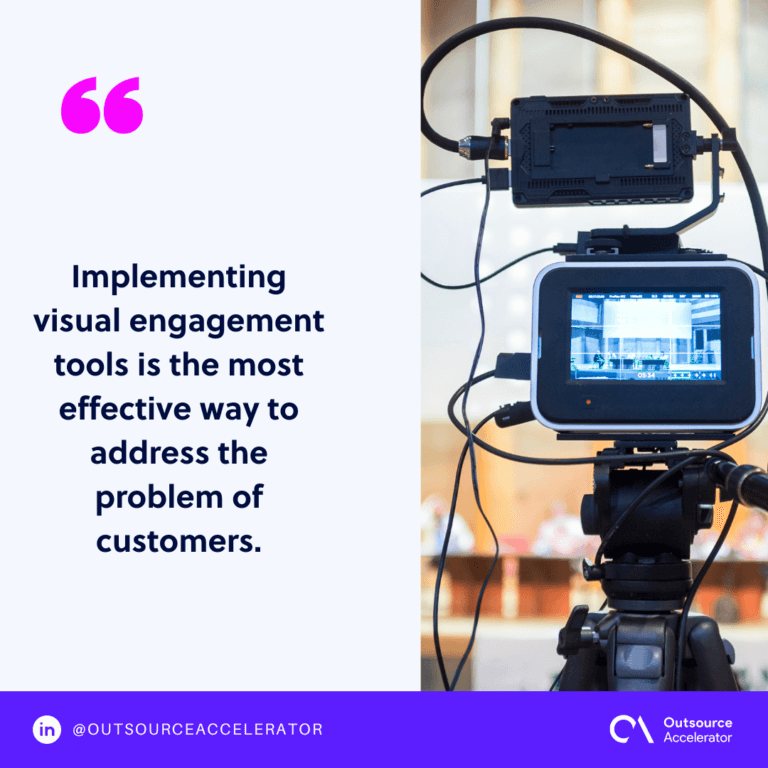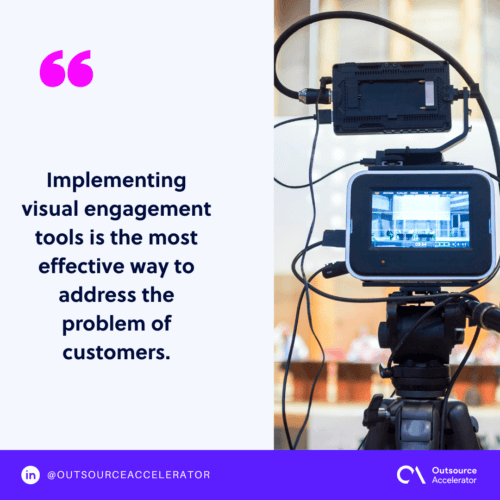 Increase conversions
When it comes to turning website visitors into consumers in the retail industry, a good online shopping experience is frequently the most essential aspect.
Companies spend heavily on visual engagement technologies in order to boost sales and provide a consistent user experience for their online visitors.
For instance, co-browsing between agents and consumers gives opportunities for upselling and cross-selling items or services, resulting in increased revenues. Companies can significantly reduce abandonment rates by combining an excellent user experience with helpful service options.
Boost customer satisfaction
Visual engagement is a dynamic real-time concept that allows agents and customers to cut through the clutter of communication, better understand each other, and save time in issue resolution.
One of the most effective methods of increasing client loyalty is to create great customer experiences. You may get an advantage over your competition by including visual client encounters in your customer care operations.
Further, visual engagement combined with co-browsing allows for easy communication and real-time collaboration to help your consumers through complicated operations. 
Improve team performance and productivity
Visual engagement technologies have a significant influence on overall team performance, in addition to their potential for consumer interaction.
Using visual engagement technologies boosts team productivity by improving the system of interacting with customers that allows them to effectively share information or give solutions.