Definition
What is a toll-free service?
A toll-free service, also known as a toll-free number, is a popular contact option for customers in need of assistance. 
Instead of the caller getting billed, the toll-free number gets charged for every call received. In other words, it is the company that assumes the call charges so that customers and prospects can contact them freely.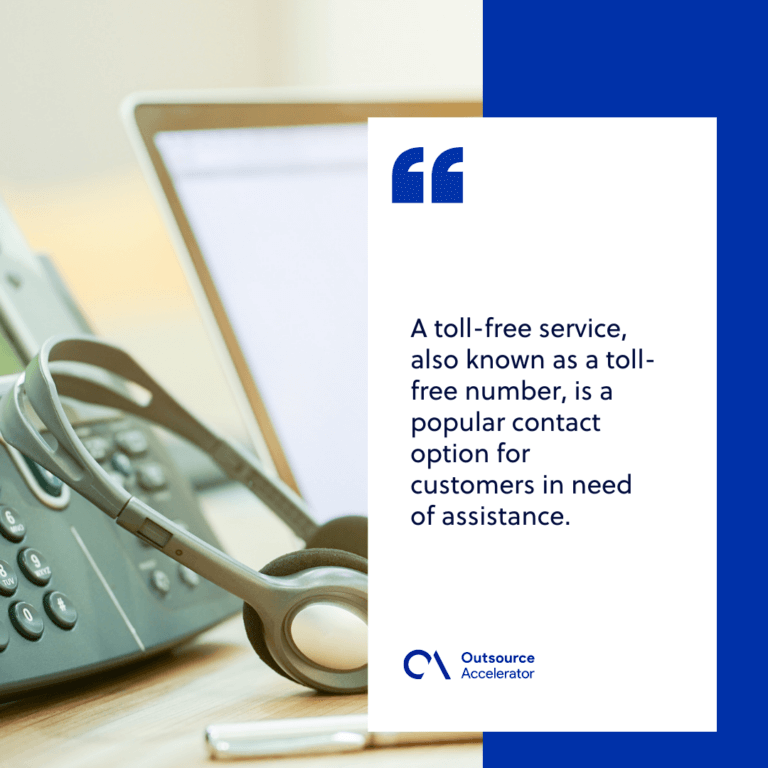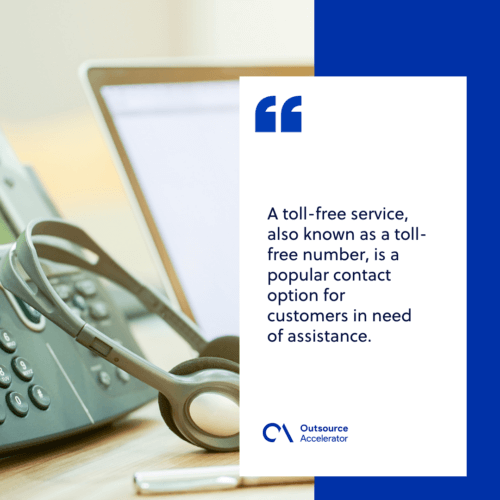 Toll-free number codes
You can easily recognize a toll-free service number through its first three digits. 
Common toll-free number prefixes include 800, 833, 844, 855, 866, 877, and 888, among others.
These toll-free numbers are not interchangeable. That means if you dial a 1-800 number, you will get a different person from a 1-888 number. Local telephone numbers are assigned to each toll-free number.
Vanity number
Vanity numbers are an example of toll-free service, although they can also be paid numbers. 
Vanity numbers are shared-use numbers that typically spell out a business name or a word related to it — e.g., 1-800-GoFedEx or 1-800-4633339 when dialed on a phone keypad.
These numbers are meant to be easily memorized and associated with a certain brand. A one-of-a-kind phone number is sought after as a branding and direct-response tool. Choosing the right vanity number can significantly impact a business's success.
Advantages of toll-free service
Setting up a toll-free number for your business offers the following advantages.
Consumers can reach you more easily, so you don't miss out on opportunities to generate and nurture leads.

A toll-free line is available round-the-clock so that you can respond to consumers' inquiries from any location.

Toll-free numbers are usually easy to remember and recall, especially if they're vanity numbers.

Customers have traditionally been able to get in touch with businesses through toll-free numbers.

As long as toll-free numbers are text-enabled, customers can send text messages to businesses and vice versa.

Toll-free phone systems are generally set up to allow call forwarding to any other number, such as an IP phone or landline.
Disadvantages of toll-free service
Here are the possible drawbacks of toll-free services for your business:
Toll-free calls do not apply to mobile users unless, in some cases, they have an unlimited calling plan.

From the business perspective, the more time you spend on calls, the more expensive they get. Because of this, several service providers offer plans that lower their cost-per-minute based on the number of calls you intend to make each month.

"Hoarding" is prohibited by FCC regulations. There is a limit to the number of toll-free numbers purchased by a subscriber.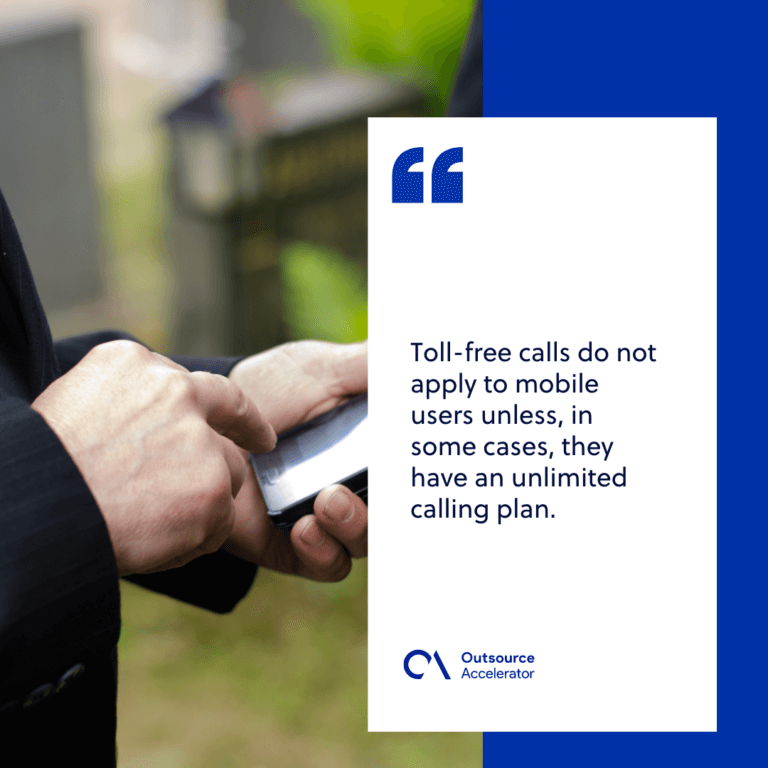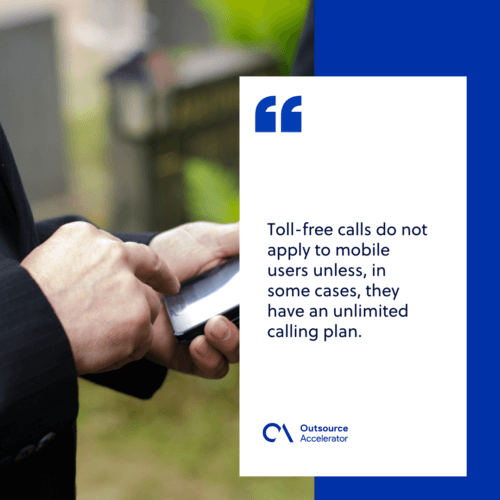 Toll-free number providers
Cloud telephony service providers and telecom firms like Airtel, Vodafone, The Real PBX, and CallHippo offer toll-free numbers for their customers.
Airtel (Bharti Airtel Limited) is an Indian telecommunication service provider with headquarters in New Delhi, India. It offers both domestic and international toll-free services, with features such as smart call forwarding and call statistics.
With operations across the globe, the Vodafone Group is a British telecommunication giant whose India-based spinoff Vi offers various toll-free services for businesses. Choose from domestic or international toll-free service, universal access number, or universal international freephone number. 
To receive calls on your cell phone or Skype, you need to sign up for a toll-free number with the Real PBX. It is a hosted business phone system that has all the functionality of a typical VoIP phone, as well as unique advantages. 
CallHippo offers a wide range of virtual mobile phone numbers tailored to the demands of small businesses. Small businesses can use the CallHippo platform to set up a virtual call center and expand their reach to local and international clients, as it operates in more than 50 countries. 
It has a simple and intuitive UI. Setting up a customer service center for any business group takes less than three minutes.