Definition
What is a post-call survey?
A post call survey is a customer service survey that asks customers about their service experience right after it has ended, often through an IVR. 
It evaluates a customer's experience with a recent service interaction rather than their overall satisfaction with the brand, product, or service.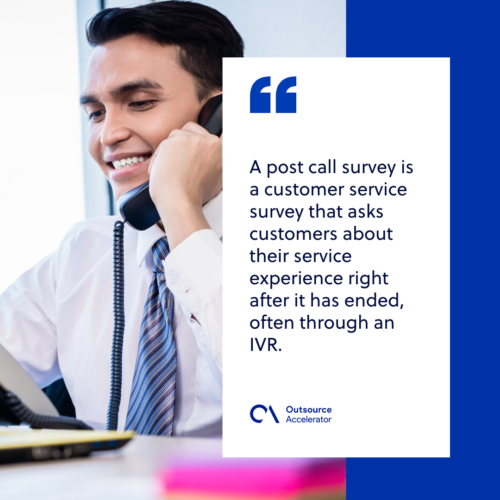 Why is post-call survey important?
Post-call survey assists a company in measuring Customer Satisfaction (CSAT), Net Promoter Score (Nps), and Customer Effort Score (CES). It helps increase consumer loyalty by automatically submitting negative experiences to managers and supervisors.
Post-call surveys enable firms to reach out to unsatisfied consumers and resolve their issues. Combining survey results with an agent's evaluation helps guarantee that the business is providing excellent service to callers.
How a post-call survey works
After the call ends, the caller will be immediately transferred to a voice-prompted survey. Using their phone's keypad, customers will be able to assess the quality of the discussion on a scale of one to five.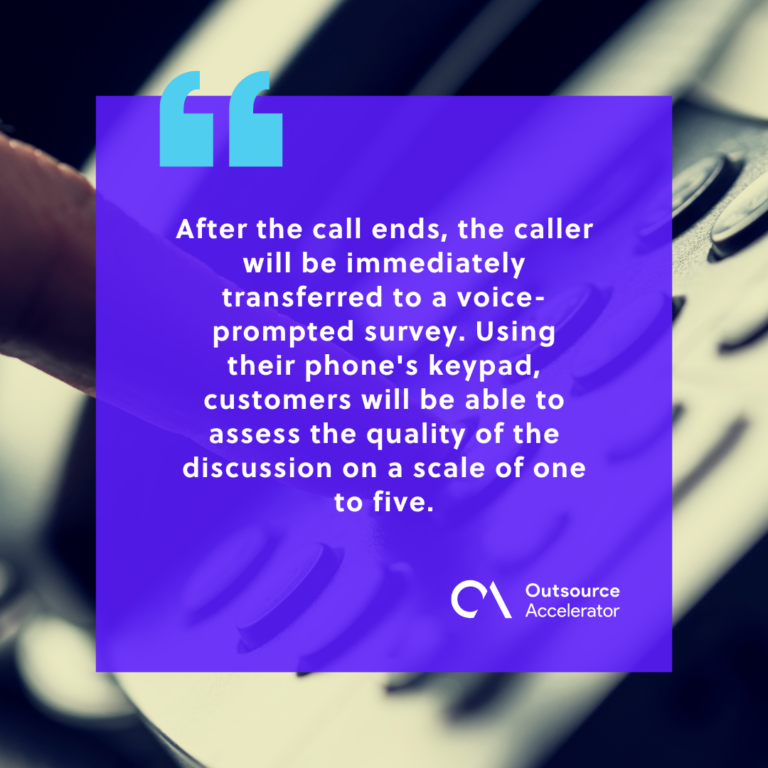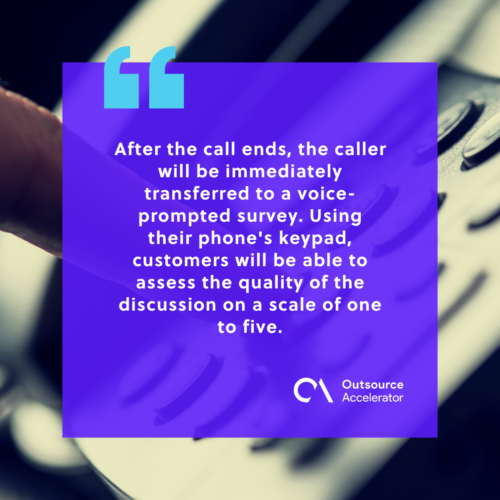 How can businesses improve their post call surveys?
Customer service agents' performance can be measured through post call surveys. Here are some approaches for increasing post call survey response and completion.
1. Have a clear goal
It's important to have a specific goal, perform an on-point post call survey, and don't risk the client and having them leave out. The more focused you are on a certain objective, the easier it will be to create a survey that can help the company to improve.
2. Ask concise questions
Your caller may have already spent more time on the phone with customer support than they expected. Don't turn people off your survey by asking long, multi-part questions.
Keeping questions concise can also help the agent better understand the information you are searching for, increasing the probability of generating accurate results.
Further, don't waste your customers' time by expecting them to engage in long surveys that seek feedback on an exhaustive list of items.
3. Provide a time estimate upfront
It's tough to convince consumers to start, let alone finish surveys. Make them more inclined to begin the survey by saying how long it should take or stating the number of questions at the beginning of the survey. 
Customers will be irritated. Their impression of your brand will suffer if they take time to answer or give feedback.
4. Keep your post call survey simple
In a voice-based post call survey, the client is listening to the alternatives and must remember them to select the proper response. As a result, keep to a simple rating scale with only four alternatives.
In addition, always remind the respondents of which option is the highest or best on your point scale.
5. Have the initiative to ask 
Encourage callers to stay on the line and complete a post call survey before transferring them, or follow up with a second call shortly after.
If you wait too long, the client is unlikely to recall the type of service they received, which reduces their willingness to participate and the value of the data they supply.
6. Know your audience
If you survey every single caller, your survey design will be different than if you target your survey those who called for a specific reason or used several channels to communicate with your agents. 
Identifying potential survey participants ahead of time so that questions may be tailored properly. It might increase responsiveness since the respondents will understand how their answers will be beneficial.
7. Test your survey
Before distributing a survey publicly, try it in a pilot environment first. This can help recognize potential stumbling blocks, filter out weak questions, rearrange survey orders to make the survey simpler to understand, and check for technical errors.
What is a post call IVR survey?
A post-call IVR survey is commonly used in call centers. After interacting with a call center agent, the consumer is transferred automatically or manually to a voice-promoted survey system.
The survey questions are provided through voicemail notifications, and the consumer provides their responses using the telephone keypad or by voicing their responses.
Pros of IVR Surveys
Here are some advantages of IVR Surveys:
Easy to execute
The post call IVR survey method is typically simple to implement. If your IVR vendor offers a survey function, you may create one and begin collecting data.
Easy to get agent level scores
If you want to track straightforward agent level ratings for customer satisfaction or net promoter score, a post call IVR survey is an efficient process to do so.
However, there is significant evidence that assigning score objectives to front-line agents has a negative influence on culture and overall outcomes.
No data needed about the customers
There is no data gathered when a caller is sent to the survey. You don't need email addresses or cell phone numbers to obtain feedback. That might be interesting to organizations with insufficient or limited data in these areas.
Further, it would be preferable for businesses to gather customers' email addresses and phone numbers while they are still on the phone.