Definition
What is medical coding?
Medical coding is the process of diagnostic procedures, health services, and equipment into universal medical alphanumeric codes.
It includes medical record material, such as transcriptions of physician's notes and laboratory and radiologic results, generates diagnoses and procedure codes.
Medical coding experts ensure that the codes are accurately applied during the medical billing process. The process also abstracts information from documents, assigns appropriate codes, and prepares a claim to be reimbursed by insurance companies.
Importance of medical coding
Medical coding guarantees that insurers have all of the diagnostic codes needed to make the proper payment. Demographic surveys, investigations of illness prevalence, treatment outcomes, and accountability-based reimbursement systems all require coding.
Reduce and manage your operating expenses.
Various coding and IT technologies are available today to help improve the speed, cost, and accuracy of medical coding. Outsourcing allows your healthcare facility to avoid the costs and headaches of managing technology in-house.
Scalability
An outsourced services provider can ensure that medical coding services are quickly deployed while also being scalable and aligned with your business goals.
It will be incredibly tough for your healthcare center or hospital to reduce or increase the size of your in-house coding crew based on business trends or other such imperatives.
However, when you outsource, you won't have to worry about the infrastructure or volume required to manage medical coding at any time.
Services that offer value
Outsourcing service providers are well-positioned to provide regular reporting on the development and status of claims to healthcare facilities and hospitals. These reports can also bring out weak areas where coding productivity and results might be improved.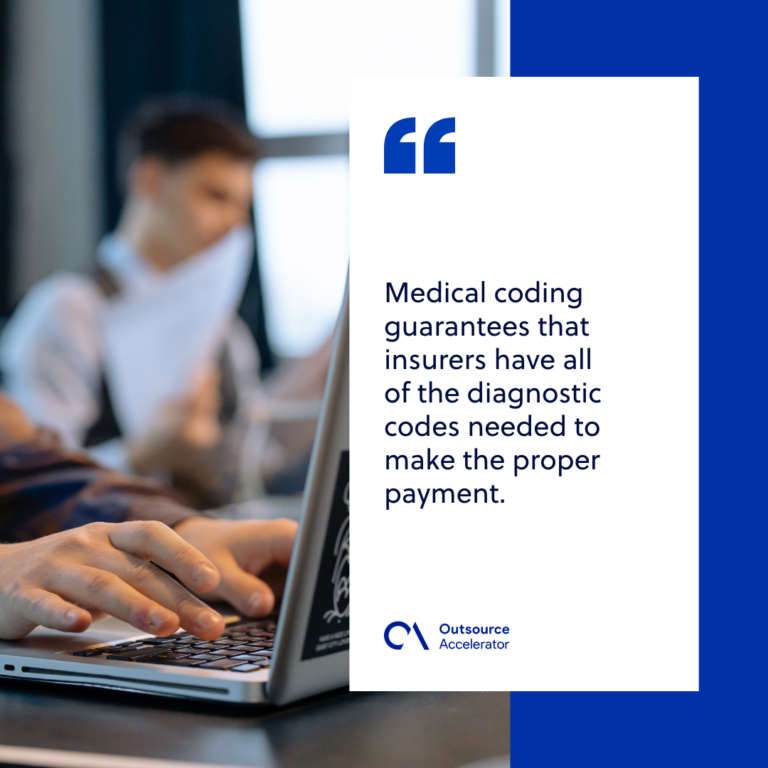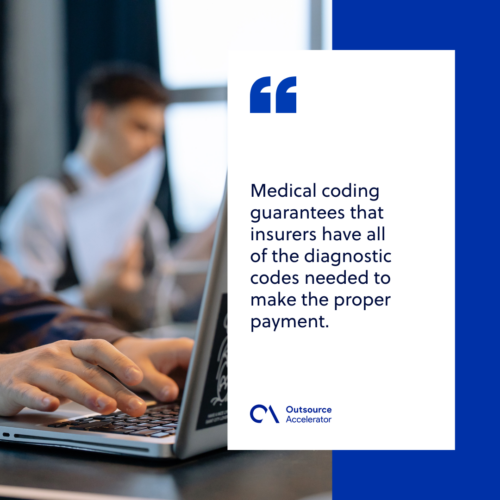 Reduced number of claim denials
Claims denials might occur from data inaccuracies and improper coding, causing revenue loss. It will result in more claims being reworked and a delay in reimbursement. Medical coding can be outsourced to keep coding errors to a minimum and quickly complete rework.
How does medical coding work?
Medical coding is best done by professionals who have been taught and certified. These professionals are called medical coders.
Here are the standard stages of medical coding:
Analysis of pre-sale requirements
Specialties covered, needed turnaround time, files, report requirements, and formats to follow are all part of the client requirements analysis.
Collecting information from the client
Acquire from the customer digitized diagnostic data or patient charts The Medical Coding Team downloads these files and assigns them to the necessary Pre-Coders and Coders.
Coding
The Pre-Coders input details such as the location of service, physician's name, and any pricing modifiers after the files have been downloaded and assigned to the relevant team. Certified coders perform procedural and diagnostic coding.
Posting of completed files
The coding team additionally double-checks that the diagnosis matches the procedure code. The files are posted to a server after the coding is completed.
Feedback and quality assessment
The coded files are transmitted to the client. The client inspects these files for quality.
Client feedback improves and refines the process to give the most accurate and dependable services.