Definition
What is an internal help desk?
An internal help desk software is a program that enables your staff to carry out internal activities. An internal help desk is not different from typical help desk solutions since it can be used to connect with customers and handle IT and non-IT-related problems that occur within the organization.
What can an internal help desk do for your businesses?
Anyone in the business can seamlessly submit a support request using internal help desk software even if they do not have direct access to the help desk system.
If employees have questions to ask the management, they can use the internal help desk to receive answers instantly and to contribute their solutions or methods to work.
Further, it can determine the most common types of issues that employees experience. From there, management can develop a strategy for the better development of their employees.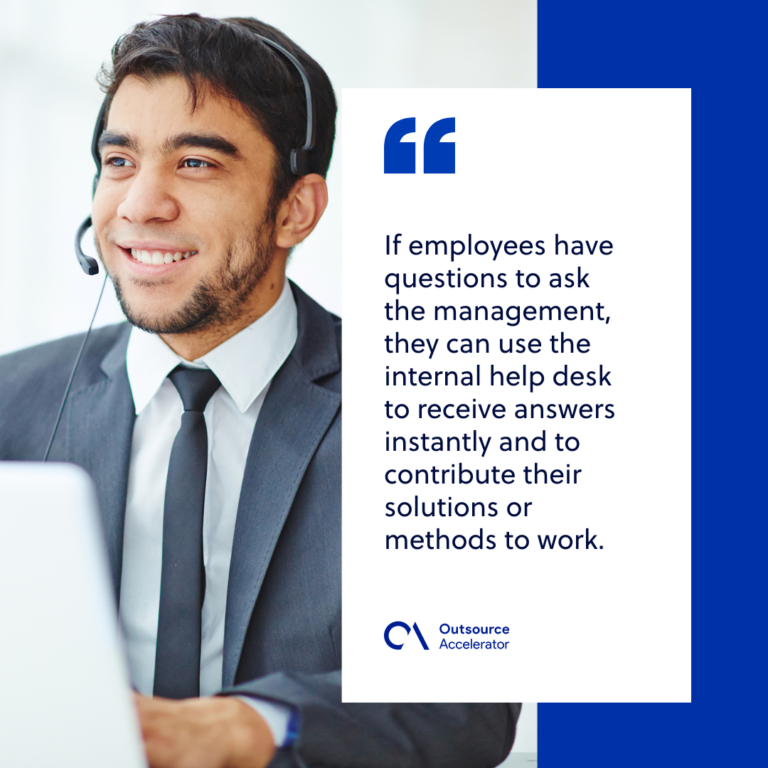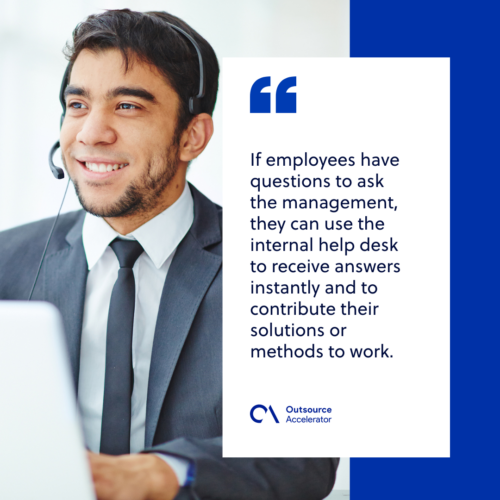 What are the benefits of an internal help desk?
Here are some of the benefits of using an internal help desk, including:
Lessens interruptions
When you start to implement the use of automation in your helpdesks, your staff will be able to discover solutions on their own time rather than interrupting a coworker's day for information.
Artificial intelligence and machine learning are important components of internal help desks. These two allow internal help desks to operate smarter by integrating natural language processing (NLP), which allows problems to be resolved through a chatbot.
By taking this approach, your staff will be able to handle difficulties on their own and will not have to disturb anybody. This is crucial if they want an answer on a weekend or holiday when other team members are unavailable.
Reduces backlogs and burnouts
When dealing with different issues for existing clients or employees, backlogged or delayed support requests can start to build up. This typically leads to burnout. This could also lead to faster turnover within the department, making it hard to keep someone in that position.
Machine learning and AI-powered help desk support are now being used by businesses to reduce backlogs. AI is more efficient now, and it can solve the majority of problems faster than any individual could.
Using help desk software enables your support staff from the repetitiveness of answering inquiries, allowing them to focus on activities that need higher-level thinking and attention.
This is a significant improvement in employee engagement and customer satisfaction.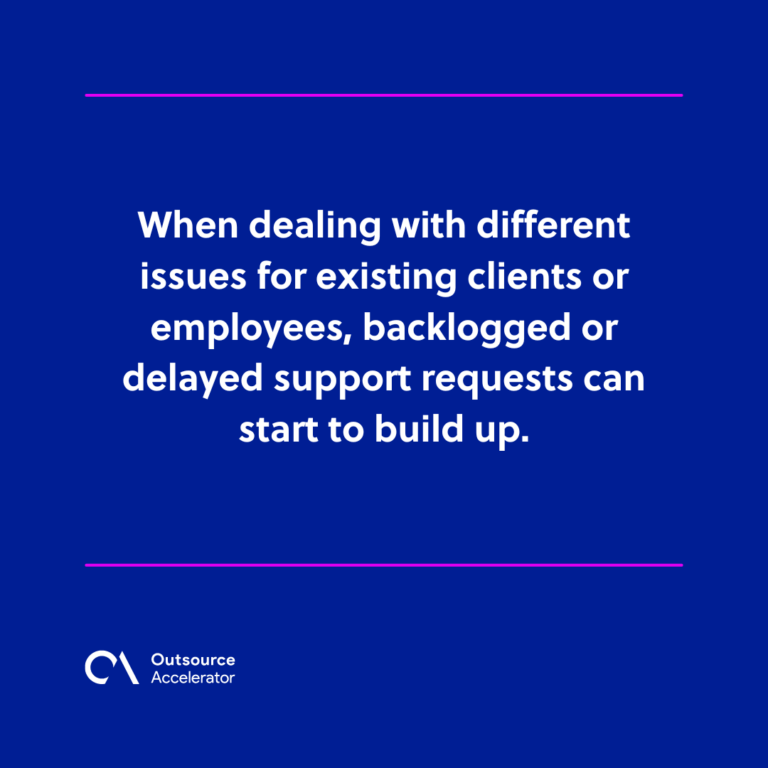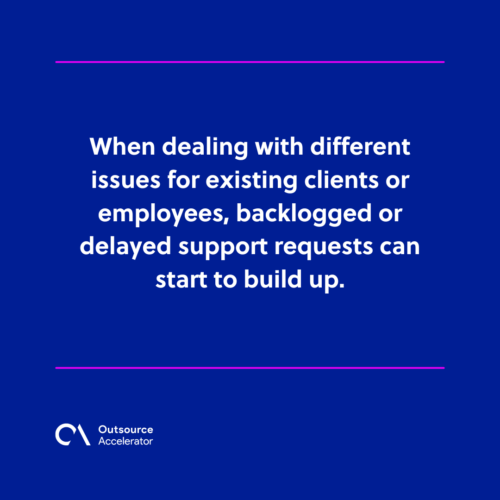 Increases productivity
Using an internal help desk is now capable of integrating with multiple applications. A chatbot helps employees find the information directly from the applications they are using without needing to login into each system individually.
A chatbot connects to key systems such as customer relationship management, e-commerce platform, and project management software. 
Further, this involves being able to get comprehensive information about customers in a couple of moments. Imagine how much this internal help desk simplifies their work and increases productivity.
Technical support
IT-related issues are complicated problems and can take an entire day or more for your team to solve. AI can solve common technical problems in the office and take the burden off your IT professionals.
What are the help desk systems businesses can use as internal ones?
There are specialized internal help desk systems that you can use as internal ones. Here are some help desk systems that have a special functionality, including:
Zendesk
Zendesk is an internal help desk and a service system that provides various services that might assist your staff in resolving more difficulties in less time. It offers various automation, workflow, and AI technologies that may be used to improve efficiency and quality of service.
Zendesk can incorporate all of your business information including integrations, and staff connections into a single location that anybody with access can include for reference.
Kayako
Kayako can merge all of the departments into a single institution. Whether it's IT, Human Resources, or Finance, Kayako can form a group where everyone can work together to develop a better working environment. 
This will allow you to uncover internal bottlenecks and your choices for resolving them, as well as assist you to learn what your staff like the most and the issues they encounter.
HappyFox
HappyFox is a support platform that provides software as a service (SaaS). They provide an enterprise-grade help desk ticketing system as well as user-friendly live chat software.
It's simple to use since it has one of the most efficient interfaces on the market, and contains most of the help desk capabilities you look for to use in your company.
Zoho
Zoho is a web-based help desk software that allows users to easily manage any customer support operations. It makes it simple to allocate, manage, and set up notifications on help desk tickets.
You can customize this software to your company's needs and guarantee that your customers are satisfied with their customer service experience.
Automatic localization, and a longer range of social media platforms through which consumers may purchase tickets are some of the new features in its newest version.
Freshdesk
Freshdesk provides help desk support with all smart automation to get work done efficiently. It has been a popular solution for companies looking to enhance consumer engagement and manage clients as they grow their experience.
Furthermore, this help desk system focuses on handling support tickets from customers while providing agents with information and resources in an efficient way.