German-Philippine Chamber of Commerce and Industry (GPCCI)
Definition
What is the German-Philippine Chamber of Commerce and Industry?
The German-Philippine Chamber of Commerce and Industry (GPCCI), or the Deutsch-Philippinische Industrie- und Handelskammer, is a platform that supports the German business community and their entry into the Philippines and promotes their brands, products, and services in the country.
The GPCCI was established in 2008 and is headquartered in Makati City, Philippines. In 2015, it became a part of the Deutsche Handelskammer (AHK), or the German Chamber of Commerce Abroad, operating in more than 140 locations worldwide.
The AHK operates under the umbrella of the Deutscher Industrie- und Handelskammertag (DIHK), or the Association of German Chambers of Industry and Commerce.
Like other AHK locations, the GPCCI exists in the Philippines due to Germany's economic interests. Germany's preference for the country is due to Goldman Sachs' inclusion of the Philippines among the Next 11 countries.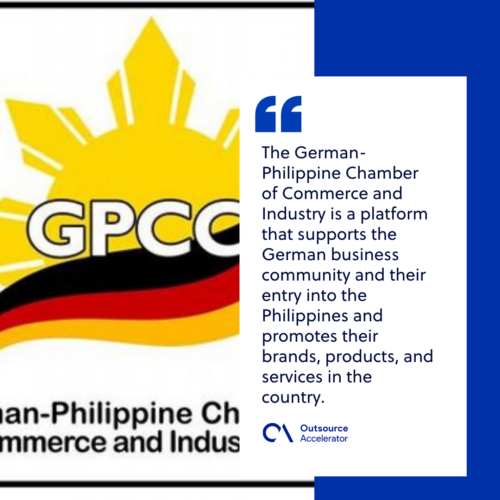 What does the GPCCI do?
The GPCCI is an official representative of German businesses in the Philippines. 
It also provides the same standard services as the other members of the AHK. These services include:
Market analysis and study

Business partner research

Background checks

Location analysis

Sales accelerator

Training and education

HR support

Marketing and events

Trade fair support

Access to business opportunities from the Asian Development Bank
Member businesses of the GPCCI, as well as their employees, enjoy several special offers and product and service discounts from the companies of other members.
Examples of these benefits include:
DHL Global Forwarding Philippines, Inc. offers free logistics requirements consulting services to other GPCCI members.

D

ö

hle Shipmanagement Philippines Corporation (DSPC) provides complimentary breakfasts to employees of GPCCI members who avail of DSPC's dormitory services.

Flood Control Asia RS Corporation provides flood barrier systems and exclusive discounted prices on some of the company's services.

Luxusmarken

Von Adrenaline Inc. offers discounted prices on regular-priced products at select stores, a free drink once a week, and discounted prices at select restaurant branches or online purchases.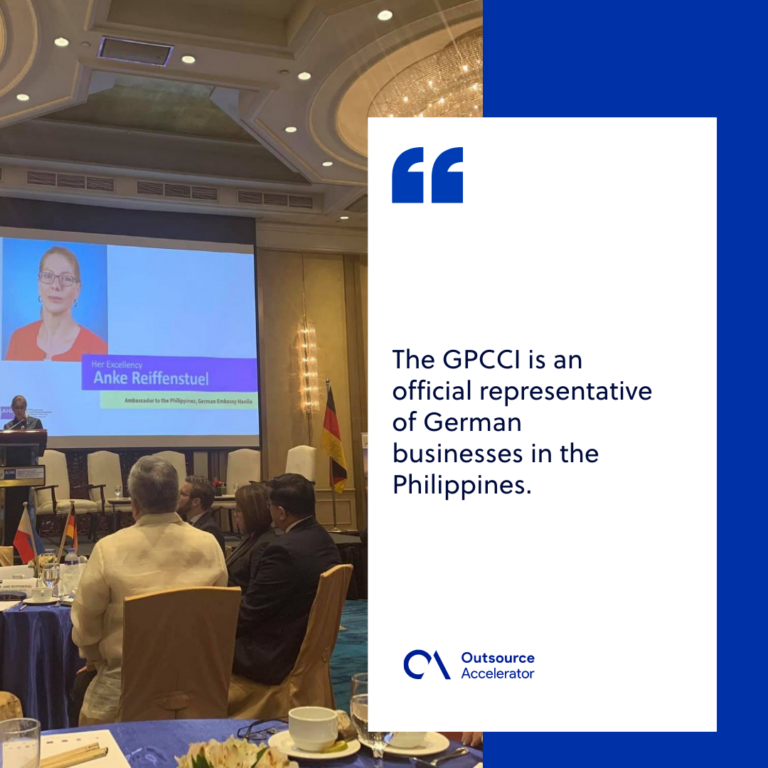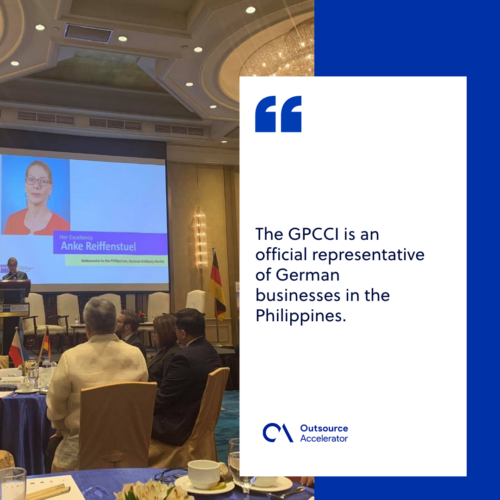 GPCCI members and membership
Businesses seeking to become a member of the GPCCI can join under either a corporate account or an individual account.
Businesses joining under corporate accounts must pay a PHP 5,000 (USD 98) joining fee and an annual membership fee that varies depending on the companies' nature:
Locally registered company

(no foreign affiliates)

:

PHP 16,000 (USD 306)

Foreign-owned company

(including regional operating headquarters, regional headquarters, and representative offices): PHP 30,000 (USD 574)

Foreign-based company

(companies not operating in the Philippines): PHP 55,000 (USD 1,052)
Businesses enrolling under an individual account have a joining fee of PHP 3,000 (USD 57) and an annual membership fee of PHP 7,500 (USD 143).
Importance of the GPCCI
The GPCCI's importance lies in Germany's prominence as a trading partner to the Philippines. As the Philippines' largest trading partner among the European Union's member states, Germany has exported around USD 2.2 billion to the country in 2021.
Aside from Germany's economic importance, the GPCCI serves as an exchange platform for business trends and topics, servicing 300 German and Philippine businesses.
The group represents its member businesses and provides them with business support, market access, information, and connection to the right experts or business partners.