Definition
What is a game developer?
A game developer is one of the most important people behind the most successful game titles and franchises in the video game industry.
Contrary to popular belief, all game developers start out as software developers. They later choose to specialize in creating, writing and rendering virtual environments for gaming purposes.
They can even choose which major industry players (Sega, Nintendo, Sony, etc.) they want to specialize in. Even more so, they can focus on certain types of games such as first-person shooters (FPS) or massively multiplayer online role-playing games (MMORPGs).
Being a game developer allows individuals to create worlds wherein people can be anything they want. Much like any practice based on logic and arithmetic, game development can be as creative as it can be. 
Being in a team that can create alternative universes can be fulfilling, but it can also be hard and tiresome. Game devs in major companies often have tight deadlines to meet, while smaller indie developers have to pitch their games to publishing houses and whatnot.
That said, being a game dev can be fulfilling work despite all of its challenges. One of the major hitches in this line of work is that most claim that they are overworked—as they often render overtime hours to meet deadlines.
One question often lingers, though, even among professionals and industry experts: do you need a college degree when entering this line of work?
Some claim that you need to study the practice and earn a degree. On the other hand, some state that all you need is experience and a working portfolio.
A college degree may give you an edge in the field. However, even if you are a graduate of other practices (e.g., humanities, arts, other STEM-related fields, etc.), you can always be a game developer if you want to be. 
You just need to know the basics of the field, connect with other aspiring developers, and continue to learn and study game development.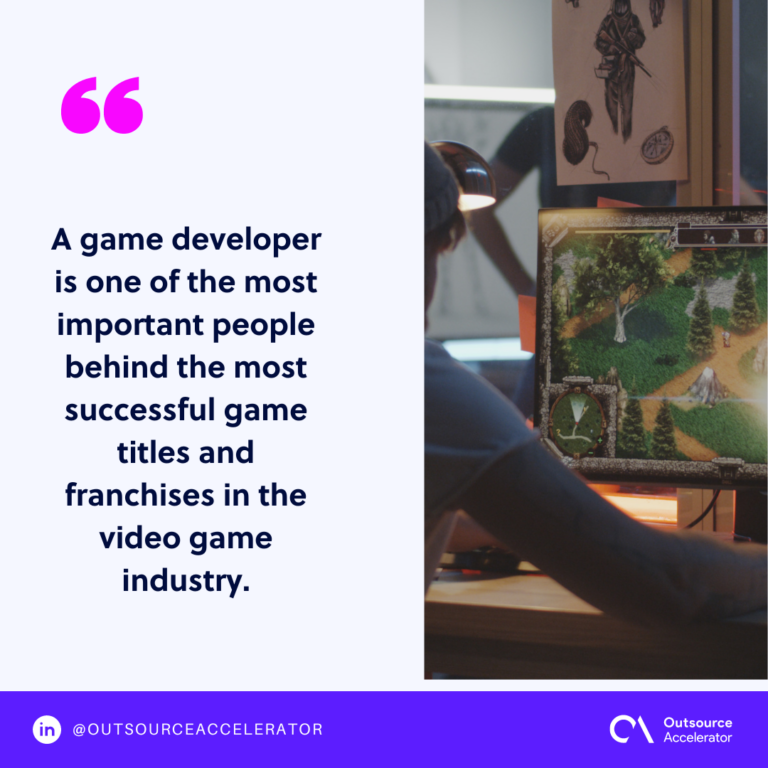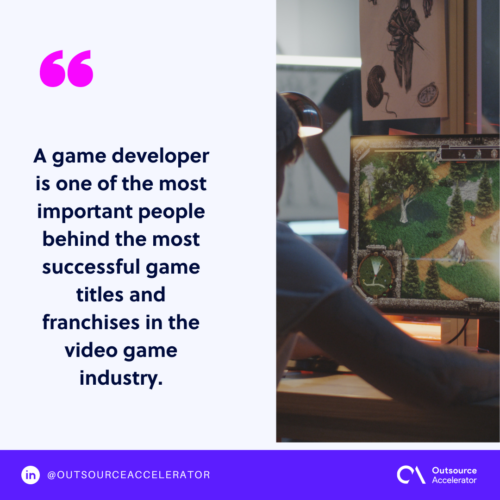 Game developer salary
The salary of a video game developer may vary depending on their position, experience, their location, and whether they're traditionally employed or a freelancer. But generally speaking, game devs often have a slightly higher pay grade than their non-technical counterparts.
In any field that requires working overtime or is high-pressured, one can assume that they are well-paid.
The table below shows the national annual salary for video game developers in the United States and the Philippines. 
While these salary figures can change depending on other factors, it's safe to say that this line of work starts well off, even if you're a newbie in the field.
Game developer salary: US vs PH
According to multiple sources such as Salary Expert and Glassdoor, these are the annual salaries of game developers residing or working in the US and the Philippines.
Annual game developer annual salary

Junior developer

Mid developer

Senior developer

United States

US$41,000

US$71,000

US$124,000

Philippines

₱499,151 (US$9,951.67)

₱691,002

(US$13,776.64)

₱860,043

(US$17,146.85)
In the US, a junior game dev gets US$41,000 a year. In comparison, their Philippine-based counterparts get around ₱499,151 (US$9,951.67). This is a significant difference for employees who have the same one to four years of experience.
US-based mid-level developers with five to seven years of experience get US$71,000 annually. Meanwhile, Philippine-based mid-level devs get compensated with ₱691,002 (US$13,776.64) in the same period.
Finally, senior game devs in the US get US$124,000, a big number when compared with the Philippines' ₱860,043 (US$17,146.85).