Definition
What is a full-stack developer?
A full-stack developer is someone who has the experience, knowledge, and expertise in back-end and front-end development. Their coding expertise is vast and flexible as per the requirements needed. 
Their coding niche varies from HTML, CSS, and Javascript to Java, PHP, and C++. These are just some of the programming trends and languages that full-stack programmers should know about.
Being a full-stack developer can be fulfilling, especially if you get to see the big picture of the project. Most of the time, developers and software engineers of different practices work behind the curtains, away from the customer-facing roles such as marketing and sales.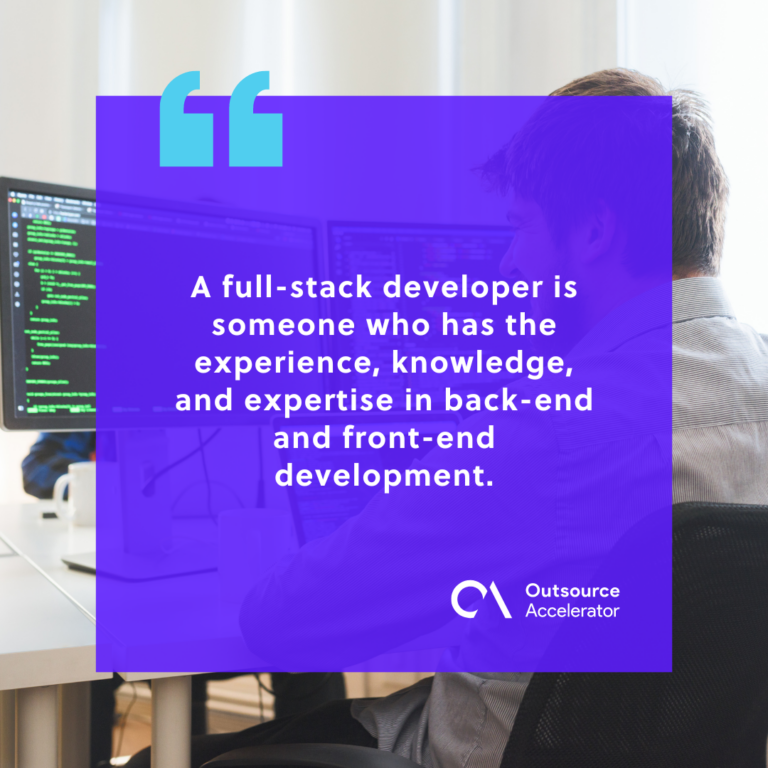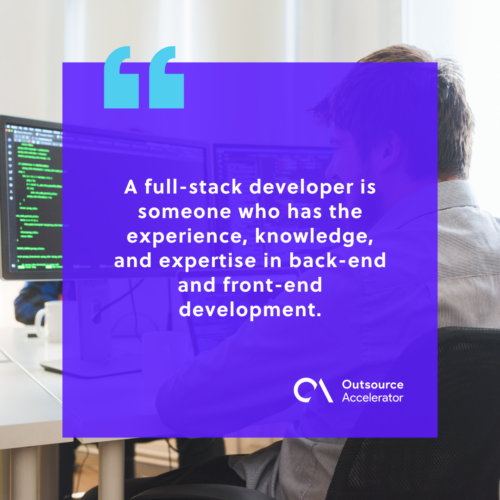 Programming languages that a full-stack developer should know about
These, among other languages, are what full-stack programmers have to study and be experts in:
HTML

CSS

Javascript

JSON

XML

jQuery

Angular

React

PHP

ASP

C++

C#

Java

Python

Node.js
Full-stack developers are often part of a team wherein they are expected to wear many hats to fit into their roles. They are considered to be the backbone of any software development project. 
Most of the time, their responsibilities vary—from developing the client-side of the project to tending to the server section of it.
In many other ways, any projects in need of software development wouldn't be completed without them. That is one of the reasons why developers who have full-stack experience are coveted in the tech industry.
Becoming a full-featured developer isn't easy. And yet, it's worth it when all is said and done.
Working hours of full-stack developers
Developing websites and web applications take time and effort. That's why some people—who are traditionally employed—opt to render more hours than prescribed. On the other side of employment, freelancers often put in more traditional hours when they first start out.
Most people who are new to the industry would want to stick to a work routine but in most cases, full-stack developers may put in more hours than their non-technical counterparts.
According to a 2020 survey by Stack Overflow, executive developers work up to 47.4 hours a week—over seven hours more than the regular 40 hours. But that being said, it's all up to the dev if they're willing to work at least nine hours a day. Work hours are usually seen and written in the contract.
Like any other profession, full-stack devs can always work as contractors, part-time employees, and even on-call professionals. Their work hours heavily depend on their preference and the flexibility of their projects.
Full-stack developer salary
The salary of a full-stack developer heavily relies on their years of experience, expertise, and scope of responsibilities. More often than not, small programming projects just have one full-stack developer working alongside a couple of computer programmers.
However, inside bigger companies, they always have a team of full-stack developers ready to take on any tasks that may come their way.
In terms of rates and salary, it's safe to assume that lead FS programmers are often well paid, whether or not they're employed or a freelancer.
Full-stack developer salary: US vs PH
Annual full-stack developer salary

Junior developer

Mid developer

Senior developer

United States

US$92,627

US$110,177 

US$145,000

Philippines

₱ 480,000 (US$9,583.23)

₱ 555,000

(US$11,080.61)

₱ 894,000 

(US$17,848.76)
Comparing these figures, we can see the obvious wage disparity between the two countries. The US has a higher standard of living, thus requiring a higher compensation to sustain a comfortable life.
In the US, a junior developer with about one to three years of experience can earn $92,627 in a year compared to the Philippines' ₱ 480,000 or US$9,583.23.
The same pattern goes with the mid-level dev with around five to seven years of experience. They earn a $110,177 annual salary in the US and ₱ 555,000 (or $11,080.61) yearly in the Philippines.
Lastly, the senior developer with over eight years of experience is compensated ​​$145,000 in the US, while seniors earn ₱ 894,000 ($17,848.76) in the Philippines.