E-commerce virtual assistant
Definition
What is an e-commerce virtual assistant?
An e-commerce virtual assistant is a kind of VA that specifically handles e-commerce activities, such as attending to customer inquiries and managing inventory. 
Virtual assistants usually work remotely from a location different from that of the client/employer. They handle most tasks remotely with the use of virtual communication tools and other software programs.
Acquiring e-commerce virtual assistants help a business reduce the amount of manual labor. They can help maintain customer service 24/7, enhancing the overall customer experience.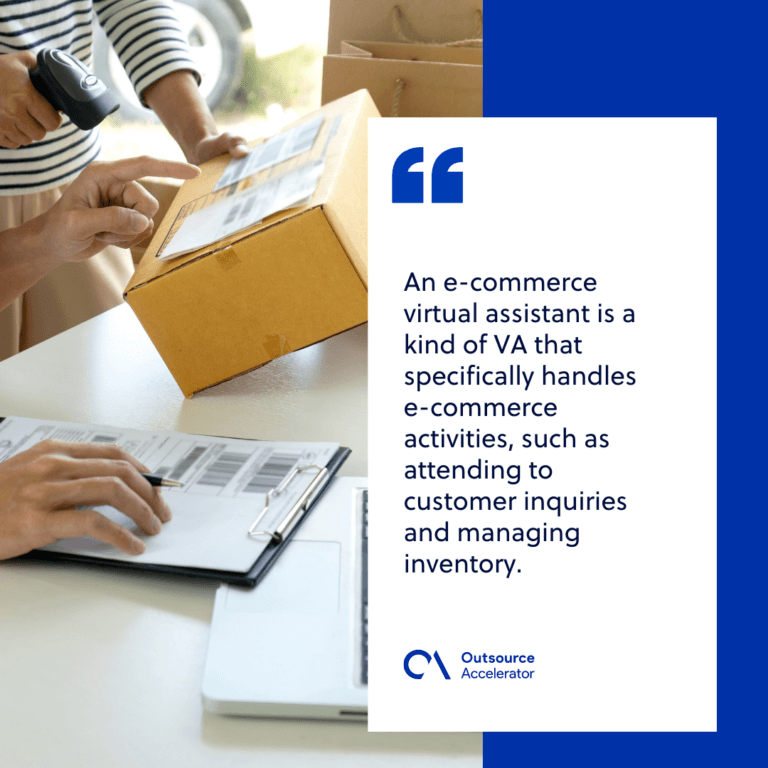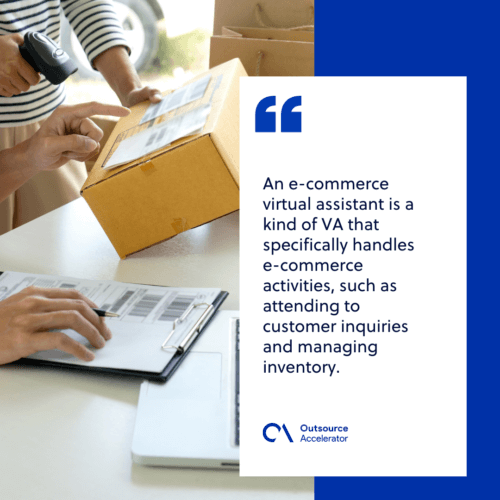 The benefits of hiring an e-commerce VA 
There are various benefits of working with an e-commerce virtual assistant. Here are some of them:
E-commerce VA takes control of tasks
As a business owner, you should spend your time on activities that directly contribute to your company's growth and expansion. Crucial yet non-profit-generating activities are better left to an e-commerce VA's expert hands.
In addition, you may outsource time-consuming tasks to your VAs to lower your stress levels. You'll be better capable of managing your business ahead if you reduce the confusion in your daily routine.
E-commerce VAs are less risky than in-house staff
Due to the liabilities connected with hiring on-site employees, e-commerce entrepreneurs are also hesitant to employ virtual assistant services. However, most of these concerns don't apply to e-commerce VAs.
Unlike a traditional on-site employee, you can hire an e-commerce VA for as many hours as you need. Further, depending on where you hire from, there will be no legal implications if you no longer require their services.
What skills does an e-commerce VA need?
Here are some hard skills and soft skills you should look for in an e-commerce virtual assistant needs.
Good writing and communication skills
An e-commerce VA assists customers, answers emails, creates or updates product descriptions, and does various activities that need strong writing and communication abilities.
Product listing management knowledge 
If you want to make your products appealing to customers, it is important that your e-commerce VA has knowledge of how to optimize and enhance product listings.
Basic SEO understanding 
To increase brand awareness and generate more leads, product listings and other online shop content must be optimized for search engines. This will need some SEO understanding or, at the very least, the fundamentals such as keyword research.
Attention to detail 
Your VA needs to be thorough in accomplishing a task while dealing with prices, inventory, and orders. A minor miscalculation may cost your business many losses.
Proficiency in various software and application  
Working online requires the ability to swiftly learn every new tool, program, or software that your customer demands.
What tasks can an e-commerce VA do?
Some of the most typical tasks of an e-commerce VA include the following:
Customer service
E-commerce VAs with excellent customer service expertise may assist customers through phone, chat support, email, and social networking sites.
They can answer inquiries in real time and assist clients who are about to make a purchase, handle dissatisfied customers politely, and deal with misplaced shipments.
By providing special assistance at the time of purchase, an e-commerce VA may lead clients through the sales process while they're still on your website, boosting conversion rates.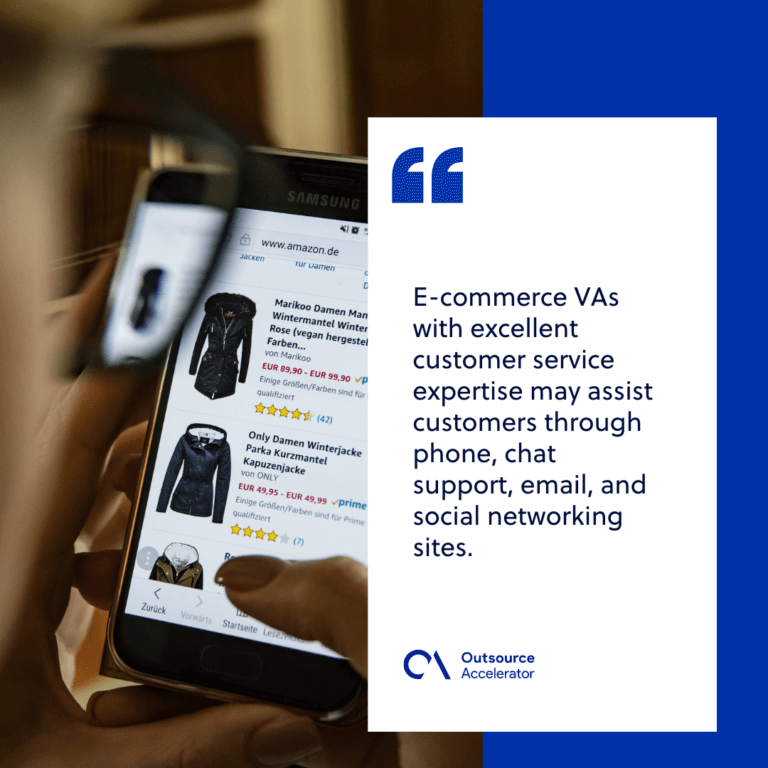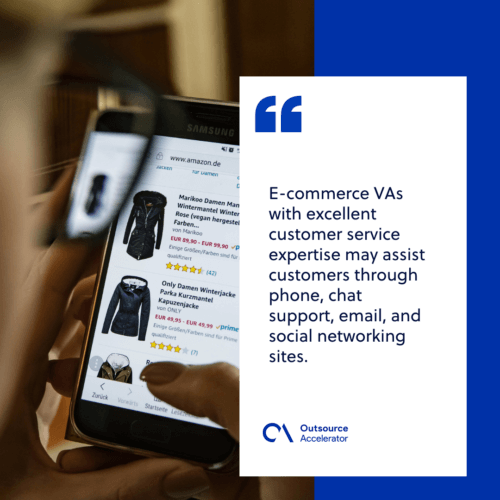 Account management
For e-commerce companies, the top priority is ensuring your account is updated on marketplaces. However, since this requires a lot of time and effort, many businesses outsource these jobs to e-commerce VAs.
Inventory and orders
E-commerce VAs can ensure that your online business has just the proper quantity of inventory and all orders are fulfilled effectively and in a timely way.
In inventory and order management, e-commerce VAs communicate with warehouses and collaborate with suppliers for product procurement and storage.
Listing management
Listing management is one of the most important aspects that e-commerce VAs accomplish, especially with increasing sales and conversions. It is critical to have high-quality listings for online businesses since this drives shoppers to make a purchase decision.
Internet research
Continuous improvement is essential for corporate success; however, companies must first collect as much data as possible. E-commerce business owners hire e-commerce VAs to assist them with research.
E-commerce VAs most likely be responsible for the product, supplier, discount, and competition research. Product and wholesale sourcing, dropshipping research and setup, and promotional research and administration are all tasks that are required to accomplish.
Social media management
For e-commerce companies, having a strong social media presence is essential. It allows them to interact with your audience while promoting your company in online forums.
E-commerce VAs might be encouraged to do social media management as a task they can complete on their own. 
Aside from writing creative captions and posting content, e-commerce VAs also need to understand best practices and research tools, manage a content schedule, and stay on top of trends.