Definition
What is double jacking?
Double jacking is used to describe a circumstance in which a team leader sits next to a call center agent and plugs in their headset to listen in on the client's life.
Double jacking is commonly employed as a coaching technique. It is an effective teaching strategy accessible to team leaders. Double jacking allows you to see how an agent manages a client while engaging with all of the systems at the same time.
Further, double jacking should be used to get to know an agent and strengthen the team leader-agent connection.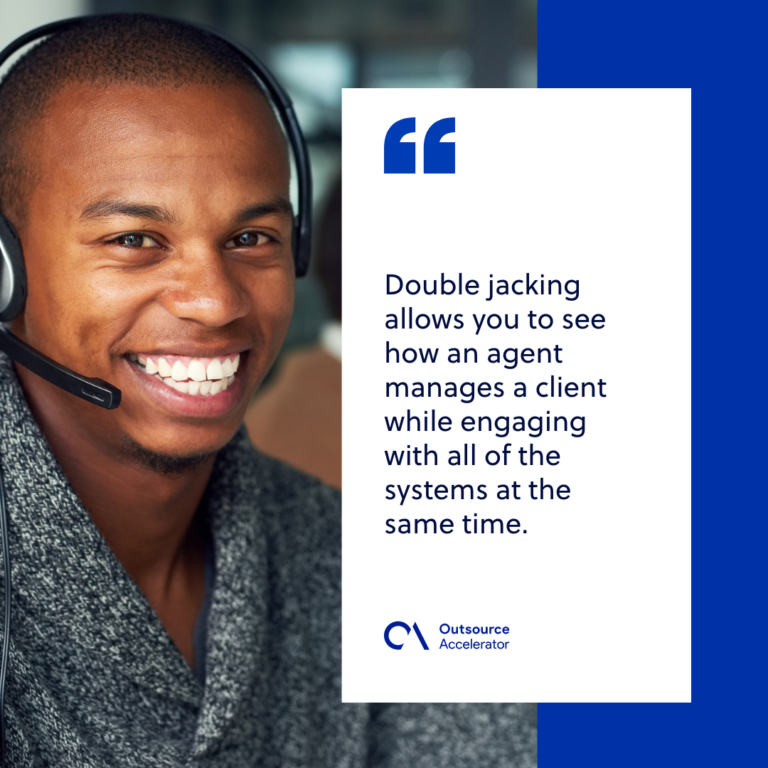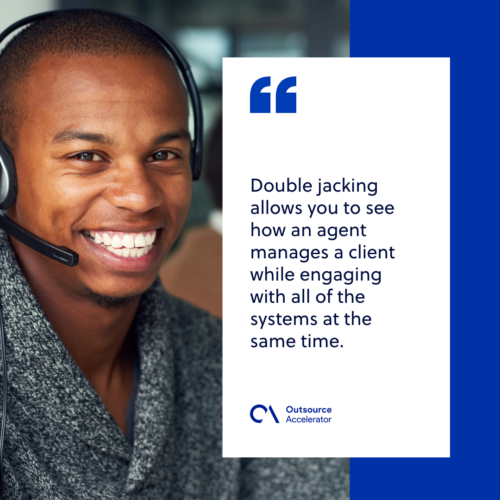 How can you do double jacking?
To physically perform double jacking, you'll need a Y Splitter cable, which splits the audio signal so that the agent and the team leader can listen to the conversation while wearing a headset.
In some modern systems, the team leader may be able to perform double jacking by simply sitting next to an agent with a laptop and listening in on the conversation in supervisor mode over the cloud.
Coaching techniques to manage call center agents
One of the essential components of successful management is to have particular coaching techniques in place.
Here are some techniques for a call center to monitor agents:
Be in control of the environment
It's crucial to maintain control when complicated team members try to create a negative work atmosphere. Be firm and fair, and avoid allowing negativity to spread. Collaborate with people who make a big difference. 
It is an important component of employee coaching strategies not to let a troublesome team member control or lead a discussion. Stick to the subject, and don't be swayed into going off on points.
Double jacking can help team leaders to be in control and manage agents.
Engage with your agents
When considering coaching techniques, it is critical to determine what is keeping them from not following instructions. Team leaders can use double jacking to listen to agents' perspectives on the work they're doing.
It can help you understand why they're not motivated and can lead to increased involvement and be motivated.
Be consistent in monitoring
When considering coaching techniques for workers, keep in mind that guidelines must be followed regularly. Make sure you understand the rules' content and what they signify. 
Team leaders may employ double jacking to keep an eye on their agents' conduct and prevent them from doing unnecessary activities. Do this regularly, and don't be hesitant to take swift action in response to the outcomes.
Try something new
An employee who is behaving badly may require a position change. It is reasonable to recognize that repeating the same activity might become tiresome and discouraging.
By using double jacking as a coaching technique, team leaders will be engaging and may help transform an employee.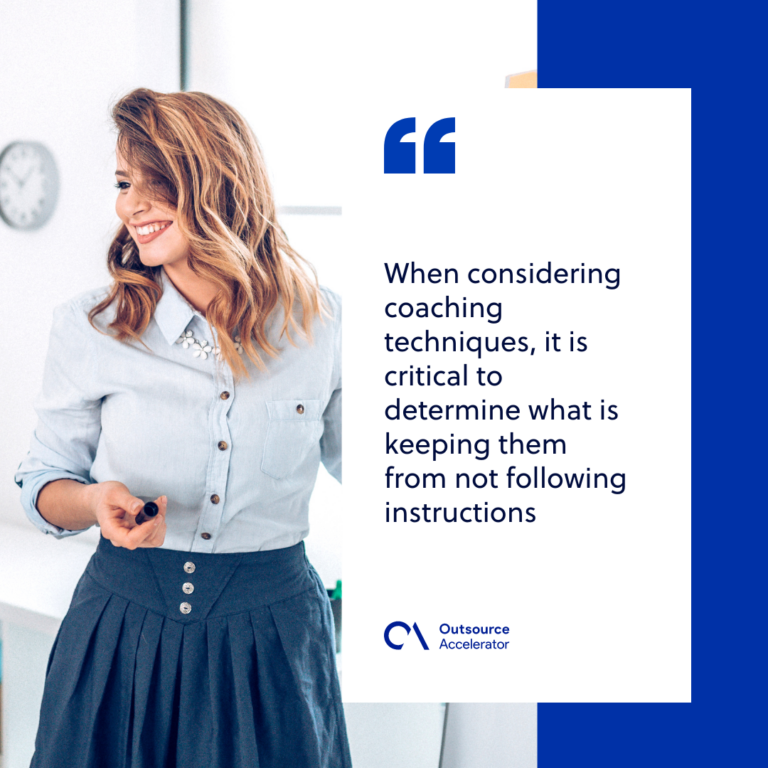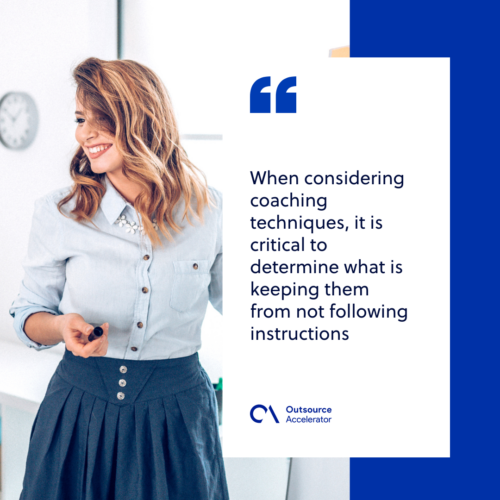 How to improve call center agent performance
The majority of call center managers understand that a productive team means greater call center results. So, let's have a look at some strategies for increasing agent productivity.
Use IVR to segment customers
The improper distribution of inbound calls is the most important factor that slows down performance. Before connecting callers to an agent, IVR is a useful technology since it collects real-time data.
This data is communicated to the agent in real time. With an IVR menu, your consumers will be able to find a solution more quickly, and your agents will be able to focus on more complex issues.
Implement continuous training
Maintaining a stable team can help you save money and time on training. As a result, you should ensure that new members undergo extensive training. They should learn how to solve problems and get to know your products or services.
To ensure that agents continue to improve their abilities, consider holding frequent training sessions focusing on common issues.
Monitor calls and shares best practices
Your call center can use the call recording function if it has the proper call center software. This is very beneficial for new agents.
You may also organize group sessions so that everyone can hear examples of excellent and negative behaviors. This will encourage others to enhance their performance by encouraging positive conduct.
Empower your agents with the best technology
When agents employ complicated IT systems and procedures, even the most driven agents become less productive. Some call centers utilize various databases, such as sales software, CRM software, and helpdesk software. 
In addition, the call center uses a modern double-jacking system to monitor agents. It is easy to be connected with them and use all of your IT systems to reduce irritation and make information more accessible.