Definition
What is a copywriter?
A copywriter is a professional writer who creates the text, or copy, that appears in advertisements and marketing materials.
A copywriter writes clear, engaging text to sell items or educate and engage customers, using persuasive writing skills on websites. They also write blog posts, product descriptions, email blasts, banner advertising, newsletters, white papers, and public service announcements on social media platforms.
What does a copywriter do?
A copywriter's job has a significant impact on a company's or brand's image and reputation. They produce educational content for businesses that are intended to assist readers in conducting their research.
Copywriters are responsible for tasks such as:
Writing copies

Researching for materials

Interview if needed

Write social media content

Propose concepts for a copy

Edit and proofread

Project management

Organize and execute marketing campaigns

What does a copywriter do
Importance of a copywriter to a business
Copywriters persuade consumers to buy a company's product or service. A skilled copywriter will use language to convince you to buy from a company rather than tell you to.
A copywriter creates a copy that will demonstrate to your customers how your products and services will add value to their lives and make everyday living easier.
Here are the other benefits of hiring a copywriter for your company.
Assists in brand development
Your branding is how you present your company to others, and it may have a significant impact on the purchasing habits of your target audience. 
If you want your brand to appear professional and high-quality, employing a copywriter can help. Copywriters are detail-oriented – they can make sure that there are no errors in your content materials. This will help your business develop a positive brand image.
They choose the appropriate audience
Before beginning to create material, a copywriter must conduct extensive research. During this period, they should learn about the company as well as the specifics of the material.
They will also need to research the company's target audience to ensure that the content they develop is relevant. Your firm will be much more likely to get clients and earn sales in the future if you target the proper demographic.
Produce useful content
Your website is frequently your first chance to make an impression on visitors. A skilled copywriter will ensure that your material is clear and concise, providing precisely the correct information to pique your audience's interest and persuade them to buy from you.
Since a copywriter understands precisely what is required from each piece of content, your material will be more helpful for your business and attractive to your clients.
Ensures communication with prospects.
One of the most crucial aspects of hiring a copywriter is understanding your target audience. 
Every brand must know how to speak to their target audience because businesses should address the customer pain points and celebrate their victories.
Increases sales
Your sales will increase if your text speaks your target audience's language, is consistent with the rest of your marketing, and evokes the appropriate emotion. 
People will act if you have crisp, concise writing that communicates your benefits and a solid call to action. There is no reason why your target audience should not work if they have seen your marketing material. 
What skills make a good copywriter?
Every copywriter should be a master of content creation. It is the one crucial talent for success in the field of online marketing.
Writing skills
The ability to write is the first and most crucial core skill that a copywriter must possess. Copywriters work on various projects, from long pieces of material to short product descriptions and advertising slogans.
All knowledge and talents linked to expressing thoughts through the written word are included in writing skills. Employers in all industries value the ability to explain ideas through writing clearly. 
For example, a well-written product description can convince a customer to purchase. On the other hand, organized and appealing documents and emails can convince an investor.
Ability to communicate
Copywriters must also be able to communicate effectively verbally. Communication skills help copywriters succeed by speaking out during meetings, communicating with colleagues and clients, and launching sales presentations when appropriate.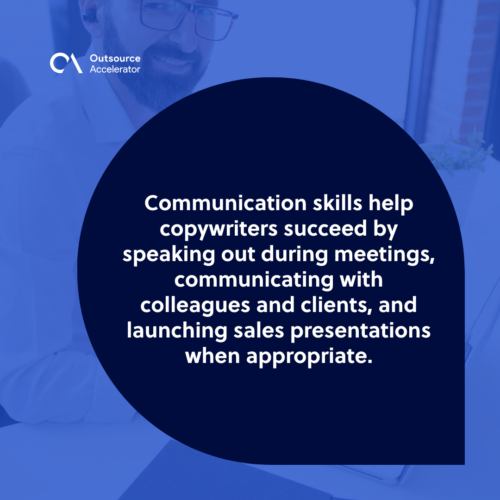 How to hire a copywriter
There are many excellent copywriters around the world. But there are only a few people who could fit and write well for your brand.
Here are the steps to hire an effective copywriter:
Determine what you need
You must first know what you want a great writer to write before you can even hire them. Most writers are capable of writing on any topic, but it is still better if you will hire a copywriter that can effectively sell your brand.
Create a list of the tasks your prospective copywriter will undertake if hired. You'll be able to narrow down your search if you have a clear understanding of the types of material you need prepared.
Make a financial plan.
You should have a broad notion of the type of material you need a copywriter to create for you at this stage. It would also be beneficial to know your prospects' customer journey and a list of their requirements and questions.
Making a financial plan will help you find a copywriter who fits your marketing budget.
Examine the portfolio and references of the writer
It can be exhausting to hire a writer, and you want to be sure you choose the proper person for the job. Professional copywriters must be professional and reliable in addition to being good at writing and having technical skills.
Hire a writer who possesses the skills needed.
Writing on the web differs from writing on other platforms. Not every writing project necessitates the hiring of the best copywriter in the area.
You can streamline the many types of writers to hire once you've determined the different places you require text for.