Definition
What is a customer journey?
The customer journey monitors the various touchpoints that a lead has before buying a product. Every encounter, such as visiting your website or opening a marketing email, counts as a touchpoint.
A customer journey is a map diagram that depicts how a customer or prospect goes through to achieve your company's goal. A customer journey map is used to help you understand your clients' motivations, as well as their wants and problem spots.
Importance of customer journey
Understanding customer journey allows you to structure your touchpoints most effectively and efficiently for your customers. A customer journey map shows the current process to determine whether your customers are currently meeting their objectives.
The key to maximizing customer success is to break down the customer journey, match each step with a goal, and restructure your touchpoints accordingly.
After all, your entire business should be focused on solving customer problems and assisting them in achieving long-term profitability with your product or service.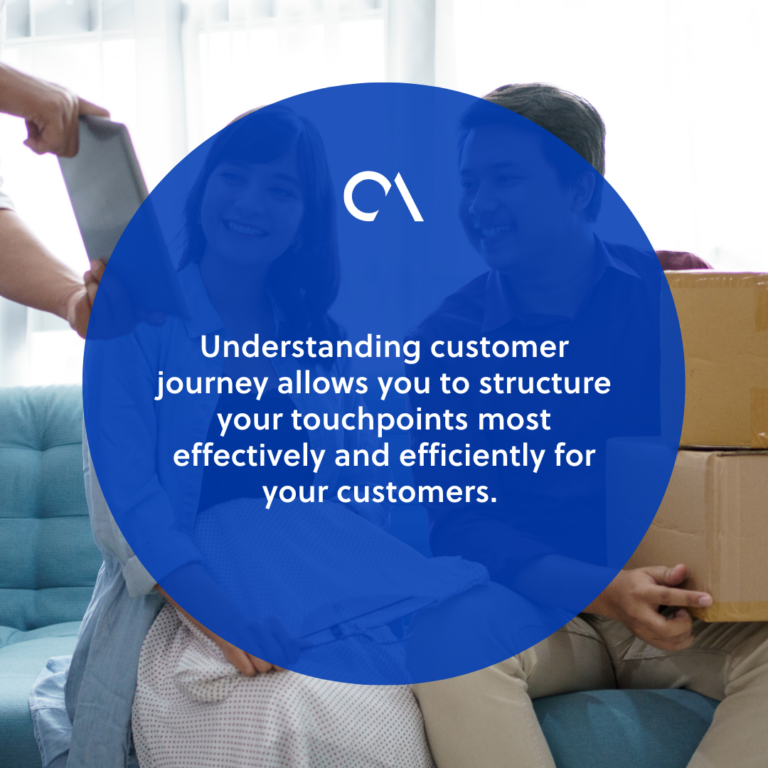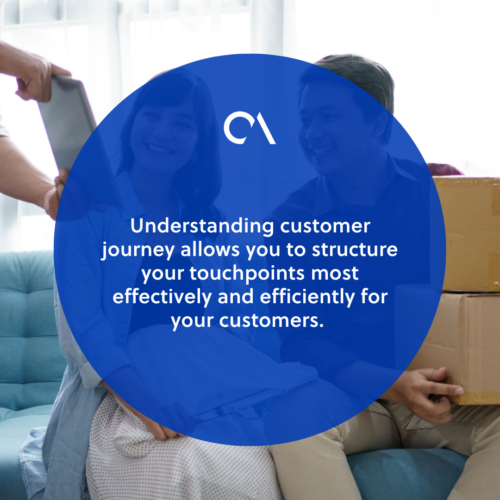 Steps in a customer journey
Step 1: Set specific goals for the map. 
Before you begin developing your map, you should consider why you are doing it in the first place. Setting a specific goal entails your vision for the company in mind. You might wish to construct a buyer persona based on this.
Step 2: Define your buyer persona.
Once you have set the objectives, you should perform in-depth research about your buyers. For example, questionnaires and user testing are two excellent methods for gathering important customer feedback. The key point is only to contact actual customers or prospects.
You will have a more precise and organized customer journey once you divide your buyers by demographics and behavior.
Step 3: Make a list of all of the touchpoints. 
A touchpoint is an interaction between the customer and a business. It can be done in person, via a website, a mobile application, and other means of contact.
To do this, note the list when your customer had interaction with your product and services; whether through websites, physical stores, or advertisements in the media.
Step 4: Determine the phases and stages to take.
Create a map based on the timeline of your business. Typically, this includes awareness, deliberation, choice, and activity. You can also create a flowchart of the essential actions the buyer takes from understanding through post-purchase.
Step 5: Test the customer journey by yourself.
Try to put your feet in your customer's shoes and analyze their journey. It will reveal the unmet customer needs. 
By testing it yourself, you can ensure that you give the best possible experience to your buyers. You can also discover solutions to their difficulties and aid them with your firm's assistance.
Step 6: Make the necessary modifications.
The previous steps will give you the insights you need to understand your customers. Your analysis of data should help you figure out what kind of business website you desire. You can then make adjustments to your website to meet these objectives.
Changes will be beneficial regardless of how big or tiny they are as long as they are directly tied to customer pain concerns.