Definition
What is click-to-chat?
Click to chat, also known as an online chat service, is a real-time engagement solution that enables you to handle interactions.
It works when you have a chatbox on your website for visitors. Those visitors may click on it to ask for assistance from a chat agent who works for your company.
Click to chat works best as a hosted, Software as a Service (SaaS) solution. 
It allows businesses to improve their online customer experience without making significant software, hardware, and networking adjustments to their websites.
Online chat services have seen a rapid surge in usage by serious e-businesses due to their low cost, easy implementation, and near-immediate return.
Call center agents engage and help online customers through a website's click to chat solution. This reduces transferring channels from Web to phone.
Click to chat also allows agents to engage multiple customers at once. It uses prepared replies and knowledgebase systems to solve typical concerns, which proves cost-efficient for businesses.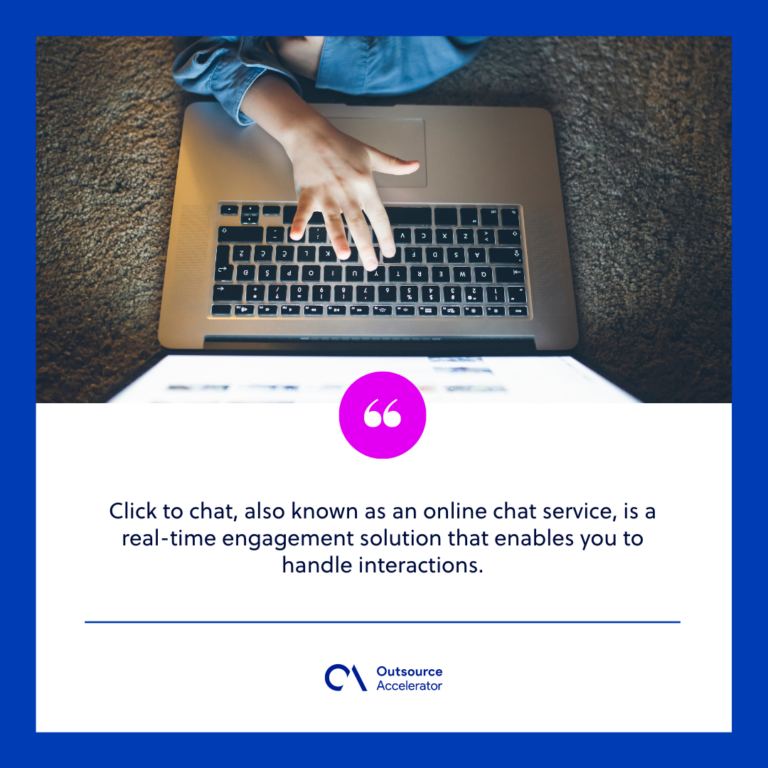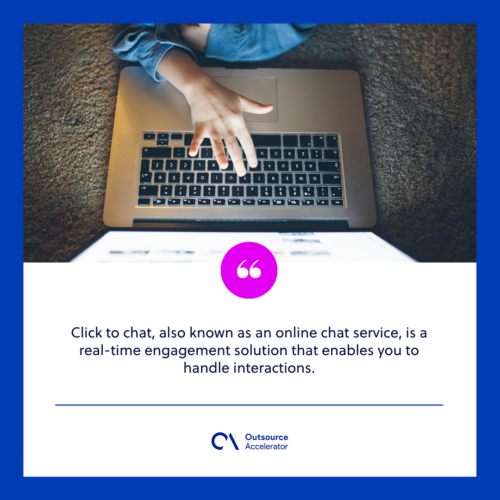 What are the benefits of click to chat?
Here are some benefits of having a click to chat engagement solution on your website.
Highly accessible
Click to chat may be seamlessly incorporated into your customers' online journey through a shared network button or a link on your website or in your app.
Your customer doesn't have to look for a specific contact page or an email address. They already know where to go if they need assistance.
Customer effort is reduced as a result of this accessibility, which is an essential component in establishing customer loyalty.
Delivers useful context
Setting a click to chat right into the customer's journey gives them the best chance of expressing exactly where they are confused and what they need.
A good click to chat software will tell the agent where the customer is in the process and what they were doing before they ask for assistance.
This offers both parties a good start in figuring out the problem and finding a solution.
Real-time customer service
A client who receives an outstanding response to their email inquiry in an hour or two may be happy with your service. But a customer who receives the same answer in real-time via a live chat will be happier since you address their problem right away.
If a customer is considering making a purchase, renewing their account, or requesting a refund, a timely response can generate a major financial difference for the company.
Conversational
Many people choose to express themselves in chat conversations rather than in more formal writing.
Customers are not always good at providing details. Effective email support requires clients to properly describe their problem and provide all necessary information before their issues can be resolved over several email interactions.
Online chat breaks down long encounters into smaller parts, allowing a teammate to guide a customer through the process by asking the appropriate questions.
What may be a days-long, back-and-forth email exchange could be reduced to a 10-minute chat.