Call center nightmare syndrome
Definition
What is call center nightmare syndrome?
The term "call center nightmare syndrome" (CCNS) refers to those who have had a bad encounter at a call center.
High employee churn is typical in call centers and other contact centers. Stressful conditions, high volume of calls, and angry and unhappy consumers are just some of the daily challenges call center operators face.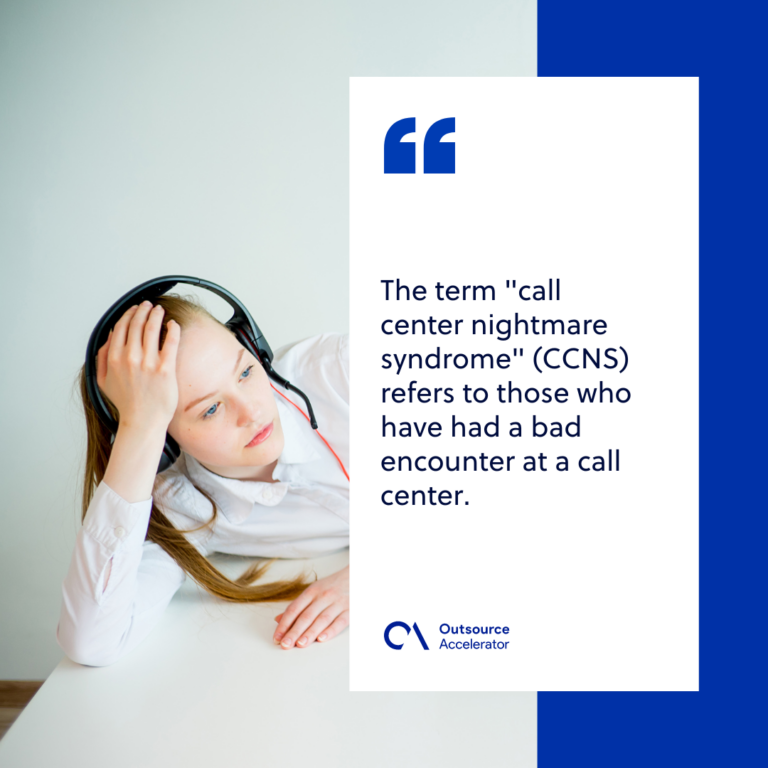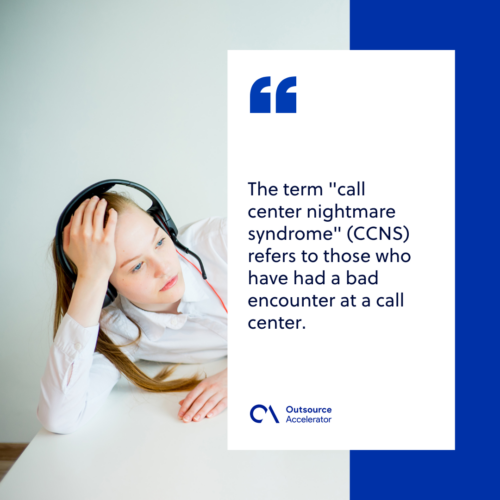 Causes of call center nightmare syndrome
Working in a call center is often regarded as a stressful experience. There is a high expectation of agents to respond quickly and effectively to consumers' inquiries. It needs ongoing problem-solving, understanding, and patience, all of which can cause stress.
Here are some factors that contribute to call center nightmare syndrome among agents. 
Insufficient equipment and technology
Agents usually utilize several tools to do everyday duties like answering inquiries, placing calls, and establishing connections. However, some centers have outdated software or old computers, which slows down operations and complicates administration.
Pressure and unrealistic expectations
With ever-increasing expectations and targets from management, call center agents feel even more pressure. Agents are pressured to meet the needs of both the consumer and the management, which may easily lead to employee burnout.
Feeling unappreciated
Some call center workers feel undervalued by their employers. They feel that their job seems to have little effect on the organization, and they fear that their contributions are not recognized or appreciated. Frustration and tension might result from this.
Repetitive tasks
It's common for call center workers to do the same things repeatedly. As a result, they may feel stuck in a call center nightmare.
The desire for uniformity in a call center has led to simplistic job descriptions. Inbound and outgoing calls are handled the same way, and agents are urged to follow scripts for both.
Rigid work schedules
Customers' increasing need for round-the-clock phone service has led to call center personnel being forced to work longer or more difficult shifts, especially graveyard hours. 
Longer hours and more rigid shifts are becoming the norm for call center agents. Stress and exhaustion are more common under these circumstances.
Disgruntled consumers
Consistent verbal violence leads to higher stress, weariness, and absenteeism. Contact center workers have little or no time to recuperate from emotionally challenging calls because of the ongoing pressure to keep handling calls.
Lack of career development
Few opportunities to move up the corporate ladder can cause employees to lose enthusiasm, pride in their work, and dedication to their current position. These factors can lead to increased stress levels in the workplace.
Low wages
The high number of stressors suggests that call center employees are likely under ongoing stress from various sources, affecting their performance and well-being. If this cannot be compensated with the appropriate wage, it can also lead to call center nightmare syndrome.
How to prevent call center nightmare syndrome
Call center stress management begins with the company. Here are ways executives and managers can help ease call center nightmare syndrome among agents. 
Enhance the workplace layout
The first stage to combating agent burnout is to alter the physical environment. This may include investing in the latest technology and infrastructure to help agents perform their work more efficiently.
Invest in call center training
Aside from the tools, companies can also better equip agents to deal with whatever comes their way through proper training. 
Your call center training must incorporate creativity in a way that inspires teamwork, engagement, and learning.
Practice encouragement
It may be as simple as "Good job!" or "Thank you." What's important is that managers offer encouragement, regardless of whether agents are performing or lacking. If they're the latter, be sure to offer ways to improve and assist them along the way.
Prioritize stress reduction
Customer service is a marathon, not a sprint, and this should reflect in your policies. Healthy snacks in the breakroom can help agents from becoming overworked. Remote work options may also be offered if the business requirements allow it. 
Offer incentives
Determine which actions have the most significant influence on your bottom line, and then develop a way to reward your best employees. It doesn't have to be monetary. Instead, give the agent an incentive that aligns with their performance.