Definition
What is call center management?
Call center management is the overall process of monitoring and running call center operations, from forecasting and reporting to staff recruiting and training, workforce scheduling, and customer interactions. 
The way business leaders and agents handle these procedures has an impact on the overall performance of the call center.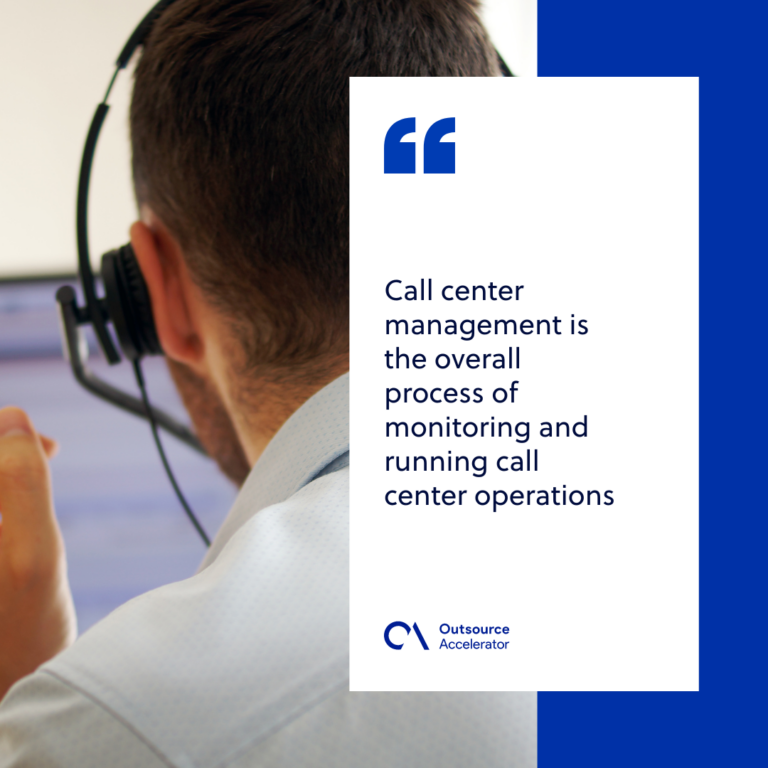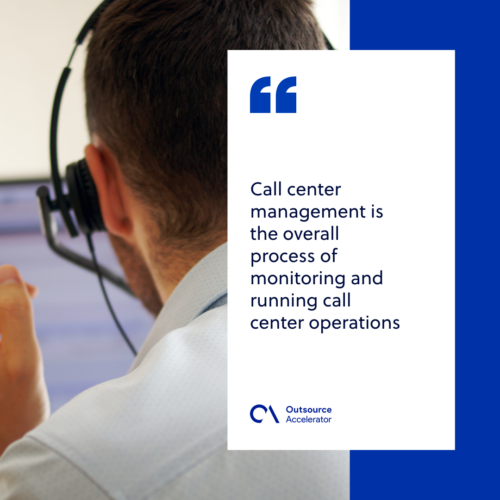 What do call center managers do?
A call center manager is responsible for hiring, training, and managing call center agents. They establish objectives, assess difficulties, and inspire team members to provide excellent customer service.
They are responsible for various tasks, including hiring and training competent staff to meet the demands of customers. They also motivate and train them on how to handle tough client calls.
In addition, a call center manager also creates and assesses reports to enhance customer happiness. They also have the capacity to identify and solve call center efficiency or customer concerns.
Further, in the case of escalations, they are expected to deal with unsatisfied consumers, find an appropriate solution, and optimize procedures to increase call center productivity.
How do managers practice effective call center management?
There are various best practices managers oversee the operations of a call center:
Hire the best employees
Call center managers spend time and effort finding the right employees for the position.
Call centers require employees who have a natural ability to provide exceptional customer service. Excellent managers are able to identify skills such as communication and soft skills, which distinguish the greatest employees in a call center.
Provide thorough onboarding
Hiring is simply a small part of creating a successful call center. In order to produce the best call center staff, it should also be complemented by a thorough onboarding process that conveys your high expectations.
Emphasis is placed on training employees to deal with consumer concerns because the majority of their calls will most likely be of this nature. Ensure that your agents view client complaints as an opportunity to deliver excellent customer service. 
Your new employees will feel more prepared to handle the various calls if you have a robust onboarding program in place.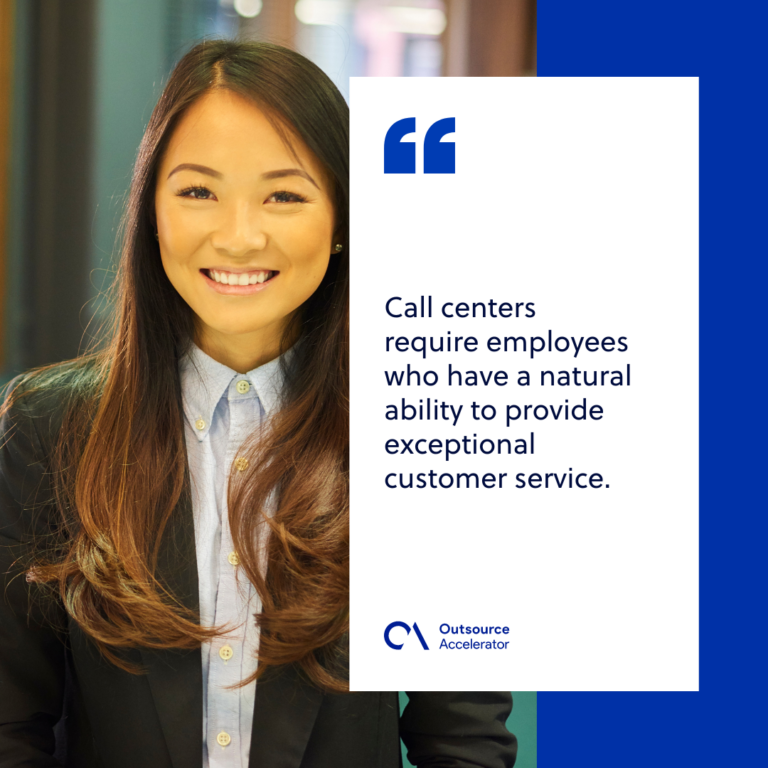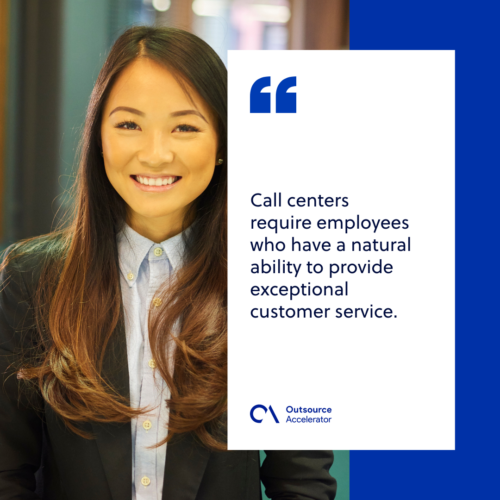 Prioritize employee engagement
Hiring qualified workers begins with the hiring process, but reducing turnover is a direct result of employee engagement. Employee engagement can be as simple as communicating with your staff every day or as complex as a team vacation.
Conducting brainstorming meetings or a team happy hour can also make your staff feel that they are part of a team and keep them focused on addressing client concerns. 
Take the time to implement various employee engagement initiatives to maintain your team's motivation and outstanding performance.
Communicate with your employees
The call center agents have more direct interaction with customers. This makes them fully aware of the problems and what is required to solve them.
By communicating with your employees regularly, you can discover what they know. Find out where they are having issues. Learn what they need to perform a considerable amount of work. 
Obtain their thoughts on what's essential to customers and check if they have any recommendations about improving the system in the team and organization.
Give employees targeted feedback
Regular quality-of-service evaluation is crucial to the growth of any call center. Take the time to evaluate your employees' performance and then provide targeted feedback to help them improve.
Create an assessment system to evaluate each employee's abilities and incompetencies. Management can also implement a continuous training program to maintain and strengthen the quality of service standards you've set for the team.
Invest in advanced software
To operate effectively, modern call centers require the correct tools and technology. The managers' responsibility is to ensure that your team members have everything they need to provide excellent customer support every time.
From database administration, record access, and advanced search capabilities to call center management tools, software programs help team members and managers give a seamless consumers experience. 
When customers are satisfied with the assistance they received from your team, their loyalty will grow and can even promote your service.
Use accurate data in decision-making
In today's competitive environment, data drives almost all decisions, and your call center management team should use it as well. 
Set goals and appropriate measurement techniques to achieve those goals. Managers must be aware of the metrics most relevant to their employees and consumers.
Once you've defined your goals and key performance indicators, use your call center software to collect as much data as possible to obtain insight into your operations. 
Metrics such as net promoter score (NPS), customer satisfaction, the number of calls, and the successful result of calls, should all play a part in your decision-making for your team.