Business development representative
Definition
Business development representative definition
A business development representative is responsible for bringing in new qualified prospects and business opportunities.
They sometimes have the same role as sales development representatives, which is the first point of contact for possible clients. They are also the key factor to bring up and set more qualified appointments that eventually convert to closed deals.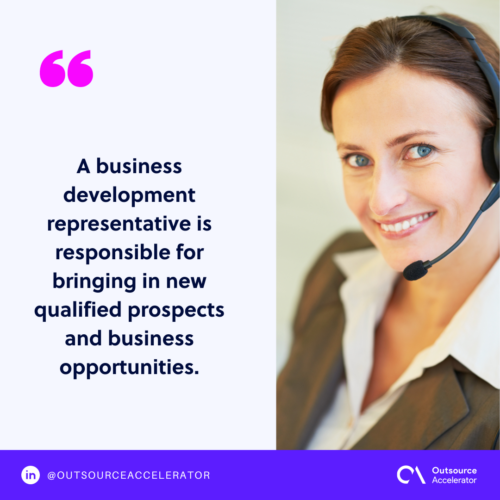 What does a business development representative do?
Here's how business development representatives help businesses with the scaling process.
Customer research 
A business development representative does thorough research and uses all of the existing customer data to determine who would be suitable for your business product or service. 
Lead generation 
Business development representatives are entirely responsible for lead generation, acquiring contact information, and compiling lists of individuals to reach.
It makes the process much simpler by building a B2B database with validated leads from various sectors. These can be used for lead-generating activities.
Cold outreach 
To engage with potential clients, business development representatives use cold calling and cold emailing. They also know how to make an engaging sales pitch or develop a successful cold email campaign.
Social selling 
Business development representatives can utilize social media platforms to promote the company's offerings. For instance, they join various Facebook and LinkedIn groups, engage in discussions, and reach out to clients through direct messaging.
What skills does a business development representative need?
Outstanding business development representatives can come from any background. However, there are key qualities that they must have to be effective and reliable in their roles.
Here are the key skills to look for in a successful business development representative:
Perseverance
Reaching out to clients in the form of cold calling and emailing requires great perseverance. 
Potential clients can often be elusive, unreachable, and unwilling to respond. It is clear why business development representatives need a lot of patience and perseverance.
Active listening
Business development representatives don't necessarily have to talk a lot; they should also know when to listen to the prospects.
Active listening skills help business development representatives build loyalty and trust as they can make leads feel more relaxed during a conversation. As such, they are more likely to be successful in converting leads.
Excellent communication skills
While active listening is essential, having excellent communication skills is also critical to your rep's success. You want business development representatives who can explain their views effectively and respond to inquiries well.
Adaptability
Business development representatives spend most of their time talking to a mix of personalities from various backgrounds, each with their own set of expectations.
The ability to adapt and cope with change rapidly assists representatives in connecting with customers and driving outcomes, regardless of the unexpected directions a discussion might take.
Time management
Business development representatives must be extremely organized to operate at their best. They are generally aware of the process, where their leads are, and excellent time management. They establish reminders for when to follow up with leads and how they should do so.
Research
Great lead research abilities are also essential for a business development representative's success at your firm. They must give highly focused prospects with high potential to your team for you to obtain outstanding lead research.
Since not every lead is available in a database, the rep will need to identify the best lead sources to uncover the best prospects.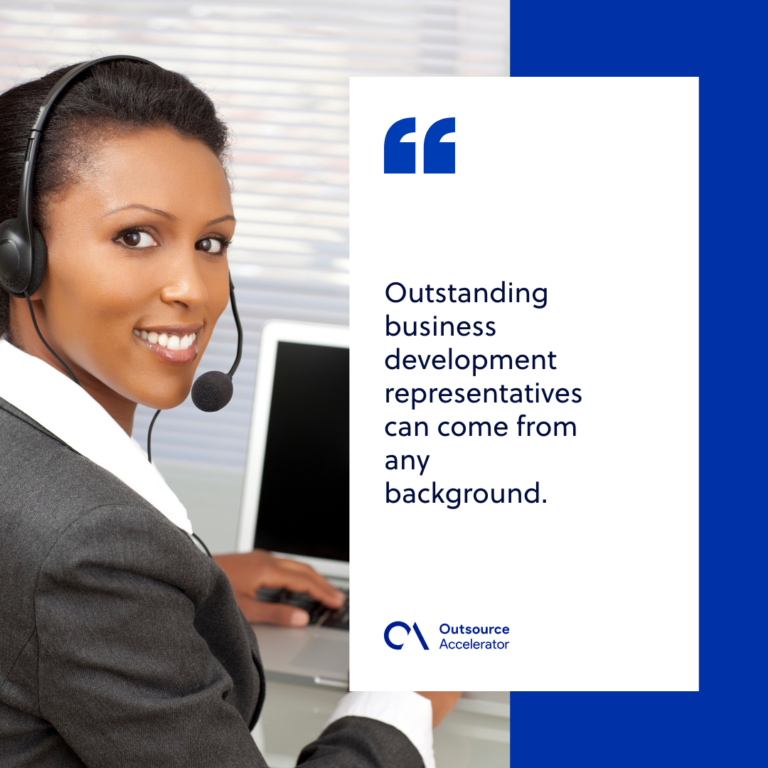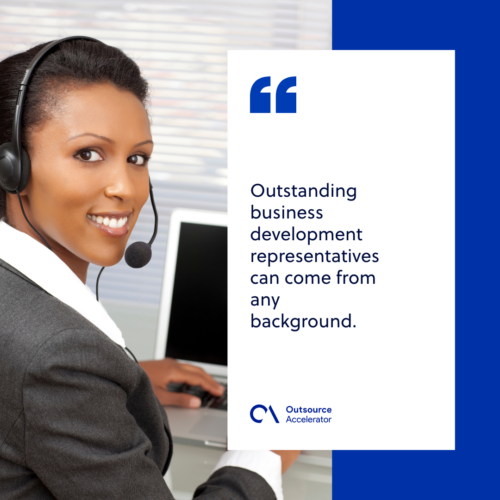 Business development representative vs. sales development representative: What's the difference?
Sales development representatives are responsible for qualifying inbound marketing leads, whereas business development representatives are concerned with outbound prospects.
It should be emphasized that business development representatives may also work in marketing or customer service departments, where they give product assistance by answering inquiries regarding what the company offers.
Meanwhile, a sales development representative's function is often an entry-level position for those who are just starting out in sales and have minimal prior experience. 
By handling qualified leads, the sales development representatives may become integrated into working with potential customers and enhance their qualification process.
Once a sales development representative has established a greater responsibility, they may be promoted to business development representatives and begin working on an outbound sales plan.