Definition
What does blue chip mean?
Blue chips are companies nationally recognized as well-established and financially secure. These companies are generally vendors of high-quality and well-known products and services.
Companies classified as blue-chip have proven records of being able to withstand economic slumps and earn profits amid unfavorable economic conditions. These companies' track records are what wins them the trust of investors.
Oliver Gingold, a Dow Jones employee, first described high-value stocks as "blue chips" in 1923.
Despite having almost no common ground with stock trading, the term "blue chip" was borrowed from the game poker. Poker players bet using three kinds of chips: red, white, and blue. Among the three, blue chips have the highest value.
However, today's blue-chip stocks aren't necessarily among the highest value. Instead, blue-chip stocks are from companies that have withstood the test of time.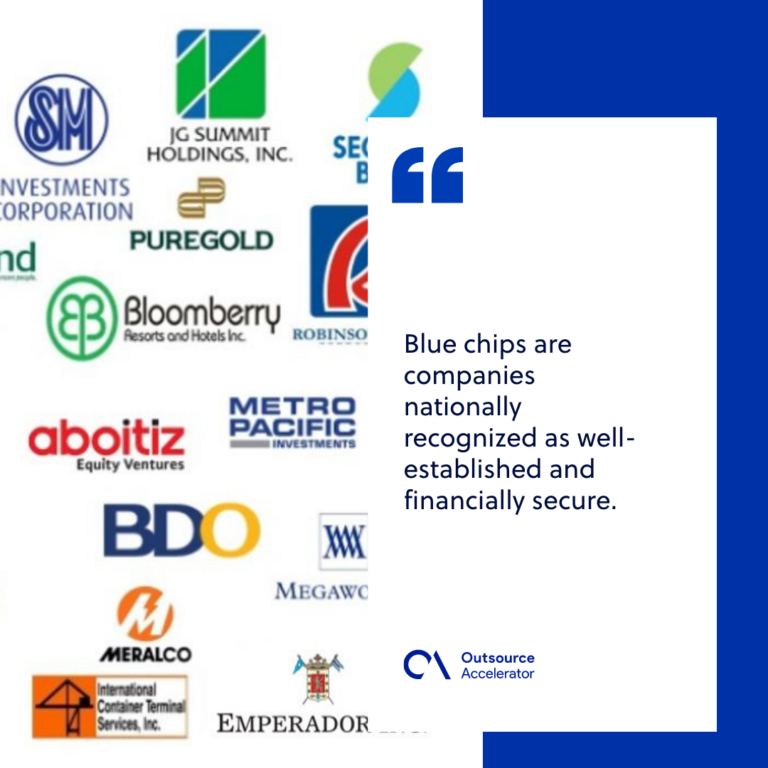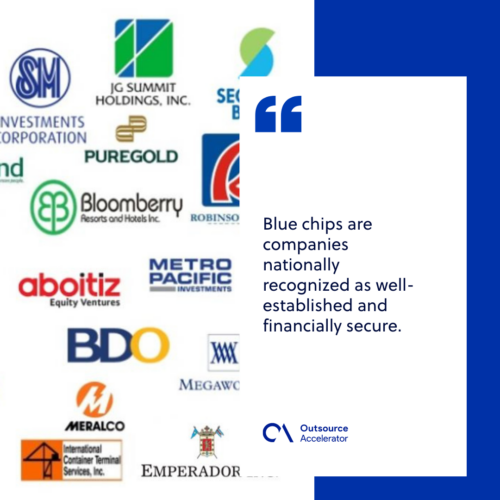 How are stocks classified as blue chips?
Stocks dubbed as blue chips generally have these characteristics in common:
Large market cap.

A company's market cap, or capitalization, shows its size and value. Stocks considered blue chips often have large market caps, usually with market valuations of over USD 10 billion.

Dividends payout.

Although not every blue-chip company gives dividends, many of them do. Being able to pay dividends is often a sign of company maturity.

History of growth.

Blue-chip stocks have a proven and reliable record of growth and bright prospects for the future.

Part of a market index.

Blue-chip stocks make up a part of

major market indexes

, such as the Nasdaq 100, S&P 500, and Nikkei 225.
Among other factors that affect whether a company can be considered blue-chip are a company's debt-to-equity ratio, return on equity, and return on assets.
Examples of blue chips
Blue-chip stocks are generally well-known brands so well-established that they have become household names. However, this is not always the case.
Below are examples of blue-chip stocks, well-known and otherwise.
Amazon (AMZN)

Apple (AAPL)

Alphabet (GOOGL)

American Express (AXP)

Bank of America (BAC)

Coca-Cola (KO)

Disney (DIS)

Goldman Sachs (GS)

IBM (IBM)

Johnson & Johnson (JNJ)

McDonald's (MCD)

Nike (NKE)

Starbucks (SBUX)

Visa (V)

Walmart (WMT)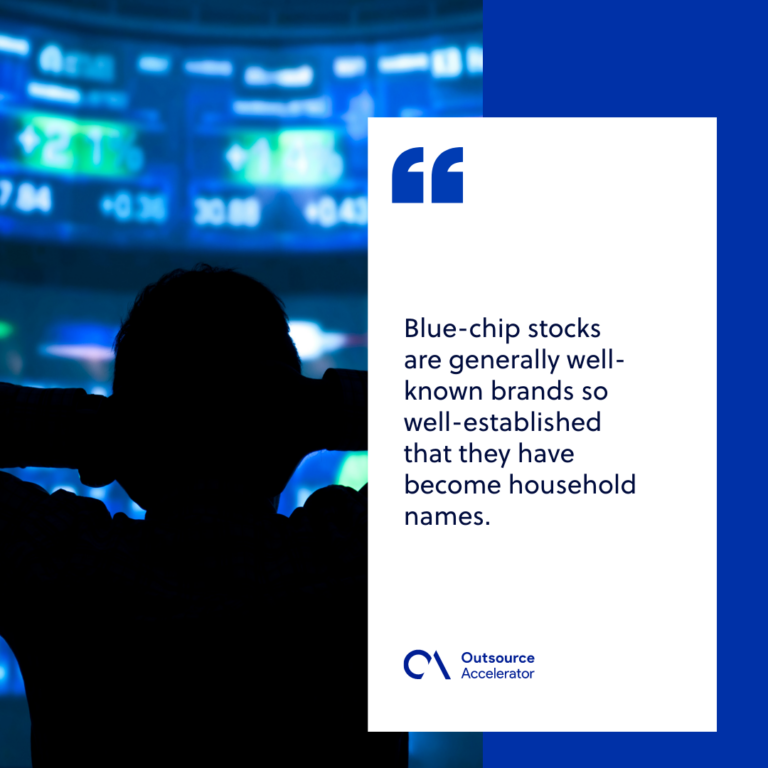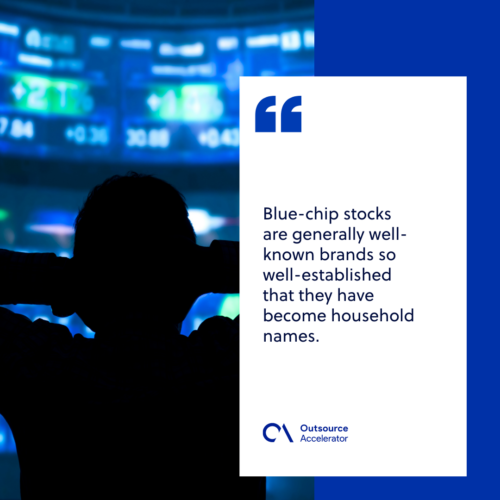 Are blue chips good investments?
As mentioned earlier, blue-chip stocks are from companies that have survived and flourished under economic hardships. These stocks are also from businesses with fewer, if any, debts.
Investing in blue chips guarantees security even during economic downturns and market volatility. However, diversifying your portfolio is always better than investing solely in blue chips.
It is worth noting that despite the apparent economic resilience of blue-chip companies, there have been records of blue chips filing for bankruptcy.
Some of these companies have even become household names:
Sears – a giant in the retail industry and part of the prestigious Fortune 500 for more than two decades, filed for bankruptcy in 2018.

Kodak – once the global leader in photography, filed for bankruptcy in 2012.

General Motors – formerly the world's premier automaker, filed for bankruptcy in 2009.

Lehman Brothers, the US' fourth-largest investment firm of its time, filed for bankruptcy in 2008.