Definition
What is an attendance point system?
As part of a company's attendance policy, an attendance point system is used to enforce discipline with regard to time compliance. 
This system is used to regulate unplanned, unauthorized absences. Attendance points are counted for every occurrence and within a certain period. 
A high count of attendance points may lead to employee termination when not addressed during a disciplinary action.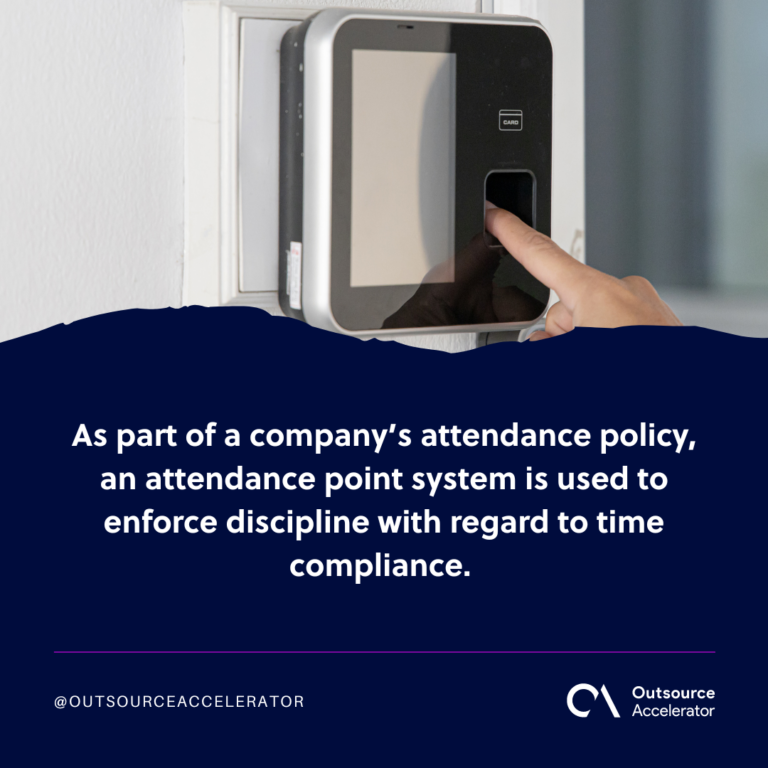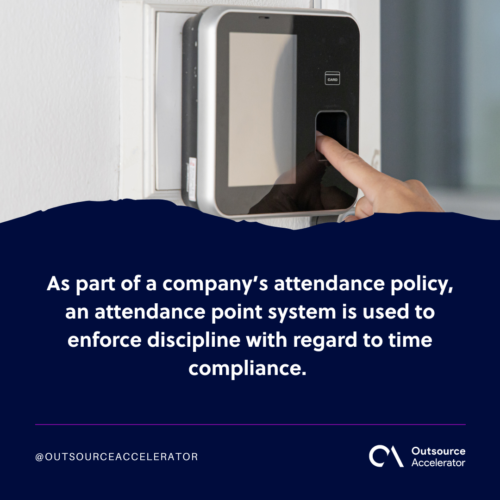 How does the attendant point system work?
An employee gets a certain number of points on their record when they incur an unplanned absence or miss hours of work. If they are absent without notice, they will acquire more points.
When they reach a certain number of points, employees are subject to disciplinary actions for multiple violations. 
As mentioned, attendance points are recorded for a certain period. That means an employee may have points deducted from their record if they are able to maintain perfect attendance for a set period, usually six to 12 months.
Higher standards are imposed on new or probationary employees than full-time employees. Thus, it may only take fewer points for them to be terminated.
What are the benefits of an attendance point system?
Here are various benefits of an attendance point system in your organization:
Reduces absenteeism
An attendance point system can help you monitor any attendance issues inside your firm.
With this data, you can appropriately address existing issues and even predict problems before they occur. This data can also be valuable when it comes time for performance evaluation.
Increases transparency
Having an attendance point system helps employees understand company policy and even have a concrete reference for their individual performance. This also helps management justify regulations and disciplinary actions. 
Improves communication 
Employees are more willing to talk with their managers about their situation when they are aware that an attendance monitoring system is in place.
This helps supervisors understand why some employees are currently lacking, which may enhance the employer-employee relationship.
Practical tips to improve employee attendance
An attendance point system should be used alongside other methods to improve an employee's overall attendance and performance. Here are other tips to observe:
Communicate with your employees
When you see an increase in an employee's absence, talk to them and know their reason for it. Allowing the employee to share their problem before taking disciplinary action might help to establish trust.
Keep in mind that the employee may be hesitant to give information about specific health or family concerns, so it is crucial not to force them. 
Reward good attendance
Use the attendance point system to reward good employees who are consistent. It's an excellent method to recognize and motivate hardworking employees. 
Employees may be awarded an additional leave credit or a day off. 
Train supervisors 
Supervisors must be aware of the company's attendance policies to implement guidelines and programs. Some attendance strategies include attendance tracking techniques, current attendance and absence regulations, and identifying frequent attendance concerns.
Set clear expectations 
It is important for employees to be aware of all the guidelines and the consequences of poor attendance. Management mas clearly lay out the attendance requirements, such as the need for documentation before taking time off and how to seek time off.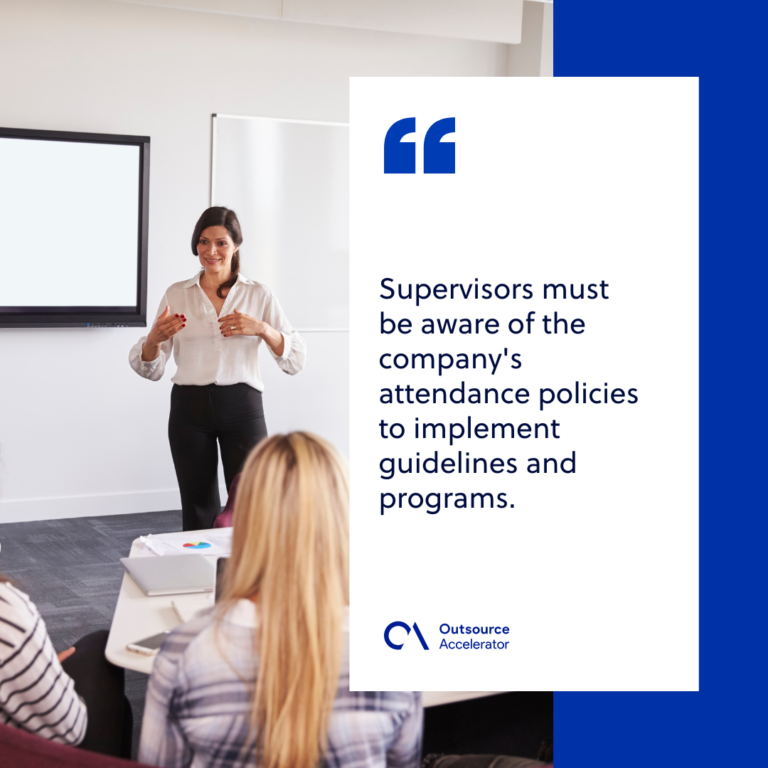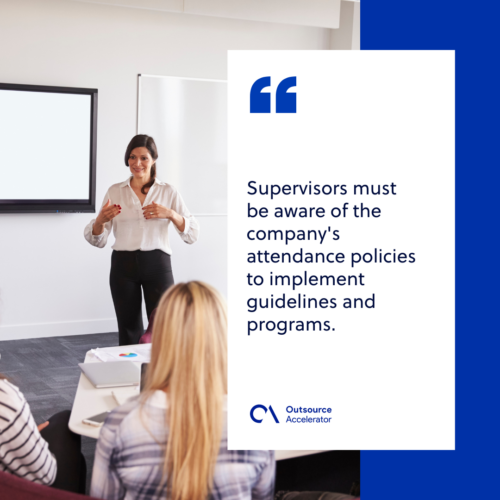 Look after your employee when they return to work
Managers or supervisors can conduct follow-ups after the employee returns from leave. This is an excellent approach to determine whether or not the employee can continue their normal tasks.
Use a time and attendance software
Having time and attendance software that automatically counts points following your company's regulations is a good way to ensure efficient and accurate tracking. It also eases the grunt work of manual tracking by the human resources department.
When an activity is recorded by the program, it is instantly added to the employee's attendance history. If managers want to see how an employee is performing at any time, they can quickly log in to their account and do so.
Also, if you require a report on an employee's history at any time, you can easily run a report and get it in a couple of minutes, which takes us to the following point.