Here's everything you need to learn about work-life integration
Work-life integration is one of the most crucial topics in today's workplace. It has increasingly been recognized as a critical factor for the success and productivity of employees.
More and more organizations are implementing new policies and programs to improve employee health and well-being.
And employees that can appropriately organize their schedules and obligations are more likely to enjoy fulfillment in all areas of their lives.
However, in the modern world of remote work, it can be challenging to preserve a work-life balance. For instance, employees may occasionally be tempted to check their social network accounts during work hours.
That's why companies must have programs that will enable individuals to know how to separate personal matters from work while staying focused on their obligations in the workplace.
Defining work-life integration
Work-life integration is a term used in the workplace to describe combining work and personal life into a single life experience.
Work-life integration makes it possible for employees to balance their personal responsibilities while maintaining a positive relationship with their coworkers and customers.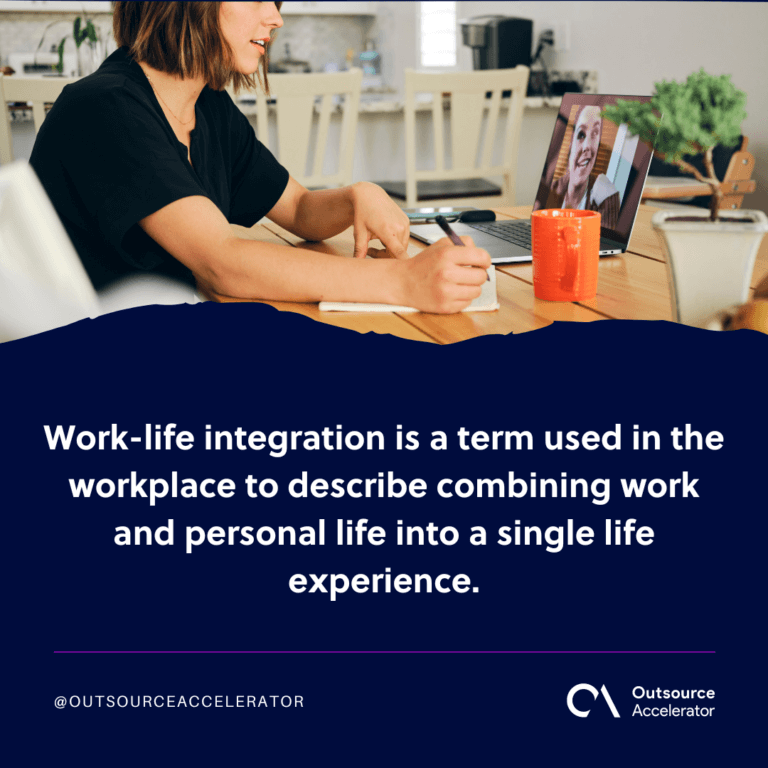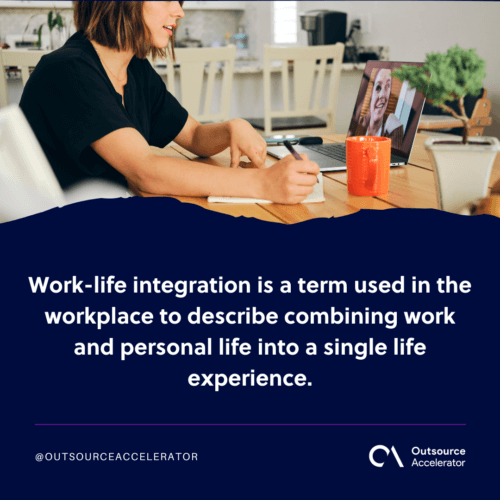 Work-life integration vs. work-life balance
Work-life integration and work-life balance are related to balancing home and work. But they don't mean the same thing.
Work-life integration is how we nurture our professional, personal, and social lives. This means an individual is constantly working to integrate work with his personal life.
Professionals who practice work-life integration are less concerned with what is work time and what is personal time. They are more concerned with the optimal time to perform both activities.
Work-life integration also describes the changes an individual makes to his work schedule and work ethic to have a better overall life.
In work-life balance, a person prioritizes both their job and personal life responsibilities.
In contrast to work-life integration, fixed work hours in work-life balance establish a boundary between work and personal matters.
However, it is essential to highlight that work-life integration and work-life balance are legitimate methods of balancing personal and professional commitments.
As such, the ease of recruiting new workers in the workplace is significantly increased when  work-life balance and work-life integration are fostered in the organization.
Benefits of work-life integration
The more time an employee spends working and the less time they have to enjoy life, the more likely they will experience burnout associated with the job or career.
Besides simply working hard to achieve financial independence and employee recognition, there are other benefits to work-life integration.
Work-life integration can:
Align personal and professional goals

Reduce burnout

and multitasking

Improve working relationships

Increase employee morale
Furthermore, it allows people to be innovative and uncover new opportunities to improve their lives.
Five essential tips for a rewarding work-life integration
It's not easy to juggle work and personal goals, but here are some tips that can help you achieve a rewarding work-life integration:

1. Be self-conscious
It is crucial to be self-conscious. This means that you must watch yourself regularly to observe your behavior, habits, and thoughts. 
When trying work-life integration, it's also essential for you to know your strengths, weaknesses, motivations, and values.
Remember that you are not a machine but a human with goals, and you don't necessarily require managing things 24/7.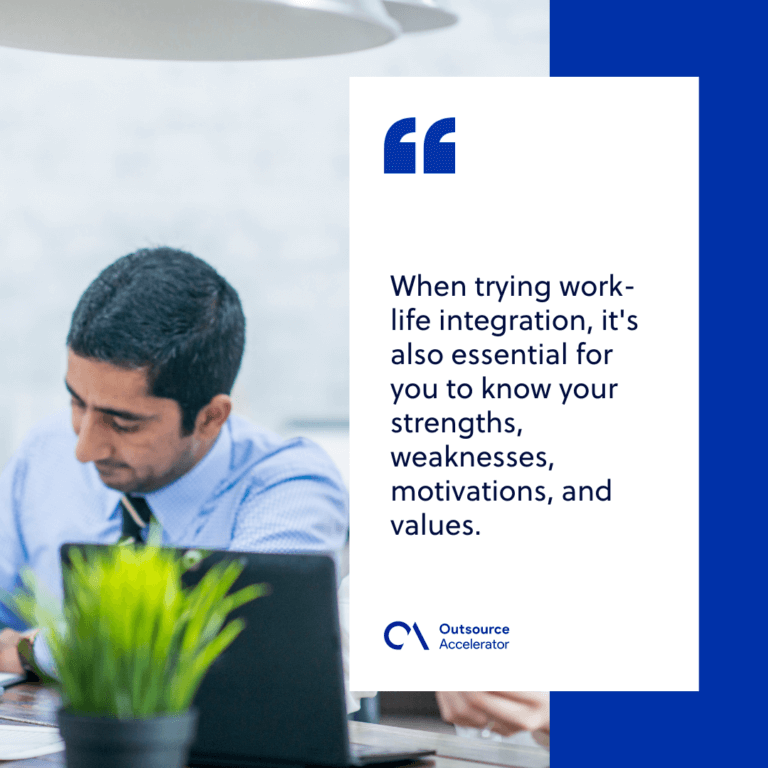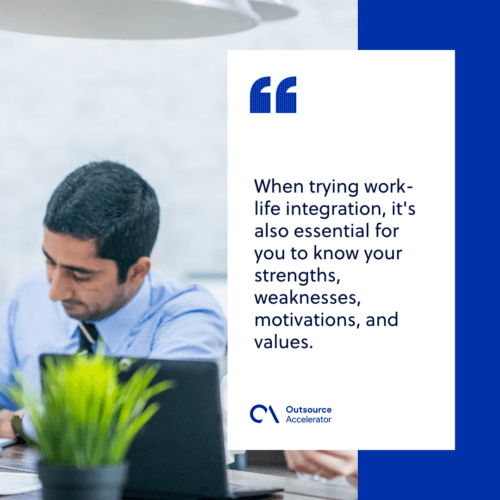 2. Measure your productivity
One of the primary reasons people don't succeed at work-life integration is that they don't measure productivity.
You need to know how effective you are at work, so you can make vital changes that help you become productive.
If you are struggling with productivity, find out what is going on and look at the solution rather than blame everything else.
3. Take short breaks
Taking short breaks can help you stay productive, increase your focus and reduce stress.
And while taking short breaks, do something fun or practical to give you a fresh perspective, helping you make better decisions with your job and at-home life.
4. Make better use of technology
In a competitive world, you cannot afford to lose productivity. With today's technology at our fingertips, we can use tools to help us achieve greater overall work-life integration. 
This can effectively optimize our output and make it easier to succeed in professional and personal endeavors.
5. Develop a flexible routine
Developing the skills and ability to adapt your routine can help you integrate work and life much more quickly.
If you have a structured routine and stick to it, chances are that you will suffer from stress and burnout.
So developing a flexible routine may include better job performance, higher job satisfaction, and improved employee retention and recruitment efforts.
Encourage the organization to support work-life integration
Work-life integration can be an integral part of your work culture.
Providing opportunities to integrate work and life is the best way to attract top talent and strengthen employee retention.
If a company implements policies for work-life integration, leaders can lead by example and prove that it is worth integrating work with family and personal time. 
It's time you find a way for how your organization can support work-life integration and learn what you can do to implement inclusive programs today.