Work-life blending: The new work-life balance?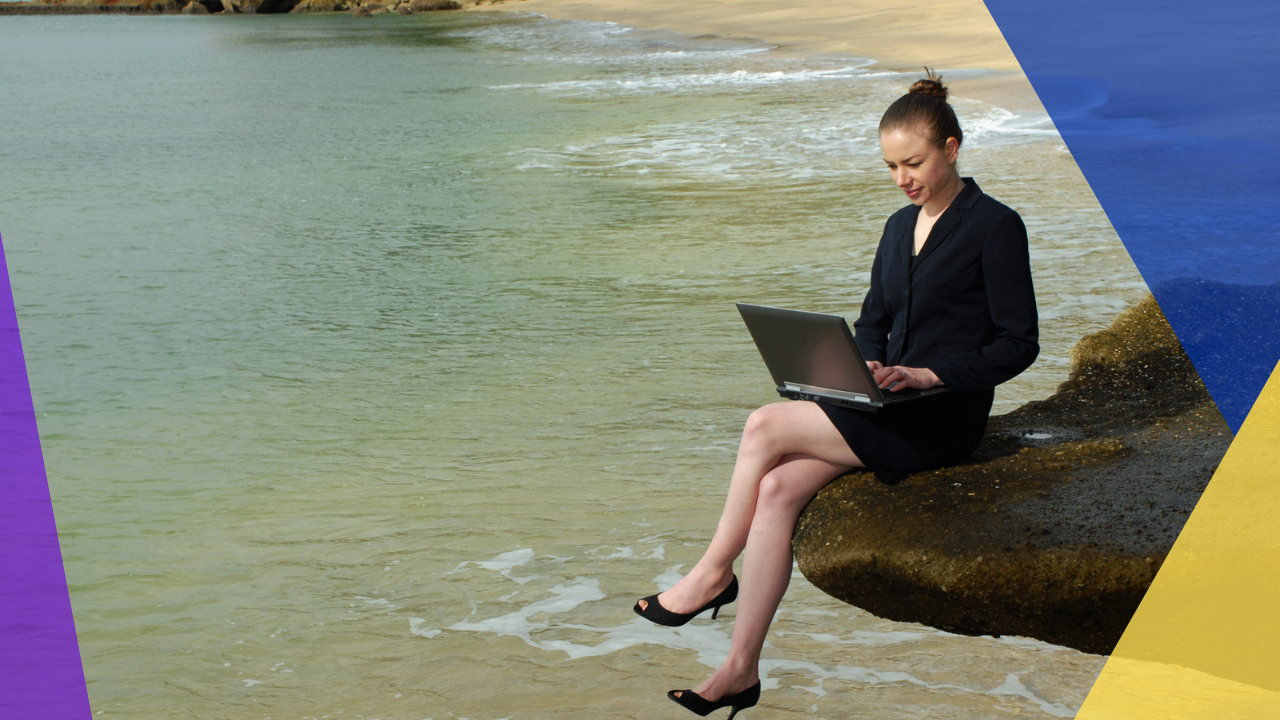 Work-life blending is on its way to becoming the new work-life balance.
It's quickly becoming one of the most commonly used terms in HR departments, businesses, and with marketing execs everywhere.
This work style model[1] encompasses the concept of a harmonious relationship between personal and professional obligations.
Work-life blending: What is it?
Work-life blending, as the term implies, is a blended model of work and life.
This model is characterized by the blurring of boundaries between work and life, as well as the blurring of boundaries between home and workplace.[2]
Work-life blending is a new way of working that allows you to blend your personal life with your professional life.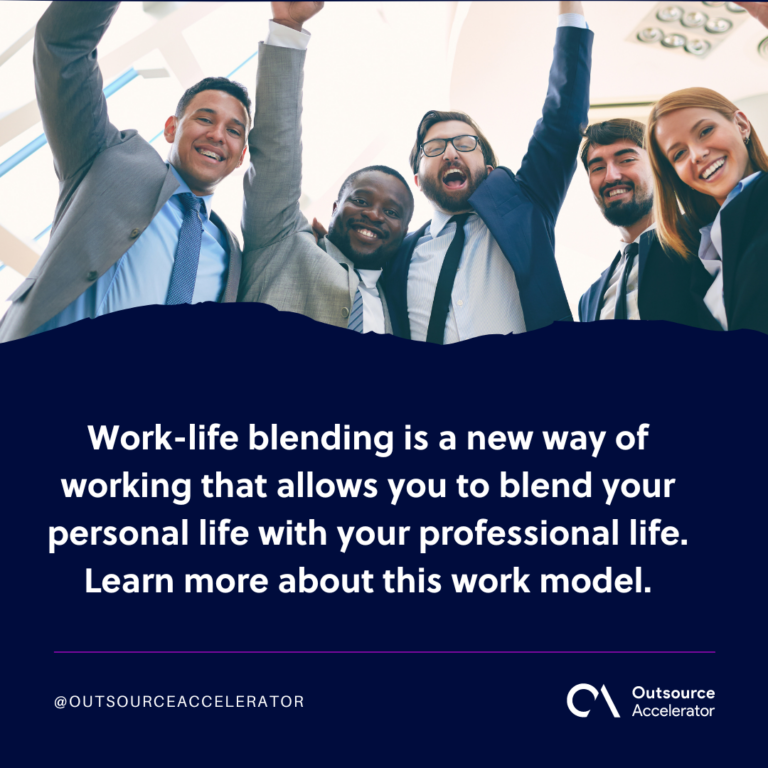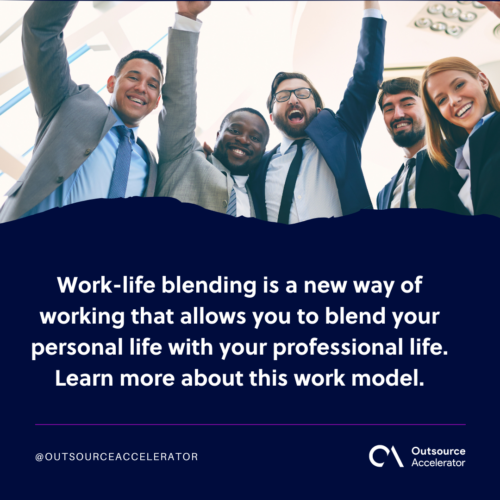 This blurred boundary allows people to manage their time more effectively and efficiently to achieve a better work-life balance.
You might have a 9-5 job, but you can work from home, the office, or both.
Work-life blending offers an opportunity for people to be more productive at work and more relaxed in their personal lives.
Work-life blending can take many forms depending on the individual and circumstances.
Some people may choose to work four days a week and spend three days at home. Some may want to work two days at home and two days in the office. Others may want to work one day at home and one day in the office.
Forms of work-life blending
As mentioned earlier, work-life blending can take on many forms, depending on which works for each individual: 
Blended work weeks
Some people work four days per week, spending Monday through Thursday at their office and working from home on Fridays.
Others work three or two days per week from their home office or remote location.
Remote work
Many companies encourage their employees to work remotely at least some of the time, whether they're working from home or driving to the office less often.
Some even offer unlimited vacation time as long as employees meet their goals and deadlines.
Flexible schedules
Some companies offer flexible or flexitime schedules to their employees.
With flexible schedules, employees can execute their tasks at their own leisure – provided that they can produce the same output within a set period of time.
For example, instead of clocking in from 9 am to 5 pm, employees can clock in from 9 to 11 am. They can do something else from 11 am until 3 pm, and finish the rest of their shift from 3 pm onwards.
How work-life blending differs from work-life balance
At a glance, work-life blending may not look all that different from work-life balance.
The primary reason for this confusion is both models involve balancing the responsibilities of one's job and the affairs of one's personal life.
However, work-life blending shouldn't be confused with work-life balance.
There are certain differences between the two.
For one, the work-life balance model still involves setting a boundary between work and personal life.
This often entails having an equal amount of allotted time between one's work and personal life – a barrier separating work and personal life.
A clear example is an employee taking a vacation and not doing anything work-related (e.g., no checking emails, no answering phone calls, no looking at the workplace group chat).
This isn't the case with work-life blending.
In this model, an employee's work blends into their personal life, hence the term work-life blending.
With the work-life blending model, the same employee on vacation may still take phone calls from his boss or answer work emails.
However, the employee makes a conscious effort to maintain a healthy balance between his time on vacation and still being updated at work.
Balance to blending: The exodus to work-life blending
Work-life balance has long been a popular corporate buzzword, particularly among younger workers.
The idea that employees can achieve the perfect balance between work and personal life is a tantalizing prospect.
However, chartered psychologist and author Gemma Leigh Roberts argues that this concept no longer applies to today's workplace environment.
For Gemma, the concept of the work-life blend is more apt. It's also more beneficial to both employees and employers as chasing after an elusive work-life balance puts more pressure on people.
Kathleen Pai, Vice President of People at the tech company Ultimate Software, shares Gemma's sentiments on the (sometimes) negative effect of pursuing the perfect work-life balance.
With work-life balance falling out of favor, work-life blending takes the spotlight.
Corporate professionals have praised the model as a healthier alternative to the often unachievable work-life balance.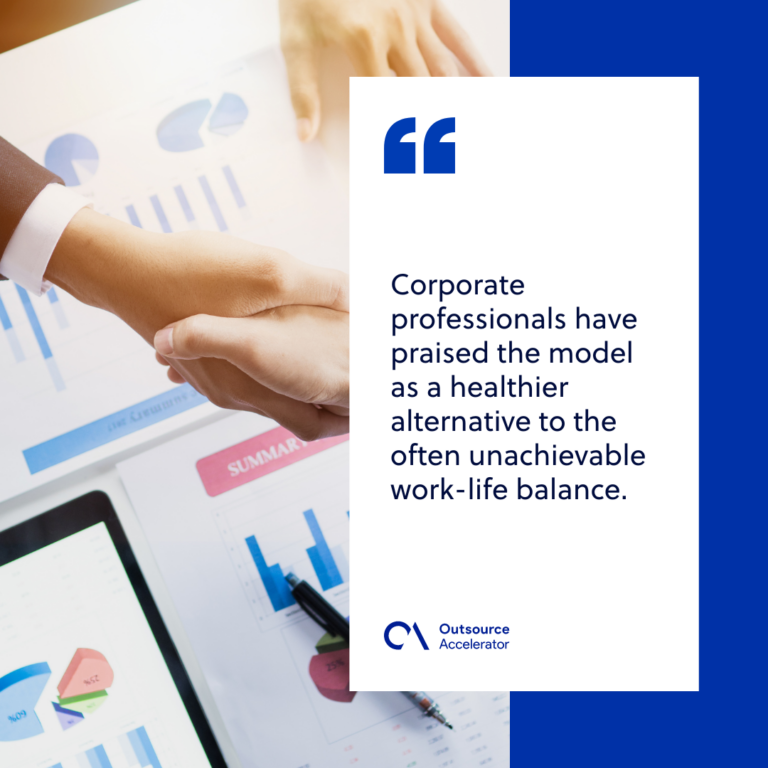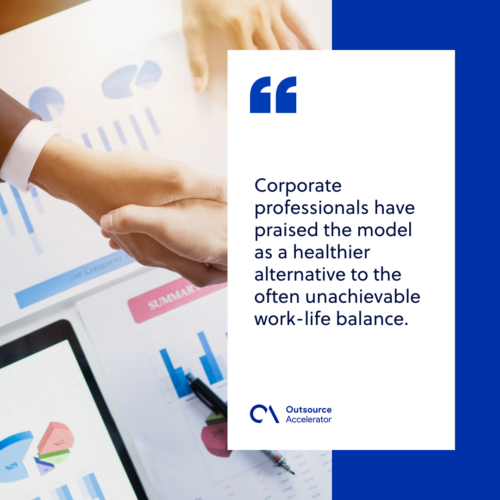 The work-life blend model is able to achieve what work-life balance may have failed to do. It lets workers step away from either their work or life without compromising or sacrificing one for the other.
Making work-life blending work for you
The prevalence of remote, hybrid, and flexible work setups in the past few years have blurred the line between work and personal life for many employees.
Due to the overlap between their professional and personal lives, it's vital for employers to ensure their employees' well-being.
Below are some tips managers can follow to foster a healthy work-life blending:
Let people access social media
Browsing on social media during work hours is generally frowned upon in the workplace.
However, these platforms have become an integral aspect of many people's lives. Data from Statista – a consumer and market data research company – revealed that the global average use of social media is poised to hit 2 hours and 27 minutes per day in 2022.
However, allowing employees flexible use of social media during their work hours can help break the monotony of their routines and improve productivity.
Provide work flexibility
Providing employees the choice of working from home, in fully flexible shifts, or having the freedom to offset schedules give them more control over their time.
Doing so allows employees to work at their most productive hours and simultaneously increases their work satisfaction.
Focus on quality, not quantity
For businesses that aren't focused on mechanical tasks, it's better to look at the quality of employee performance rather than how many things they do in a day.
Employees will inevitably have differing workstyles and habits, an important thing to remember in project management.
Some employees may turn in work quickly but with poorer quality. Others may take time but turn in superb output. Still, there are employees who can work quickly without compromising their performance.
Letting employees turn in work when they're at their peak during the day may garner better results than expecting the same amount of work from everyone.
Communicate with your employees
Nothing helps better improve employee satisfaction than sitting down with an employee and knowing what they need firsthand.
This lets managers know exactly what they can do to help their employees achieve better work-life blending and improve their work experience.
References
[1] work style model. Hosoda, M. (2021). "Telework amidst the COVID-19 pandemic: Effects on work style reform in Japan." Corporate Governance, 21(6), pp. 1059-1071. https://doi.org/10.1108/CG-09-2020-0390
[2] boundaries between home and workplace. Delanoeije, J., Verbruggen, M., & Germeys, L. (2019). "Boundary role transitions: A day-to-day approach to explain the effects of home-based telework on work-to-home conflict and home-to-work conflict." Human Relations, 72(12), 1843–1868. https://doi.org/10.1177/0018726718823071