Top 21 work from home software for 2024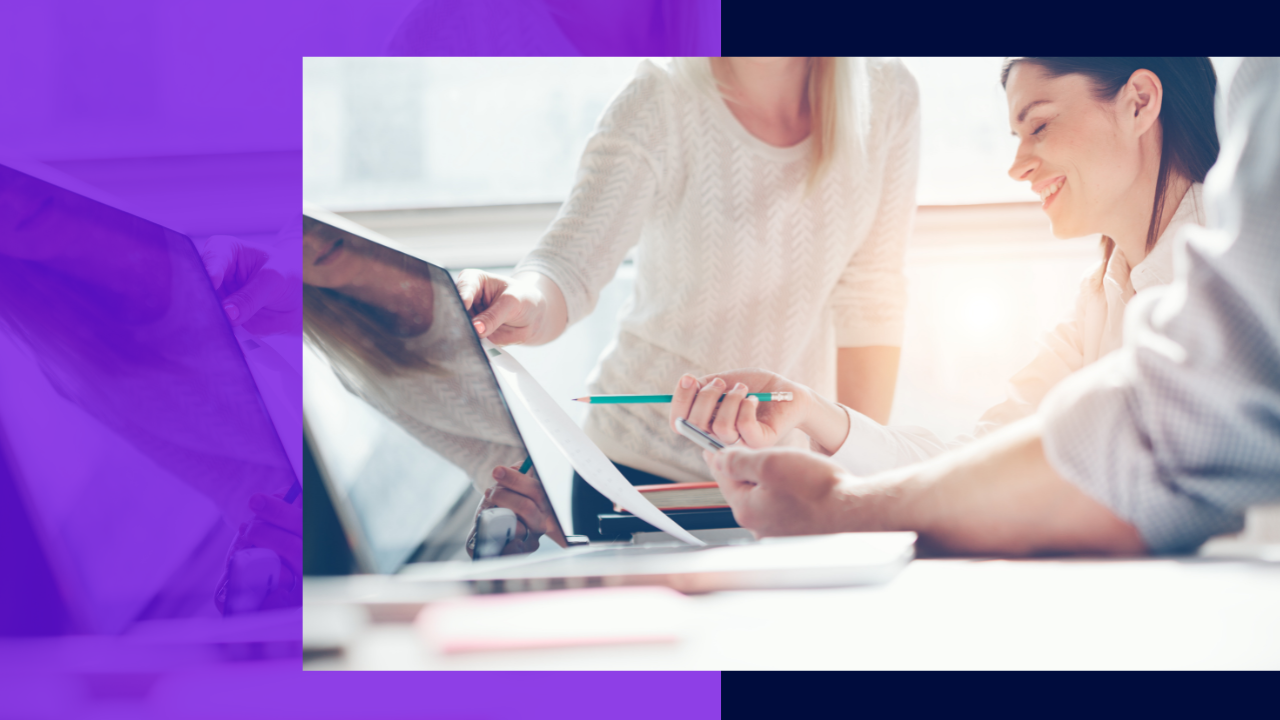 List of work from home software 
In the ever-evolving landscape of remote work, the office concept has transcended the boundaries of physical space. 
With the rise of remote work, a new realm of possibilities and challenges has emerged. There has been a sustained call for innovative solutions that bridge the gap between productivity, connectivity, and comfort. 
Enter work from home software, the remote toolkit that empowers individuals to transform their living spaces into bustling virtual work hubs. From communication enhancers to productivity boosters, these software tools have revolutionized how we collaborate, create, and connect. 
In this list, we've gathered diverse work from home software, unveiling the essential tools that have become integral to the remote work experience.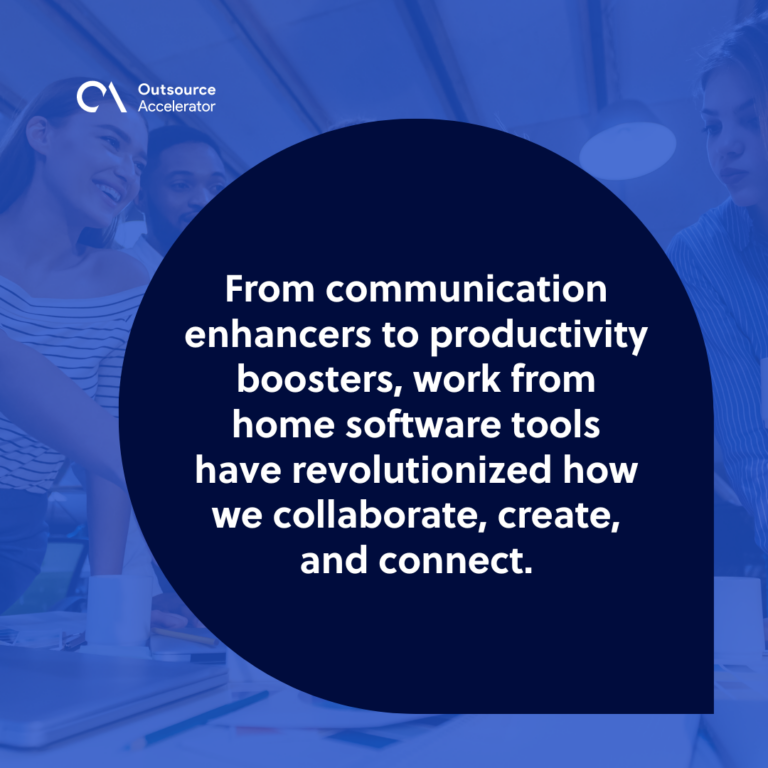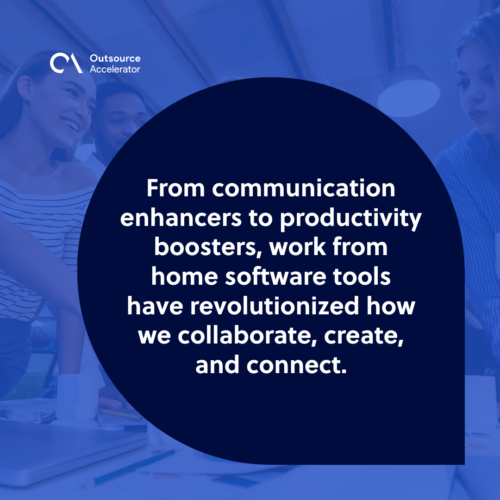 Challenges of a work from home setup 
Remote work offers numerous benefits, such as flexibility and reduced commute time. Still, it also presents various drawbacks that employees and employers must address. 
Here are some of the prominent challenges of remote work:
Communication barriers

– The lack of face-to-face interactions may lead to misunderstandings and misinterpretations. 

Isolation and loneliness

– Working in isolation can lead to feelings of loneliness and disconnection due to the absence of casual office interactions. 

Distractions and lack of focus

– Home environments may come with additional distractions, leading to difficulty in staying motivated and focused. 

Monitoring and accountability

– In a remote setting, employers may find it difficult to monitor employee productivity. Workers themselves may struggle with self-discipline. 

Team collaboration challenges

– A work from home setup brings a lack of impromptu brainstorming sessions and team huddles. This can lead to difficulty in fostering team cohesion and camaraderie. 

Professional development and learning

– Working from home can limit access to in-person training and networking opportunities.  

Security and privacy concerns

– Remote work brings potential risks related to data breaches and confidential information leaks. 

Career growth and visibility

– Remote workers might feel they have fewer opportunities for career advancement due to limited visibility. 

Ergonomic and health challenges

– Inadequate home office setups may lead to ergonomic issues, impacting physical health. 

Managing remote teams

– Employers are challenged to develop effective strategies for

managing remote teams

. 
Addressing these challenges requires a combination of effective communication strategies, the right technology tools, clear policies, and ongoing support for remote workers.
Types of work from home software
Work from home software comes in various categories, each catering to different aspects of remote work. Here are some of the essential types:
Communication and collaboration tools 
These facilitate interaction and cooperation between colleagues. 
Video conferencing platforms

– These enable virtual meetings, presentations, and discussions.

Instant messaging apps

– These types of apps facilitate quick and real-time communication. 

Project management software – A project management software assists in task organization, tracking progress, and collaboration.

Cloud storage and file sharing

– These tools store and share documents securely in the cloud.

Virtual whiteboard tools

– They allow brainstorming on a shared digital canvas.
Security and privacy software 
These are designed to protect digital information and systems from unauthorized access. 
Virtual Private Networks (VPNs)

– VPNs encrypt internet connections to ensure data security and privacy.

Antivirus and Antimalware software

– These software protect devices from malicious software and online threats.

Two-Factor Authentication (2FA)

– 2FA adds an extra layer of security to logins.
Time management and productivity software 
These are applications designed to assist in organizing tasks, managing time efficiently, and optimizing overall productivity. 
Time tracking apps

– These apps monitor work hours and task allocation for improved productivity.

Task management tools

– These tools organize tasks, set deadlines, and track progress.

Focus and distraction blockers

– They help maintain concentration by limiting access to distracting websites and apps. 
Virtual office and communication enhancement software
These are designed to recreate elements of a physical office in the digital space. 
Virtual background software

– Users can replace real backgrounds in video calls with virtual ones.

Virtual reality (VR) applications

– VRs Create immersive virtual meeting environments.

Virtual event platforms

– These platforms host online conferences, webinars, and workshops.
Health and wellness apps
These support individuals in maintaining physical, mental, and emotional well-being while working. 
Ergonomic reminder tools

– They provide prompts for posture adjustments and breaks.

Mindfulness and meditation apps

– These apps help remote workers manage stress and promote well-being.

Health tracking software

– Remote workers can monitor screen time, eye strain, and other health-related factors.
Skill development platforms
These online resources provide a wide range of educational courses to help you acquire new skills, enhance existing ones, and further professional growth. 
Language learning apps

– These apps enhance language skills during flexible work hours.

Online learning platforms

– Remote staff can enroll in courses to develop new skills. 
Customer relationship management (CRM) and sales software
These applications streamline customer interactions, sales processes, and business relationships. 
CRM systems

– CRMs manage customer interactions and sales pipelines remotely.

Sales tracking tools

– These toole monitor sales activities and performance metrics.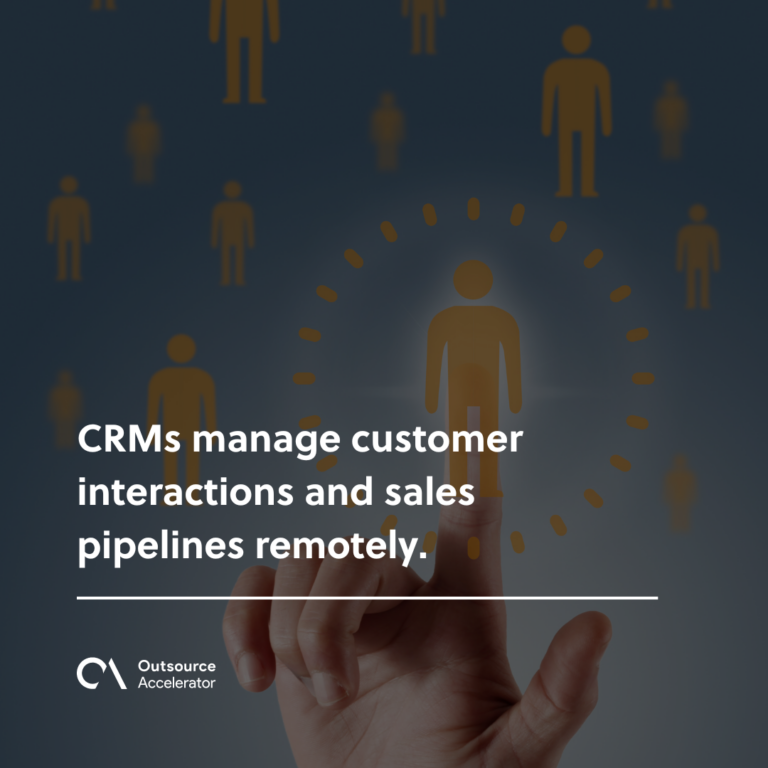 Remote IT and technical support software
These applications facilitate the diagnosis, troubleshooting, and resolution of technical issues on remote computers and systems.
Remote desktop software

– These software assist with IT troubleshooting by accessing remote computers.

Help desk and ticketing systems

– They streamline technical support requests.
Top 21 work from home software 
Explore these top work from home software: 
Slack is a collaborative communication platform designed for teams and businesses. It facilitates real-time messaging, file sharing, and integration with various productivity tools. 
With its user-friendly interface and customizable channels, Slack streamlines communication and enhances collaboration within organizations of all sizes.
Zoom is a widely used video conferencing and online meeting platform that enables seamless virtual communication. It offers features like video and audio conferencing, chat, screen sharing, and webinar hosting. 
Whether for business meetings, remote education, or social gatherings, Zoom provides a user-friendly solution for connecting people across different locations.
Google Drive is a cloud storage and file management platform provided by Google. It allows users to store, access, and collaborate on documents, spreadsheets, and presentations, all within a centralized online environment. 
Google Drive offers features like real-time collaboration, offline access, and seamless integration with other Google services. This work from home software simplifies work for teams. 
Trello is an intuitive project management tool with a visual and customizable board system. It enables teams to organize tasks, projects, and ideas into boards, lists, and cards, providing a clear overview of progress. 
Trello has features like drag-and-drop functionality, due dates, and team collaboration. It streamlines task management and enhances productivity for a wide range of projects.
Hubstaff is a comprehensive workforce management software that enhances team productivity and remote work tracking. It offers features that enable businesses to manage remote and distributed teams efficiently. 
With detailed insights into work patterns and performance, Hubstaff facilitates effective remote team coordination and project supervision.
TeamViewer is a powerful remote access and remote control software that allows users to connect to and control devices from anywhere. It enables remote technical support, file sharing, and collaboration across different platforms and operating systems. 
With its secure and user-friendly interface, TeamViewer simplifies remote work, troubleshooting, and collaboration for businesses.
Dropbox is a popular cloud storage and file synchronization service that enables users to store and share files securely across devices. It offers seamless collaboration through shared folders, file version history, and app integrations. 
Dropbox implements an easy-to-use interface and cross-platform compatibility. This work from home software simplifies file management for remote teams. 
Krisp is an innovative noise-cancellation software that enhances audio quality during virtual meetings and calls. It effectively removes background noise from incoming and outgoing audio to provide clear, distraction-free communication.
Krisp is a valuable tool for remote workers, podcasters, and anyone seeking professional-grade audio clarity in online interactions.
Microsoft Teams is a comprehensive collaboration platform. It combines chat, video conferencing, file sharing, and integration with Microsoft 365 apps into one unified interface. 
Integrating well into the Microsoft ecosystem, Teams provides a versatile solution for remote work and efficient collaboration.
1Password is a robust password management solution designed to enhance online security and streamline digital identity management. It enables users to generate, store, and autofill complex passwords for various accounts, safeguarding sensitive information. 
1Password provides a convenient and reliable way to protect and manage digital credentials in today's interconnected world.
Asana is a versatile project management platform that aids teams in organizing tasks, projects, and workflows. It offers a visual interface for creating and assigning tasks, tracking progress, and collaborating on projects. 
This work from home software provides features like customizable boards, timeline views, and integrations with other productivity tools. 
ProofHub is a comprehensive project management and team collaboration software that streamlines communication and organization. It offers task management, file sharing, discussions, and Gantt chart-based project planning.  
ProofHub simplifies project coordination and enhances productivity with a user-friendly interface and platform.
Wrike is a versatile and robust project management software that empowers teams to streamline their workflows and collaborate effectively. It has features such as custom workflows, automation, proofing, and integrations with popular apps. 
Wrike provides a single platform to manage projects, improve visibility, and align strategies. 
ClickUp is a powerful and versatile project management tool that provides teams with a centralized platform for managing tasks, workflows, and projects. The software has features such as custom views, automation, time tracking, and integrations. 
As an all-in-one solution, ClickUp is suitable for various use cases, including software development, marketing, operations, and engineering.

Chanty is a team communication and collaboration software that offers an easy-to-use platform for enhancing productivity in the workplace. Chanty provides unlimited messaging, task management, and video conferencing.
Trusted worldwide, this work from home software offers a secure and customizable solution to improve team communication and streamline workflows.
Pumble is a team collaboration and communication app designed to enhance productivity and streamline workflows. This software provides a comprehensive platform for teams to communicate and collaborate effectively. 
To ensure seamless and secure communication within teams, Pumble offers unlimited chat history, file sharing, and secure data encryption.
Toggl is a powerful time-tracking tool that allows users to easily record billable hours, leading to improved profitability and accurate invoices. 
The integration with Toggl Plan enables seamless project time tracking to meet project  deadlines.
Loom is an asynchronous video messaging platform facilitating effective team collaboration and communication. With Loom, teams can easily record and share videos, cutting out the distractions of long emails or one-on-one calls.
Miro is a visual collaboration platform offering various tools and features to enhance teamwork and creativity. 
With integrations with popular apps and 1000+ templates, this work from home software provides a flexible workspace for brainstorming, diagramming, and project management.
Fyle is an intelligent expense management software that simplifies the process of expense reporting. It streamlines expense tracking and reimbursement and offers modern expense management solutions.

Blink is an employee experience platform that simplifies internal communication and boosts engagement among frontline workers. 
With features such as a news feed, digital forms, analytics, and AI-powered translation, Blink streamlines workplace processes, improves well-being, and enhances productivity.
Work from home software benefits
Work from home software has numerous benefits that could make working from home more efficient and productive. 
Here are some benefits:
Collaboration and communication 
Work from home software allows team members to communicate and collaborate on projects easily. These platforms provide tools that make it easy to exchange ideas and provide feedback. 
This improves productivity, enhances teamwork, and promotes cooperation within a remote team. 
Flexibility 
Work from home software enables employees to work from anywhere, at any time. This means they can better accommodate their schedules around personal obligations and responsibilities.  
Increased efficiency 
Work from home software allows for seamless access to documents and tools, enabling employees to work more efficiently from home. 
Remote employees can easily access files, share documents, and work collaboratively on projects from various locations. This enhances productivity and streamlines the workflow processes. 
Cost savings 
Employees who work from home can save costs on things like commuting, meals, and work attire. 
Work from home software gives remote employees the necessary tools they need for efficient work. This also reduces the need for expensive office equipment and supplies. 
Work-life balance 
Working from home grants employees more flexibility in creating a work-life balance that works for them. These technologies make it easy for teams to work with greater freedom and control.