Offshore outsourcing has been a hot topic of debate for years, with some accusing it of stealing jobs from local workers, driving down wages, and poor conditions.
However, proponents of outsourcing argue that it provides a win-win for Western companies (and community), as well as incredible opportunities for workers in developing countries, giving them access to the global economy and a chance to earn a good salary and build an exciting career.
How can the two perspectives be so polarised? How can we become more aligned with a single 'truth'?
The cost savings, and efficiency gains, that outsourcing can provide for businesses are irrefutable. Just look at the hourly wage for a software developer in the United States, hovering around the $50 mark, while in the Philippines, it's around $12. That's a staggering 75% cost savings for businesses.
It's important to understand that wages in developing countries are relatively high compared to the local cost of living, meaning that outsourced workers can still enjoy a comfortable standard of living. It gives workers access to meaningful work and a chance to tap into the global economy, providing a boost to their local economies and helping to drive economic growth and prosperity.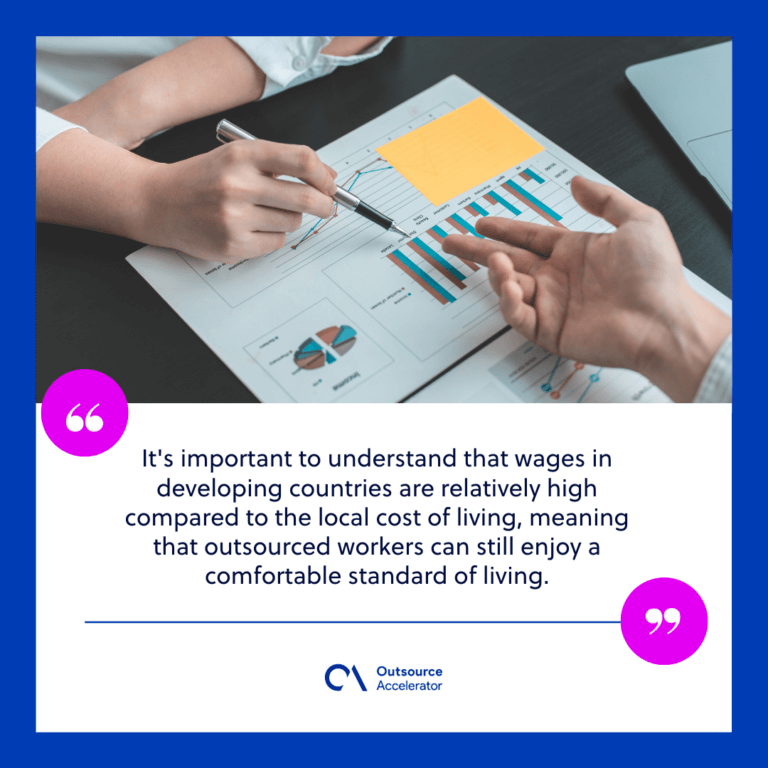 It's booming
Regardless, the $250bn outsourcing industry is seeing uninterrupted compound growth of 8% each year – and it's only speeding up. The looming recession promises to accelerate this growth as more companies look to save on costs. Meanwhile, COVID has shown the world that remote-work works, and people can work from anywhere – so why not somewhere cheaper?
There's a lot of momentum behind the outsourcing wave.
It's a rocket ship. Are you onboard?
Outsourcing can be a powerful tool for businesses looking to save costs and expand their operations, but it's essential to take it seriously and build for success.
Maybe one day, we will all agree that global employment is a force for good.
The question for your business
Are you boarding the rocket?
Read more thought leadership articles here: