Virtual sales assistants and why small businesses need them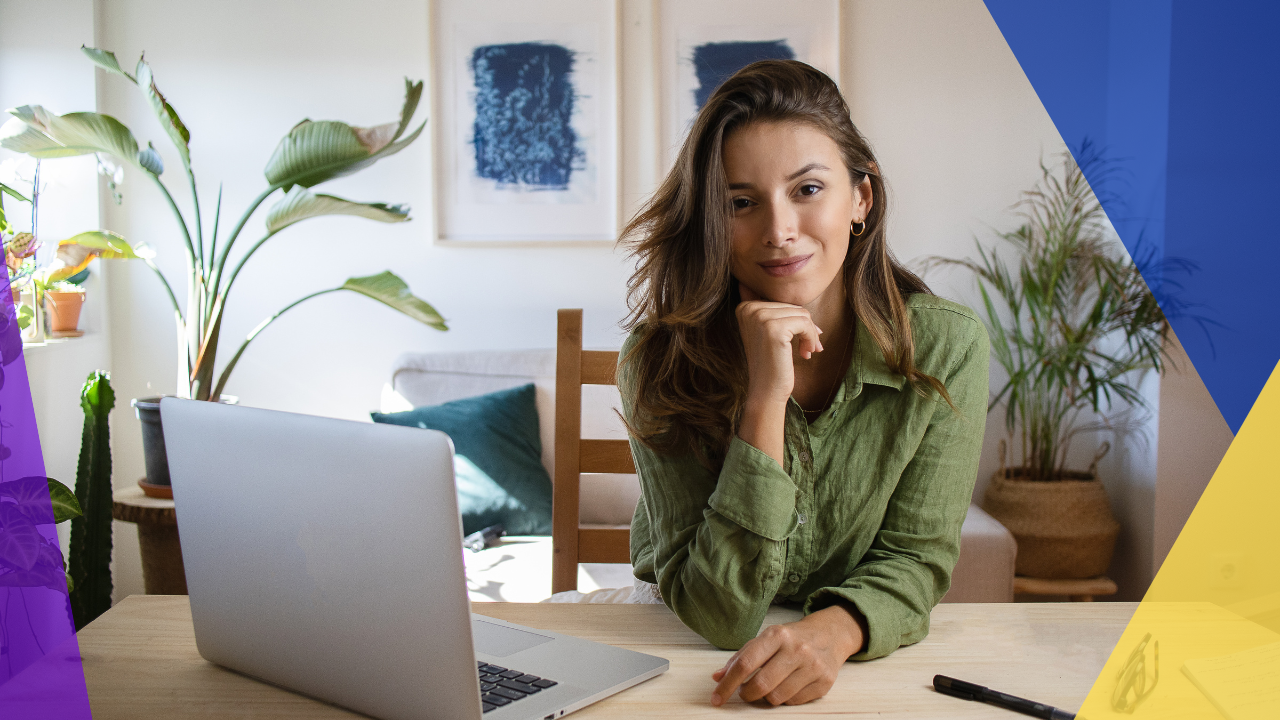 Virtual sales assistants and why small businesses need them
Sales are the driving force of every business venture. Regardless of the industry, the end goal of all companies is to sell something.
Increasing sales rates is even more critical for small businesses with fewer resources than their larger competitors.
Often, small business owners simultaneously put on the hats of CEO, sales agent, and marketer. While it may seem a good idea that lets them save on additional employee expenses, this practice is counterproductive.
Fortunately, small business owners can now hire virtual sales assistants instead of taking on multiple roles at once.
With an increasingly globalized labor market, there's no shortage of reliable business process outsourcing (BPO) firms like GetCallers that companies can partner with.
What are virtual sales assistants?
Virtual sales assistants are remotely employed contractors who handle business sales support tasks. In some cases, they may also be tasked to manage the entire sales cycle stages. 
Though many virtual sales assistants are independent contractors, many BPO providers like GetCallers have these professionals on their payroll.

Having a virtual sales assistant lets company owners focus on the core aspects of their business.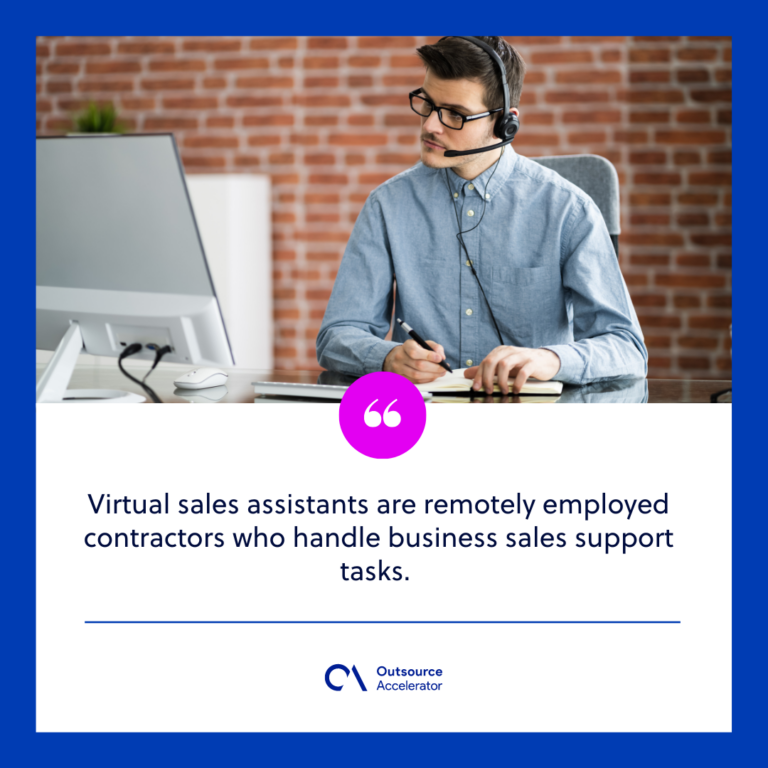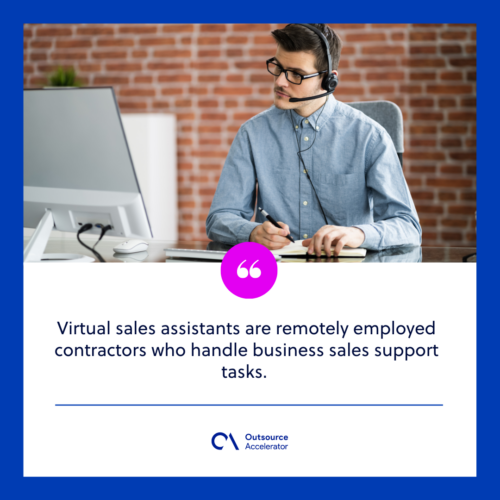 What do virtual sales assistants do?
Like all VAs, you can delegate various jobs to your virtual sales assistant. These tasks can range from simple data entry to more complex roles like lead generation.
Below are some of the responsibilities you can give your virtual sales assistants:
Market research
Market research refers to collecting, analyzing, and reporting data about a market. It involves analysis of both current and potential customers, as well as competitors.
Market research is essential for businesses to gain insight into their clients and competition. When done right, it can help companies retain and gain a larger market and an edge over their competitors.
Manage CRM databases
Your virtual sales assistant can manage your business's customer relationship management (CRM) software. This duty includes updating the database with follow-up information and other data relevant to your leads.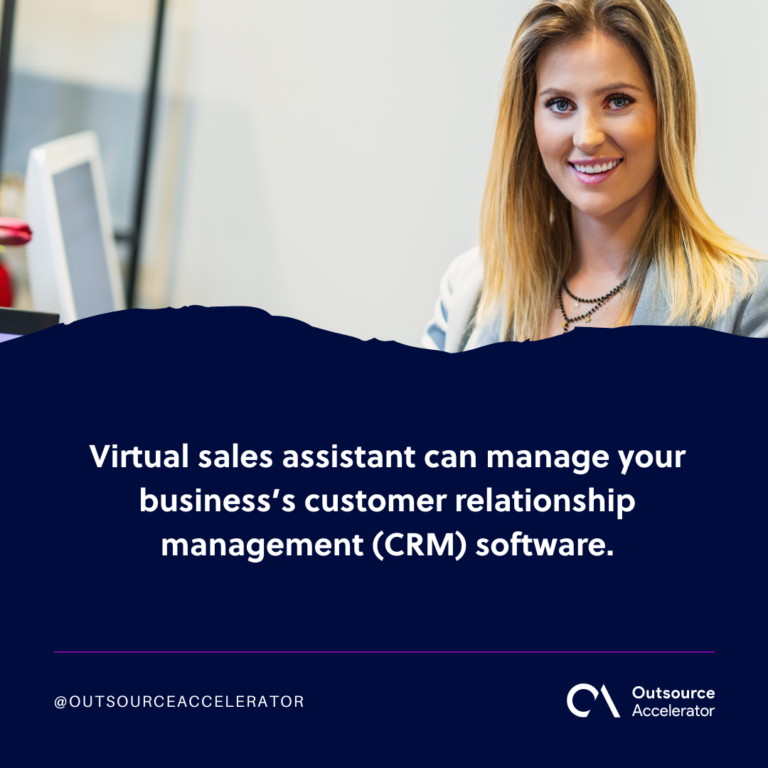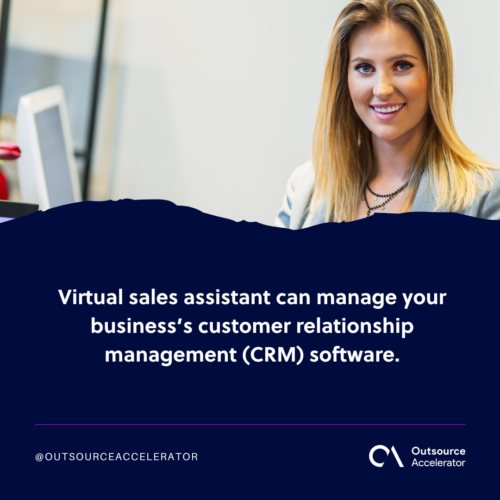 Social selling
Social selling pertains to selling your products and services on social media platforms like Facebook, Twitter, and LinkedIn. It includes engaging with existing and potential customers through posts, comments, replies, and other interactions.
Establishing customer relationships on these platforms is often time-consuming and requires constant monitoring.

Why small business owners should hire virtual sales assistants
If you're a small business owner, you may think hiring virtual sales assistants is an additional expense. However, doing so is an investment that pays for itself and earns you interest in the long run.
How is this possible, you ask? Read on below.
Virtual sales assistants are cost-efficient
Hiring virtual sales assistants will cost you money. However, it's important to note that this cost is just a fraction of what hiring their in-house counterpart costs.
When you hire virtual sales assistants through BPO companies like GetCallers, you gain access to the cheaper (but equally talented) labor market of developing countries like the Philippines.
This lets you employ your virtual sales assistant at rates as much as 70% to 85% lower. Even better, these VAs can also handle tasks that aren't directly related to their roles (e.g., calendar management).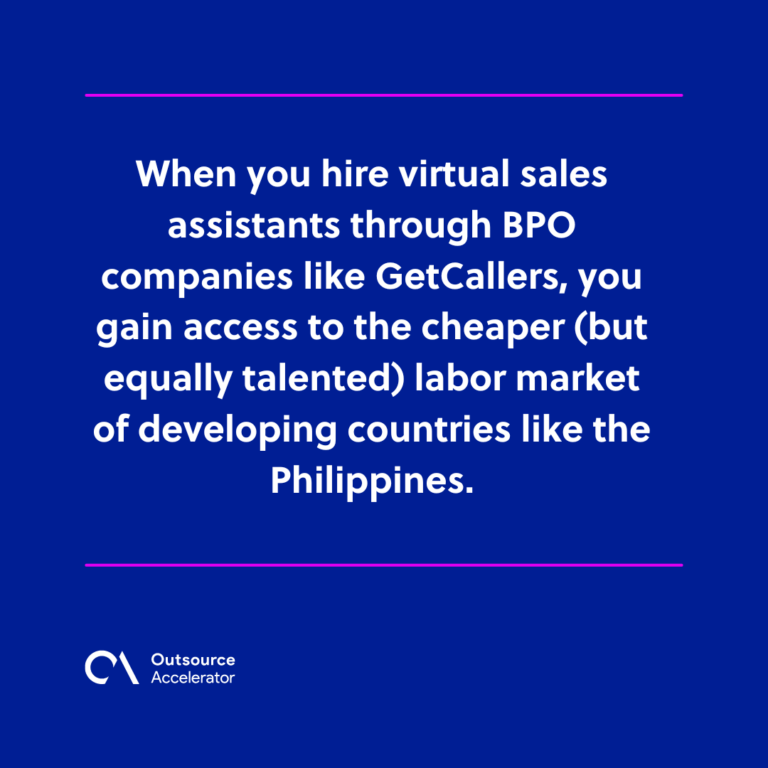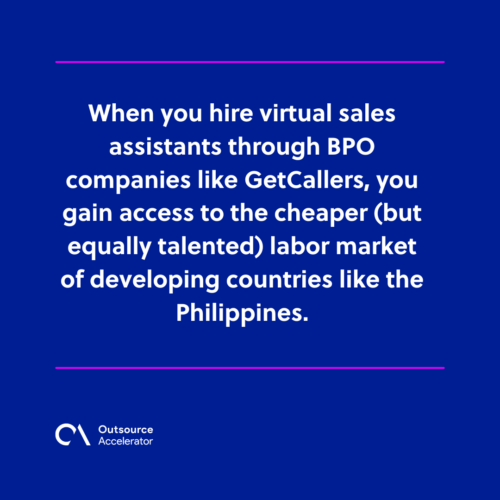 Improved output quality
Experienced virtual sales assistants can help enrich your sales pipeline. 
Doing all sales tasks yourself requires you to divide your time (and consequently, focus) between them and your other business responsibilities.
However, having virtual sales assistants who can take over laborious tasks like cold calling or follow-up sales calls lets you focus on the core aspects of your business.
The results? Improved output of the delegated tasks.
Easily scalable
Hiring virtual sales assistants offers a degree of flexibility you don't get from onboarding full-time employees.
With VAs, you can increase or reduce the number of your assistants depending on your business needs. You can do this without going through recruitment hassles, as the BPO companies that employ virtual sales assistants handle this.
Hire virtual sales assistants through GetCallers
GetCallers is a cloud call center and virtual assistant services provider that caters to small and medium-sized enterprises (SMEs).
When it comes to virtual sales assistants, you'll be hard-pressed to find better providers than this company.
GetCaller's VAs are committed to beating deadlines and boasts a 24- to 48-hour turnaround time for completing the majority of their tasks, depending on complexity.
The firm's virtual sales assistants function almost similar to an in-house addition to your team. They can handle tasks such as:
Cold calling

Maintaining CRM

Market research

Conducting directories for leads

Updating databases
Connect with GetCallers now and improve your business's sales!