Outsourcing a virtual property manager to the Philippines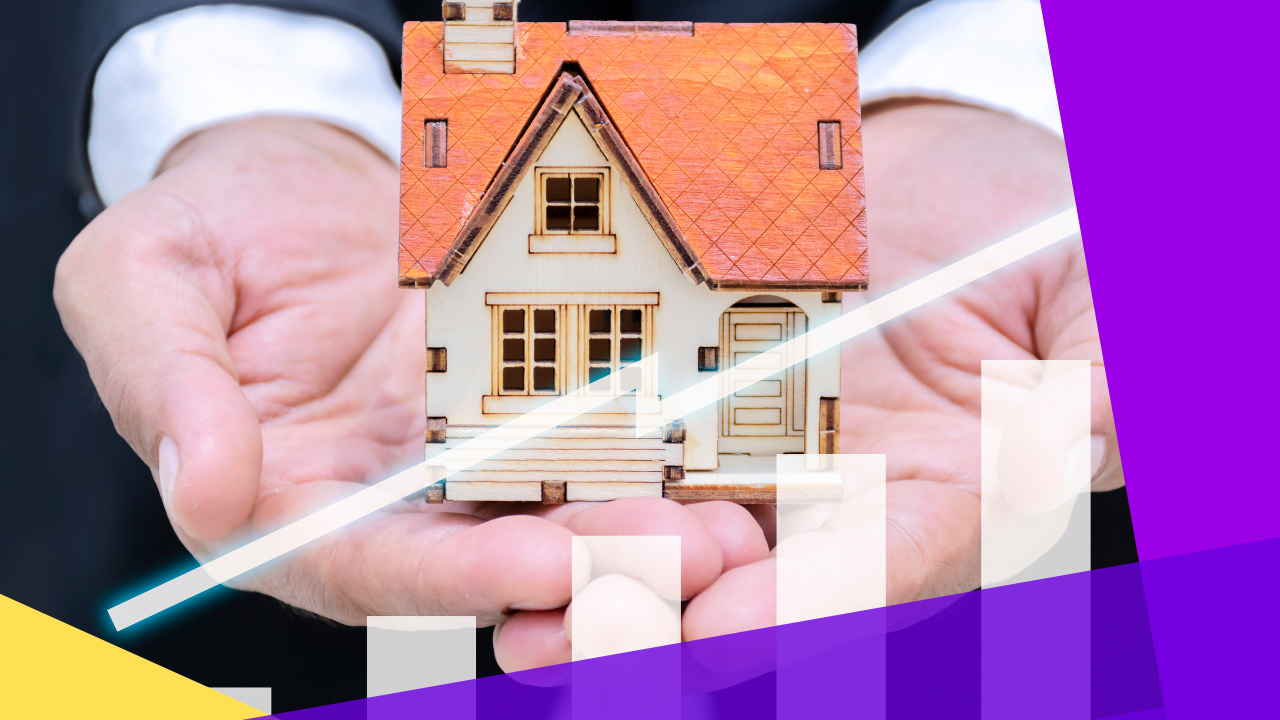 According to S&P Global Market Intelligence, the Philippines spiked 7.6% in its economic growth rate last year, making it one of the fastest-growing markets in the world today.
It is the fastest rate ever recorded since 1976, and the emergence of the outsourcing industry in the country is one of the main factors.
The Philippines is also a top-performing country in the real estate industry. It is known for providing excellent property management services in terms of outsourcing. 
Real estate businesses across the globe hire a seasoned virtual property manager from the country to perform support functions on their daily operations.  
What is a virtual property manager?
Virtual property managers are expert professionals with knowledge in the real estate industry outsourced by different companies to delegate tasks. 
In the Philippines, local and international real estate developers manage most land developments, particularly in central business districts. The business process includes buying, selling, and developing existing land and structures.
Developers usually provide in-house property management to establishments like buildings and residences overseen by a property manager. However, the increasing demand drives other companies to outsource virtual property managers.
Although a virtual property manager can't oversee all the aspects of the operation, it can help manage those tasks that do not require physical interaction and can be done remotely.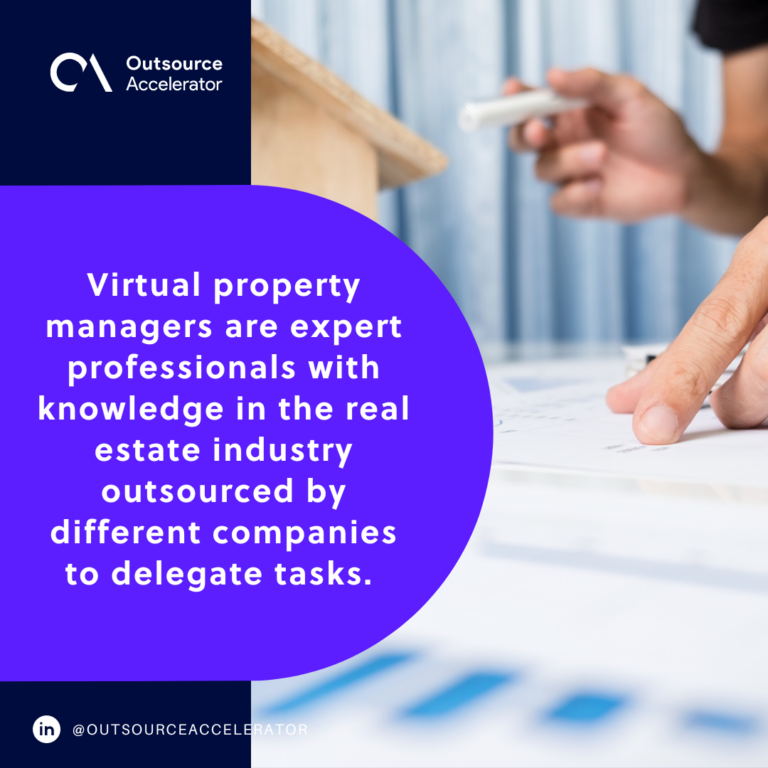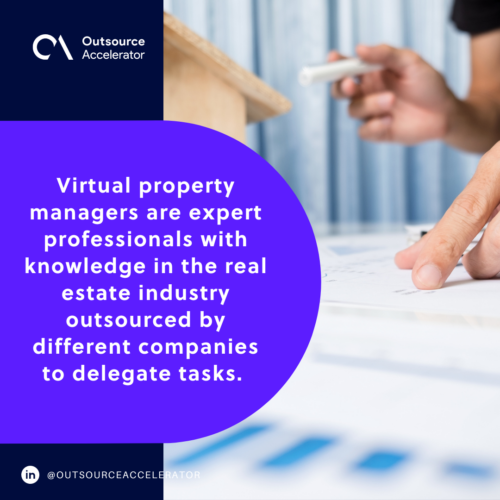 Roles and responsibilities of a virtual property manager 
The roles and responsibilities of virtual property managers may vary depending on the kind of business establishment they are handling.
The main objective is to lessen the workload of the operations or complex manager to deliver everything with greater client satisfaction. 
Here are the common duties of virtual property managers in the Philippines:
Administrative support services
While most tasks that fall under administrative support do not require much technical expertise, it is one of the most time-consuming for any business.
Some duties like filing management, handling calls and maintenance requests, bookkeeping, and monitoring bills payment are demanding, aside from being repetitive and continuous.
Having a virtual property manager who will focus on these particular assignments will provide convenience for other employees, making more efficient services for owners and renters.
Social media management and digital marketing support
In the real estate industry, marketing is also an important element in acquiring sales and generating future clients.
The creative skills of a virtual property manager will contribute to producing marketing materials and graphic designs, enticing more clients to invest.
Writing blog posts and articles with uploaded videos and pictures of units for sale, rented, or lease is a smart move in online marketing.
Customer service and operations support
In operating a business establishment, knowing how to respond to your client's concerns promptly is a must, together with the pursuit of giving immediate solutions.
Good communication is the key, but the presence of a dedicated and competent virtual property manager will make it more possible. 
Duties and responsibilities under these services include meeting with the owners and future clients to communicate management concerns.
Another is attending to owners' concerns about the maintenance of their respective units and malfunctions in building equipment. The virtual property manager should ensure that the responsible department in the office is fully aware and well-informed.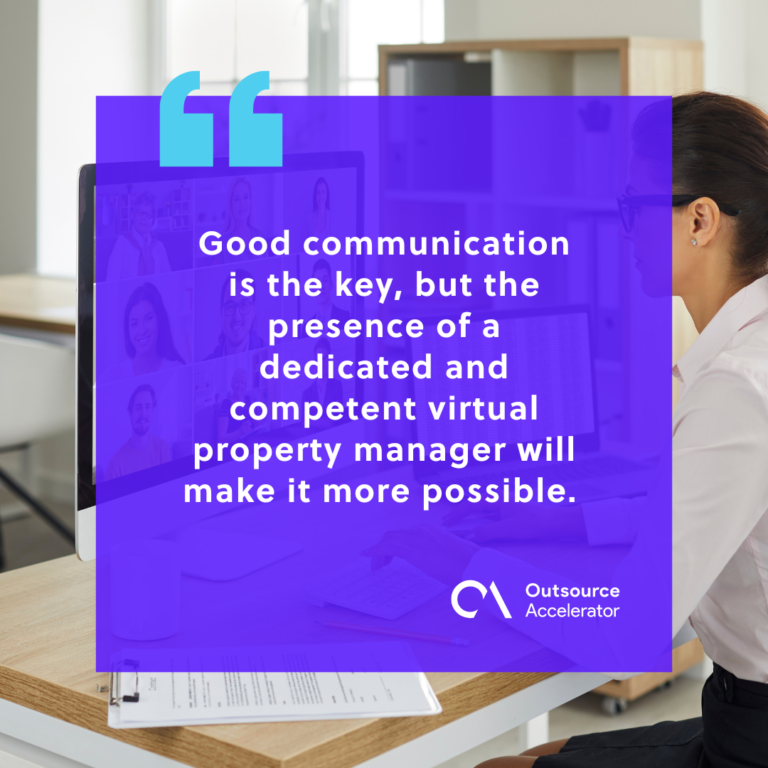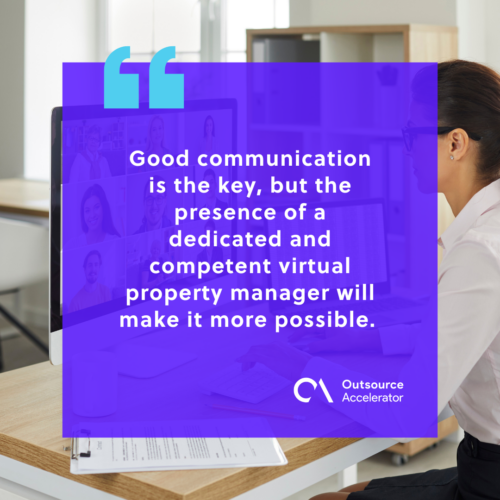 Skills to look for in a virtual property manager
Aside from having knowledge in the real estate industry, it is also important to know the necessary skills when outsourcing the right person for your property management office.
Here is the list of skills to become a competent virtual property manager:
Good communication skills

Advanced writing ability and tech-savvy

Creative advertising and marketing skills

Troubleshooting and problem-solving ability

Good organizational management and administrative skills
Benefits of outsourcing a virtual property manager to the Philippines
You might be wondering if outsourcing a virtual property manager to the Philippines is a good idea.
Well, these benefits may help you in weighing your thoughts and might encourage you to outsource a virtual property manager:
1. Cost-effective hiring
You can reduce costs in utilities, office supplies, and equipment by hiring a virtual property manager since they're not required to report physically at the office but in their workspace.
You can also reduce costs that might incur when hiring permanent employees since virtual property managers will not require you to pay salary on a monthly basis. The company is also not obliged to pay for paid leaves, sick days, and other benefits. 
2. Philippines is an expert in outsourcing
There is no doubt that the Philippines, being a BPO capital of the world, is home to experts and dedicated virtual talents. Outsourcing virtual property managers is beneficial, given the demand of the real estate industry.
Virtual property managers in the Philippines are proficient in the English language and have strong work ethics. They are professionally trained in property management and are experts in the real estate industry.
3. Higher rate of successful operations
Since work delegation occurs, most business establishments that outsourced a virtual property manager recorded more successful project outcomes. 
Property management officers can focus more on other important tasks while delegating tedious and repetitive workloads to virtual property managers.
4. Lesser challenges in the workplace
Outsourcing virtual property managers can also help the company to lessen the challenges in the workplace. More people taking on specific tasks is more likely to result in efficient day-to-day operations.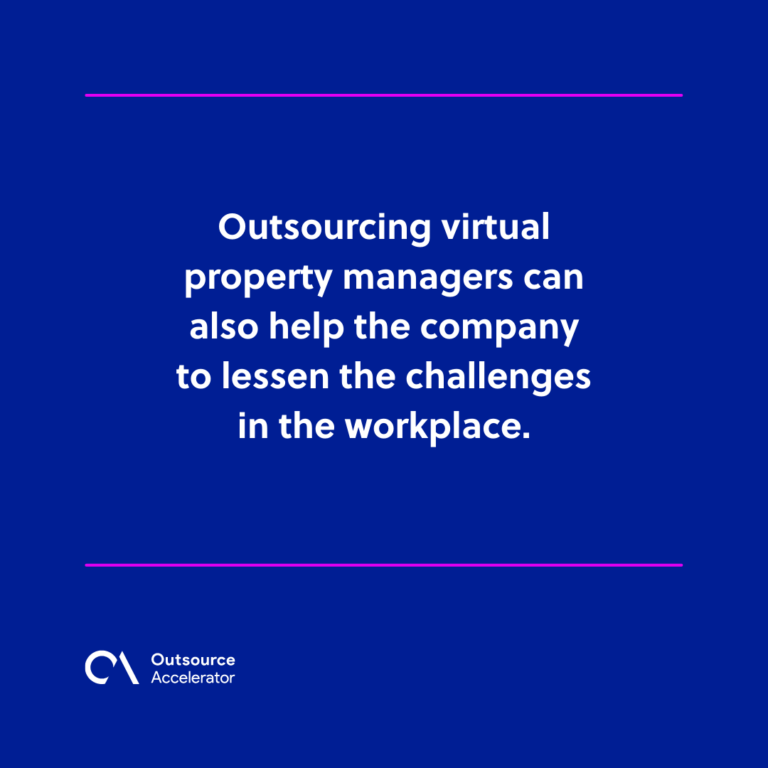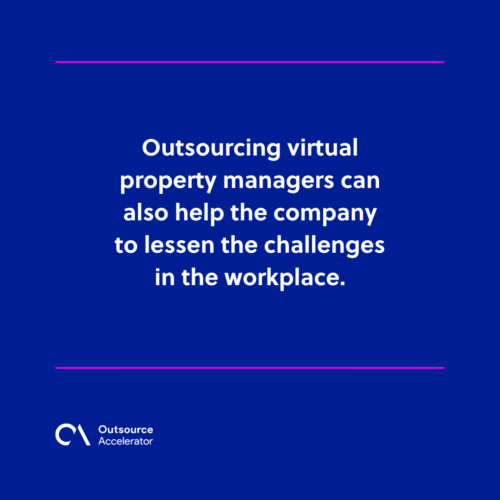 Why should you outsource a virtual property manager from the Philippines?
We can always talk about how virtual workers can help your business grow, but putting extra effort into researching the best country for outsourcing is an advantage.
Over the years, the Philippines have continuously evolved, making it a top-performing country in outsourcing. Filipinos can easily adapt to the requirements of businesses and work not only for compensation but also for quality and productivity.
The emerging real estate industry in the Philippines has paved the way for global businesses to farm out driven and experienced virtual property management experts from the country.