Should you hire a virtual accountant?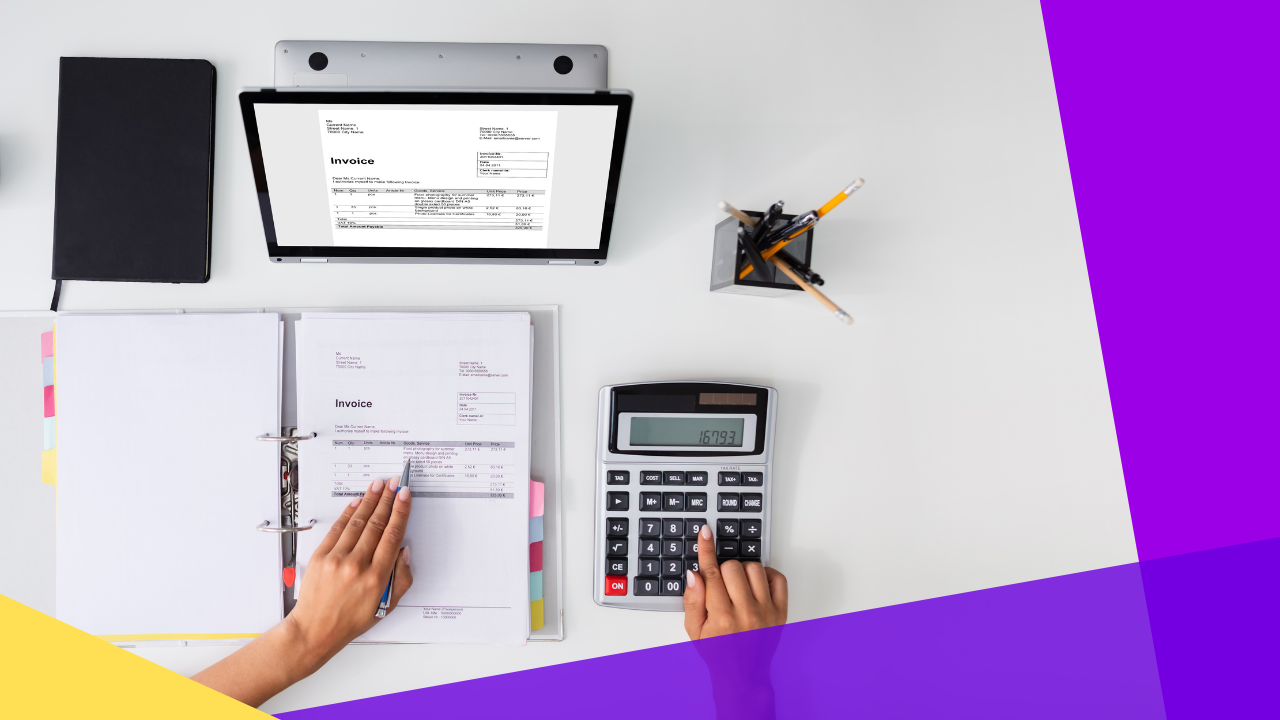 Handling taxes can be overwhelming for businesses. There are many complexities when dealing with tax computations, managing track records, and other sophisticated financing work.
With all this tedious accounting work,[1] this can be quite a hassle for organizations as this is prone to mistakes, especially when dealing with multiple clients and invoices.
Outsourcing a virtual accountant can be a great option to manage finance and accounting tasks better. Offshoring virtual accountants is a growing trend, and businesses can meet their accounting needs, from bookkeeping to payroll and taxes
Through a virtual accountant, firms can focus on growing their business without thinking about financials[2] and other ramifications of accounting.
This article will discuss what virtual accountants do, their distinction from traditional ones, and the advantages of outsourcing this role.
What does a virtual accountant do? 
A virtual accountant is an expert that provides bookkeeping services, payroll services, and other accounting-related tasks. They may be self-employed or work for a company that offers virtual accounting services to clients. 
Outsourcing virtual accounting is a growing trend. As stated in ResearchAndMarkets's report, the global accounting and finance outsourcing market is projected to reach US$56.6 billion by 2027. 
Virtual accountants have an excellent understanding of accounting and tax laws and the current accounting technology they use to manage complex business relationships.
A virtual accountant's duties include: 
Tax preparation.

This includes filing both federal and state income tax returns. A virtual accountant will file taxes electronically, so clients don't have to deal with paper forms. 
Payroll processing.

Payroll processing involves calculating payroll taxes and sending out W-2 forms for each employee. 

Managing client finances

. Virtual accountants handle clients' finances by keeping track of all income and expenses. They may also help clients set budgets, create projections and monitor progress. 

Financial reporting

. At regular intervals (usually monthly or quarterly), the virtual accountant will produce financial statements showing how much money came into the business (sales) versus how much was spent (expenses). 

Bookkeeping

. This includes keeping track of the finances of companies and individuals. Also, making sure that transactions are recorded accurately and that bills are paid on time.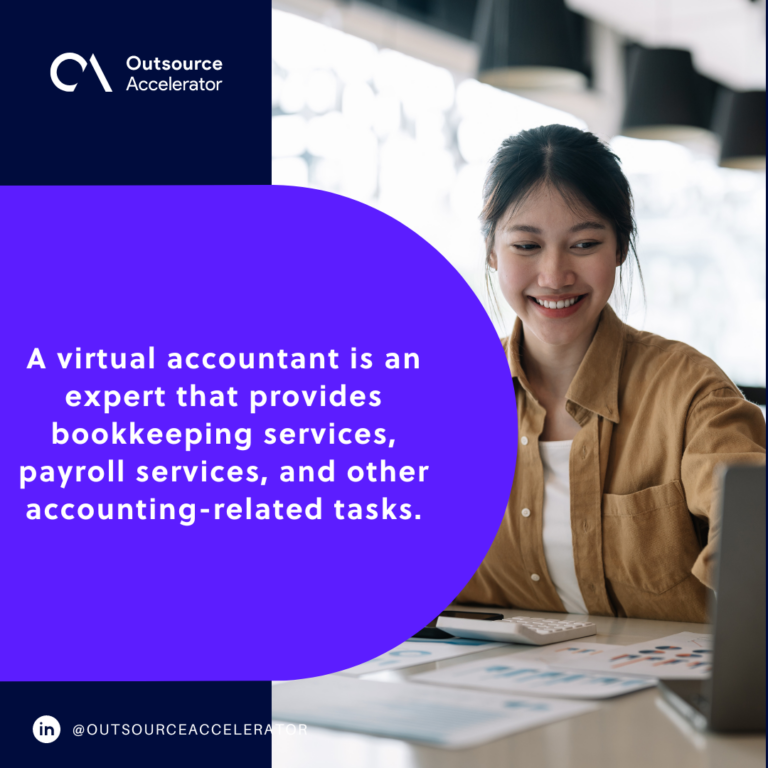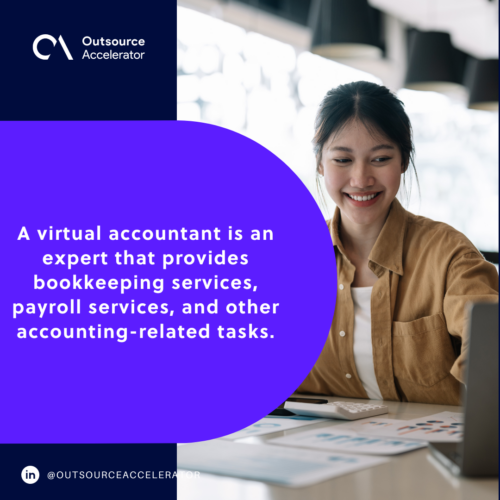 Virtual accountant vs. traditional accountant 
When it comes to accounting, organizations traditionally rely on an in-house accountant or an outside accounting firm to manage the financial aspects of their operations. 
The only difference between traditional and virtual accountants is that traditional accountants work for one employer, while virtual accountants can work for many clients simultaneously. 
With the advent of technology, more and more businesses now are choosing to leverage the services of a virtual accountant. In fact, Clutch reported that 37% of small businesses outsource their accounting and finance services. 
While virtual accountants provide the same services as traditional accountants, they can also work for small businesses and individuals. These experts can do their tasks remotely via email, phone, or video chat. 
When it comes to choosing between the two, it ultimately comes down to the needs and preferences of a business. A virtual accountant may be the right choice if your business is looking for a cost-effective way to manage its finances. 
However, a traditional accountant may be better if companies require more personalized services and expertise. 
Ultimately, it is important to consider both options' pros and cons before making a decision.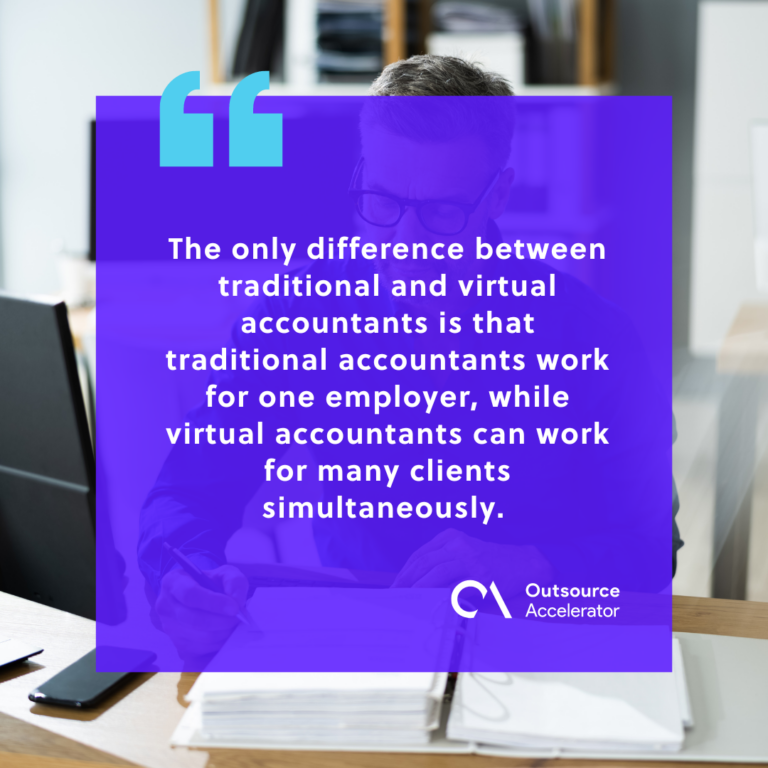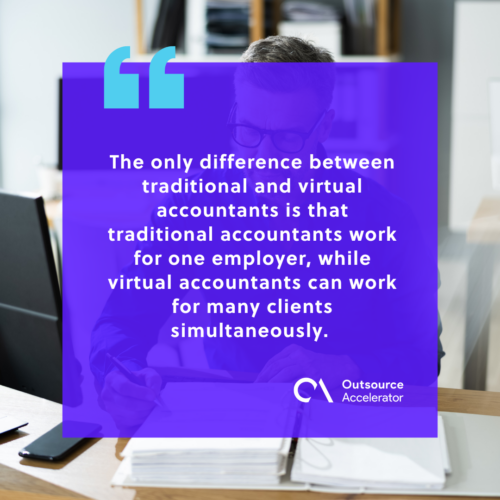 Why opt to outsource a virtual accountant? 
Accounting is a complex process that requires a lot of time and effort. With all the complexities involved, there are times when it's difficult to manage everything alone. 
Here are the top reasons why you should outsource a virtual accountant:
Cost-saving
Outsourcing a virtual accountant can be cost-effective. This can be substantial because they work remotely, eliminating additional expenses such as office space, utilities, and equipment.
As a result, your businesses can have more financial resources available for strategic planning and growth initiatives within the companies.
Qualified workforce 
Ensuring employees are highly-qualified and can deliver quality results is an essential part of the business. 
Accounting professionals must have extensive knowledge and experience in the field of accounting. Virtual accounting providers usually have a team of experts skilled in handling financial transactions, taxes, bookkeeping, and other accounting activities. 
Along with the necessary certifications and licenses, they are trained on the latest software and tools used by big corporations. Their knowledge enables them to handle all accounting challenges effectively. 
Data security and confidentiality 
Data is more important than ever before, and businesses have become susceptible to data breaches or other cyber security issues. Security of financial data and other sensitive information is a main concern when outsourcing accounting functions. 
Businesses must partner with an outsourcing provider knowledgeable in data protection. A reliable outsourcing firm ensures no one else can access sensitive information without permission from both parties involved.
Offshore companies like ConnectOS take great strides to guarantee that information remains secure. There will be no data breach or loss of data within the company since it is safe with your hired virtual accountant.
High accuracy rates
It's hard to keep up with all the different rules and regulations when it comes to accounting, especially if there are several tax laws in place at any given time. This can make it difficult to keep the records in order and accurate at all times. 
Virtual accountants often have years of experience working for clients in different industries. They also have access to the latest software, ensuring that all the documents are filed correctly. 
Efficiency 
Another advantage of outsourcing a virtual accountant is efficiency. A virtual accountant will be able to take care of all the financial needs quickly without any difficulty at all. 
Aside from industry knowledge and expertise, businesses can ensure that all tasks are carried out since they can work around the clock. 
Companies don't have to spend valuable time on non-essential tasks. Rather, they can focus on what matters most. 
Overcome accounting challenges by hiring a virtual accountant 
The task of managing a company's finances can be overwhelming. The financial, legal, and tax challenges facing many businesses are enormous. 
Moreover, the associated cost of hiring an in-house can affect the bottom line. If you're looking to solve all your accounting problems, consider outsourcing a virtual accountant. 
This affordable solution will allow you to focus on your core business activities while saving money without sacrificing the quality of the accounting services. 
By relying on a virtual assistant, you can free up your resources for other tasks and ensure that your financial records are accurate and up-to-date at a fraction of the cost.

Article References: 
[1] Accounting work. Alkarawy, H., Alaallah, A., Al-Sultani, M. and Ostrovskaia, O. (2021). Optimizing the cost of accounting work and financial rules within the framework of outsourcing. Accounting, [online] 7(6), pp.1293–1304. 

‌[2] Financials. Swanger, S.L. and Chewning, E.G. (2001). The Effect of Internal Audit Outsourcing on Financial Analysts' Perceptions of External Auditor Independence. AUDITING: A Journal of Practice & Theory, 20(2), pp.115–129.