The power of video advertising in businesses
Businesses always look for fresh ways to connect with their audience, improve conversions, and boost brand recognition. 
Video advertising is a particularly influential tool that has emerged in the marketing landscape. 
In this article, we'll explore the exciting domain of video advertising, covering its basic definition, various types, and the impressive advantages it offers. 
We'll also touch on some key strategies for crafting compelling video ads and how teaming up with 123Employee can help you achieve a successful video advertising campaign. 
What is video advertising?
Video advertising is a marketing strategy that uses content to promote a product, service, and brand.
It also involves creating and sharing videos on various digital platforms, such as:
Websites

Social media platforms

Streaming services
Video advertising is like having a dynamic storyteller at the forefront of your marketing campaign, engaging your audience in a way that no static image or text can.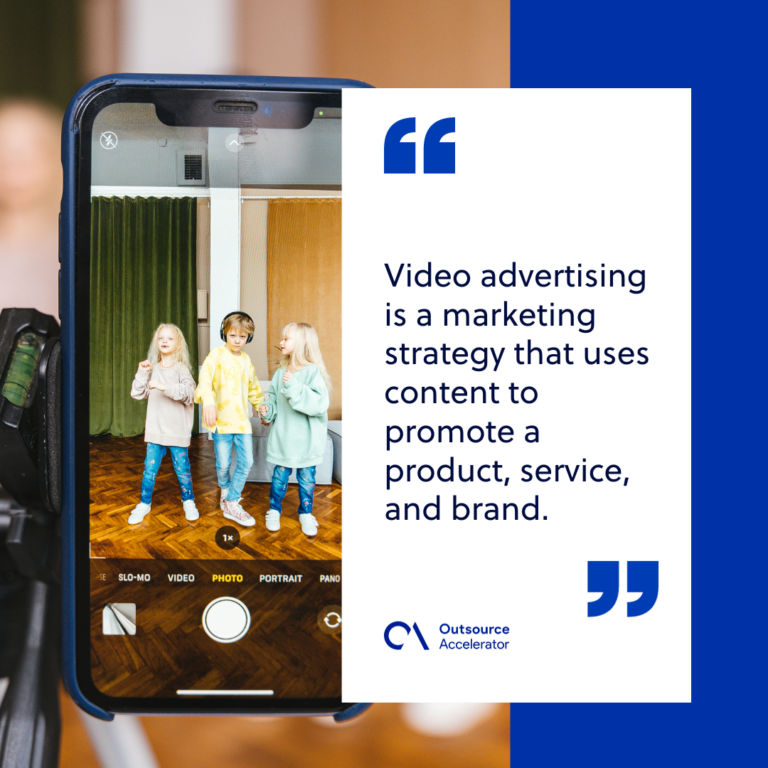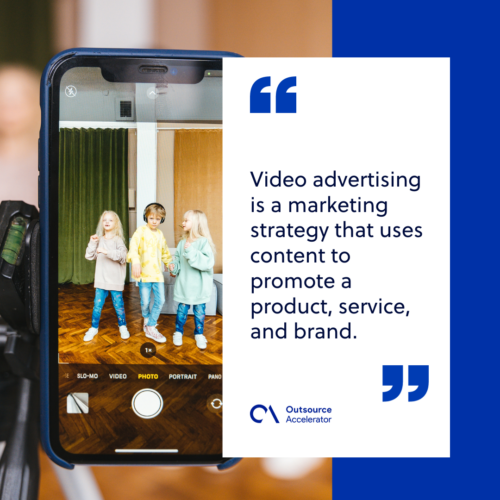 Types of video advertising
There are several types of video advertising, each with its unique format and purpose. Here are some of the most common ones:

Pre-roll ads
Pre-roll ads are short video clips that play before the main content. Think of them as the opening act before the feature presentation. 
They often come with a "Skip Ad" button, but when done right, they can be so captivating that viewers willingly watch them till the end.
Mid-roll ads
Mid-roll ads are inserted into video content at a natural break, such as during a pause in a YouTube video. These ads seamlessly become a part of the viewing experience, making them less intrusive than other ad formats.
Post-roll ads
These ads appear after the main video content. They might not have the same viewer retention as pre-roll ads. 
However, they can still be effective, especially when they provide additional information or a compelling call to action related to the content just watched.
In-stream ads
In-stream ads are placed within live-streamed content. These are excellent for reaching a live and engaged audience, making them ideal for real-time promotions and announcements.
Out-stream ads
Out-stream ads are different. They don't rely on existing video content and can appear on websites and apps as standalone video ads. 
Out-stream ads offer flexibility in placement and can effectively catch the viewer's attention.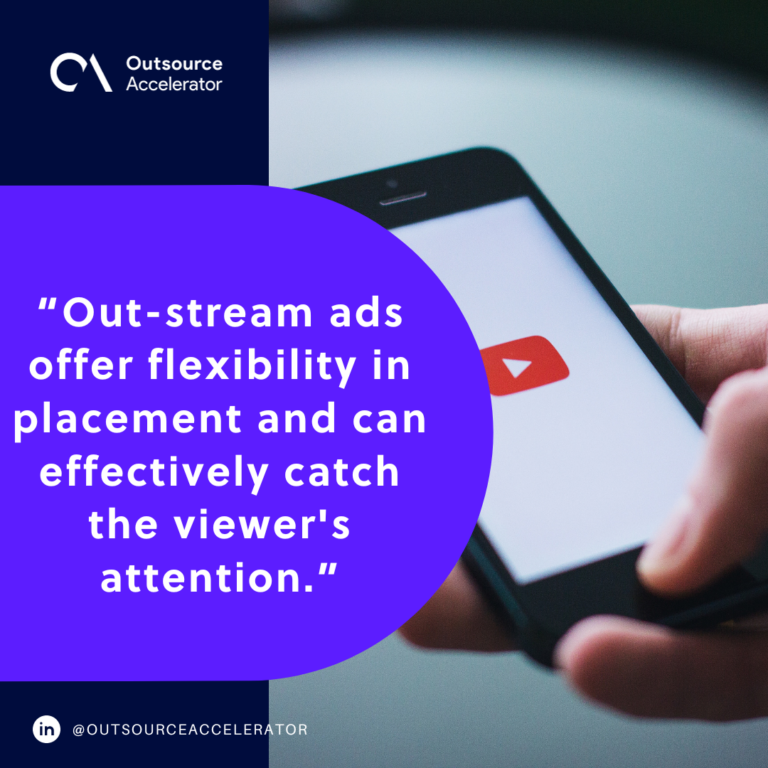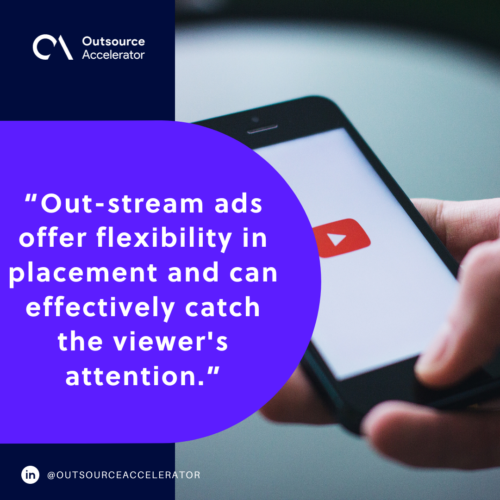 Benefits of utilizing video advertising
Now that we've covered the types of video advertising let's dive into the substantial benefits it brings to businesses:
High engagement
Video ads have a unique ability to captivate and hold the audience's attention. Combining visuals, audio, and storytelling can create an emotional connection, driving viewers to engage with your content.

Improved conversions
When viewers are emotionally engaged, they are more likely to take action. 
Video ads can significantly boost conversion rates, whether signing up for a newsletter, purchasing, or filling out a contact form.
Enhanced brand awareness
Video advertising allows you to convey your brand's message and personality effectively. When done consistently, it builds brand recognition and helps you stand out in a crowded market.
Better SEO
Search engines love video content. Websites with video are more likely to rank higher in search results. So, by incorporating video advertising into your strategy, you're also improving your search engine optimization (SEO).
Increased social shares
Engaging video material is easily shareable across various social media platforms.
When your audience shares your video ads, it extends your reach and exposes your brand to a wider audience.
Video advertising best practices
To harness the power of video advertising, you need to follow these best practices:
Know your audience
Understanding your target audience is crucial. Tailor your video content to their preferences and pain points. What appeals to one group may not work for another.
Start with a strong hook
You have just a few seconds to grab your viewer's attention in the digital world. Start your video with a compelling hook that makes them want to keep watching.
Tell a story
People love stories. We're wired that way. Use storytelling in your video ads to create a connection with your audience. Share narratives that resonate with them.
Quality production
Invest in good production values. Poorly made videos can have the opposite effect, driving viewers away instead of engaging them. Ensure your video looks and sounds professional.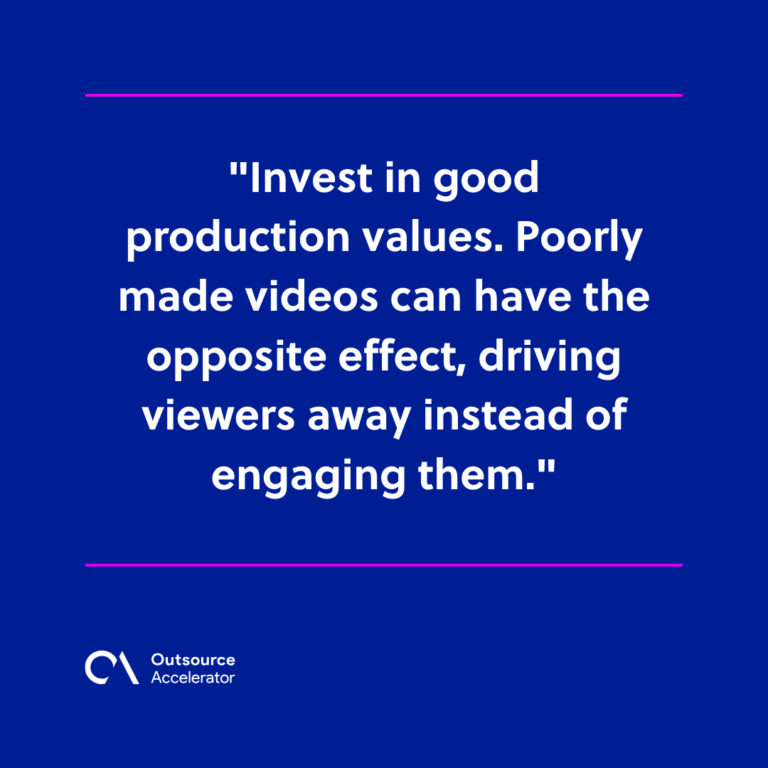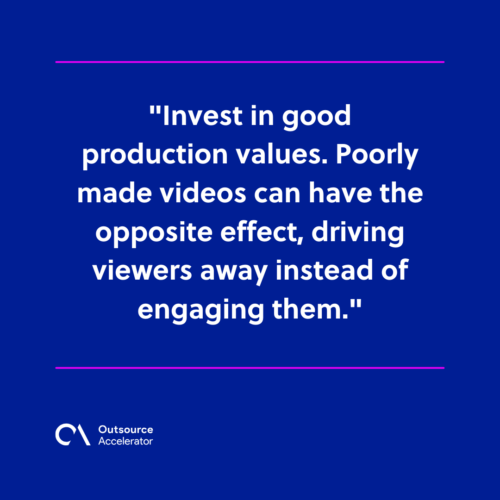 Branding elements
Don't forget to incorporate your brand elements. Your logo, colors, and tagline should be consistent across all video ads. It helps reinforce brand recognition.
Partner with 123Employee for successful video advertising
When executing a successful video advertising campaign, partnering with experts can make all the difference. 
123Employee is a trusted name in digital marketing and video advertising. With its expertise and resources, it can help you create and implement a winning video ad strategy tailored to your business goals. 
Don't miss out on the opportunity to leverage the power of video advertising with a seasoned partner like 123Employee.
Contact 123Employee today to get started!